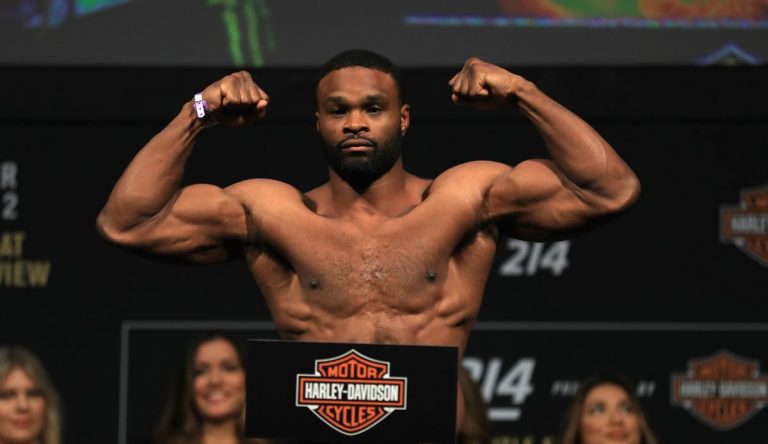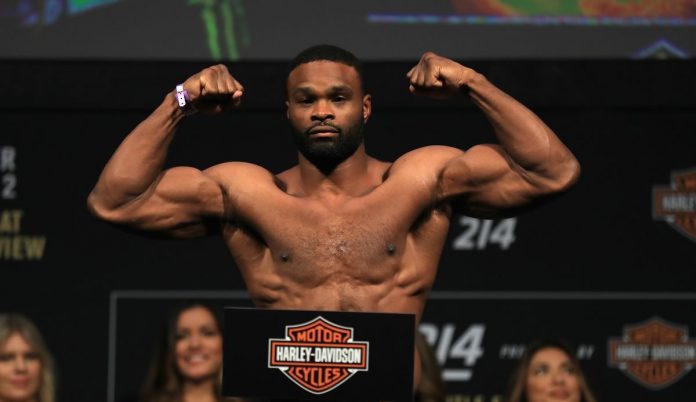 While Nick Diaz has yet to compete in the Octagon since his no contest against Anderson Silva at UFC 183, the 37-year-old is once again making headlines with talks of another comeback. With a variety of fighters calling the elder Diaz brother out, there seems to be no shortage of potential opponents. However, someone not buying into all the hype just yet is former UFC welterweight champion Tyron Woodley.
Another Nick Diaz Comeback?
Speaking with The Hollywood Beatdown on TMZ Sports (transcribed by MMA Fighting), Woodley explained that although he has history with the Stockton fighter, this time he's taking a more reserved approach to see if the comeback is legit.
"If you want to fight, fight," Woodley said. "We don't need a big build up. We don't need a test weight cut. If you want to fight, fight. Sign a contract and get in the Octagon. It's been so much talk about if he's gonna fight. Even his brother, 'Is he gonna come back?' I think that they deserve the hype that they've gotten because when they were fighting years and years back, they weren't getting paid hardly anything. Go back and pull up the public records on what Nate Diaz made the fight right before Conor McGregor. They're kind of embarrassing compared to what he ended up making in that fight and the second fight.
"So when you look at it, I have to respect them for staying with it and staying to the point where they were still relevant enough to make the money that they probably deserved a long time ago. But if he wants to fight, just fight. What do we need to do this whole hoopla?"
Originally, Diaz was serving a five year suspension for his marijuana use around the time of the Silva fight. But after it was reduced to 18 months he had still missed additional drug testing for the promotion, which resulted in yet another suspension. Once Nick regained eligibility to fight again, he seemed content watching from the sidelines while teasing a return in unfruitful comeback talks with the UFC. Which is why president Dana White has essentially backed up Woodley's stance, stating even he has "no expectations" of the discussions once again going on with the fighter.
Hall of Fame
Woodley went on to explain that regardless if the elder Diaz brother decides to fight again or not, he has already done enough to be considered a great, and a comeback at this point would merely be a bonus.
"If he comes back to the sport, I think it will be good to have another household name back in the sport competing," Woodley said. "But if he doesn't, he doesn't. I think he's done enough in his career, in my opinion, to be inducted into the Hall of Fame."
While many might disagree with Woodley's take simply because Diaz was never a champion and tended to make more noise outside of the cage than in it, the 38-year-old explained his reasoning.
"I think [he deserves it], because he was one of the original bad boys," Woodley said. "There's some people in the Hall of Fame that had never won a world title, whether it's just a fight, there's so many different categories of it. But when you think about it, he came over from Strikeforce, he had a crazy reputation then, and I think you've got to take some of that into account when you're thinking about a Hall of Fame inductee. They bought the organisation, they bought the rights to all those fights, so I think the accolades have to come with that."
Woodley vs Covington
Woodley shouldn't be concerned about a potential fight with Diaz at this point until at least after this weekends UFC Vegas 11, where he takes on the former welterweight title challenger Colby Covington. 'The Chosen One' is currently on a two fight losing skid where he was dominated by Kamaru Usman at UFC235 to lose his title, before being dominated once again at UFC Vegas by Gilbert Burns. He promises it will be a different story this weekend however.
"I want to knock him out to the point that when they're raising my hand and they're talking, they're still gathering him," Woodley said. "Hopefully, they're stretchering him out and trying to get his legs to un-stiffen, and still trying to get the mouthpiece out of his mouth. . . No I'm not gonna shake his hand. I'm not gonna shake his coach's hand most likely. This is for real for me."
Do you agree with Tyron Woodley's comments on Nick Diaz?
See also: