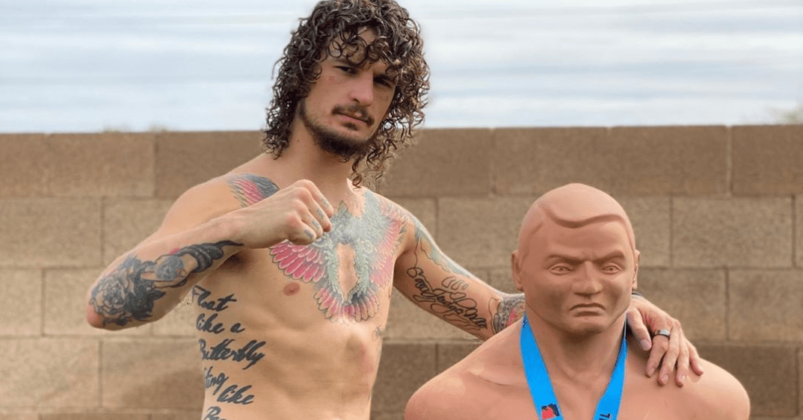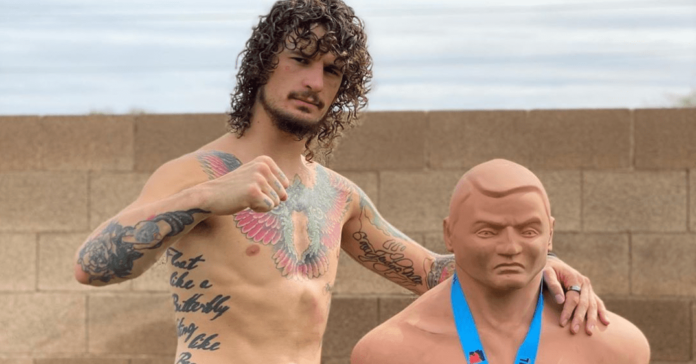 Sean O'Malley returned to the Octagon last month at UFC 248 after a two year layoff. Taking on Jose Quinonez, the exciting bantamweight prospect scored a first round TKO finish. The 25 year old made a name for himself by putting on a 'Sugar Show' on Dana White's Contender Series.
In recent weeks, O'Malley has been posting some of the lighter moments of his training sessions to Instagram. Both Tony Ferguson and Henry Cejudo have been on the receiving end of some fun mickey-taking from 'Sugar' Sean. In one post, he posted a picture of himself and an MMA dummy with a caption that when translated from Spanish, read: "thanks brother for the training, Henry Cejudo".
Whilst talking to ESPN's Ariel Helwani (as transcribed by Asian Persuasion MMA), O'Malley was asked about the post and his thoughts on Cejudo.
"I'd step up, but I don't think he'd want that," O'Malley said of the UFC bantamweight champion. "I know it sounds silly, I have only three fights in the UFC, I'm not even ranked or nothing, but this is not a good matchup. I'm 5'11 and he 5'2."
O'Malley knows of course that he's not going to get the next shot at Cejudo and the 135lbs belt.
"Yeah, I have a high skill level," he said. "I know I have only fought three times in the UFC. I haven't fought necessarily anyone that's great. Jose wasn't horrible, but he wasn't the best. But, you know, I believe in my skills, I have really good high-level skills. But it would obviously be a stupid fight for him, I'm not even ranked, so that would be stupid.
"I train because it makes me extremely confident that I can go out there and beat anyone in the division," he said. "But realistically, who deserves a shot? Yeah, 'Aljo' (Aljamain Sterling) or Cory [Sandhagen]. Those would be good fights."
O'Malley recently said that he wants to follow in the footsteps of Conor McGregor. A man his style has often been compared to. But while the unbeaten bantamweight acknowledges the similarities, he believes he has more tools in his striking arsenal than the Irishman.
"I get compared by some people, like I have a similar striking style to Conor, and I do in a sense, but I have way more tools than Conor. I have way more, and that's not a knock on [Conor], Conor is a really, really high-level striker. Obviously, what he has done is insane, you can't do that without being as good as he is. 
"But I feel like when you compare my striking, I have way more tools than him. As far as, I can stand literally in both stances and do everything from both stances, so I think that similarity is there a little bit. I don't know, that's tough, I feel like there has been anybody that can move like me and throw the stuff that I'm throwing from both stances."
How do you think Sean O'Malley's striking compares with Conor McGregor's?
See also: