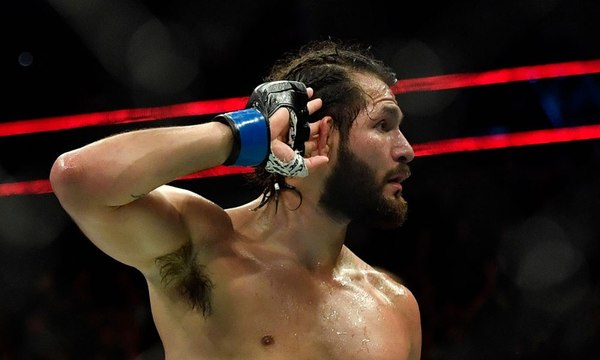 Before the UFC booked Justin Gaethje to replace Khabib Nurmagomedov at UFC 249, Jorge Masvidal and Kamaru Usman were going back and forth on social media, after calling each other out. But despite both stepping up to save the card, both proceeded to accuse the other of not accepting a fight.
UFC president Dana White has previously stated that Masvidal is next in line to challenge Usman for the UFC welterweight title. It was believed that the fight was targeted for UFC 252 in July, during International Fight Week. However, with no Khabib, the promotion looked to bring the 170lbs title fight forward.
Instead though, Gaethje was brought in to challenge Tony Ferguson for the interim lightweight title. And in the end, the card was postponed because of the coronavirus pandemic.
Speaking to BT Sport (as transcribed by The Mac Life), Masvidal revealed that there was an agreement on the table to fight Usman at UFC 249.
"There was a deal on the table. But when the full deal and the whole extent of it got brought through and how it was going to play out, the budget really wasn't there in a way for what we were asking. The price tag that I put out there, they didn't want to pay, this other guy's.. who knows if he was in or not, you know, but my price wasn't met and for the risk to reward factor.
"I'm wanting to get compensated and that compensation really wasn't there. We weren't too far off either. We could make it work in the future for a fact. I think in July I'll beheading this guy for the whole world to see."
Usman is coming off a successful title defence against Colby Covington at UFC 245. Prior to that, 'The Nigerian Nightmare' beat Tyron Woodley to win the belt. Masvidal is coming off three huge performances in 2019, where he had stunning wins over Darren Till, Ben Askren and Nate Diaz.
Although Usman would be favourite going into the title fight with Masvidal, 'Gamebred' believes he'll beat the champion with ease.
"A fight is just more than the guy that you have in front of you," Masvidal said. "It's also the moment. It'll be fine for the UFC title, so that's huge. But the skillset, no my brother, this animal hunter has tamed much more ferocious animals and wild beast than this mere insect in front of me. So as far as that goes, skill level goes, no. This individual will be tamed on that night. This matador will tame the wild animal — and with ease as well."
When Jorge Masvidal and Kamaru Usman find themselves in the Octagon together, who do you think will leave with the UFC welterweight belt?