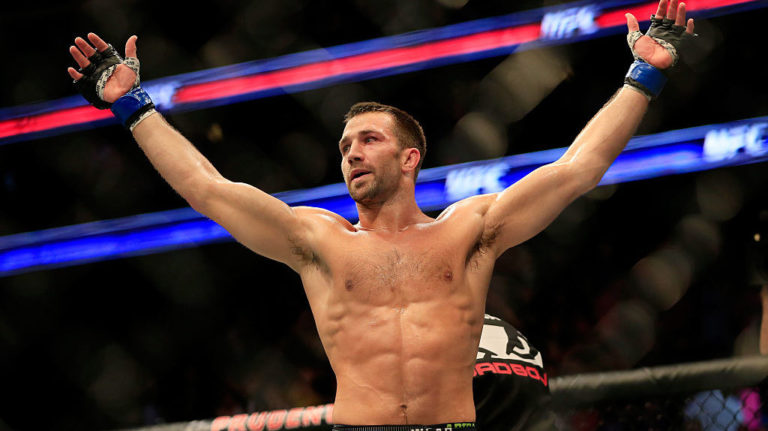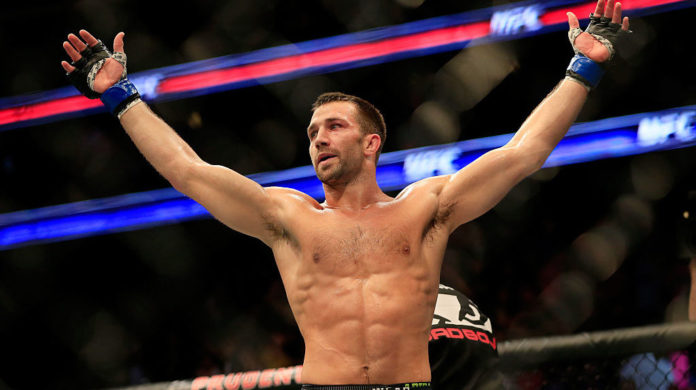 Luke Rockhold will certainly go down as one of the best middleweights to ever do it, but just how good was he at his peak? That question is impossible to answer, considering how short of a run he had. However, there's a good chunk of his career where he was clearly at his best, he just wasn't at the very top the entire time. In this article, I will give insight to his entire combat sports career, and you can judge for yourself where you'd rank him.
Luke Rockhold started out his martial arts career with Brazilian Jiu-Jitsu. He competed in some tournaments as a blue and purple belt, winning the IBJJF World Jiu-Jitsu Championships twice, and also winning a silver medal in the Pan American Championships.
This was all in 2006 and 2007, just before his MMA career started. He was doing well competing in BJJ, so he decided to try his luck with MMA, and we got one of the best fighters to ever live out of it.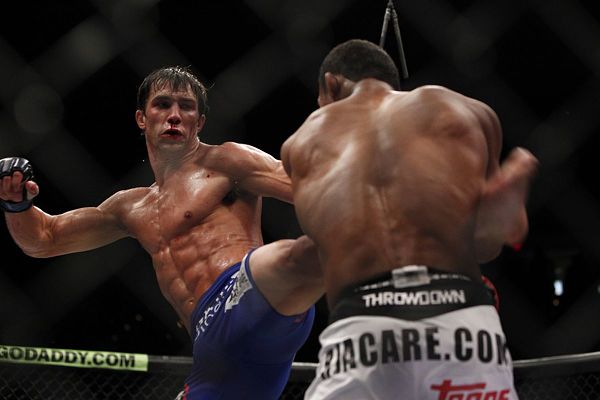 The California native would start out his MMA career with a split record at one win and one loss; his win via submission (armbar), and his loss via TKO. He'd then make his Strikeforce debut at just 1-1, and he'd go on to win his next six straight with two TKO's and four submissions (four rear naked chokes).
This would award him a title shot against two-time Strikeforce Middleweight Champion, Jacare Souza. This fight came about nineteen months since his last, while Souza had gone 3-0 in that time.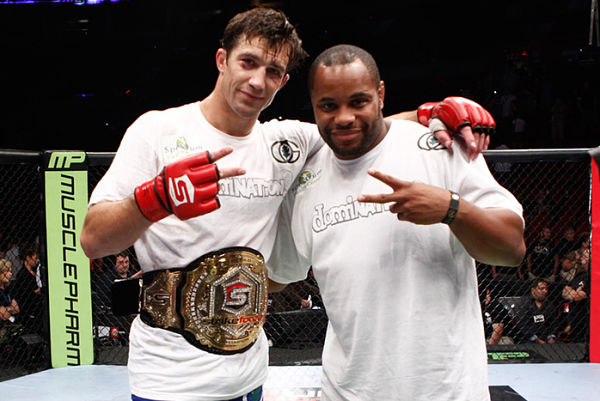 Rockhold became world champion in MMA for the first time in September 2011, where he defeated Jacare Souza via unanimous decision (50-45, 48-47, 48-47). He then defended his title against Keith Jardine, who since his split with the UFC, was coming off two wins in smaller promotions, as well as his draw with Gegard Mousasi.
Rockhold defeated Jardine via TKO in round one. His next title defense would be his last, as he defeated Tim Kennedy via unanimous decision (49-46, 49-46, 49-46) before joining the UFC.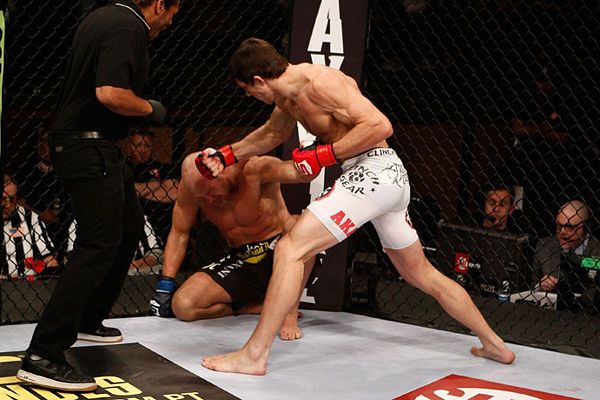 The former Strikeforce Middleweight Champion was now ready make his long awaited UFC debut, however, it came with much disappointment. His opponent was former UFC Light-Heavyweight Champion Vitor Belfort, and this was during Belfort's TRT streak where he was untouchable.
Though Rockhold was viciously knocked out, he recovered from the loss quite well. He returned about eight months later to face then fellow top prospect Costas Philippou, and won the fight via TKO (body kick) in round one.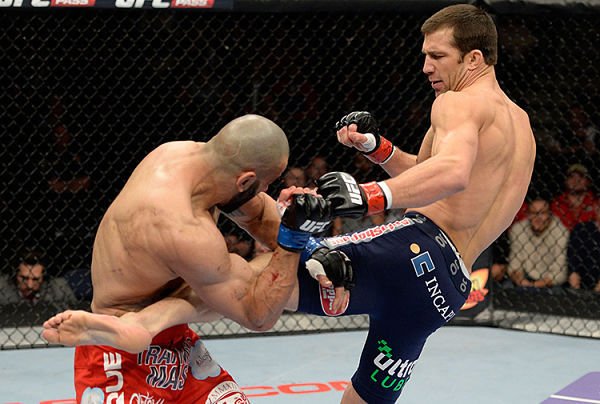 Rockhold then fought Tim Boetsch. Once the fight started, he quickly wrapped Boestch up in an inverted triangle, but got the tap from a kimura. It was a beautiful grappling display on his part.
His submission wins over Michael Bisping (guillotine choke) and Lyoto Machida (rear naked choke) followed this, both of which were very dominant performances, before being awarded a title shot against Chris Weidman.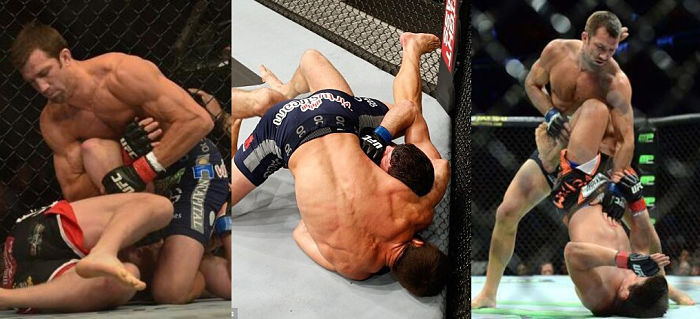 His title fight with Weidman was the co-main event to Jose Aldo versus Conor McGregor at UFC 194, and it lived up to every bit of its hype. The fight was relatively close with constant back-and-fourth action from both parties. Weidman ended up scoring three takedowns to Rockhold's two, each getting fifty percent of their attempts, but Rockhold out-struck Weidman quite handily.
After Weidman landed three more strikes than Rockhold in round one, Rockhold didn't get out-struck another round; he doubled up his strikes on Weidman in round two, meaning he landed twice as much as Weidman, and trippled them up in round three, before landing seven times as much as Weidman in the fourth and final round, where he landed eighty-six percent of his strikes.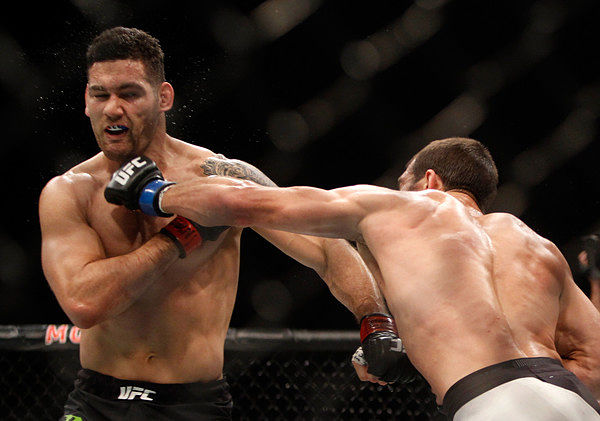 Since Weidman had defeated Anderson Silva, many thought he'd just gotten lucky. He won the first fight because Silva was clowning him, then the second fight was a freak accident.
Silva was picking Weidman apart in their first fight, and most likely would've won had he not been so arrogant. It's unfortunate, but many people took those wins away from him, even though he was dominating the second fight with Silva until the leg break.
Not to mention, Silva threw a kick, Weidman checked it, like he was supposed to; a technique he was supposed to have in his arsenal won him that fight. Aside from those two Silva fights however, Weidman had two more title defenses (three total). Those two coming against Lyoto Machida and Vitor Belfort. Now of course Belfort wasn't the same anymore, but that Machida fight impressed everyone.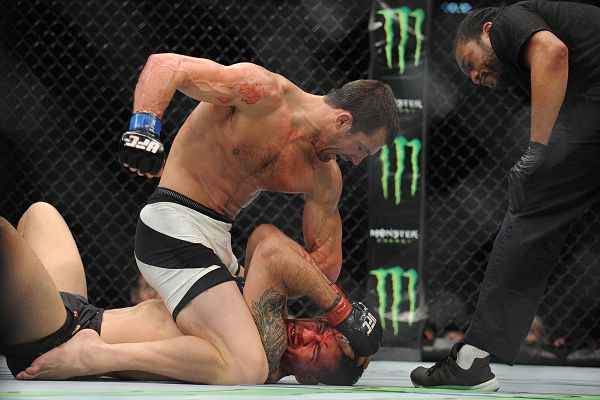 Weidman showed the true heart of a champion in that fight and showed off more of his game that night than he really ever has. Many people were now starting to believe that Weidman was here to stay, that he may become the best and most dominant middleweight ever.
Luke Rockhold took that away from him, and in dominant fashion. The fight was stopped at 3:12 of round four via TKO, and we now had a new UFC Middleweight Champion. To make this even more impressive, Rockhold was battling a staph infection prior to this fight, and was on antibiotics throughout fight week.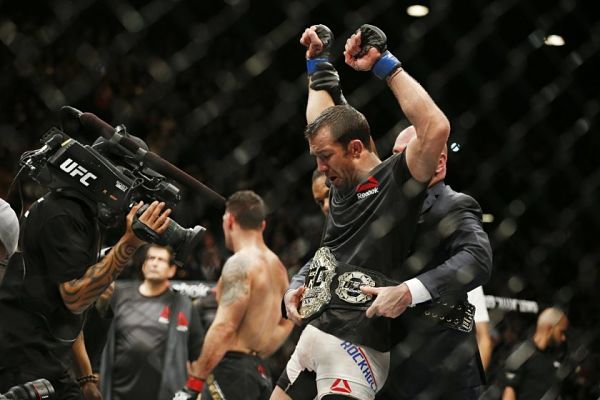 Sadly, this is the last time we'd see Rockhold perform at this level. He was scheduled to defend his title in an immediate rematch against Weidman at UFC 199, however, Weidman was forced out of the bout with a neck injury.
Another rematch was then set to take place at the same event, this one against Jacare Souza, the man Rockhold took the Strikeforce Middleweight Championship from, but Souza was forced out with a knee injury. This left the UFC with one option, yet another rematch, yet another man he'd previously defeated, Michael 'The Count' Bisping.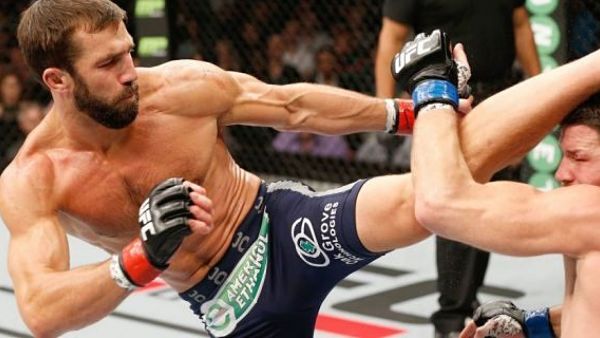 It's unfortunate the way Rockhold went about this fight, and that may be the reason his championship reign was so short. You can't find much more arrogant of a fighter that's overlooking his or her opponent than Rockhold leading up to this Bisping rematch.
He was way too overconfident, he didn't see Bisping as a challenge at all, and it cost him. 'The Count' defeated Rockhold via KO just under four minutes into round one.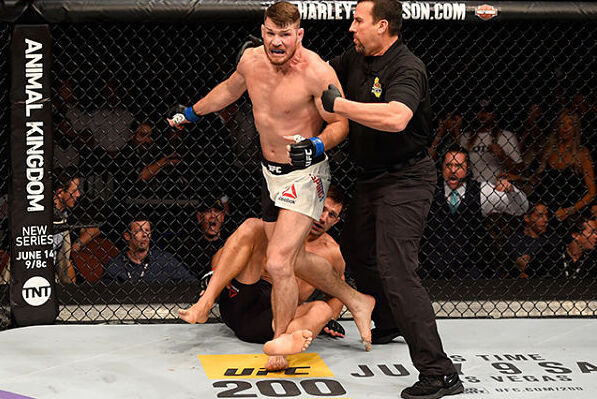 The former champion returned fifteen-and-a-half months later to face former WSOF Middleweight and Light-Heavyweight Champion David Branch. Rockhold had some issues early on in this fight where he was getting tagged over and over again, but he kept his composure and weathered the storm.
Rockhold ended up getting a takedown in round two, and it was game over; his top pressure is too much for most, and it was certainly too much for Branch. This was particularly impressive because Branch went on to KO Thiago Santos in his next fight, the man that arguably beat Jon Jones.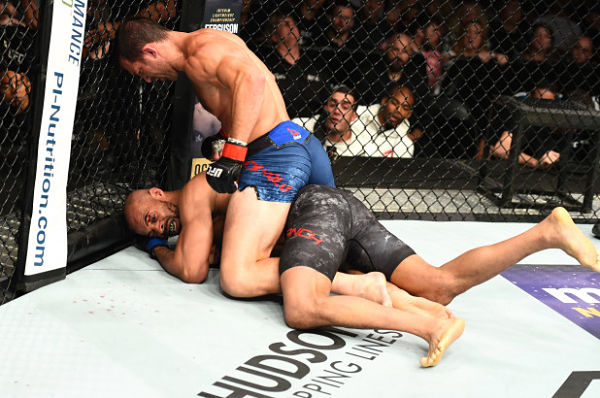 Coming off a fresh win, Rockhold was then set to face Yoel Romero for the interim UFC Middleweight Championship, with the winner having a future title unification bout with then champion Robert Whittaker. Romero missed weight by 2.7 pounds, therefore he was unable to win the title, no matter what the outcome.
This was a close and competitive fight, until the end that is. Rockhold was able to stay on the outside and pick Romero apart, but Romero was still able to land his own strikes as well. Just under two minutes into round three, Romero caught Rockhold with a thunderous overhand left, and once Rockhold dropped, Romero cracked him with an uppercut, rendering Rockhold unconscious.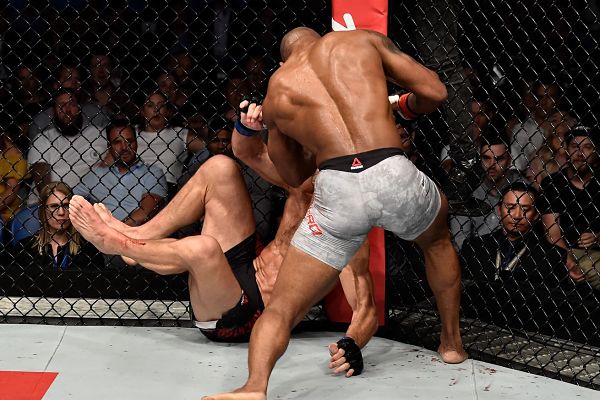 A lot of issues came after this fight for Rockhold. He was battling injuries constantly, and he had a nasty gash on his shin that turned into staph infection, that took the better part of a year for him to heal. He was going to jump up to light-heavyweight and fight Alexander Gustafsson at UFC 227, but was forced out of the bout with his leg injury.
This happened again not too long after, where he was again scheduled to rematch Chris Weidman at middleweight at UFC 230, but again, he was forced out of the bout because of his leg.
Rockhold finally got back in the cage at UFC 239 for his much anticipated light-heavyweight debut. Jan Blachowicz was his opponent, and it just didn't go well for him. He thought if he wasn't cutting so much weight, it'd help him perform better; it didn't. He looked slow, lethargic, and he just didn't have much success whatsoever against Blachowicz. Rockhold lost this fight via KO not long into round two, after getting stunned at the end of round one.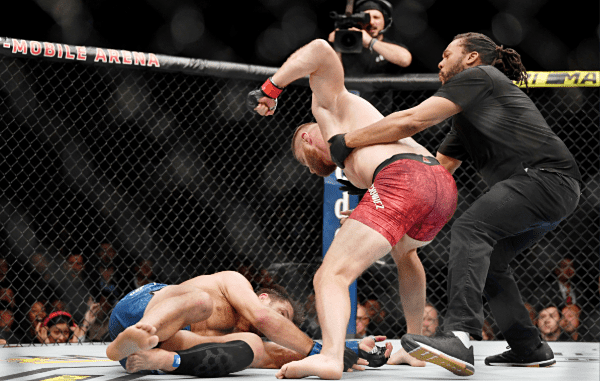 Since having his jaw broken for the second time, and since going 15-2 in his first seventeen fights, to recently going 1-3 in his last four, he's decided it's time to hang 'em up. He didn't come out and say he's retired, but he did say he doesn't have the same love for the sport that he used to. After being knocked out as many times as he has, and after being in the sport for twelve-to-thirteen or so years, can you blame him?
The move up to light-heavyweight was a risky one; it's a twenty pound difference, more of a difference than any other two weight classes that're right next to each other, and that could've been a problem. He thought that maybe if he didn't cut so much weight, he'd have more strength and energy, and perhaps his chin would hold up better.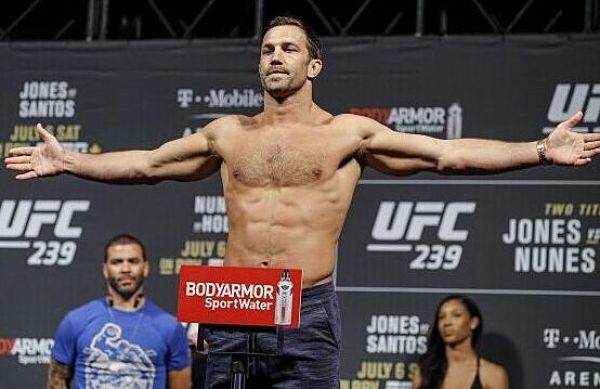 That makes sense, you will get knocked out much easier if you don't have water in your brain. However, they don't hit any lighter at light-heavyweight, and that's always been his kryptonite, getting hit too hard. Rockhold has five losses, and all five are via knockout. He lost just his second professional fight via TKO, and since then, his last four losses were all via KO. His chin just doesn't hold up the best.
Aside from his chin, he may be the best, if not, certainly one of the best middleweights ever. Though his run was short-lived, his performances were works of art, and very few people in the entire world could beat a prime Luke Rockhold. His dominance was something all of his opponents had to deal with.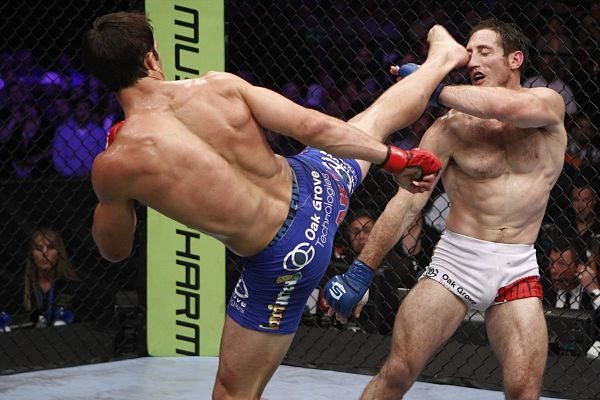 Since losing to Vitor Belfort, that five fight win streak he had was incredible, those were certainly his prime years. Maybe even the end of his Strikeforce run until he rematched Bisping, which is an almost five year gap.
It's too bad that was cut short because of him overlooking someone he'd previously defeated. That's not to say he would've just walked right through Bisping had he taken him seriously, we'll never know, but it'll always be a wonder.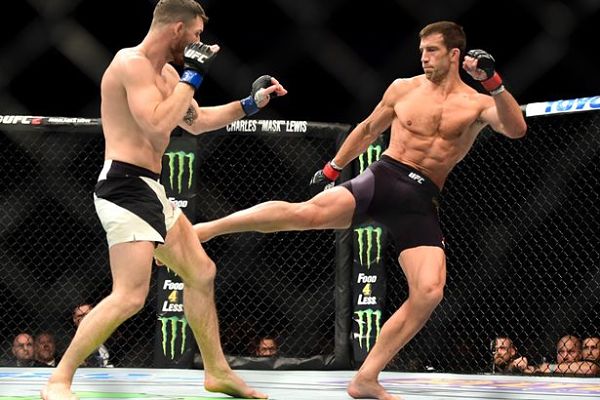 Rockhold's game was different than anyone we'd ever really seen. His kicks are incredibly powerful, and that's over half of his standup attack; his round kicks to the body, head, and legs, as well as his question mark kicks to the head were primarily his best and most used weapons.
The most impressive part of his game was by far his grappling. His top control and pressure made everyone that ever found themselves under him absolutely miserable.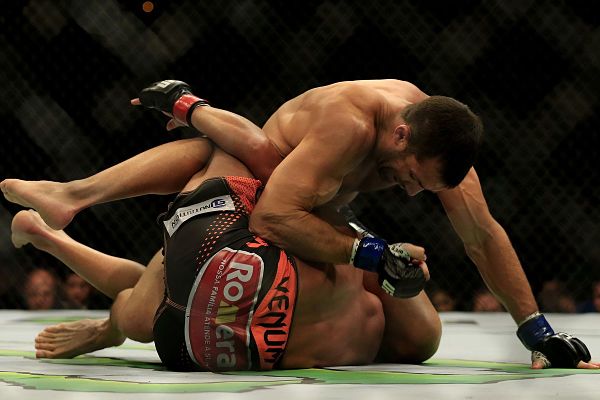 Just ask Tim Boetsch, Lyoto Machida, Chris Weidman, or David Branch; he finished all four of them while he was on top of them. Boetsch was never the best fighter, but he was an NCAA Divison I wrestler that couldn't get himself out of Rockhold's wrap.
All three of the others are BJJ black belts, one of which was also an NCAA Division I wrestler, who placed in third his senior year at the NCAA Championships, and is also an ADCC North American Championships winner (Chris Weidman).
The one criticism that could be made about Rockhold's game is that he never really developed his hands. Not that he can't box, but he never evolved them like he did with his kicks.
His boxing defense wasn't the best either; most of the time when his opponents would throw strikes at him, he'd just lean back in order to evade them. Being 6'3" with a 77" reach allowed him to do that with some opponents, but he paid for it with others.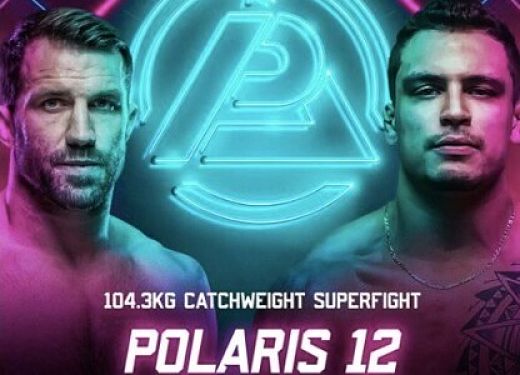 Luke Rockhold is now set to face Nick Rodriguez at Polaris 12 this weekend on November, 30. Rodriguez has only been training BJJ for about sixteen months, and is just a newly crowned purple belt. However, he's a prodigy in the gentle art, and he's main eventing this event with Luke Rockhold.
In Rodriguez' short professional BJJ career, he holds an 11-1 record with his only defeat coming via disqualification. He's also been submitting black belts since he was just eight-nine months into the sport. It's great to see that Rockhold will continue competing, especially in BJJ considering how good he is at it. What's your favorite Luke Rockhold moment?
Career Accomplishments:
UFC Middleweight Champion
3-time Strikeforce Middleweight Champion
NCAA Division III Wrestling
BJJ Black Belt under multiple-time World BJJ Champion Leandro Vieira
2-time IBJJF World Jiu-Jitsu Championships Gold Medal (2007)
Pan American Championships Silver Medal (2006)
Tied for most finishes in Strikeforce history (7)
Most submissions in Strikeforce history (5)
16-5 MMA Record – 6 (T)KO's, 8 Submissions, 2 Decisions