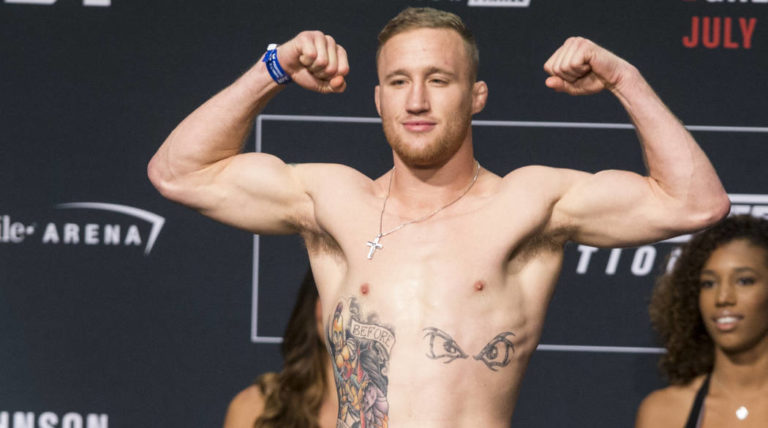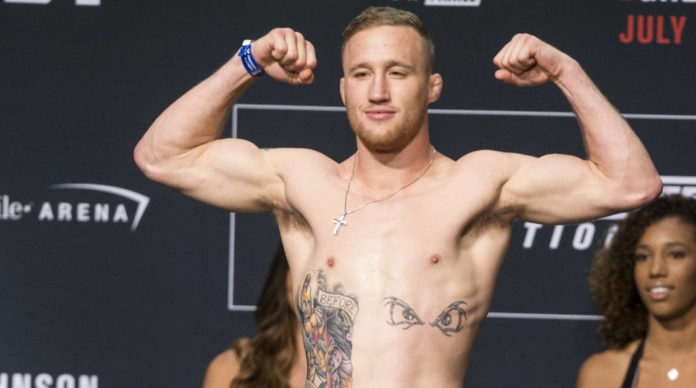 UFC interim lightweight champion Justin Gaethje knows exactly how difficult the test is that lies ahead of him come October 24th at UFC 254, but remains confident he can get the job done against Khabib Nurmagomedov.
Khabib remains undefeated in his professional career and will be looking for his 29th victory, when he faces off against Gaethje on Fight Island. Although 'The Eagle' has looked unbeatable in his UFC career to date, 'The Highlight' remains focused and unfazed by the challenge ahead of him.
While speaking at the UFC 254 media day (transcribed by MMA Fighting), Gaethje explained what sets him apart from Khabib's previous opponents.
"My confidence is probably my biggest factor right now paired with the power that I possess paired with the coach that I have," Gaethje said. "That's a dangerous combination.
"And I don't care if I win or lose at the end of the day. As long as I make my family happy, as long as I'm proud of my performance, then it doesn't matter. That's what makes me most dangerous. I don't know if he's fought somebody like that."
Gaethje has earned himself the nickname 'The Highlight' for good reason, with his style of fighting. With his time in the UFC, the 31 year old has netted himself nine performance bonuses in just seven fights. But arguably his most impressive statistic is knocking out every opponent he's beaten.
With Gaethje's next fight coming against an opponent yet to be knocked down, the 31 year old still has the same game plan.
"Anybody can go to sleep," Gaethje said. "He's a fool if he doesn't think he can go to sleep."
Even with immense confidence in himself to put the Russian away, sooner or later in the fight, Gaethje will have to deal with Khabib's unmatched wrestling skills.
Throughout his career, almost all his opponent have wilted underneath Khabib's pressure. But Gaethje holds the accolade of being an All-American out of Colorado, and doesn't plan on being just another victim.
"I've wrestled my whole life. I wrestle a lot in there," Gaethje said. "A huge part of wrestling is not being able to let someone take you down and hold you down. That was my main focus my whole life when I wrestled. I never had a great offense but you could not take me down, you could not hold me down. I'm going to use that.
"It's very important to stay off the ground. I'm not trying to go in there and wrestle with Khabib. I don't think I can beat him in a wrestling match because I haven't focused on wrestling like that to win a wrestling match. I've constantly worked on my defense. That's never gone away."
If Khabib is able to utilise his wrestling once again, Gaethje explained how he plans to minimise it.
"I have to focus on not being on the fence, not being taken down," Gaethje explained. "If I do get taken down, I've got to make him work like his life depends on it.
"If he does take me down, I need to make sure that I threaten him with something up the middle is going to make him hesitate the next time. That's what I'll be in there doing."
Not content with surviving Khabib's wrestling, Gaethje stated his intention to hurt the champion until eventually he quits.
"I'm going to try to beat him into submission," Gaethje said. "I want him to quit. I want him to know I'm the superior athlete, the superior man. That's the goal of this game."
How do you think the Justin Gaethje and Khabib Nurmagomedov fight will play out?
See also: