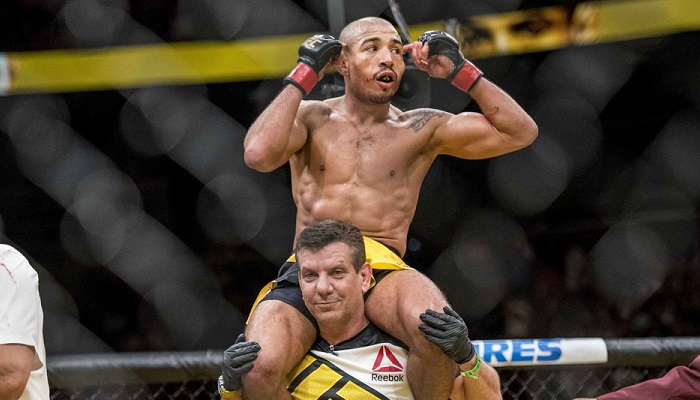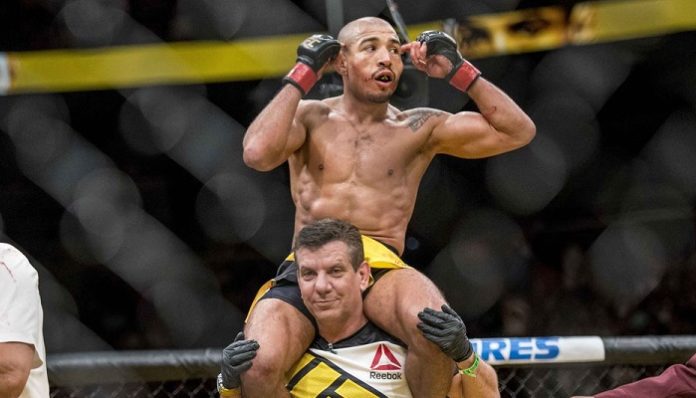 Dana White has recently gone on record saying that Jose Aldo has signed a new contract with the UFC. Aldo said that if he were to end his MMA career, he'd want it to be with the UFC, and it most likely will be considering he signed an eight fight contract. He was teasing the idea of a move to professional boxing, but it looks like he decided against it and will continue fighting in MMA. I'm very happy to hear this because Jose Aldo is one of the first fighters I ever started watching, I'd really love to see him get some more vintage wins. I think there are a few options for him as far as what's next.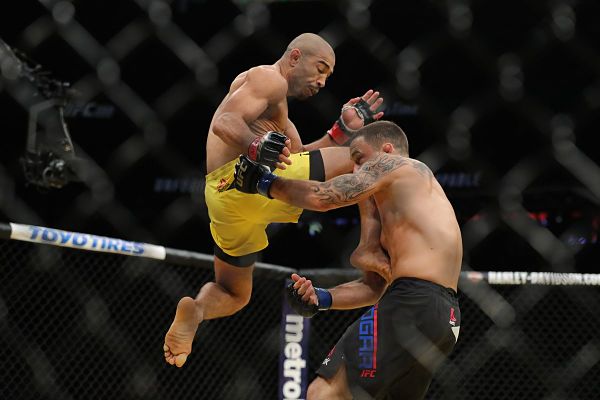 Since losing to Conor McGregor at UFC 194 in December, 2015, Aldo's gone 3-3, after starting out his career 25-1. His best days are certainly behind him, but he still appears to be one of the best in the world. After losing to McGregor, he defeated Frankie Edgar in a rematch, easier than he did in their first fight, before dropping back-to-back losses to featherweight king Max Holloway. We thought Aldo was done after that; not only did he lose two in a row, not only was he 1-3 for his last four, but he took a serious beating in round three of each of those fights before being stopped.
He retaliated however with a first round knockout win over Jeremy Stephens, who was on a three fight win streak, and was looking better and more dangerous than ever. He threw and landed one of the cleanest and most brutal shovel hooks you'll ever see in MMA to Jeremy's liver, and followed up with more strikes to get the finish. This win was incredibly impressive; again, not only did Aldo snap his losing streak, but Jeremy was the favorite in this fight.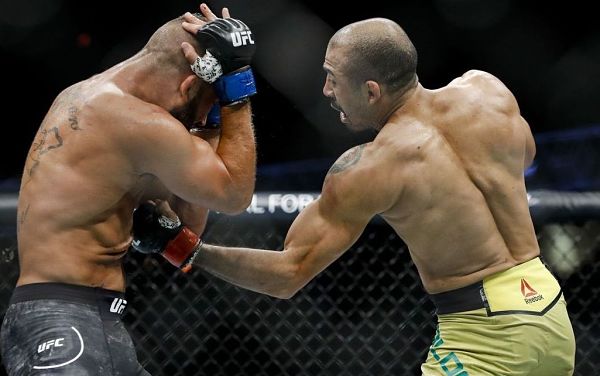 Pound-for-pound, Stephens is one of the most powerful fighters out there. He has KO wins with punches, kicks, knees, elbows, everything. He can literally starch anyone with any limb, and Aldo folded him with a body shot. That's the other thing that was so surprising and impressive about it, Jeremy had only had one knockout loss on his record, it was an elbow from Yves Edwards that he didn't see coming. That was surprising when that happened too, but the fact that Jose Aldo made Jeremy Stephens crumble with that strike was insane, Jeremy is tough as hell.
He's also quite a bit bigger than Aldo, which is another reason he was the favorite, but it didn't make a difference. Jose had to overcome some slight adversity in this fight as well, which showed us he's still durable and he still wants it. His next outing would be just as impressive, as he finished Renato Moicano early on in round two via TKO.
The first round was a feeling out process, in which he was out struck 10-20 by Moicano, but came out swinging in round two and didn't let up until the referee stopped it. He had now won his last two fights, both by knockout. It was looking like we had the old Jose Aldo back, the Jose Aldo that would just brutalize every opponent with beautiful muay thai.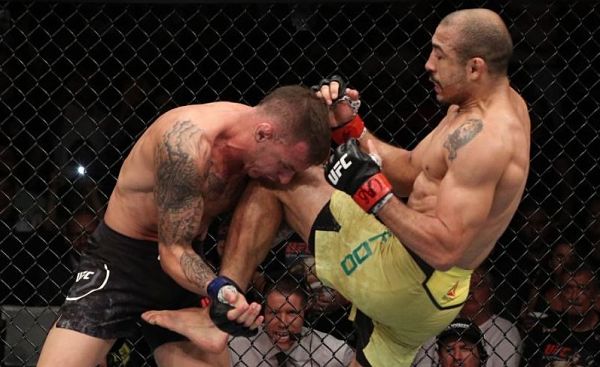 His next fight was relatively uneventful, as he lost via unanimous decision in his own home town to Alexander Volkanovski. Now there's no shame in losing to Volkanovski, he's won belts at welterweight, lightweight, and featherweight in his MMA career, and is 20-1 as a professional, going 7-0 in the UFC thus far. However, Aldo stopped using all of his weapons quite awhile ago, and now it's really starting to effect him.
I noticed in the Chan Sung Jung fight he didn't throw many leg kicks at all, but later found out he broke his foot early on in that fight, so it made sense. Then starting with the second Frankie Edgar fight, he just stopped throwing them in general. He didn't need them in that fight of course, but they would've helped in others.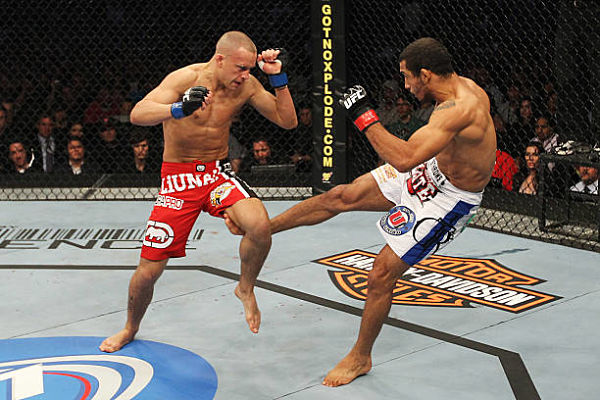 He only threw four leg kicks against Edgar in the rematch, one in the first Holloway fight, nine in the Holloway rematch, a combined ten against Stephens and Moicano, and four against Volkanovski. If you look up the stats, not only does he have some of the best the sport has ever seen, but he's also incredibly accurate with them.
However, when you compare that to say his fight with Ricardo Lamas where he landed 20 of 22 leg kicks, or his fight with Mark Hominick, where he landed 18 of 19 leg kicks against the 21-0 professional kickboxer, or the Urijah Faber fight. Do I even need to mention how many he landed in that fight? He has one of the most dangerous weapons in the entirety of MMA with those leg kicks, but he's neglected to use them in this later part of his career.
One more thing I'd love to see from Aldo is for him to move up to 155 lbs. He was campaigning for a move to lightweight when he was still champion during his first title run, but the UFC never let him. Now that he's lost his belt a couple times, I haven't heard him mention anything about it. I'd really love to see him at lightweight though, he's been diagnosed with kidney stones twice for cutting to featherweight. How dangerous would he be if he didn't have to drain ten more pounds out of his body?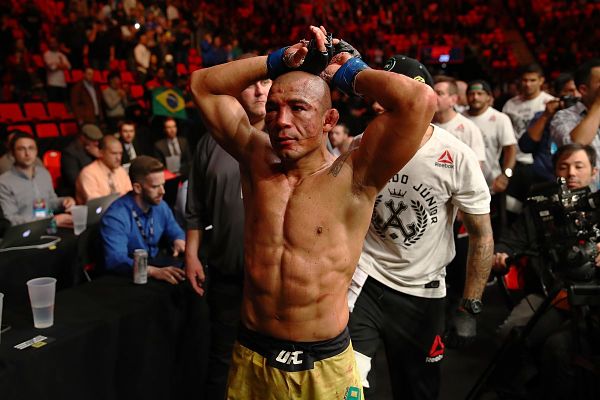 His frame works for lightweight, he's 5'7" with a 70" reach, it's very doable. Plus, think of all the match ups for him there. Could you imagine a fight with him and Justin Gaethje? Or a fight with him and Edson Barboza? There are so many great match ups for him there, as there are at featherweight, but I really would love to see him move up. Every fight of his I've ever seen was at 145 lbs, and he wanted to move up badly before, I don't know why he hasn't yet. Maybe he decided against it and realized 145 lbs is his home, who knows.
I think he can certainly be competitive with the best in the world at both weight classes, but who wants to see him make another run at featherweight while Max Holloway's the champion? He already lost to, and got finished by Max twice. There's been a trend as of late in MMA about moving up closer to your natural weight, and it's worked out for most.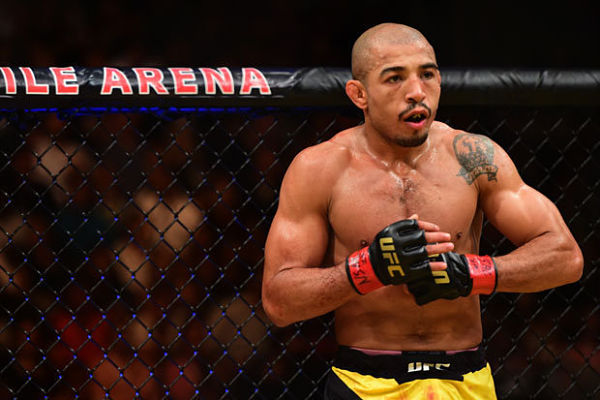 Michael Chiesa moved up and submitted BJJ black belt Carlos Condit, both Jorge Masvidal and Anthony Pettis moved up and got second round knockouts over the number two and number three welterweights in the world in back-to-back weekends. Of course Masvidal moved up awhile ago, but it still applies. Same with Anthony Smith and Thiago Santos, I just don't see why he wouldn't try it out.
There's also been a couple guys fail doing that, like Max Holloway, or Kevin Lee, but Aldo has had a hard time making the featherweight limit for a long time, and I doubt he'd be too undersized. I bet he'd perform even better and he'd feel incredible, he'd have more energy to go for the finish, he could throw more often.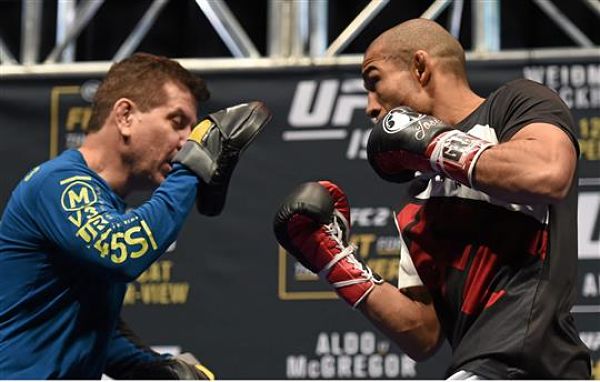 What would you like to see Jose Aldo do next? I thought a career in kickboxing would be pretty cool, rather than boxing, or both, but he's staying with the UFC, which isn't unfavorable. I also thought a move to Bellator would be awesome for him, I think he matches up with Patricio Freire very well. Plus, who wouldn't want belts from the two biggest MMA promotions in the world? Or two of the three biggest at the very least.
If he stays at featherweight, I'd like to see him fight maybe the Mirsad Bektic vs Josh Emmett winner, or maybe Calvin Kattar, Brian Ortega, Zabit Magomedsharipov, or Yair Rodriguez, or a rematch with Chan Sung Jung; or for lightweight maybe Paul Felder, Edson Barboza, Charles Oliveira, or Al Iaquinta. Honestly, I'm excited to see him fight anyone, I'm a massive Jose Aldo fan. What would you like to see be next for him?