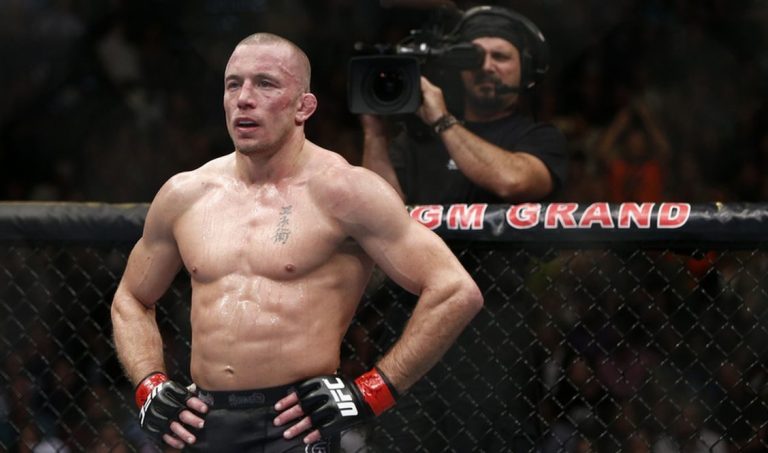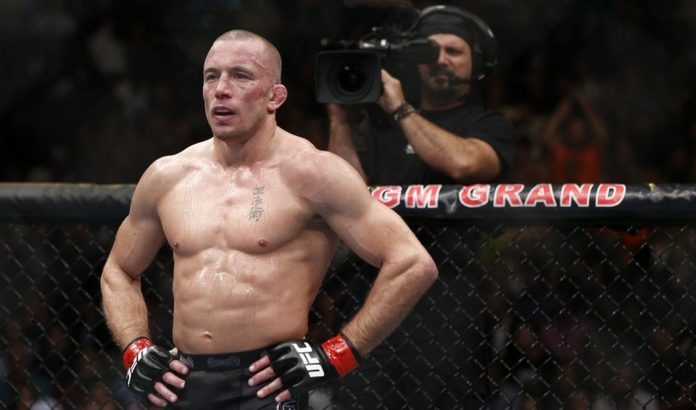 Georges St-Pierre, one of the greatest MMA fighters of all time, called it quits in 2019, more than a year after beating Michael Bisping to win the middleweight title in his comeback fight at UFC 217.
MMA Gym A Happy And Sad Place
While he's not competing anymore, St-Pierre continues to train regularly. Speaking on 'The Joe Rogan Experience' podcast (as transcribed by MMA Fighting), GSP said that although his gym is his happy place, he does feel sad at times when he has to warn aspiring fighters against the ills of fighting.
"One of the happiest places and the saddest places for me to go is the gym," St-Pierre said. "It's the happiest place for me to go because I can practice the sport I love, because I love training, I love the science of fighting.
"And it's very sad, too, because after training, there's always some guys that come to me because they seek some advice. I always give them advice regarding fighting. But a lot of them, my advice would be, 'Hey bro, you should hang up your gloves and find a real job. Because I've seen this movie, and it's not a good ending, my friend.' But if I tell them the truth, they get mad at me. … [They say], 'He's jealous and he's arrogant.'"
So Far, So Good
St-Pierre considers himself fortunate as he stills feels healthy after decades of wear and tear inside the Octagon and in the gym.
"I could be brain damaged, but so far, I think I'm good," St-Pierre said. "However, it's not a guarantee that I will not have problems in the future. So far, so good. I don't think I have any issues. But I saw many doctors, because for me, my health is the most important thing. And there is never a doctor that will tell you it's good if you go back to fight. It's always a risk."
'Boring' Fighting Style
The fact that he hasn't suffered as many blows to his head as his some of counterparts is the result of his strategic approach to fighting, which he was often criticised for. But 'St-Pierre' doesn't pay attention to any negative remarks.
"I was blamed to be kind of boring because I was not taking enough risk," St-Pierre revealed. "But why would I take a risk if I'm winning the fight. Why would I take a stupid risk and give my opponent an opportunity to land a fatal blow to knock me out? It's up to him to take the risk.
"If you're a martial artist, you understand that. But if you're watching a fight to be entertained, you do not understand that. And because we live in an entertainment world, that's the way it is."
Going Too Hard In Training
St-Pierre also pointed out that he knows many fighters that have harmed their careers by sparring too hard in the gym. For GSP, training is all about improving one's skills, instead of pushing one's body to the limits.
"I believe the best way to improve is when it's playful," St-Pierre said. "I've seen so many guys – I can't say names, but it's crazy how many guys I've seen that have left their careers in the gyms because they spar too hard. Every sparring for them is about winning the rounds.
"You cannot improve like this. You need to be playful. Of course, when you're in training camp and your fight is coming up, you need to recreate that environment of discomfort, that stress. But when you're outside of that preparation zone, you need to be playful, and that's when you improve."
Do you agree with Georges St-Pierre?
See also: