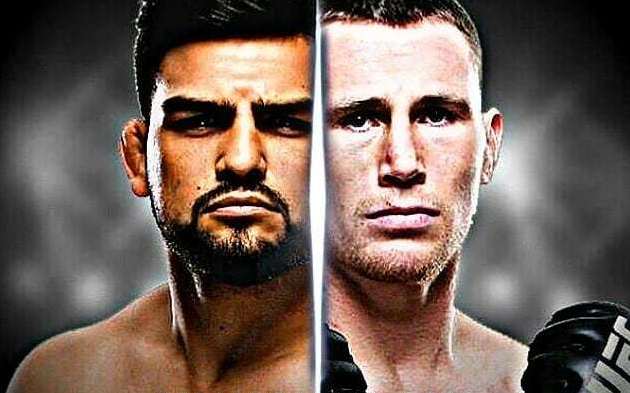 The opening odds have been released for the latest bout to be signed in the UFC's middleweight division, a bout between the No. 4 ranked Kelvin Gastelum and the formerly ranked No. 6 welterweight Darren Till. The odds have opened at -182 for Gastelum and +135 for Till, making Gastelum a moderate favorite.
These numbers will continue to change until the fight happens at UFC 244. This is a very risky fight for Till to take; from going 17-0-1 in his first 18 professional fights, to losing via finish twice in a row (two brutal finishes), falling to 17-2-1, and now he has to fight Gastelum, an absolute tank of a man. There could have certainly been better match ups for him to take, and it's surprising this fight was even made. However, when Dana White was asked why this fight was made, he said because this is the fight Till wants. What ever happened to protecting a fighter from themselves?
Though this may be the fight Till wants, he's still only 26-years-old and should be put against much lesser of competition right at the moment. Gastelum almost won the interim UFC Middleweight Championship in his last fight, and could very well have won the undisputed title in February had Whittaker not fallen out. Gastelum's one of the very best in the world, him and Till right now just doesn't make much sense.
One of them has to lose no matter what. The UFC does not want Till to go from 17-0-1 to 17-3-1 and they don't want a stud like Gastelum to go from 16-3 (1 NC) to 16-5 (1 NC) either. Who wants to kill off stars?
Nonetheless, this match up is actually quite exciting. We've got the 6′ tall Darren Till who boasts a 74.5" reach against the 5'9" Kelvin Gastelum who has a 71.5" reach, plus their skill sets matched up together. The wrestling and grappling of Gastelum mixed up with his very good striking and heavy hands against the high level kickboxing that Till brings to the table.
Both of these guys are former welterweights; Till actually should be at 185 lbs, Gastelum should probably be at 170 lbs but he fits into the middleweight division very well and is still a top ranked contender that could beat anyone on any given night, he's that good. What are your thoughts on this match up and who will you be betting on?