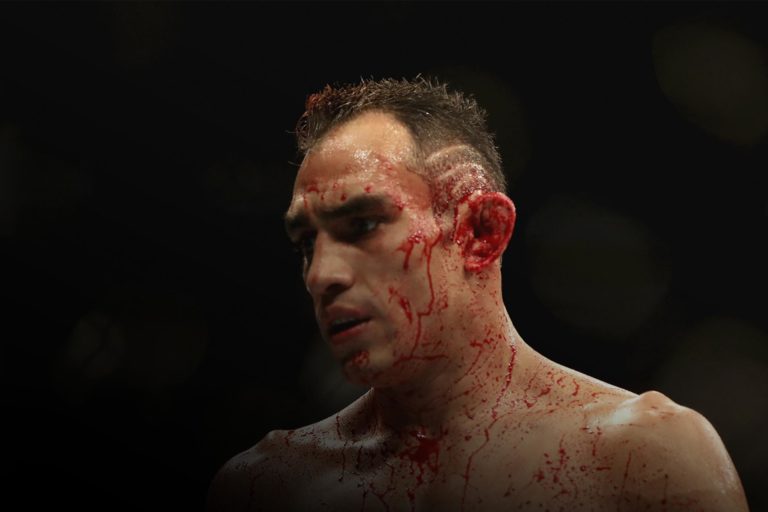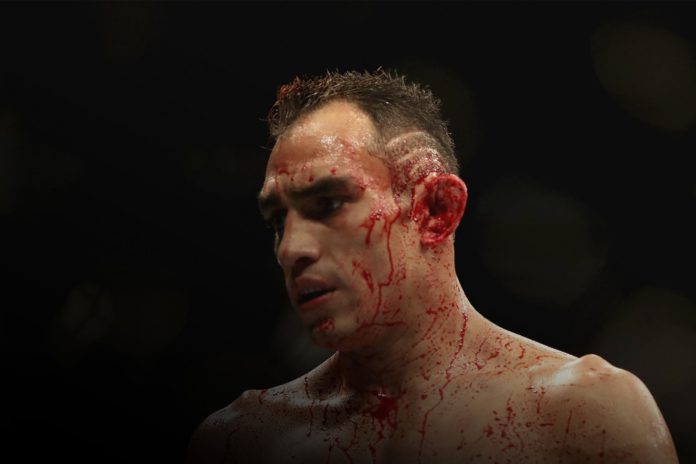 Tony Ferguson's boxing coach Rashad Holloway praised Justin Gaethje for the flawless performance that won him the interim lightweight title at UFC 249.
Ferguson looked uncomfortable for the majority of his 24 minute fight and absorbed some substantial damage, before being saved by referee, Herb Dean. 'El Cucuy' showed great heart to survive the onslaught of strikes that would have certainly finished anybody else in the division.
In an interview with Helen Yee (transcribed by MMA Junkie), Ferguson's long-time boxing coach Holloway, dissected his fighter's performance.
"Tony was not as sharp sometimes as we usually see, but Tony was active. He was busy. Justin Gaethje just fought a hell of a fight. He fought a hell of a fight. He was able to capitalise on some of the mistakes Tony made. Tony fought Tony's fight in some significance, but at the same time there were a lot of things he didn't do, and I think that was due to Justin Gaethje putting on a good performance, and it just is what it is some nights."
Despite seeing glimmers of brilliance in the early rounds, Holloway believes that Ferguson needed to be more diverse with his attacks.
"Our whole game plan was to stay on the outside, strike, stay long, move to our right at all times," Holloway said. "Tony did that at times. He didn't do it as much as I wanted him at times, but Tony's Tony. Tony likes to engage, Tony likes to bang, and that's what makes Tony Tony at the same time. He did a lot of that. I think I would have liked to see Tony use his feet a little bit more. Tony did some good things in the beginning of the fight, like when he stayed long. He did very well in keeping Justin off balance, a lot of good leg kicks.
"Of course, we all wanna see Tony on the ground more with Gaethje – more submissions, more jiu-jitsu – but at the same time, Gaethje makes it hard. You look at all of Gaethje's fights, Gaethje doesn't let anyone take him to the ground. He does a good job of that."
Following the heavy loss, Holloway believes that 'El Cucuy' needs some time outside of the Octagon, before he can get his head back in the game (as transcribed by The Body Lock MMA).
"I think at this point, Tony needs a mental break from this sport. Just to be normal, not deal with all the politics and the headaches of it, the physical part of it.
"I think after a couple of months of resting, no working out, we can go to the gym and have some fun. Just have some fun working out. … Just have fun, not really prep for a fight but just have fun and take a break and fall in love with the sport all over again. It's a lot of pressure when you're undefeated for so long and you're looked at as the marquee guy. Now it's like the weight's off his shoulders and he can be normal again."
Ferguson was transported to hospital that night and scans revealed that he had acquired a fractured orbital bone in the loss to 'The Highlight', narrowly avoiding surgery. Gaethje, is now expected to fight UFC lightweight champion Khabib Nurmagomedov, later this year to unify the belt.
Who would you like to see Tony Ferguson fight next follwing his much deserved break away from the Octagon?
See also: