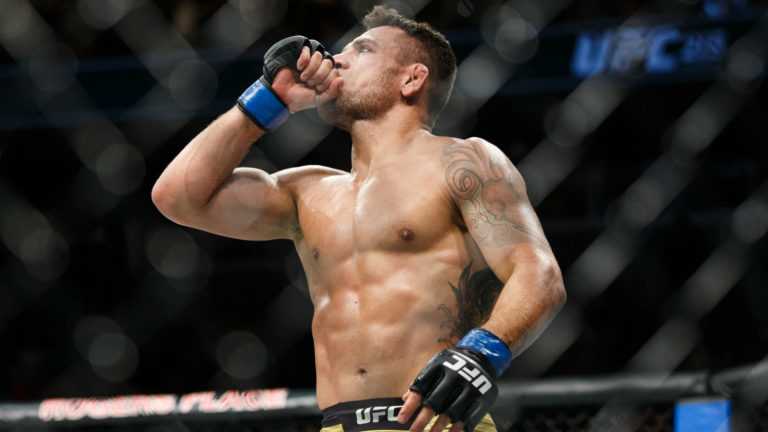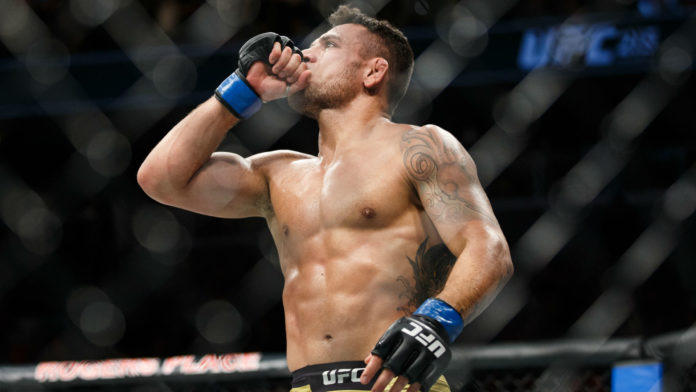 Last night we had the first ever UFC event in Rochester, New York, and along with it came some great fights. We had two former lightweights in the welterweight main event, we had a couple upsets, tons of finishes, and we had Rochester's own, Desmond Green picking up the W in his hometown.
Julio Arce and Julian Erosa had a very competitive and entertaining back and fourth fight; both guys took a good amount of damage and kept gutting through it, that is until the finish. Erosa looked a bit like Dominick Cruz, but with a little less footwork. He was constantly moving, and kept dropping his hands; Julio capitalized on it with a beautifully timed head kick and got the KO victory at 1:49 of round three. Julian Erosa is now 0-3 in the UFC after winning his shot on The Contender Series, and Julio is now 3-1 in the UFC after his Contender Series win.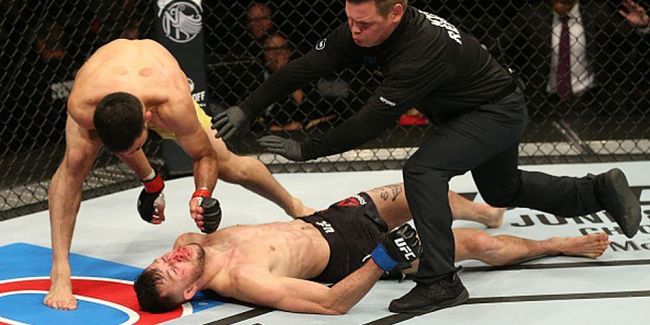 Zak Cummings and Trevin Giles also had a competitive fight, and this one was also stopped in the third round. The previously unbeaten Giles was 11-0 coming into this fight, but got rocked with a beautiful overhand left and then got locked up in Zak's guillotine. It looked like he might get out, but Zak readjusted and made it tighter, and Trevin was forced to tap at 4:01 of round three. Zak Cummings is now 2-0 since his return to middleweight.
Ed Herman and Pat Cummins both had decent showings last night, especially Ed considering he won of course. Pat looked like he'd been working on his boxing, and both were landing on each other. Pat was able to get a takendown, but only briefly, as Ed got back to his feet, got the clinch, and landed a knee to Cummins' head, which stumbled him, and Herman proceeded to hit him more and get the finish at 3:39 of round one.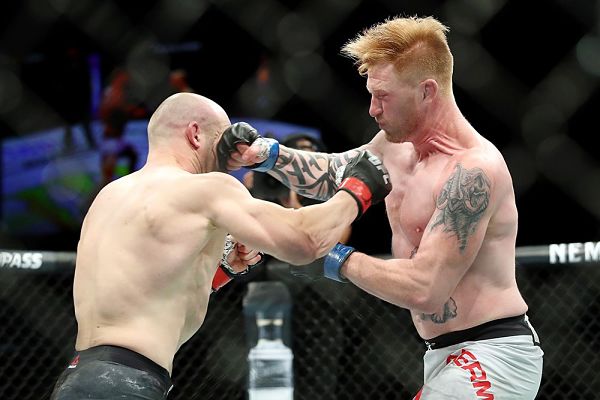 Grant Dawson really looked incredible last night, yet again. This kid is so talented it's almost unreal, and he added another finish to his resume: 14-1 with 13 finishes. He became the first person to ever defeat TUF 27 winner Mike Trizano in MMA, and did so very dominantly.
Trizano was overall, between his TUF fights, amateur fights, and professional fights, he was 18-0, and Grant didn't skip a beat, he looked great. He had Mike's back for a good portion of the fight, before sinking in the rear naked choke at 2:27 of round two. Trizano will certainly be back, he's still only 27, and Dawson's just 25. I can't wait to see what this kid turns into, he has all the potential in the world.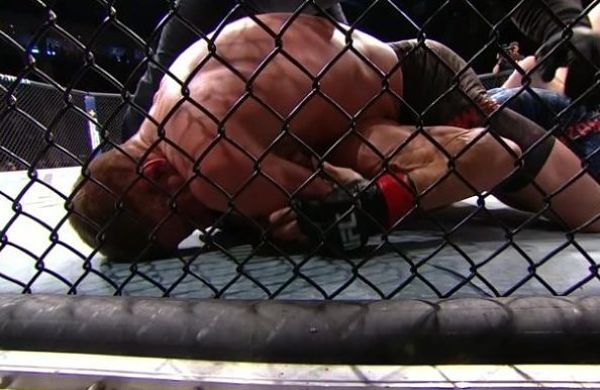 Michel Pereira really blew me away last night, I couldn't believe how good he looked. He threw quite a few flashy strikes, and looked very, very athletic, and powerful, up until he KO'd Danny Roberts. He landed that beautifully timed flying knee, followed by a right cross, and got the knockout win at 1:47 of round one.
I'm also very excited to see where Michel goes from here, Roberts is no easy walk in the park, and Michel made it look easy. Danny Roberts is a former professional boxer and is a very dangerous striker, and Michel went in there with no fear and did his thing. I can't wait to see this 25 year old back in the octagon!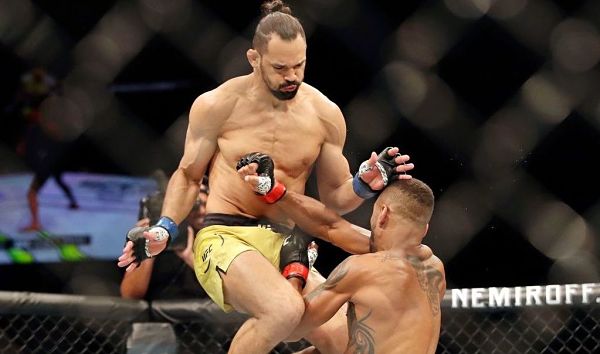 Desmond Green brought back the win for his hometown fans, he won via unanimous decision (30-27, 30-27, 29-28) against the TKO champ-champ, Charles Jourdain. Charles is actually a very skilled fighter, he has good striking, and landed a bunch of nice kicks, primarily to Desmond's leg. Desmond was able to tie him up and take him down at a few points in the fight, generally with an upper body lock. This marks Desmond Green's first back-to-back wins inside the UFC in his career.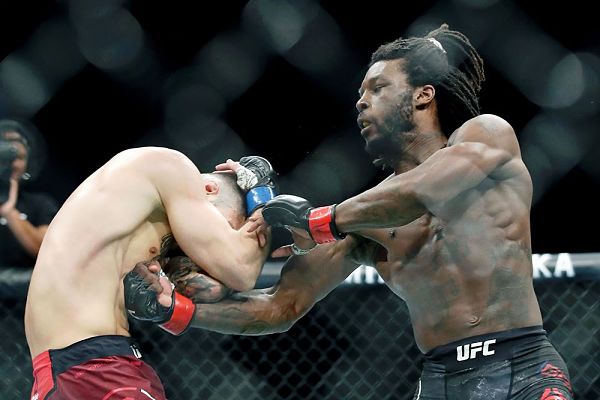 Aspen Ladd and Sijara Eubanks had a good rematch, with the same outcome, Aspen defeated Sijara via unanimous decision. The scores were a little inconsistent, (30-26, 29-27, 29-28) but nonetheless it was evident who the better fighter was at the end of it. Ladd is still undefeated in her MMA career, and is continuing to climb the ladder to the top.
Davi Ramos and Austin Hubbard kicked off the main card, with Davi winning via unanimous decision. This is his first decision win in his UFC career, his first three were all via rear naked choke. The scorecards read 30-27 across the board, and rightfully so.
I could tell Davi has really worked on his boxing, he got some good shots in there, and continuously out wrestled and out grappled Hubbard. I was actually quite surprised with Hubbard's defense on the ground, I figured Ramos would be able to submit him. Davi was limping backstage, his leg was sore, and he was not happy with his performance, he wanted a finish. Even though he didn't get the finish, he convincingly won the fight and was very dominant throughout. Davi improves his UFC record to 4-1, and his overall MMA record to 10-2.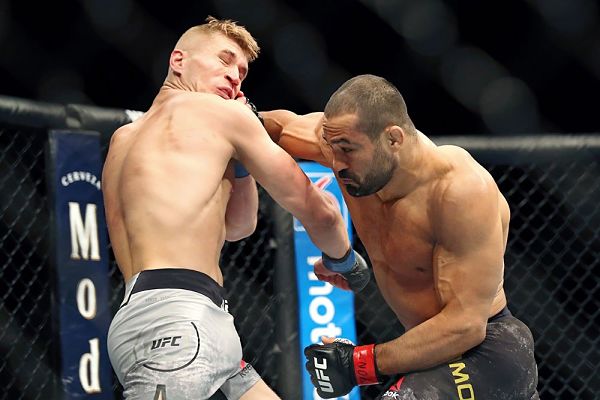 Charles Oliveira and Nik Lentz had their trilogy fight last night, and it went similar to how the first two went. Though the first fight was overturned, Oliveira submitted Lentz in the first two meetings, this time he knocked him out. Charles has always had good muay thai, but has never really impressed anyone with his power before. He'd never won via knockout inside the UFC before either, and he starched Nik with a beautiful cross, and followed it up until the ref stopped the fight at 2:11 of round two.
I think he realized how well he did on the feet against 39-1 champion kickboxer David Teymur in his last outing, he almost finished him with strikes as well, but chose to jump on the anaconda choke while Teymur was hurt instead. Charles Oliveira is still only 29 years old, he grew up inside the octagon and is just now coming into his prime. He's also on his first ever five fight win streak in the UFC, Du Bronx is surely coming along!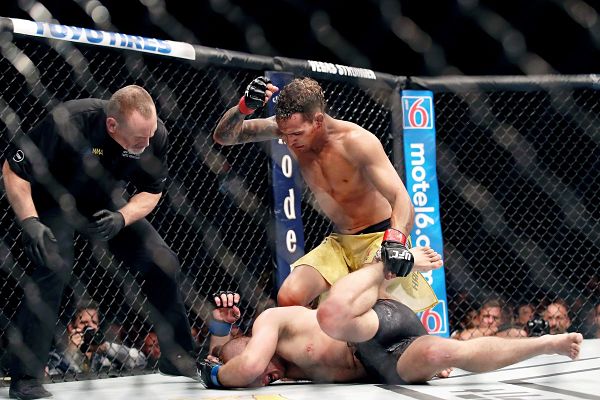 Vicente Luque was supposed to meet Neil Magny at this event, but Magny of course failed his most recent drug test, and was pulled from the fight and replaced by Derrick Krantz. He came out swinging quick and hard against Luque, trying to just get the feeling out process out of the way. He had some success with it, Luque had quite a bit of adversity to overcome.
Krantz ended up getting him down and taking his back, before Vicente was able to escape and work back to his feet. Once he was back up, he landed a thunderous cross on Derrick, followed by more punches before the fight was stopped at 3:52 of round one. It was certainly a late stoppage, but a good comeback win for Luque. No one expected him to face any adversity against this unknown guy Derrick Krantz, this unknown guy was also 23-10 however, you can't count out experience.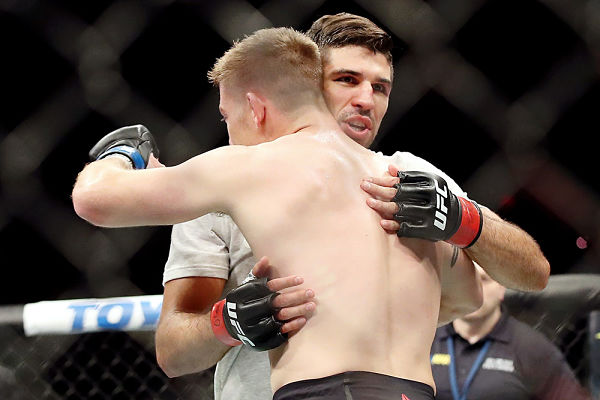 Megan Anderson was expected to run right through Felicia Spencer, but actually, the exact opposite happened. Not only did Megan lose, but Felicia dominated her the entire fight, taking Megan's back, sinking in a rear naked choke, and getting the tap at 3:24 of round one. I'm not so sure she should've been that big of an underdog considering she's undefeated, she's also an Invicta Champion, and she holds black belts in both Brazilian Jiu-Jitsu and Taekwondo.
I was picking Megan however, and was very surprised to see it go that way. Most people were saying Megan's done, she will never be a serious elite contender, I think that's nonsense. People seem to forget, Amanda Nunes started off her UFC career in a similar way.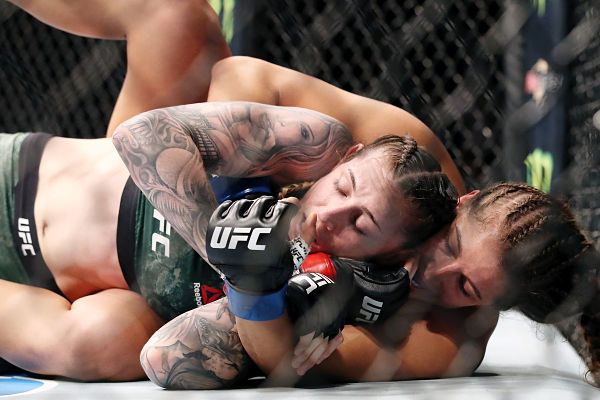 Ian Heinisch and Antonio Carlos Junior had a back and fourth fight that went to the scorecards with Heinisch winning 29-28 across the board. It wasn't the most appealing fight to many, but it was gritty, and grueling. Antonio was visibly tired in the second round, and only got more tired as the fight progressed. Ian was able to capitalize on it and ended up out working the exhausted Brazilian. This is Ian's second win in a row against an elite BJJ black belt, and also his second win in a row against a TUF Brazil Champion.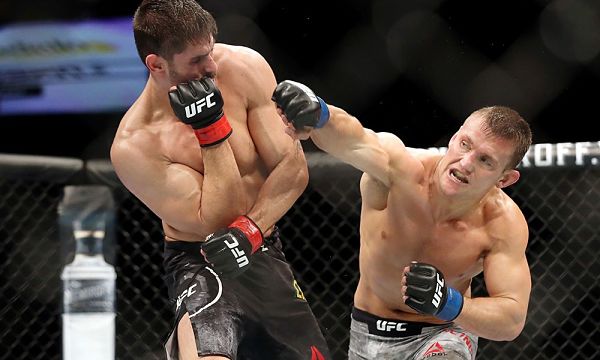 The main event was a very grueling fight, and also very back and fourth. Kevin Lee tried hard for the takedown pretty much the entire fight; there were times where they were separated and were striking with each other at distance, but Kevin kept trying for the takedown, especially against the cage. I think he tried to take a page out of Colby Covington and Kamaru Usman's book, they were both able to out wrestle Rafael dos Anjos to a decision, but it wasn't quite as easy for Lee. The Motown Phenom is an NCAA Division II wrestler, and went 37-0 as a sophomore in college before dropping out to pursue an MMA career.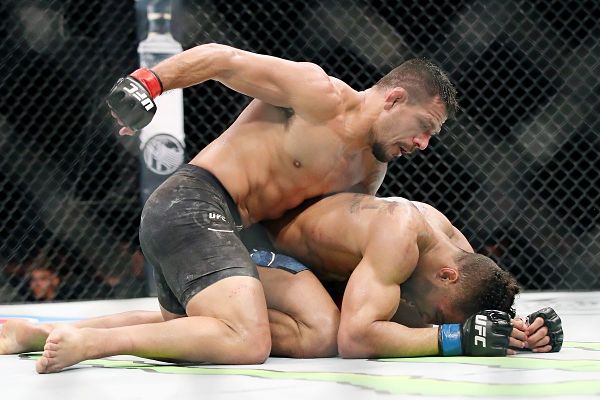 He wasn't able to take Rafael down and wasted way too much energy trying to, Rafael was even able to out wrestled him. By time round four came around, Kevin was exhausted, and a little over half way through the round he shot for a takedown, dos Anjos stuffed it, went to take Lee's back and ended up in mount before securing the arm-triangle choke at 3:47 of round four. It was great to see Rafael not lose three in a row, on the contrary I didn't really want to see Kevin lose two in a row either, that's the way this sport is though. I'm curious to see where each of them go from here, both are still two of the top fighters on the planet.
That sums up UFC Rochester, or UFC on ESPN+10. Now we get ready for UFC on ESPN+11 on June 1. There's no UFC event next weekend, or Bellator, or Rizin, or ONE, there is however PFL 13 this Thursday on May 23. This PFL card showcases numerous UFC veterans and some of the best fighters in the world, tune in to see them!