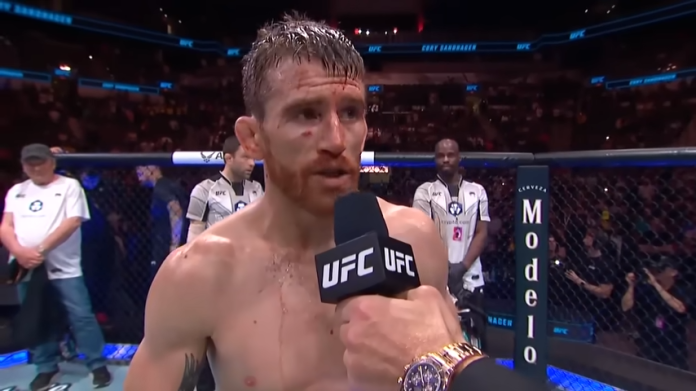 Cory Sandhagen improved to two wins in a row after outstriking Marlon Vera in an entertaining bantamweight clash, which he won by a split decision in the UFC San Antonio main event. 'The Sandman' should have won by unanimous decision, but one judge surprised everyone by scoring the fight in favour of the Ecuadorian.
In his post-fight Octagon interview, Sandhagen called out the number one contender, Merab Dvalishvili, which has many wondering if he has a death wish.
"Merab, you're hungry? Well, I got something for you to eat… and it doesn't take good," Sandhagen said.
Many think Sandhagen should have called out Sean O'Malley, since both men are predominantly strikers and a fight between the two would be an absolute banger, which is true. Dvalishvili is said to be a nightmare matchup for the American, because of his wrestling, pressure, and cardio, which are out of this world, and he put it all on display in his most recent fight against Petr Yan.
First of all, Sandhagen deserves credit for making a bold call out. He wants to fight the top contender in the division. He also deserves a lot more respect for acknowledging that he needs one more win before he can challenge the champion.
Maybe he wants to test himself against a strong wrestler like Merab to measure the improvements he has made in grappling since his submission loss to Aljamain Sterling. Cory will have to face either Sterling or Henry Cejudo if he qualifies for a title shot next, so Dvalishvili would be the perfect yardstick to that end.
Merab would accept the fight in a heartbeat as well. He has made it clear that he won't fight for the title as long as his friend, Sterling, has the belt. That only means he's still one or two wins away from a title fight, despite being more than deserving of it even now.
Dvalishvili is a massive risk for Sandhagen, but it's one that is worth taking, and props to 'The Sandman' for having the nerve to poke the bear, instead of going for a slightly more convenient matchup in Sean O'Malley. In all honesty, Sandhagen vs O'Malley is a mouth-watering matchup, which every MMA fan would want to see, but now that Sandhagen has made his intentions clear, he should stick to his guns.
Dvalishvili is a tough fight for Sandhagen on paper, without a doubt, but it'd still be a great fight nonetheless. Sandhagen's length and movement could give the wrestling ace a lot of problems, plus the possibility of a flying knee would always be there, so it wouldn't be as one sided as some may think. All in all, it's a great call out from Sandhagen.
Who do you think would win a potential fight between Cory Sandhagen and Merab Dvalishvili?