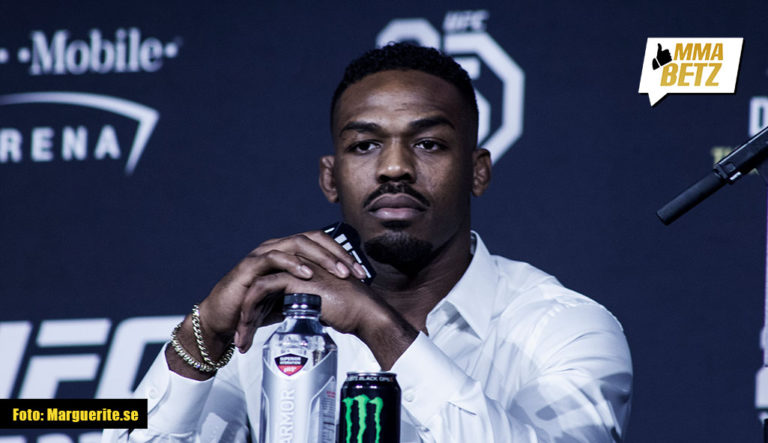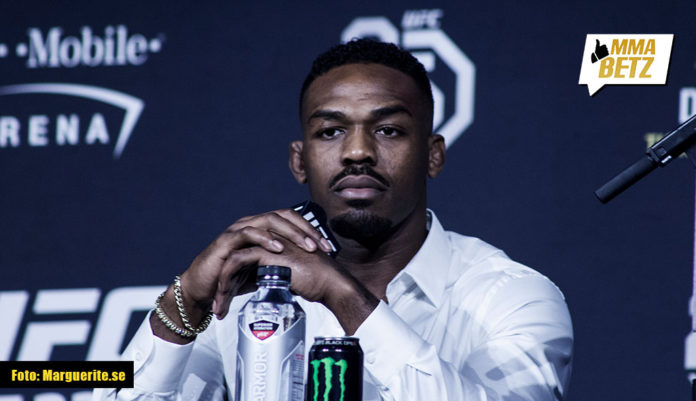 Chael Sonnen believes Jon Jones should embrace the image of the 'bad guy' that he really is.
After most of the illegal and burdensome behaviour, there is no thought of trying to smooth over his true character, says Sonnen.
Time and time again throughout his career, Jones has found himself in trouble with the law. Most recently, being arrested for aggravated Driving While Intoxicated (DWI) and negligent use of a firearm. Speaking to Submission Radio (as transcribed by MMA Fighting), Sonnen said he would like to see the UFC light heavyweight champion embrace the image of a "bad guy," instead of constantly seeking forgiveness for his antics.
"The mask is off. The world's known he's a scumbag for a while. But now that he's finally in touch with just what a dirty guy he is, and now he's putting out interviews, he's steering into it. Look, from a likeability and civility standpoint, OK, go ahead and question Jon Jones' character. I'm speaking about from a marketing and promotional standpoint. He's doing everything right.
"The gig is up. Everybody knows. You were on TMZ in handcuffs crying about 'I want to go home and be with my kids.' Dude, it's two in the morning, and you're firing guns while shooting and running donuts in a parking lot drunk on tequila. Are your kids even still up, you bum? The fact that he would be that level of a scumbag – just go with it, just be a scumbag."
Jones has being going back and forth with Israel Adesanya for the last year. And Sonnen thinks 'Bones' is unable to deal with the onslaught that 'The Last Stylebender' throws his way.
"Jon Jones is not ready for press conferences. And a lot of guys see a dishonour in that, that you should just freestyle and answer the questions that are asked of you. Man, it is no different than any other job interview or any test I've ever gone to in my life. If I know it's test day, I'm gonna study for the test. Adesanya studies for the test. He doesn't answer the question asked of him, he waits until your mouth's done moving and then he says whatever the hell he wants. Jon Jones answers questions. Good ones don't answer questions, they handle questions."
Despite the fact that Jones and Adesanya have been going back and forth and flirting with the idea of settling their differences inside the Octagon, Sonnen believes we're not close to seeing the fight.
"I think that fight is further out than it once was," Sonnen said. "Don't forget what's happened in the last 60 days, largely because of Dominick Reyes, but nobody could sell out an arena fighting Jon Jones. Jon Jones was the worst drawing champion in the organisation. That wasn't Jon's fault, Jon did everything right. He was getting a little bit of the Roy Jones effect, where he was so good and everybody knew how that movie was going to end, so nobody wanted to buy a ticket to watch it. The reality is, now because of the competitiveness that Reyes showed with him, many people believe that Reyes won, myself included, that all of a sudden it did get a little bit more interesting.
"Now, Jon trying to stay away from Reyes and go over to Blachowicz showing that. I mean, those things work, those are playground rules, but playground rules don't go away in the pros. And the point I'm trying to make is, Jon had nothing going on. He was talking about going up to heavyweight just so he could get somebody to watch him, he was talking about trying to bring Adesanya to light heavyweight just to get somebody to watch. All of a sudden, the world is different for Jon Jones. Jon now has two great fights between Jan Blachowicz and Dominick Reyes. Who's he gonna fight next? I don't know, but I can tell you with confidence, he's gonna fight both of them."
If they do ever meet inside the Octagon however, Sonnen is backing Adesanya over Jones.
"Oh, forget it, Adesanya will whip his ass. Do you think Thiago Santos beats Adesanya? Or do you think that Dominick Reyes beats Adesanya?" Sonnen continued. "I mean, these were really close matches for Jon Jones. I thought he lost both of them. On the 10-9 must system, I thought he lost to Santos too. I'm not bullish on that. I'm not even bullish on the Reyes one. Those were just my opinions. I think that ship has sailed. I think Jon's tough, I don't think he's the greatest of all time. I think that's Georges St-Pierre. But I do think that Jon Jones would have an argument to the toughest of all time.
"To watch his grit, to watch Jon Jones seeing everything, slip away, and he finds a way to get victory anyway, he finds a way to push through, Jon gets a lot of credit with me. I just think when you're comparing him to Adesanya, Adesanya's one. Jones is in a good spot, but he's still number two."
See also: