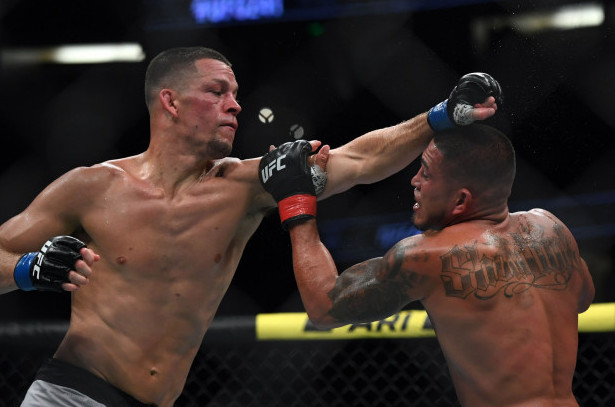 There were a ton of great fights this past weekend at UFC 241. Though there were a lot of decisions, there were some really great fights, and some satisfying outcomes. In this text, I will walk you through how the night went and what the fighters performances looked like:
Sabina Mazo looked incredible against Shana Dobson in the first fight of the night. Early into round one Mazo hurt Dobson with a body kick, and from there on it was pure domination from Mazo. The scorecards read 30-24, 30-25, 30-25.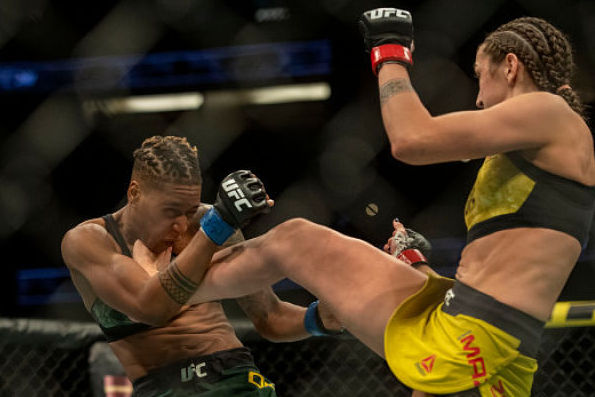 She almost got the finish a couple times in round three due to a series of knees that seemed to come from every angle possible up against the cage. The Colombian picked up her first UFC victory, and at just 22-years-old, it'll be very interesting to see how she does in the future.
Kyung Ho Kang and Brandon Davis had a great back and fourth fight. The jabs of Kang and the calf kicks of Davis were there for each fighter whenever they were on the feet, but Davis seemed to end up on his back too much and ended up losing via split decision. It was a good win for Kang, it's great to see him back at it.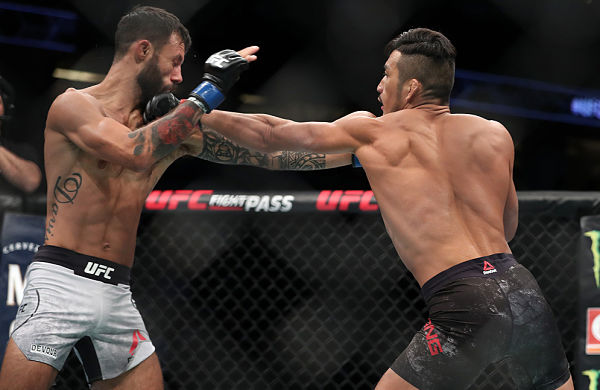 Manny Bermudez versus Casey Kenney was a competitive fight throughout it. At times it seemed like Kenney was gassing, but then he'd end up getting a takedown and get on top. The grappling was pretty close, they were quite evenly matched, and on the feet Bermudez mostly walked Kenney down and looked for the takedown. Kenney won via unanimous decision.
Drakkar Klose and Christos Giagos had a pretty entertaining fight, Klose ended up winning via unanimous decision. He used his striking for the most part and a couple takedowns when needed for the victory.
Klose shows us very good technical skills, but he doesn't finish his opponents very often. Not that he has to, he's 11-1-1, he certainly knows how to win. He's a great talent to have on the UFC roster.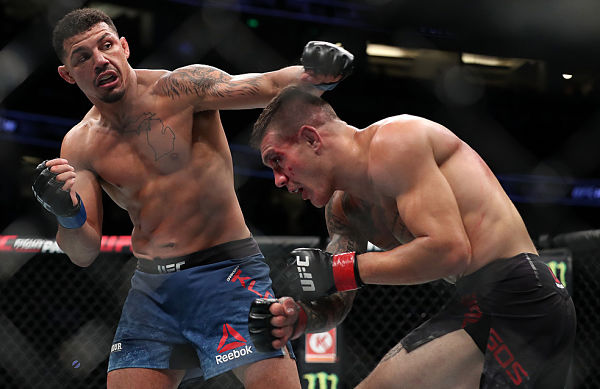 Cory Sandhagen is an astounding fighter, he really is. I've found another fighter that fights like TJ Dillashaw very well, but I think Sandhagen is better at it than anyone else I've mentioned that fights similar to him (Max Holloway, Lando Vannata). The way he can switch stances at any point, when coming forward, when moving backward, when throwing literally any strike. He's incredible.
The shovel hooks he started cracking Assuncao with were just nasty. Cory Sandhagen is going to be at the top of the bantamweight rankings for a long time. This is the formerly ranked #3 bantamweight Raphael Assuncao's second loss in a row, what's next for him? Sandhagen wins via unanimous decision.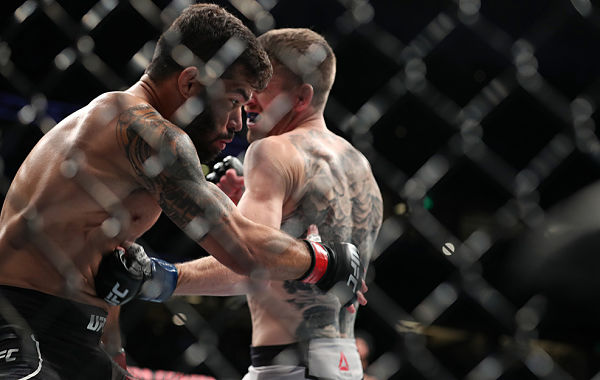 Both Devonte Smith and Khama Worthy were pretty much still in the feeling out process until Worthy landed that short hook and followed up for the finish. The only thing that sucks, this is Smith's second loss, but also his second loss via (T)KO. Hopefully that doesn't make a difference later on in his career. Worthy wins via TKO in round one.
Ian Heinisch started out his fight win Derek Brunson as good as he possibly could have. He was looking great from the very first second up until somewhere in round two. His timing and skill set on the feet was very impressive until he got fatigued, then Brunson took over.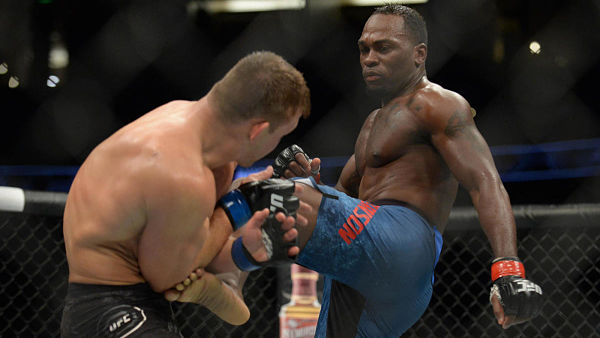 Heinisch almost got the finish early on with a head kick, maybe he had a bit of an adrenaline dump. He'll be back, I'm very interested to see him again, his athleticism looked on point. Brunson wins via unanimous decision.
Sodiq Yusuff came out swinging against Gabriel Benitez and had a little bit of success doing so, until he got dropped. It didn't faze Yusuff much however, not too long after being dropped, he finishes the fight via TKO. Yusuff really is something special, it's going to be very fun to see his future. Yusuff wins via TKO in round one.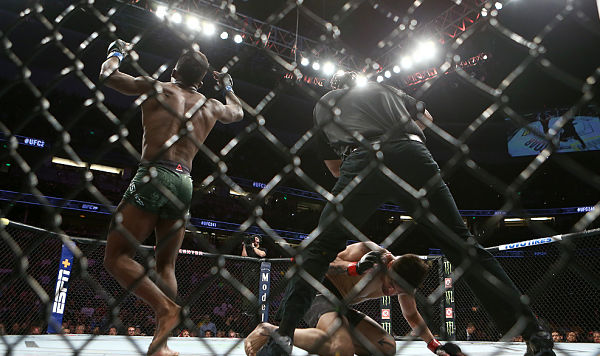 Both Paulo Costa and Yoel Romero looked pretty good, but it was Costa's pace in the first two rounds that got the fight won for him. Well that, and his toughness in round three, as Romero tried to rally like he always does, but was unable to get the finish.
Both fighters got hit a lot, both fighters dished out a lot. It was a great fight and rightfully awarded Fight of the Night. Rather than explaining too much of this one, I just recommend you go back and watch it. Trust me, you'll absolutely love this fight. Paulo Costa wins via unanimous decision.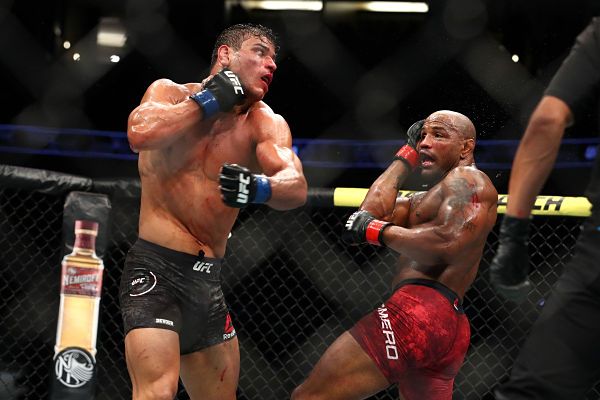 Nate Diaz looked great in his return, but didn't quite fight like he usually does. He does often wear on his opponents and lean on them against the cage while throwing punches looking for the takedown, but he normally boxes at range as well. He didn't do that at all on Saturday, why is that?
Is it because his reach is 76" long, and Pettis' is 72.5" long? Plus Diaz is taller, meaning Diaz' boxing range is quite close, if not the same as Anthony Pettis' kicking range. He didn't want to let 'Showtime' get comfortable throwing kicks, he wanted to be in his face 100% of the time, whether it looked pretty or not.
This has got to be the first time we've really seen Nate Diaz execute his gameplan to a T. He's looked great in other fights of course, but he really had an idea of what it'd take to beat Pettis, and he did what he needed to do in order to negate Pettis' offense and make him fold.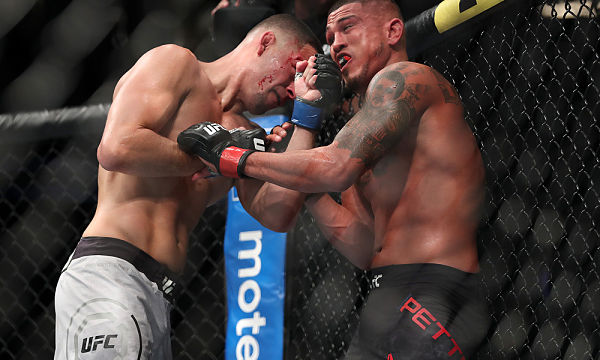 I'm very glad we got to see a ground fight between these two as well, Diaz showed why he's a 2nd degree black belt under Cesar Gracie. I wish Nick Diaz would come back too, but all in all, I'm very thankful to have a Diaz back in general. Nate Diaz wins via unanimous decision.
Daniel Cormier had a good gameplan coming into this rematch with Stipe Miocic. He started with leg kicks, and after he had success with that, he started throwing his hands. It was evident early on how much faster 'DC' was than Miocic.
Cormier ends up going for a single leg, he tries to run the pipe but can't get Miocic down, so he decides to just pick Miocic up and slam him. Cormier remained on top for the rest of the round, everything was looking great for him. D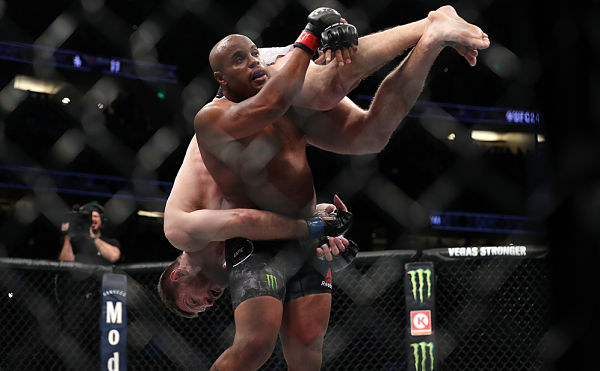 Round two was much closer with both fighters throwing and landing often. It was a nerve wracking round considering how much each of them was getting hit, and Cormier never really had he guard up the whole fight. Round three was even closer than the second, 'DC' continued pressuring and was tagging Miocic while Miocic was tagging him right back.
Round four is where things got really interesting. Miocic figured it out, he made the adjustment. He threw a shovel hook to Cormier's liver, and though Cormier didn't react to it, it landed flush and he knew he could do it more.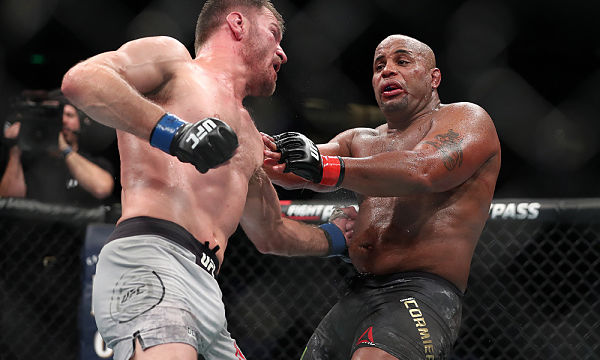 Miocic didn't even set any of them up, he just pivoted and threw them, and it worked every time. He must have threw at least twenty of them at Cormier's liver, landing most, and the last one got to him.
As he landed that last one, he threw a shot to Cormier's face, and as it landed Comrier's body language said it all. It screamed, "I'm too exhausted to move". Miocic saw that and swarmed him for the finish to recapture his UFC Heavyweight Championship.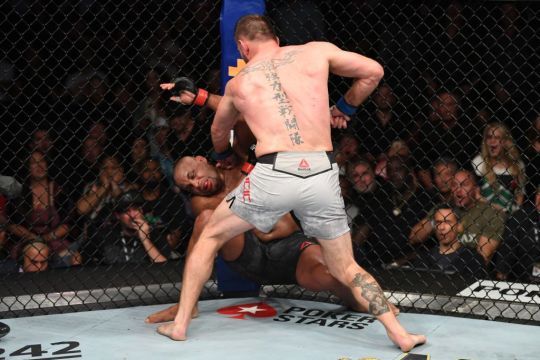 Hopefully they can set up a trilogy because Cormier deserves it, and it'd be a great trilogy to see. He gave Miocic his immediate rematch, and he was 15-0 at heavyweight going into this fight. Stipe Miocic wins via TKO in round four.