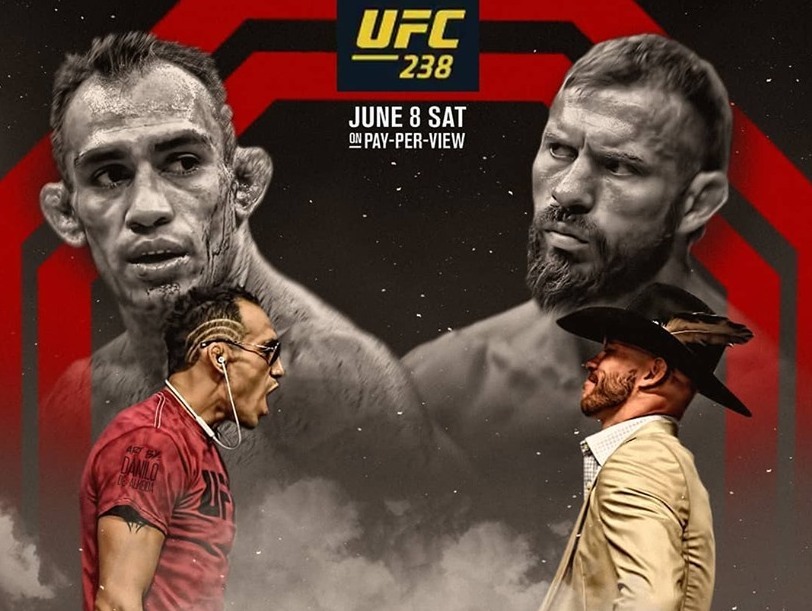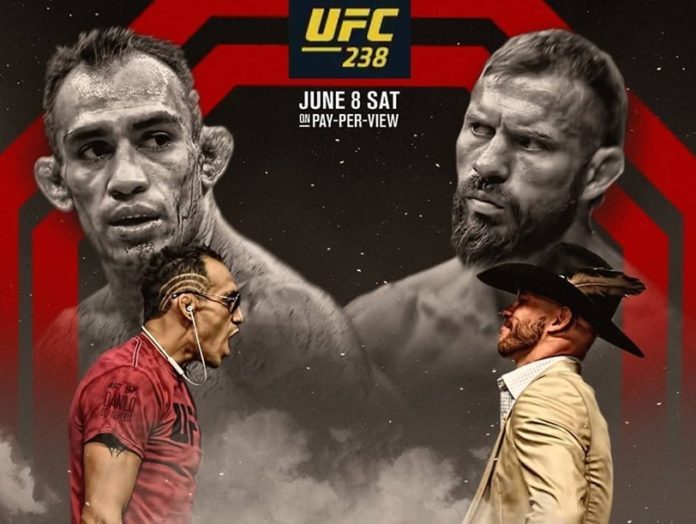 This weekend, we have an absolutely stacked card for UFC 238. There are two title fights, and one of the best match ups we'll ever have the pleasure of seeing in Tony Ferguson versus Donald Cerrone, man what a fight that is! That's not all, we have a great bantamweight clash between Jimmie Rivera and Petr Yan, and a heavyweight match up between two of the best there as well, as Tai Tuivasa takes on Blagoy Ivanov. Continue reading for an in depth breakdown of these five stellar match ups:
Henry Cejudo (14-2) vs. Marlon Moraes (22-5-1)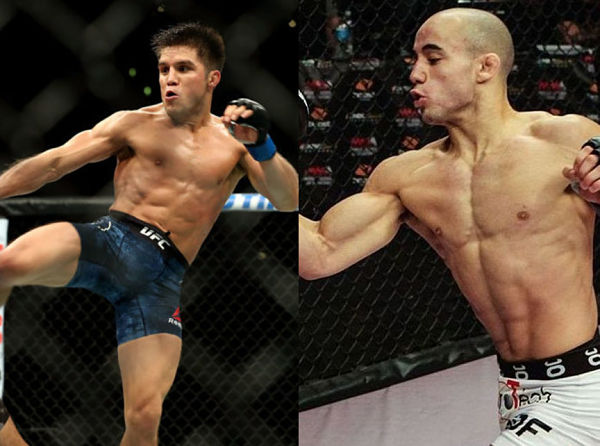 This match up was supposed to be TJ Dillashaw versus Marlon Moraes for the UFC Bantamweight Championship, we all know why that's not happening however, and the last man to defeat TJ is getting the shot instead. I personally think this is one of the highest level match ups we've ever had in the sport of MMA. We have the 2008 Olympic Gold Medalist in Freestyle Wrestling against the two-time National Muay Thai Champion, this will certainly be an interesting one.
Henry Cejudo started wrestling at a young age, and is to this day the youngest ever Olympic Champion in Freestyle Wrestling from this country. He never went to the NCAA's, he skipped that and just pursued an Olympic career. Henry won the American Wrestling Federation's National Freestyle Tournament in 2006 while he was still in school beforehand, and of course made his dream come true in 2008. He took a break for a bit before retiring from wrestling in 2012, and started his MMA career in 2013.
Aside from the Olympics, Henry's Freestyle Wrestling accomplishments are a bronze medal at the 2007 World Cup, a gold medal at the 2007 Pan American Games, and three gold medals in the Pan American Championships, in 2006, 2007, and 2008. He's a special athlete, he really is. His MMA career has been nothing short of spectacular thus far, as there's only one opponent he's fought that he hasn't beat, and that loss was via split decision.
In less than a year, he quickly assumed a record of 6-0, and was signed to the UFC. He won the WFF Bantamweight Championship in just his third fight, and finished four of his six wins via TKO. He was expected to fight NCAA Division I wrestler Scott Jorgensen in his UFC debut, but he had issues making the weight, and the bout was cancelled; he had also missed weight in his last two fights that were scheduled for 125 lbs. He then returned against Dustin Kimura at bantamweight, and dominated the fight, and was granted another opportunity to make the flyweight limit, and he hasn't missed weight since.
Henry won his next three fights, all via decision, and got his first crack at the pound-for-pound king Demetrious Johnson. It didn't take Demetrious long to dispose of Henry; as soon as he got the clinch on him it was over, and The Messenger was stopped via knees to the body and punches. He returned at the end of the year, only to taste defeat once again, this time to Joseph Benavidez. This really lit a fire under Henry, and he's been seemingly unstoppable since. He came out and closed the show on fellow former title challenger Wilson Reis, as he got the knockout finish early on in round two, before mauling The Phenom Sergio Pettis for three rounds.
Henry's record was now 12-2, and he was getting another chance at Demetrious Johnson, who'd only made it that more evident how good he was since their first meeting. This fight was much different than the first, though it looked like Cejudo may be in trouble because of an obvious foot injury early on, but his nerves came back into it, and he was able to continue. It was a close fight, and it was very competitive, but I believe the call was right. I had it 2-2 going into round five, and Henry certainly won round five. He defended his belt for the first time earlier this year, as he quickly TKO'd TJ Dillashaw to remain the UFC Flyweight Champion.
There's a lot to be said of that stoppage, I still believe it was early, but now that we all know what TJ did, I don't mind as much, and I feel other fans feel the same way. I heard people saying Demetrious won their rematch and he shouldn't have the belt considering, I've also heard people say the TJ stoppage was too early. In his last two fights, he defeated two of the best ever; he defeated the best mixed martial artist to ever live in many peoples eyes in Demetrious Johnson, and he defeated the best bantamweight to ever live in TJ Dillashaw, but some people want to say those two fights had controversy to them, and perhaps they did, but you can't take away what he's done. He may very well be the best combat sports athlete ever by time he retires.
Marlon Moraes may just be the most dangerous fighter on the planet right now; no matter what, no matter who his opponent is, he finds a way to finish them. He started out his combat sports career with Muay Thai at age seven, and at age 15 he started training Brazilian Jiu-Jitsu. Marlon started out his MMA career with a 5-4-1 record, being finished in all four losses, two TKO's and two submissions, and has since gone 17-1 with his only loss via split decision, a fight that 16 of 17 reporters scored for him, and a fight in which he avenged.
When Marlon was 11-4-1, he got his first title shot, after going 4-0 inside WSOF. He won the fight via unanimous decision, and defended the belt five times. At 18-4-1, Marlon made his UFC debut at UFC 212 against long time top contender Raphael Assuncao. The fight would go the distance, and he'd lose via split decision. His next fight was also quite close, as he fought John Dodson and defeated him via split decision. Now his jitters were out of the way, now we got to see his full potential, and man what potential that is!
He had back-to-back KO's over top contenders and former CFFC Bantamweight Champions Aljamain Sterling and Jimmie Rivera. He went for a switch kick to the head against Sterling and caught him with the knee, and caught Jimmie Rivera with a switch kick to the head and stopped it just :33 seconds into the first round. What's really crazy, the Sterling and Rivera fights were a combined 1:40, that's it. You can put those two wins, plus his rematch with Assuncao into one round, and have three seconds left over, he's an absolute killer.
To knock Jimmie Rivera out like that, a guy that really doesn't leave many openings, a guy who's only loss was via split decision and was on a 20 fight win streak (5-0 UFC), it was absolutely incredible. Also, he's the only solid loss on Sterling's record, Sterling's other two losses were both split decisions that could've easily went his way, and Marlon starched him. In the Raphael Assuncao rematch, he hurt him with a punch, and ended up choking him out with a guillotine, becoming only the second man to ever submit Assuncao in MMA, the other being Urijah Faber nine years ago.
I really can't wait for this match up, it's going to be incredible! Look at Henry Cejudo, you know he's taking this seriously. I'm beginning to wonder, what's it going to take to beat him now? He's accumulated some power recently, his stand up has improved drastically, and of course his wrestling is second to none. Marlon has a BJJ black belt, and also a Muay Thai black belt, and uses them both very effectively and efficiently. Both of these guys are former or current champions, and they've both gone five rounds. They're also both on four fight win streaks, and each of their last defeats was a split decision. How does this one go?
Valentina Shevchenko (16-3) vs. Jessica Eye (14-6) 1 NC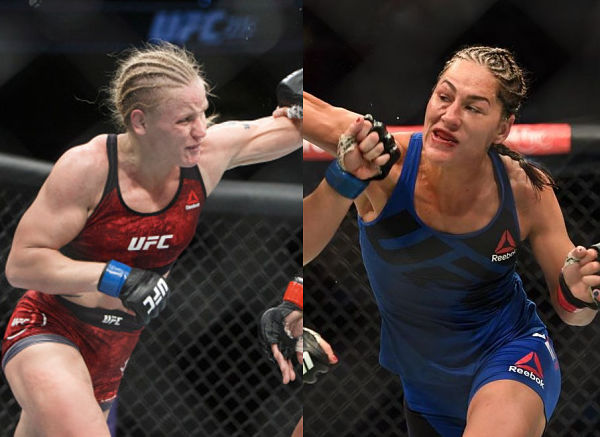 Valentina Shevchenko will be making her first title defense after finally capturing it at UFC 231, and her opponent will be challenging for her first world title as well. Valentina is about as polished of a combat sports athlete as you'll find, much like Henry Cejudo, but more so in the striking department rather than wrestling. She has some of the best credentials this sport has ever seen; she's a twenty-time World Champion in Muay Thai/Kickboxing, and holds a record of 56-2 in the art, as well as a 2-0 boxing record. To have 58 kickboxing fights and have won 56 of them, that's almost unbelievable.
Valentina made her MMA debut in 2003, and made it to 7-0 before taking a four and a half year break to focus on kickboxing full time again. She returned to fight Liz Carmouche in 2010, and lost the fight via doctor stoppage. She came back to win her next fight, her first decision win in MMA, and then took another year and a half off, before winning her next three and getting a UFC contract. She won her UFC debut, before losing her next fight to Amanda Nunes.
Amanda came out strong like she always does, and Valentina finished strong; this made us wonder what'd happen if they fought for five rounds, we eventually got our answer. Valentina proceeded to out class former multiple time World Boxing Champion Holly Holm by out striking her 119-73, and took her down three times to secure the unanimous decision victory.
She then faced The Ultimate Fighter 18 winner Julianna Pena, and this is the fight that really let me know how talented she was, as she finished Pena with an armbar in round two. I really couldn't believe that, a kickboxer submitted a stud of a grappler like Pena, and with an armbar, it was incredibly impressive. This awarded her a title shot, another shot at Amanda Nunes, and she didn't disappoint. This was an incredibly close fight, some thought she won, some thought Nunes won. Again, like their first fight, Amanda started strong, and Valentina finished strong, she ultimately lost via split decision.
Since then, she showcased one of the most one-sided beatdowns I've ever seen in any combat sport against Priscila Cachoeira, before submitting her in round two via rear naked choke. This got her the title shot everyone knew she deserved, she was considered the uncrowned champion to everyone. She was supposed to fight Nicco Montano for the Flyweight Championship at UFC 228, but Montano missed weight and was stripped of her title, therefore Valentina was forced to wait until she could get another opponent, and go through another fight camp.
My thoughts on that whole situation is this: That's why you give The Ultimate Fighter winners a trophy, not a title, firstly. Look at Carla Esparza, she didn't hold the belt long either, not trying to say they aren't good, because they certainly are, but make a title fight when you have true number one contenders. Secondly, Nicco did not want that fight, I absolutely refuse to think she couldn't make weight. She made the flyweight limit three times inside of two months in The Ultimate Fighter house, she can certainly do it when she has an entire camp to focus on that and only has to do it once, she simply did not want that fight.
That's neither here nor there anymore, as Valentina defeated Joanna Jedrzejczyk for the vacant UFC Women's Flyweight Championship at UFC 231, and is now looking to make her first defense. Jessica Eye can be a tough opponent for anyone, she has great hands, and her grappling has gotten better as well. She went on a bit of a losing skid, but lost to the very best nonetheless, and that Bethe Correia decision was pitiful. I get that she lost three straight, but that fourth one wasn't a loss, not to me. Especially considering that fight was in Ohio, Jessica's home state, it was bad.
Jessica has fought for two belts before, and won one of them. She won the ROC 130 lbs Women's Championship in just her third fight, and fought the 10-2 Aisling Daly for the NAAFS Women's Flyweight Championship, and lost via rear naked choke towards the end of round two. She then won her next seven in a row before making her UFC debut.
She, like Shevchenko, made her UFC debut against the former Women's HCF and Strikeforce Bantamweight Champion Sarah Kaufman, and she, like Shevchenko, defeated her via split decision. Just an interesting fact, though Eye's win was taken away and overturned to a no contest because she tested positive for marijuana. She then lost a split decision to the former RW Women's Bantamweight Champion Alexis Davis, before getting her first, and only stoppage win in the UFC. After her TKO win over Leslie Smith is when she fought those four fights without a victory. She's since won her last three, and earned her title shot.
Both of these women were forced to compete in a weight class above initially in their UFC careers, because the UFC didn't have a Women's Flyweight division. That never really made sense to me, you bring in a Men's Flyweight division, and have both Strawweight and Bantamweight for women, let alone Featherweight, I couldn't believe it took that long to get a Women's Flyweight division, but it's here now.
We really do have two of the best female 125 lb fighters on the planet competing this weekend, it's going to be a good one. Does Valentina continue building a legendary combat sports legacy, or does Jessica Eye shock the world? Weirder things have happened.
Tony Ferguson (25-3) vs. Donald Cerrone (36-11) 1 NC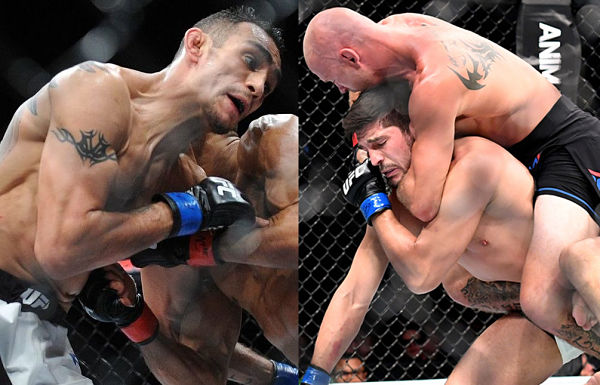 This is the fight everyone wants to see more than any other on the card, which is crazy considering there's two title fights after this. This is a pretty short notice fight, as it was only announced about a month ago. The only thing I wish that was different about this is that I wish it was five rounds. I hear people saying make it the main event, I believe like Ariel Helwani and Chael Sonnen agreed on that title fights should be the last fight(s) to happen that night. I agree with that completely, but I do wish this could be five rounds; not making this fight five rounds is almost as criminal as Bellator putting MVP vs Paul Daley in Connecticut.
The only other thing is I want to see both of these guys fight Khabib Nurmagomedov. I want to see Khabib fight Cerrone, Ferguson, and Gaethje after he fights Dustin Poirier. All of those match ups excite me quite a lot, I really would love to see all of them, this is why we can't have clutter in the lightweight division. You have all these guys that're worthy of a title shot, but only a fraction of them gets to try and challenge for it. In a division as deep as lightweight, that needs to change. Not only the guys that are deserving of a shot, but what about all the match ups for the fans?
Regardless, this is a great match up for the fans, and we should've seen both of them fight Khabib by now anyways, but sadly we haven't. Khabib has been scheduled to fight Cerrone twice, and Ferguson four times, it's incredibly unfortunate. Donald Cerrone started out his career with Muay Thai, he won some titles both as an amateur and as a professional, and went 28-0-1 as a professional before pursuing a mixed martial arts career. He quickly made it to 7-0 before debuting in the WEC. He won his first two fights in the WEC via submission, though the first one was overturned as he tested positive for a banned substance. He then fought fellow Muay Thai stud, and former WEC Lightweight Champion Rob McCullough, and defeated him via unanimous decision.
He fought for three world titles in the WEC, once against Jamie Varner, and twice against Benson Henderson. The first Jamie Varner fight and the first Benson Henderson fight could've went his way just as easily as not, but unfortunately for him, they didn't. He held a record of 6-3 (1 NC) with the WEC before coming to the UFC. He rattled off four straight wins in the UFC and looked as if he was going to be the next big thing in the promotion. He finished off the year of 2011 with a loss to Nate Diaz however, going 4-1 that year.
He won his next two fights before losing to Anthony Pettis, then defeated KJ Noons, before losing to Rafael dos Anjos. He then won his next eight in a row, many thought of this as his prime, as he went through a murderers row of lightweights, from Edson Barboza, to Jim Miller when he still had it, to Eddie Alvarez, to Benson Henderson, to Myles Jury, and a few more, he looked incredible every outing. He was granted a title shot in a rematch to Rafael dos Anjos, but was really never able to get started in that fight, and was stopped just :66 seconds into it via strikes. dos Anjos was a viciously powerful lightweight, and still an incredibly dangerous welterweight.
Donald then moved up to welterweight, and again went on an impressive win streak, this one however was only half as long, four fights. He defeated Alex Oliveira via triangle choke in round one in their Cowboy vs Cowboy main event match up, then became the first man to ever knock out Patrick Cote, Rick Story, and Matt Brown. Matt had been finished via body kick in his previous fight, but had never been knocked out with a strike to his chin. He is still to this day the only guy to ever finish any of them via strikes, all three of those guys have fought the very best to do it as well. Patrick Cote has even fought as high as light heavyweight, Cowboy is still the only guy to have been able to knock him out, that's astounding.
After these three wins, Cerrone had his first losing streak ever, he'd never lost more than one in a row, and he'd now lost three in a row, to Jorge Masvidal, Robbie Lawler, and Darren Till, two of them via TKO. I thought he could've got the nod in the Lawler fight, but mostly everyone though this would be the end of him, or at least thought he didn't have it anymore. He returned to fight Yancy Medeiros and won via TKO just before the close of round one, and then lost a five round decision to Leon Edwards. There wasn't too much to be ashamed of in that fight, considering Leon's one of the top welterweights in the world and Cerrone won two rounds of that fight.
He next faced Mike Perry, and broke Mike's arm after wrapping it up late in round one to get the victory, and then went back down to lightweight in an attempt to capture the belt. His return to 155 lbs would be against up and comer Alexander Hernandez, a kid who'd just starched Beneil Dariush, and won a decision over Olivier Aubin-Mercier, and he defeated him with a head kick followed up with punches and elbows. His next fight would be that classic match up he had in Ottawa against Al Iaquinta, where he'd showcase his elite level kickboxing, and win via unanimous decision.
Tony Ferguson has been nothing short of spectacular himself, he really is in a league of his own, in may ways. He does his own thing, he doesn't let anyone persuade his actions or choices. He builds his own fight camps, chooses his own coaches, he does everything the way he wants, and I really can't say anything bad about that, it works. Tony became known to the world in 2011 on The Ultimate Fighter 13, which he won by going 3-0 in the house with all three wins via knockout, then he KO'd Ramsey Nijem at the finale to capture the title of The Ultimate Fighter.
He won his next two fights before losing a decision to The Ultimate Fighter 12 finalist Michael Johnson. Since then, he's been on a straight up tear, beating every single opponent they've put in front of him. He has won his last eleven straight, which is absolutely nuts to think he hasn't had a vacant title fight yet. To be on an eleven fight win streak in the UFC's Lightweight divsion, that's so hard to do, especially against the best in the world. Donald Cerrone won eight straight fights from late 2013 to mid 2015, and everyone was complaining that he hadn't gotten one yet, well Tony's won three more than that, and against just as stiff of competition.
Tony also only has three decision wins in those eleven, he's a finisher. He has one of the most unusual, yet effective styles I've ever seen in the sport. He'll get dropped and hurt by someone, then he'll turn around and do a somersault then jump up and throw a spinning back fist as you're coming in, he'll accept bottom position, he'll cut you up with his elbows like he does to literally everyone, he's great. He has a wrestling background, and was the 2002 MHSAA Division IV State Champion, as well as making All-State honors in 2000, 2001, and 2002. He was also the 2006 NCWA National Champion, an All-American in 2006 and 2007, and the 2006 and 2007 North Central Conference Champion in College.
Take all of that, and mix it with a Brazilian Jiu-Jitsu black belt, and not just any black belt, but an Eddie Bravo black belt, along with his striking, he's as dangerous as they come. He's not pound-for-pound the hardest hitter, but he can knock you unconscious, he's not the number one BJJ guy in the sport, but he can certainly wrap you up, and he's not physically the strongest, but his technique strength is something not to be taken lightly, and he may just have the best cardio in the sport, let alone his weight class. He's as unorthodox and unusual of an opponent as you'll probably ever see.
Both of these guys have black belt level BJJ, both can wrestle very well, but both also accept bottom position; both guys also use all eight limbs, that's what makes this fight so intriguing. Tony's not the most technical guy on the feet, but the angles he throws from, and all the limbs he uses during that time confuses his opponents, and he catches them when they can't see it coming, or just out paces them or out grapples them, he has so many tools he can use against anyone. He does get cracked a good amount, but his recovery time is the best I think I've ever seen from anyone.
This fight is going to be absolute fireworks, even if you don't care about the other fights, I'm sure a lot of people are going to order this PPV just because of this fight. We have two of the most dangerous finishers in the entire sport, literally two guys that can finish 90% of their opponents on the feet or on the ground, and in the most talent stacked division the UFC has to offer. How does this one go down? There are hundreds of scenarios running through my head for this fight.
Jimmie Rivera (22-3) vs. Petr Yan (12-1)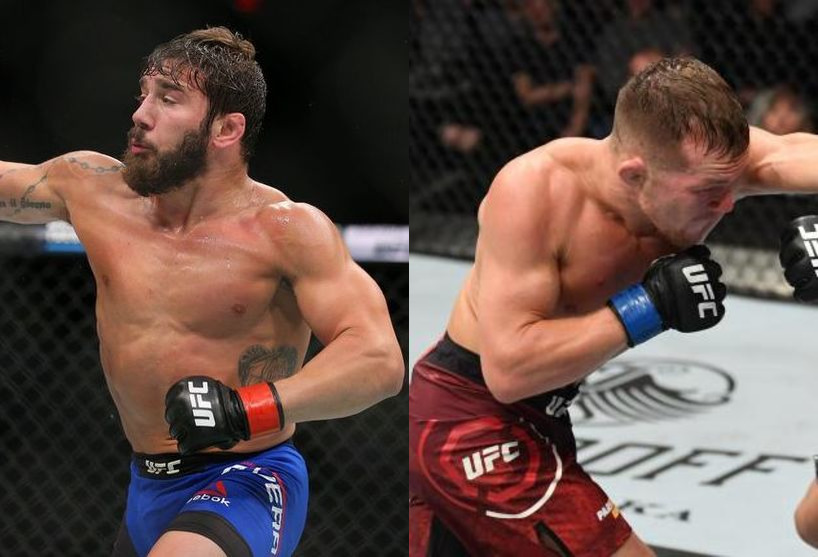 Jimmie Rivera and Petr Yan will be an interesting, and telling fight. It'll show where they're each at in their careers. I think Petr Yan has all the momentum in the world right now, considering he's 4-0 inside the UFC and he's only 26 years old. Petr started out his combat sports career with Taekwondo in sixth grade, and eventually found boxing, thanks to his older brother. He became a Master of Sport in Boxing, and he's also a Master of Sport in Mixed Martial Arts.
Yan has defeated the only man to ever defeat him as well; he lost a split decision to Magomed Magomedov, and avenged it via unanimous decision, a guy who's only other loss is via split decision and is currently 16-2. Petr is the former two-time ACB Bantamweight Champion, he won the belt, lost it to Magomedov, then won it back from Magomedov, and defended it once before being signed to the UFC.
Jimmie Rivera is 6-2 in the UFC, with his only losses being to Marlon Moraes and Aljamain Sterling, and wins over Urijah Faber, Thomas Almeida, Iuri Alcantara, John Dodson, and Pedro Munhoz. He's an elite level fighter that has had a little bit of a rough patch recently. His wrestling is very good, and he has great leg kicks as well, that's what I'd say he's best at. As I said before, he doesn't leave many openings, but Petr Yan has been striking a long time, will he be able to find that opening?
What happens if Rivera loses this one too? He'll have started out his career 21-1 and then have gone 1-3 in his last four, he's already 1-2 for his last three. Both of these two have gone five rounds before as well, twice in fact for each of them. The two of these guys are trying to continue climbing the ranks, which one will progress further?
Tai Tuivasa (10-1) vs. Blagoy Ivanov (17-2) 1 NC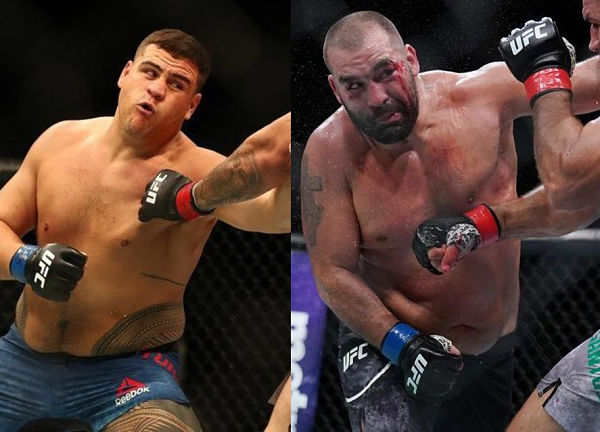 Tai Tuivasa is quite athletic for his build, or for a heavyweight in general, and has power in spades. He holds a record of 5-2 in professional boxing, 14-2 in kickboxing, and was 10-0 in MMA until his most recent fight, which was a defeat to former UFC Heavyweight Champion, Junior dos Santos. He looked great early on in that fight too, he just got caught with one of Junior's hooks, then got mounted and pounded on until the referee stepped in to stop it. The 26 year old won his first three UFC fights, and is looking to improve his UFC record to 4-1, and his overall record to 11-1.
Standing in his way will be the 2008 World Combat Sambo Champion, and 2006 World Combat Sambo Bronze Medalist, Blagoy Ivanov. Blagoy is a very elite heavyweight, he defeated Fedor Emilianenko in the 2008 World Combat Sambo Championships in the semi-finals, and is the former WSOF Heavyweight Champion. He won the title in 2015, and defended it four times before coming to the UFC. Blagoy is also an International Master of Sports in Sambo and a black belt in Judo. Both of these guys' last two losses are to Junior dos Santos as well.
Tai won the AFC Heavyweight Championship in just his fourth MMA fight, and defended it once before coming to the UFC. It'll be interesting to see how this one unfolds, both are looking to climb the heavyweight ladder. Who wins this fight? This is a great fight to kick off the main card and I'm very much looking forward to it!
This is a great card from top to bottom, with four fights on the Fight Pass prelims, four fights on the ESPN prelims, and of course the typical five fight main card on PPV. This card gets us ready for the even more stacked UFC 239, I can't wait for that one either! The thrill of fight night captures all of our wants and needs and puts them into one night almost every week, it's great to be an MMA fan.