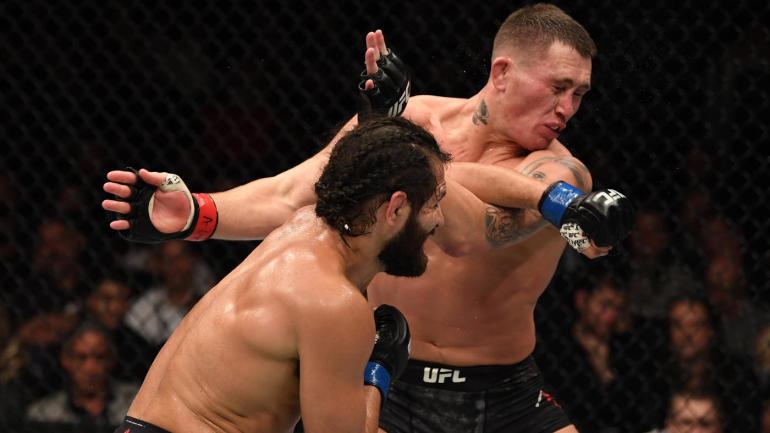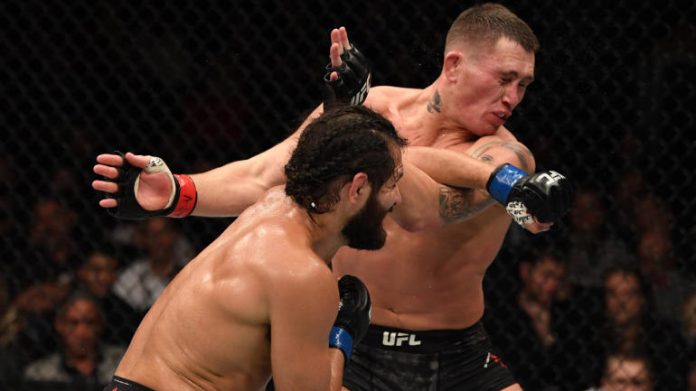 Things have been shaken up a bit at welterweight recently; we have a new champion in Kamaru Usman, who's undefeated in the UFC at 10-0. Ben Askren has arrived, Jorge Masvidal just KO'd the #3 contender, and we have three different top contenders on seven fight win streaks: Leon Edwards, Elizeu Zaleski dos Santos, and Santiago Ponzinibbio. What should happen next for the top guys at 170 lbs? Here are some match ups that I think make the most sense:
Kamaru Usman (15-1) vs. Colby Covington (14-1)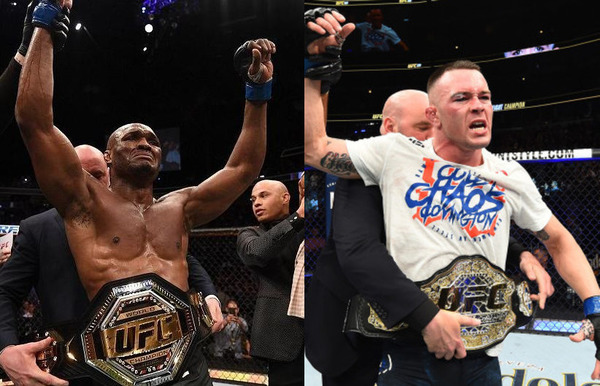 This fight has been in the making for quite a bit of time now, and still hasn't been made. Dana White has stated that Colby will be next in line for the title shot, which is good, it's about time. Just because he didn't want to fill in for another interim title fight does not mean he should've been passed up in my opinion, I think that's kind of unfortunate. Both of these men are 31 years of age, and both have had extensive and successful wrestling careers, but I will not break it all down just in case this fight actually happens, then I wouldn't be able to break it down then. I will however say that I believe this fight needs to happen, both have very similar styles, and they're both world welterweight champions.
It's evident these two do not like each other, and why would they? Colby for one seems like a pretty unlikable guy in all reality, which he's obviously doing on purpose, and Kamaru doesn't seem to like that many welterweights either. They have the same style of fighting as well, which makes it even more intriguing. They're both stud wrestlers that pressure their opponents and strike to get into range in order to get the takedown, both have incredible cardio as well. The only difference I see between them is that Kamaru's a little more physically imposing. This would be a very interesting fight. Aside from Kamaru fighting Tyron, their last two fights look unrealistically similar; not just their opponents, but also how and what they did against them.
Jorge Masvidal (33-13) vs. Leon Edwards (17-3)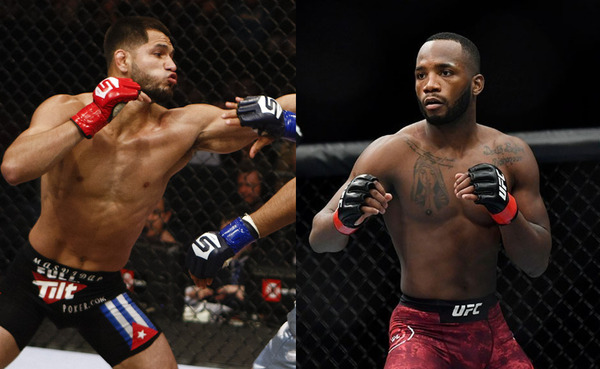 Both of these two had good wins yesterday, especially Masvidal; I don't think anyone expected a former lightweight to starch a should-be middleweight, especially one with the striking experience of Till. In case anyone doesn't remember however, Jorge KO'd Cezar Ferreira in each of their welterweight debuts, Cezar has always been a middleweight other than that fight. I think welterweight is definitely where he belongs, he's 5-4 at this weight, but three of those losses are split decisions, and four of those wins are knockouts. Remember when he fought at lightweight? Remember how he was always a decision fighter there? He hits a lot harder at the weight above and seems to go for it at 170, he coasted almost every fight at 155 lbs.
Leon had a good performance against the always dangerous Gunnar Nelson, who was coming off the win of his career against Alex Oliveira. It wasn't a blow out by any means, and he defeated Gunnar via split decision, though I have no idea how one of those judges scored it for Gunnar, that was kind of ridiculous. He did hurt Gunnar badly with an elbow and some follow up shots at the end of round two, but was unable to get the finish. The judges yesterday were good until the first main card fight, then it seems they just stopped paying attention, it was quite pitiful to be honest. At least two of them scored it for him.
Afterwards, as everyone knows by now, Jorge Masvidal and Leon Edwards got into it backstage, and Jorge threw, and landed a nice three-four punch combination on Leon. I think that makes the next fight right there, I just hope Jorge doesn't get suspended; he won $100,000 in bonus money alone, aside from him fight purse to show up, and purse to win. Fine him some of that bonus money, and let's get on with it, he hadn't fought in almost 17 months, he doesn't need another long break. It's up to the UFC, considering the commissioning there is weird. Who wants this next? It seems everyone does from what I see on social media.
Tyron Woodley (19-4-1) vs. Rafael dos Anjos (28-11)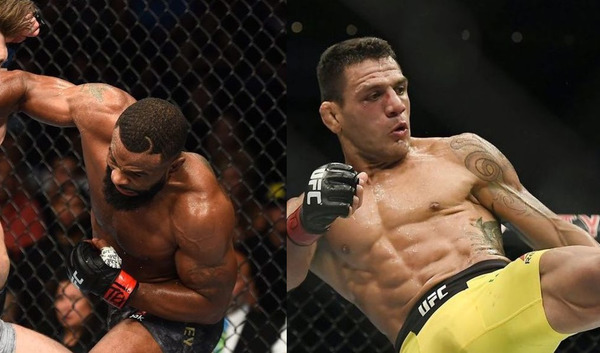 First off, both of these men have lost their last fights to Kamaru Usman, and both lost all five rounds to him. Anyone understand just how good Kamaru is yet? Anyway, I think this is a great match up considering what I just said, along with the fact that dos Anjos would have fought Tyron if he had beaten Colby in their interim title fight. I think we all would've liked to see that too, especially considering dos Anjos is a pressuring type of opponent, and Tyron has issues with that, and always has.
On the other hand, dos Anjos has had problems with stud wrestlers: Kamaru Usman, Colby Covington, Tyson Griffin, Gleison Tibau, and Khabib Nurmagomedov to name a few. I notice three of those are some of the best wrestlers in the sport still currently, but Tyron's no slouch in the wrestling department either. He's gotten away from his takedowns, but after a fight like he just had, I can only imagine that he'd get back to his roots. No one's out wrestled him like that, I'm sure he doesn't want that to happen again. The former UFC Lightweight Champion that's made a name for himself as a welterweight versus the former UFC Welterweight Champion, I think that's got a good ring to it.
Elizeu Zaleski dos Santos (21-5) vs. Santiago Ponzinibbio (27-3)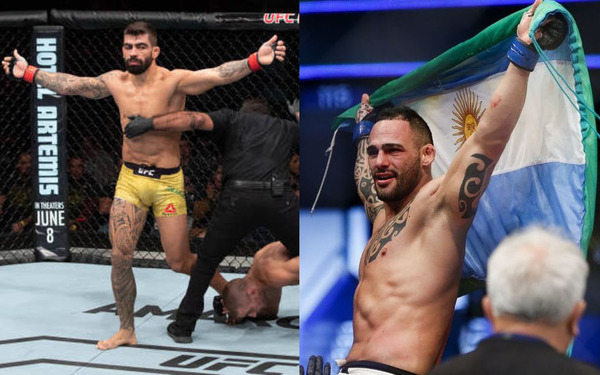 Both of these men are 32, and as I said in the first paragraph, both are also on seven fight win streaks; that's pretty nuts to do at welterweight, and both guys also have four finishes in those seven wins. There are a lot of similarities between the two as you can see, and both are very dangerous strikers, that can also grapple: Santiago is a BJJ black belt, and Zaleski just won via first round submission last weekend. Ponzinibbio is more of a boxer, and Zaleski is more of a capoeira-style kickboxer, both of which finish their opponents quite often, and are brutally powerful. Two different types of South Americans, Brazil versus Argentina.
I think this fight makes a lot of sense, there was talk about Ponzinibbio fighting dos Anjos, but who wants to see someone that's on a seven fight win streak fight someone that's lost their last two fights, and nine of their last ten rounds? dos Anjos and Woodley are both coming off losses, and to the same person, both of these two won their last seven, it makes all the sense in the world.
Darren Till (17-2-1) vs. Niko Price (13-2) 1 NC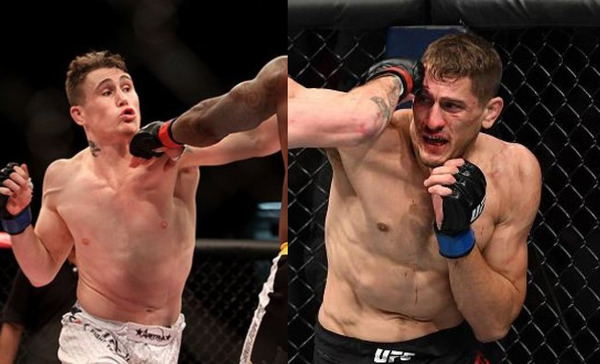 Firstly, I'd like to start off by saying I don't want to see Darren Till again for at least nine months, if not maybe a little more. The way he got KO'd, he shouldn't do any sparring at all for at least six months; however, I'd love to see him back against someone of this caliber, it'd be a very telling fight. One reason I like this match up, both of these two are true fighters, and Niko also took a lot of damage against Tim Means last weekend. That same cross that Means kept landing on Niko and snapping his head back with is the same punch that Darren dropped Jorge with, and Means landed it on Niko every time he threw it; however, a similar thing happened in both fights: Niko was getting lit up, then caught Means and KO'd him viciously, same with Darren's fight, he was doing good and then got caught.
I think it makes sense that both of these two take a good six months off sparring, maybe for Till he should even take a couple months off training in general. It's hard to take that much time off, especially after getting KO'd in your backyard; but it needs to happen. First off, he's been dropped and finished in the second round of his last two fights in a row after going 17-0-1 to start his career. I think this would be a good tell to see where each guy is. Another interesting fact, considering each of them have two losses, they both got dropped with a punch, and then submitted with a D'Arce choke in their first defeats, then both got KO'd in their second defeats. It just seems like a perfect fight to me. Of course, this is all assuming Till stays at welterweight.
Ben Askren (19-0) 1 NC vs. Stephen Thompson (14-3-1)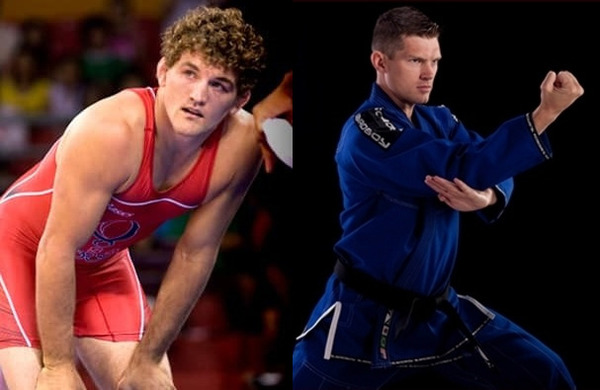 You didn't think I could make an article about the UFC's welterweight picture without Marty's best friend in it did you? How about a fight between the man that knocked out the UFC Middleweight Champion versus the man that held the 185 lb belt in ONE Championship? It seems everyone's forgotten about Wonderboy, no disrespect to Pettis, but assuming he beats him this weekend, wouldn't this be a good match up? It's another guy Ben wouldn't really be able to run his mouth to, but I feel most of them that he could do that with are already booked, or have more interesting and needed match ups out there.
Think about it though, the former four-time NCAA Division I Finalist and two-time Champion versus the 57-0 kickboxer with multiple titles in that, come on who wouldn't want to see that? Some say they want to see Askren versus Demain Maia, but we've seen Maia lose three of his last four fights to elite level wrestlers, it's not as intriguing to me, though of course I'd still be excited if that one were booked instead.
"Thompson seems like a nice guy, karate's not gonna work on me, so he can try it, whatever" – Ben Askren