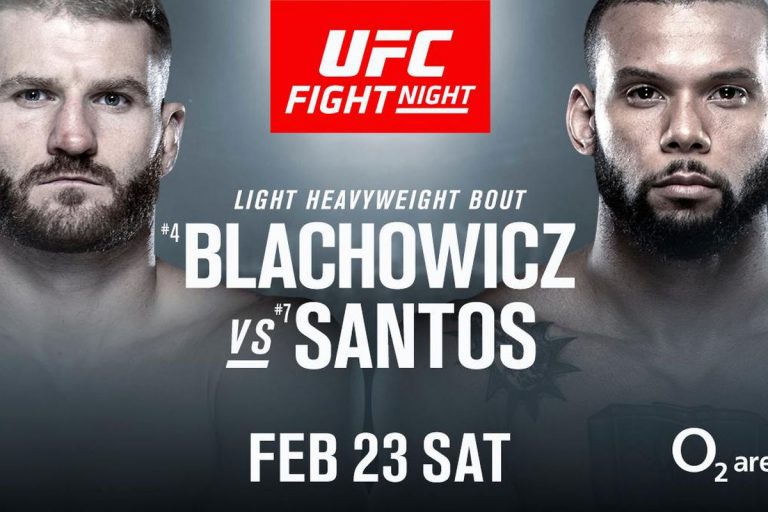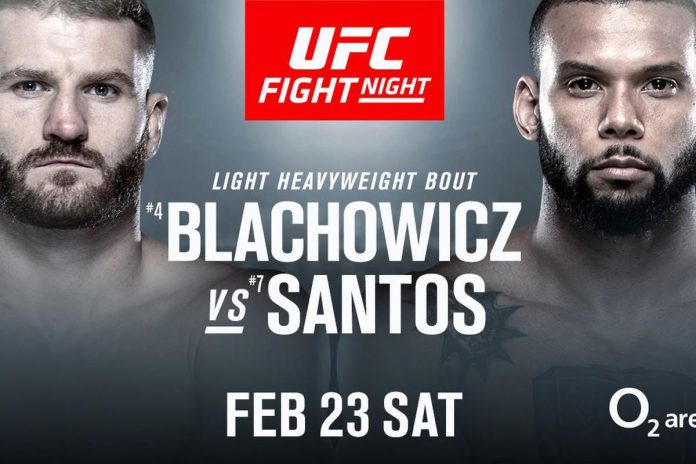 The prelims of this card are pretty great too, showcasing some of my favorite fighters to watch. Starting at 11AM ET, live on ESPN 2, don't miss these! Afterwards the main card will be on ESPN+ at 2PM ET. A live results article will be made and posted in case some of you cannot watch them. Read below about these intriguing match ups.
WW: Carlo Pedersoli Jr. (11-2) vs Dwight Grant (8-2)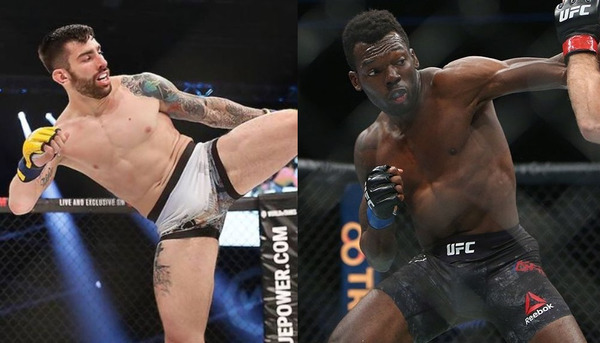 Carlo made his UFC debut two fights ago, winning via split decision against TUF Smashes veteran Bradley Scott, and made his second octagon appearance against Alex Oliveira. That match up didn't go his way, as he was finished with punches less than a minute into round one. He will try and improve his UFC record to 2-1, but Mr. Grant has other ideas. Dwight Grant punched his ticket into the UFC through the Contender Series, winning via KO in round two, after a 1-0 stint with Bellator. He made his UFC debut against Zak Ottow, and lost via split decision in a close fight. He will be looking for his first official UFC win against the always dangerous Pedersoli Jr.
FW: Daniel Teymur (6-2) vs Chris Fishgold (17-2-1)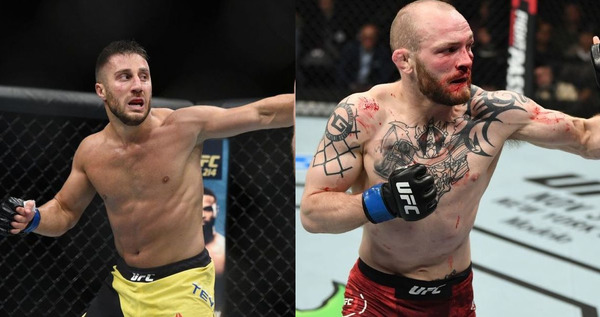 Four-time Swedish National Muay Thai/Kickboxing Champion, and one-time Nordic Muay Thai Champion, Daniel Teymur will look for his first UFC victory this Saturday. He was 6-0 when he made his octagon debut, and has dropped two in a row since. This fight however is definitely not an easy one to get your first UFC win with; Fishgold is the former Cage Warriors Featherweight Champion, with three title defenses to his credit. 12 of Fishgold's 17 wins are by way of submission, as Teymur's wins are split with three knockouts and three submissions. I'm very much looking forward to this fight, as Teymur and Fishgold are two of Europe's hottest prospects. Both have lost in the UFC, and neither have won yet, so this makes for a very intriguing fight!
WFLY: Veronica Macedo (5-2-1) vs Gillian Robertson (5-3)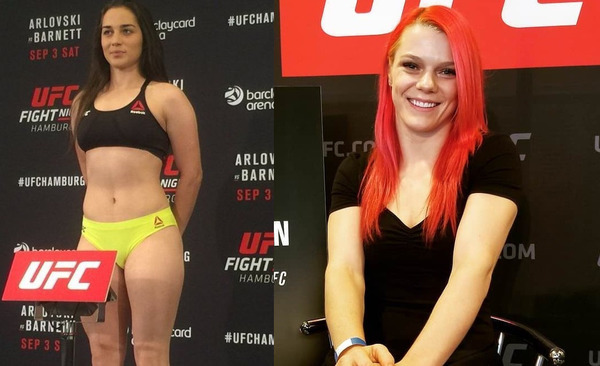 Veronica Macedo is only 23 years old, and already has a Taekwondo black belt, and brown belts in Karate and BJJ. The Venezuelan prospect was 5-0-1 when she signed with the UFC, and quickly dropped two in a row, one to Ashlee Evans-Smith and one to Andrea Lee. Gillian Robertson is also 23, and is 2-1 in the UFC, she initially won her first two fights in the promotion, before losing via armbar in her last outing. Will Macedo improve to 1-2 in the UFC, or fall to 0-3? Will Robertson improve to 3-1 in the UFC or fall to 2-2? Tune in to find out!
LW: Damir Hadzovic (12-4) vs Polo Reyes (8-4)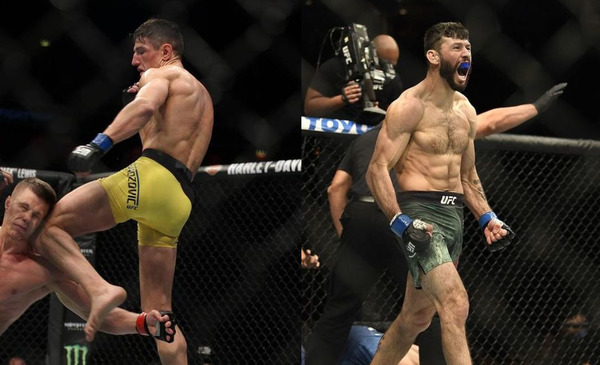 Damir Hadzovic has gone 2-2 in the UFC so far, losing to Mairbek Taisumov and Alan Patrick, and defeating Nick Hein and Marcin Held, who you see him knocking out with a knee in the left picture above. A fight he was losing in the first two rounds, and Held got a little too over aggressive with the takedown, being KO'd just :07 seconds into round three. His second UFC win was over Nick Hein via split decision, a fight where he showcased his superior striking over the course of three rounds. He holds a BJJ purple belt and is trying to get his first pair of back-to-back wins inside the octagon, but first, he must get through Reyes.
Polo Reyes is a dangerous striker, with six of his eight wins coming by way of knockout, three KO's, three TKO's. His UFC record is actually better than his record outside, going 4-1 inside the UFC and 4-3 beforehand. His only loss inside the octagon is to James Vick and he also won the WFC Mexico Lightweight Championship in his fight prior to joining The Ultimate Fighter: Latin America 2. Who wins this great match up featuring these two great strikers?
WW: Michel Prazeres (26-2) vs Ismail Naurdiev (17-2)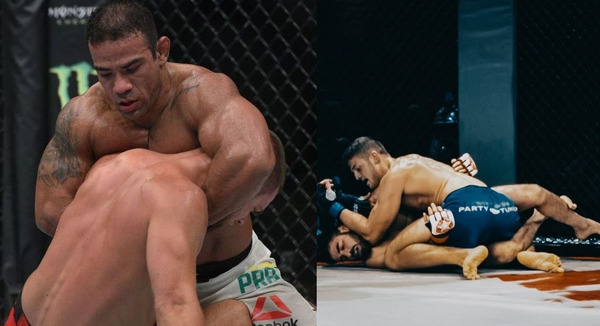 Michel Prazeres has been nothing short of dominant inside the UFC cage, going 10-2 overall so far, after an initial 2-2 start. This means he was 16-0 making his UFC debut, and after four fights in the promotion he was 18-2, and hasn't lost since. He has since however been forced up to welterweight, after his UFC debut loss to Paulo Thiago, he went to lightweight, and only lost to Kevin Lee there. However, he missed weight in three of his last four appearances at lightweight, and was forced to move up to welterweight; considering he's only 5′ 6", I didn't think it'd go too well for him. At least his reach is 69.5" but still, that's not long for a welterweight, it's just 3.5" longer than his height. He has however proven me wrong, and gone 2-0 so far, a decision win over Zak Cummings, and an early submission win over Bartosz Fabinski, a fight where he hurt Fabinski with a punch early, and jumped on a guillotine for the finish.
Ismail Naurdiev is making his UFC debut, and is only 22 years old at 17-2 already in his pro career, that's incredible. I have never seen him fight, but just that itself makes me excited to see him, plus he's fighting someone like Michel, and he is Austrian. Aleksandar Rakic is the only other Austrian fighter currently in the UFC, and just look how good he is. I love seeing new talent from new countries, it's very exciting to see the sport expand each and every year!
LW: Rustam Khabilov (23-3) vs Carlos Diego Ferreira (14-2)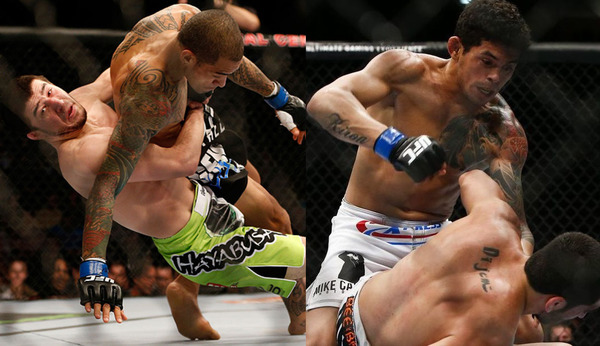 This is one of my favorite fights on the entire card, I can't believe these two are walking out in just the second fight, especially considering Rustam has won his last six, and Carlos has won his last three, two by TKO, not bad for a primary BJJ guy. All of Rustam's last six wins are via decision, five unanimous and one split. His UFC debut is one of the best in history, taking on the 7-0 Vinc Pichel with all seven wins by knockout; the fight starts, he gets ahold of Vinc, and suplexed him three times in a row, the third one knocking him unconscious, getting the first round KO.
He also got wins over Yancy Medeiros and Jorge Masvidal, before dropping two in a row to Benson Henderson and Adriano Martins, and has since been on a six fight win streak, bringing his UFC record to 9-2. Khabilov is an International Master of Sport in Combat Sambo, and his grappling ability shows that, I really wonder how this fight will go if it hits the mat.
Carlos Diego Ferreira has gone 5-2 with the promotion so far with three wins via TKO, one submission, and one unanimous decision. He has lost to Beneil Dariush and Dustin Poirier, two very high level lightweights, and holds a 3rd degree black belt in BJJ. He is an absolute wizard on the mat, especially from back mount, and is one of the best back takers in the sport. At least neither of these two are fighting for their job, because they're both two of the best lightweights in the world, in between #15-#30 in the world I'd say. That takes a lot of pressure off them I'd imagine, but when your job's on the line, I feel like some of them even fight better. Either way, I'm very excited for this fight!
LW: Damir Ismagulov (17-2) vs Joel Alvarez (15-1)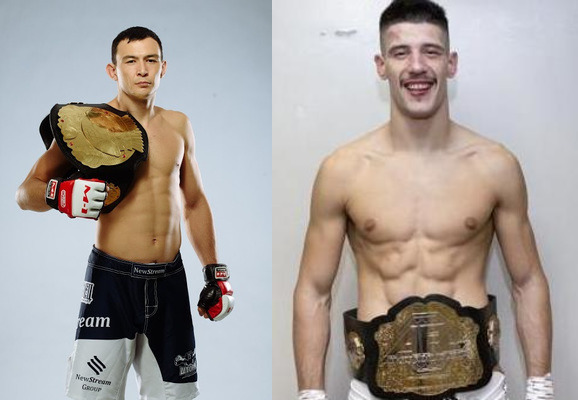 There isn't much information on either of these two, so I'll just go with what I do know. Damir went 10-1 in M-1 Global, and had three five round fights there, all of which he won. Meaning I know he was the M-1 Lightweight Champion, and must've held the belt for quite awhile. Joel Alvarez is 6-0 with the AFL, and also won a belt as well, though I'm unsure of how many times he defended it, if any. Damir is 1-0 in the UFC, while Joel is making his promotional debut.
Damir Ismagulov has nine wins via knockout, one via submission, and seven via decision; 14 of Joel Alverez' 15 wins are via submission, and Damir has never been submitted in an MMA fight. This should be a very interesting and high level match up between two former world champions. This will be the first fight on ESPN 2, tune in at 11 AM ET!