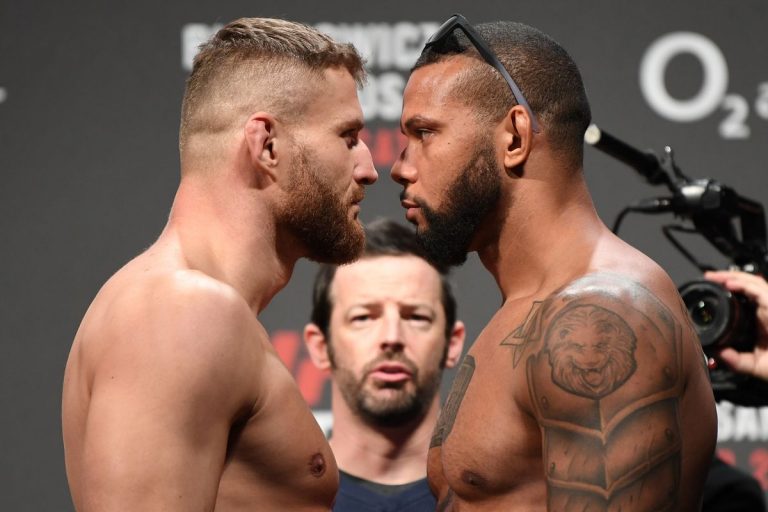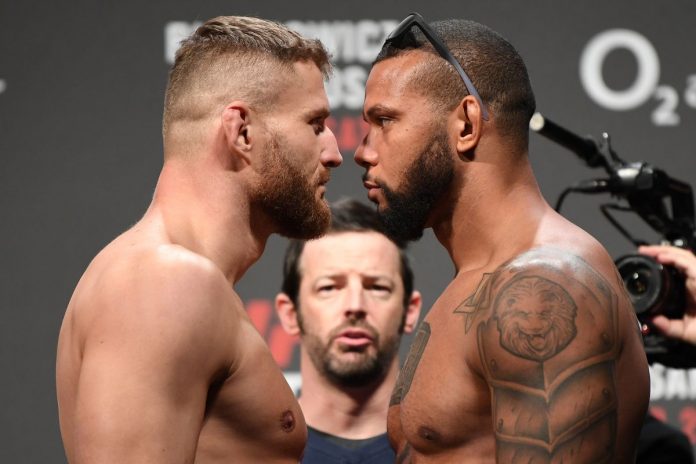 Today the UFC held it's first ever event in the Czech Republic. We had entertaining fights from start to finish, it was a great card. With an good mix of submissions, knockouts, and decisions, there isn't much more you could ask for in a UFC Fight Night. There are a couple of pretty shocking outcomes I'd like to mention, as I will discuss the whole card below.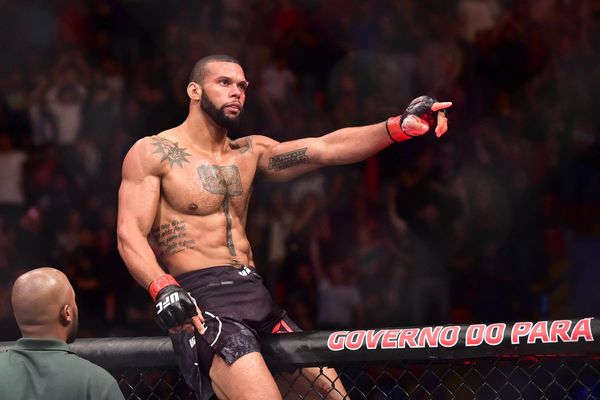 Thiago Santos improved his record at light heavyweight to 3-0, with his third knockout win in the division as well. He went 10-5 at middleweight in the UFC, but I think light heavyweight is definitely his home, especially now. I did not expect him to knock Jan out, he was looking for that left hook all night. Jan tried and succeeded leading the dance in the first two rounds, until he walked into Santos' power early in round three and it was game over. You can't play with power like that, my god is he a brutal finisher; and he carries his power late into the fight too, which is another thing that's hard for opponents to deal with.
Jan Blachowicz was on a four fight win streak before losing today, it was his first win streak in the UFC, and against good opposition; with wins over Jared Cannonier, Jimi Manuwa, a loss he avenged, and submitted Nikita Krylov with an arm-triangle choke in his last outing. He did well in rounds one and two, but he got lulled into Thiago's left hook he was trying to land the entire fight, throwing it with reckless abandon. One of them caught him, and he went down. What's next for Thiago Santos? He has really come into his own at 205 lbs.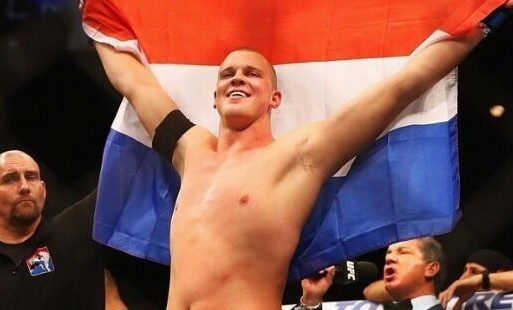 Stefan Struve battled some adversity today, being dropped with an overhand just seconds into the fight, and being on his back getting beat up the entire first round. With about 30 seconds left in round one, de Lima passes over to mount on Stefan, and it doesn't look too good. Round two starts, and Struve manages to get de Lima down, and steps over into de Lima's half guard. He then proceeds to try and pass his leg through to mount, but is unable to, and starts working on an arm-triangle choke from half guard. He locks it up fully, and is then able to pass to mount, and got the tap in round two.
Stefan retired after the fight, saying that he didn't want to be a guy that stuck around too long; he was on a three fight losing streak prior to this fight, but didn't want to retire after a loss. He wanted to go out on a win, and was able to. He's been in the UFC for exactly ten years and two days. He also stated he was happy getting an arm-triangle victory, considering he'd never gotten a finish with one before. The savvy Dutchman can add another submission to his lanky list of them, as he advances to number two all time submissions in UFC heavyweight history, only behind Frank Mir. Not too shabby of a note to end on.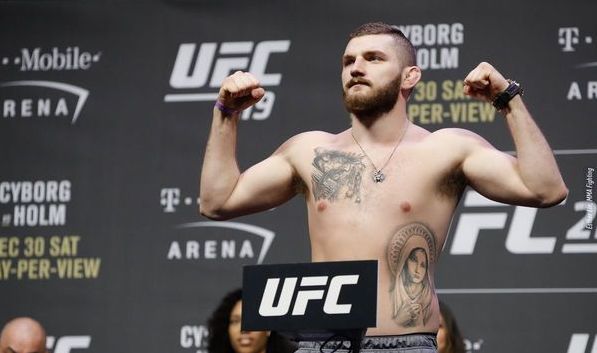 Wow is what I have to say about Michal Oleksiejczuk, this kid is an incredible talent. He looked like he belongs at middleweight, and for a second time in a row just beat a good light heavyweight. He made his promotional debut against Khalil Rountree at UFC 219 in December of 2017, and got suspended after the unanimous decision win due to a failed drug test. His win was also overturned to a no contest. Considering he hadn't fought in over a year, I didn't think he'd come out as quickly as he did, but he came out moving constantly, and I don't think Villante could get much of a read on him. He ended up throwing a combination, one punch of which landed to the body and shut Villante down.
This kid is only 24 years old, I absolutely cannot wait to see what he does next! He improves his record to 13-2 (1 NC) with nine knockouts, one submission, and three decisions. This is definitely a kid to watch out for, but hopefully it'll perhaps be at middleweight next?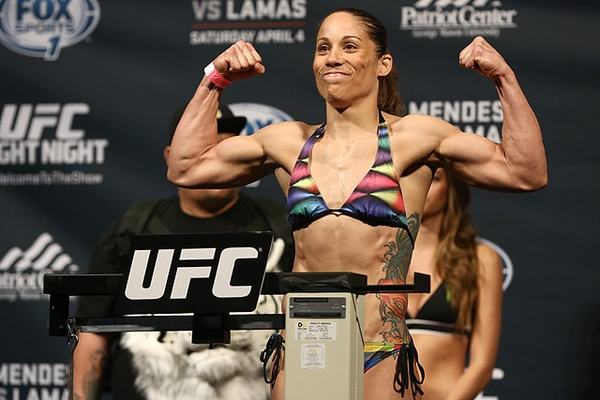 Liz Carmouche picked up her fifth UFC win today, over the Czech native Lucie Pudilova. The fans were very upset, and didn't give Liz any respect after the fight, keeping the post fight interview to one quick question, perhaps they wanted their hometown girl to win. Pudilova tried to keep Carmouche on the end of her striking, but wasn't landing much on the feet, and kept getting pressed against the cage and taken down. At the end of round one, Lucie is being controlled on the ground, but is sitting up against the fence. She locks up a guillotine and proceeds to her feet, making it tighter and tighter until the buzzer sounds at the end of round one.
The fans were so loud for this fight, you couldn't hear the buzzer at the end of round one, or two. Liz again takes Lucie down, and this time secures mount, before being reversed when Lucie pushed off of the fence with her feet. The third round consisted of Liz taking Lucie down, and at one point dropped down for a heel hook, but didn't get it and was on bottom the last 30 seconds or so of the fight. Carmouche was unanimously favored on the judges scorecards.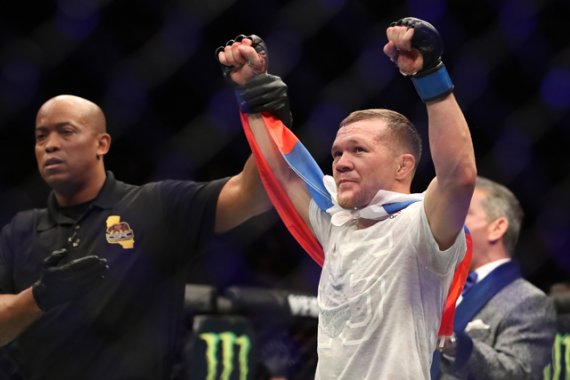 Petr Yan wins again, improving his record to 12-1 (4-0 UFC). His only loss was to 16-2 Magomed Magomedov by split deicsion over the course of five rounds, and avenged it via unanimous decision, again over the course of five rounds. This kid can do it all, he was lighting Dodson up at a few points there, but man is Dodson tough or what. Who else do you know of that has 11 losses in MMA and all 11 are by decision? John Dodson, he's the only one I can think off that's fought the best across two weight classes, lost that much, and never been finished.
Petr Yan's boxing is something else though, and his pressure, he's incredible. I'd really like to see him and Cody Garbrandt if Garbrandt beats Pedro Munhoz, but I feel Cody may be too high up the ladder for him, at this point anyway. However, regardless of what is next for Petr, it has to be big! He is making waves in that bantamweight division.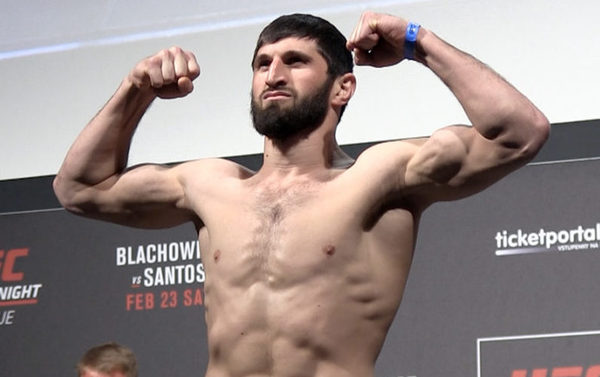 Magomed Ankalaev makes it two in a row today after his dominant fight, yet loss to Paul Craig in his UFC debut. He dominated Craig in the first fight we seen him in, before being submitted with one second left in the fight. He then fought Marcin Prachnio and won by KO due to a head kick and punches in round one. The former WCFA Light Heavyweight Champion spoiled the UFC debut of submission specialist Klidson Abreu today. Magomed kind of reminds me of a light heavyweight version of Albert Tumenov, if anyone remembers him. He was a welterweight in the UFC for awhile, now the ACB Welterweight Champion. His striking is very good, and quite powerful, showing great boxing skills with good kicks.
In round one, he cracked Abreu with a beautiful uppercut and broke his nose, and just continued out striking him, and out wrestling him the entire fight. I'm also very excited to see what's next for his 26 year old, as he picks up the unanimous decision in Prague.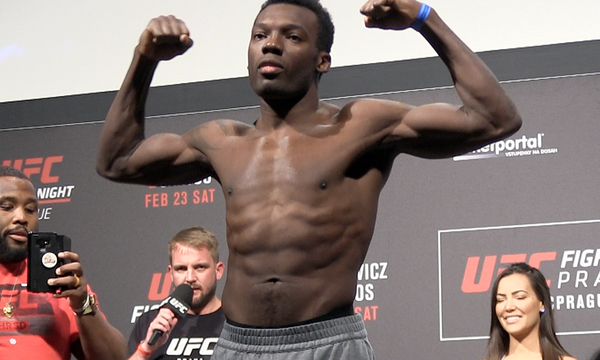 Dwight Grant looked great today, getting the KO over Carlo Pedersoli Jr. at 4:59 of round one. His striking is so explosive, he improves to 9-2 with seven knockouts. He came to the UFC off of the Contender Series, and got a vicious KO on there, that punched his ticket to the UFC. He made his debut against Zak Ottow in his last outing, losing via split decision, and just picked up another beautiful KO today. Dwight is 34 years old, but he definitely seems to have a good amount of fight in him!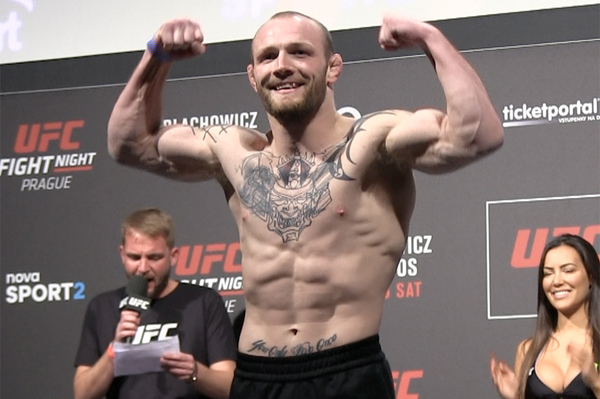 Chris Fishgold did not disappoint today, as he picks up his first UFC win! He tried taking Teymur down, but Teymur grabbed the fence and prevented the takedown early in round one; the ref took a point as a result, and restarted the action. Fishgold landed some heavy punches on Teymur and ended up getting him down again, and almost got the finish with an armbar, but tried to readjust and lost it. Round two starts and Fishgold again gets Teymur down, and ends up with back mount, and proceeded to sink in a rear naked choke for the victory. This Cage Warriors stand out is finally to the UFC, and is here to stay!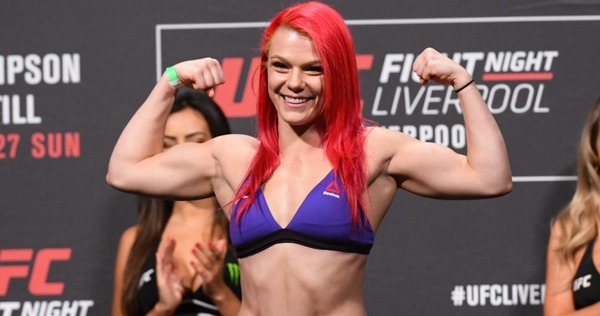 23 year old Gillian Robertson picks up her third UFC win, all three via submission. This fight with Veronica Macedo was a real scramble from start to finish. In one of the scrambles in round two, Gillian took Macedo's back and sunk in the rear naked choke, forcing Macedo to tap. Gillian improves to 6-3 (3-1 UFC).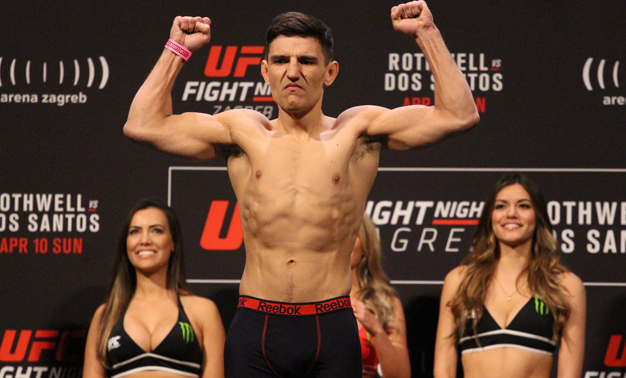 Damir Hadzovic did great today, picking up the TKO in round two over a very dangerous knockout artist in Polo Reyes. The fight was a good, fun to watch kickboxing match the first four minutes of round one, then Damir got the takedown with a minute left. Reyes ended getting up, but got taken down again before round one ended. Damir gets the takedown early in round two, and passes over to mount; Reyes turned his back to Damir, who was throwing heavy ground and pound trying for the finish, and it was too much for Reyes to take. The ref stopped it, awarding Damir Hadzovic with the win, and improving to 13-4 (3-2 UFC).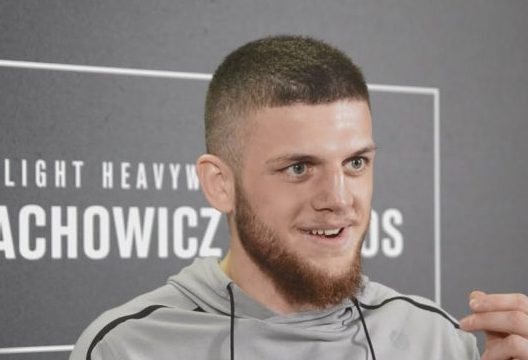 This kid, Ismail Naurdiev, he's such a youth beyond his years. He's only 22, and just got the biggest win of his career, taking out 12 fight UFC vet, ten time winner in the UFC, Michel Prazeres. Any time he was taken down, he would sweep Prazeres and get on top, then stand up. To do that to a guy like Michel, who's an absolute tank, and 3rd degree BJJ black belt, he really impressed me. He's had 20 professional MMA fights and won 18 of them, with 16 finishes. The sky is the limit for this kid, I'm very happy to see the UFC picked him up, as he is only the second UFC fighter from Austria.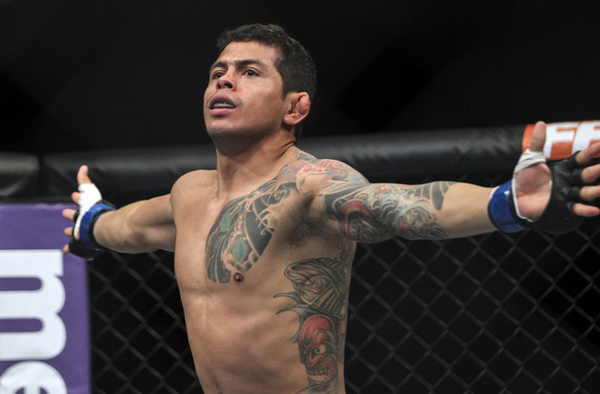 Carlos Diego Ferreira picked up his biggest win to date today, a unanimous decision over the 23-3 Rustam Khabilov. A guy who was 9-2 in the UFC, a guy who had two of his only three losses by split decision, and he out classed him from bell to bell. Rustam did have a few nice takedowns, landing a small suplex, an upper body lock trip, and a couple double legs, but could never keep Ferreira down. Ferreira's boxing looked very sharp today, you can definitely tell he's been working a lot on it. He out struck Khabilov over the course of three rounds, both throwing and landing a lot more. This snapped Khabilov's six fight winning streak, and Ferreira added to his win streak, now making it four in a row. Ferreira improved his record to 15-2 (6-2 UFC).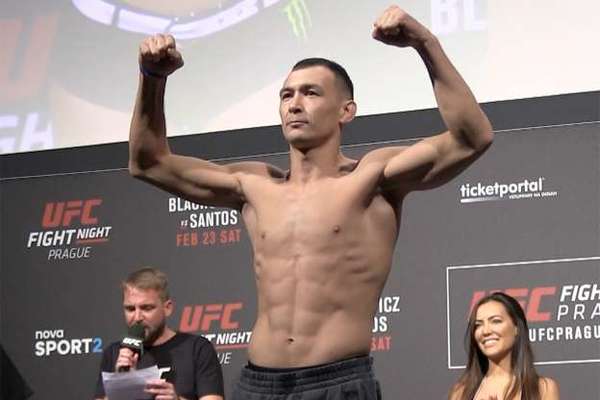 Damir Ismagulov won his second UFC fight straight now, improving his record to 18-2 (2-0 UFC, 10-1 M-1 Global). The former M-1 Champion stayed active the entire three rounds, picking apart Joel Alvarez, handing him only his second loss, not allowing him to get his sixteenth win. Joel Alvarez looked pretty hesitant in there, perhaps it's the first fight jitters, I'm sure we'll see the former AFL Champion return better. I will definitely be paying attention to Damir's next fight, he should continue evolving for another few years, as he just turned 28. I'll be very excited to see what's next for him!