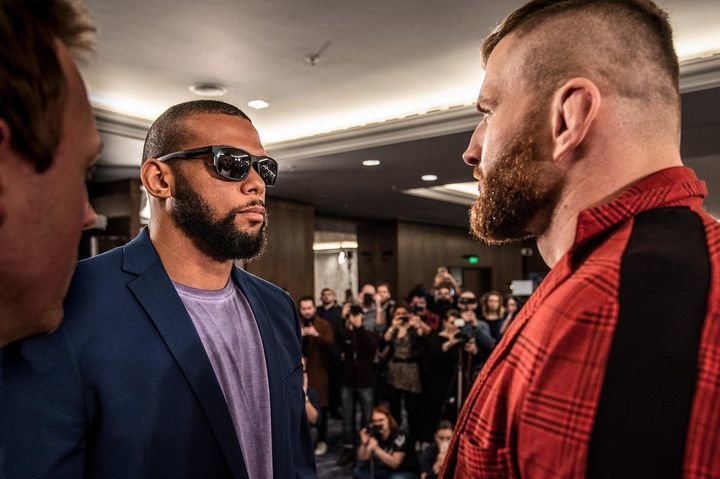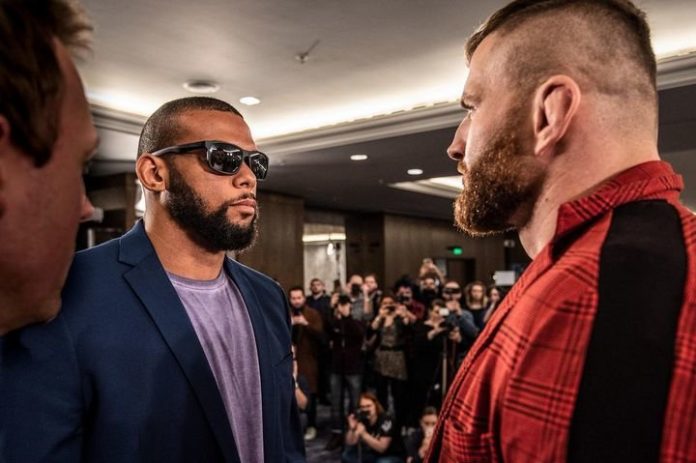 At 2 PM this Saturday, the main card to UFC on ESPN+3 will be live on ESPN+, featuring Gian Villante, Michal Oleksiejczuk, Stefan Struve, Marcos Rogerio de Lima, Jan Blachowicz, and Thiago Santos in the last three fights. Also on the main card we have Petr Yan against John Dodson, the return of dangerous striker Magomed Ankalaev, and the returns of Liz Carmouche and Lucie Pudilova. Read below to see the match ups, and tune in on Saturday to watch them!
Jan Blachowicz (23-7) vs Thiago Santos (20-6)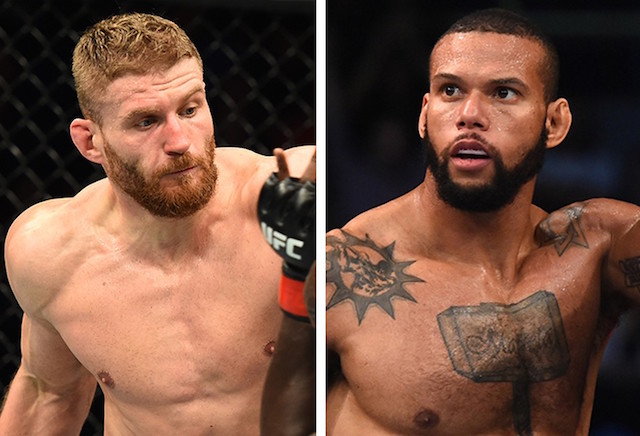 Jan Blachowicz had somewhat of a rough start in his UFC career, going 2-4 in his first six, before winning his last four in a row. He made his UFC debut against Ilir Latifi, TKOing him in round one with a body kick and punches, before losing his next two to Jimi Manuwa and Corey Anderson, picked up a unanimous decision win over Igor Pokrajac, then dropped his next two to Alexander Gustafsson and Pat Cummins, and has since won four in a row, including avenging his loss to Jimi Manuwa. Jan is also a BJJ black belt, submitting Devin Clark and Nikita Krylov recently, and is 34-0 in kickboxing with 15 knockouts. He is also the former KSW Light Heavyweight Champion, and defended the belt twice before vacating it for a chance in the UFC.
Thiago Santos came to the UFC about a year earlier than Jan, being a cast member of The Ultimate Fighter: Brazil 2, and has also had good success recently. He has gone 12-5 in the UFC, with a 10-5 stint at middleweight, and recently went up to light heavyweight two fights ago, winning both via finish. Thiago is a black belt in Muay Thai, and is also a Capoeira practitioner, holding a green rope. Both Thiago and Jan are 6′ 2", but Jan has a two inch reach advantage. I'd say Santos is probably a little more dangerous, but Jan is a little more technical. With both of these guys being very good on the feet, and both are at the top of the light heavyweight division, how do you expect this fight to go?
Stefan Struve (28-11) vs Marcos Rogerio de Lima (16-5-1)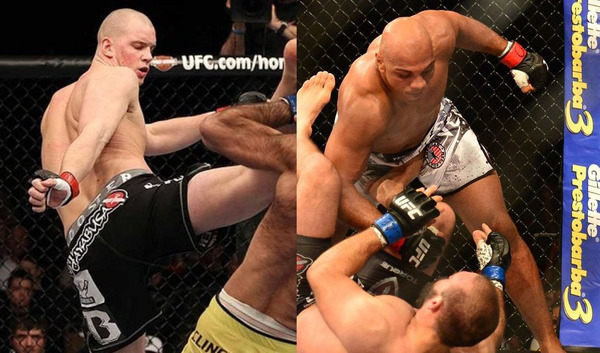 Stefan 'Skyscraper' Struve has been in the UFC for a decade now, and has had a good amount of success with the promotion as well, more so early on rather than lately however. He did hold a 9-3 record with the promotion in his first 12, until his 2013 run in with Mark Hunt, since then he's gone 3-6. He holds a brown belt in BJJ and is 4-0 in kickboxing as well, but there's one problem Stefan has always had, and that's letting people get on the inside of his guard when they're standing. He's 7′ tall and has an 84" reach, but he never fully understood distance management it seems, and most of Marcos' wins are knockouts, as 12 of his 16 are by way of.
Struve could also be de Lima's kryptonite considering all three of de Lima's losses in the UFC are by way of submission, and not many people can wrap up submissions like Struve, as 17 of his 28 wins come by tap out. This is an interesting fight and I'm not sure how it will go, Struve has lost his last three in a row for the first time ever, and de Lima is coming off a unanimous decision win at UFC 230.
Gian Villante (17-10) vs Michał Oleksiejczuk (12-2) 1 NC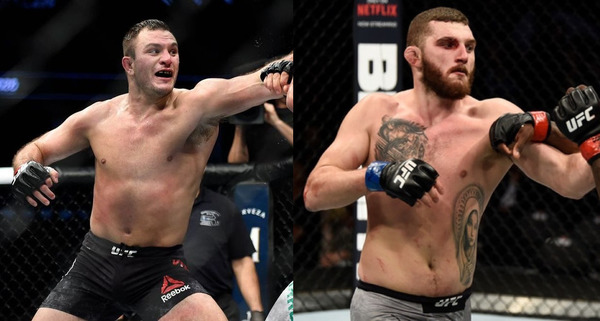 Gian Villante will try to end his split decision streak in this fight, as he's split a pair of wins and losses in his last four, all via split decision. He holds a UFC record of 7-7 with four wins coming by knockout, three by split decisions. He's only lost to good fighters, and has also beat a couple high level mixed martial artists like Corey Anderson, Sean O'Connell, and Ed Herman to name a few.
As for Michal Oleksiejczuk, he hasn't fought since December 2017 because of a suspension, a fight in which he won against Khalil Rountree before it was overturned due to a failed drug test, in his UFC debut. Considering that, he's still only 23, and will actually turn 24 a day before the fight. This Poland native has finished 9 of his 12 wins, 8 by knockout, and hasn't lost since his third and fifth professional fights. I'm very excited to see how much he's evolved in a year, considering how young he is, and I'm always looking forward to watching Villante, this dude's always in a slug fest.
Liz Carmouche (12-6) vs Lucie Pudilova (8-3)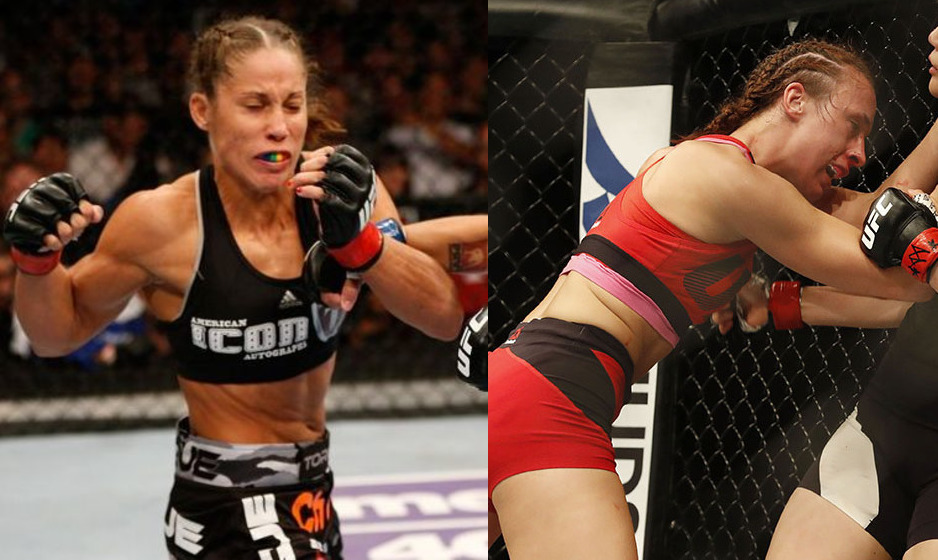 Everyone, at least most anyway, remembers when Liz Carmouche took place in the first ever women's fight in UFC history against Ronda Rousey in the UFC 157 main event. If you remember correctly, she almost became the first to beat Ronda when she had that nasty neck crank locked up. She has so far gone 4-4 in the UFC, similar to Pudilova, who's gone 2-2 in the promotion. Before joining the UFC, Pudilova won the GCF Women's Bantamweight Championship over the course of five rounds. Will the experience of Carmouche edge Pudilova out, or will the 24 year old Czech native Pudilova out class the 35 year old Carmouche with her youth?
John Dodson (20-10) vs Petr Yan (11-1)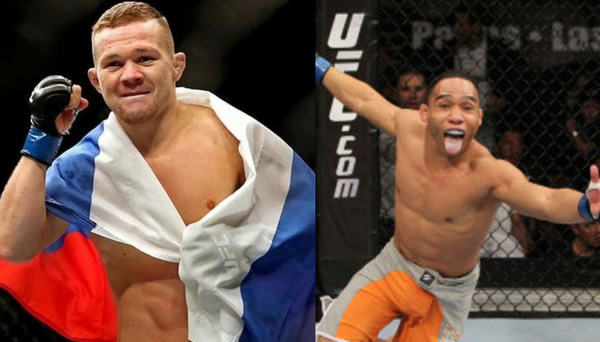 John Dodson came to the UFC in December 2011 when the UFC had their first ever Ultimate Fighter season featuring bantamweights and featherweights, and punched his ticket to number one on the show with a first round TKO win of now current Bantamweight Champion TJ Dillashaw. Since then, he's fought for the UFC Flyweight Championship twice, and fought some of the best in the world along the way, he's never had an easy fight. Dodson is also one of the toughest fighters out there, with all ten losses coming via decision, four of them split.
Petr Yan has just started making some noise in the UFC, going 3-0 last year with the promotion. He has a background in Taekwondo, and primarily in boxing. He is ranked as a Master of Sport in both Mixed Martial Arts and Boxing, and it shows in his fights. He also avenged his only loss, which was to Magomed Magomedov (who's now 16-2) by split decision in a five round ACB Bantamweight Championship bout, and took the belt from him two fights later via unanimous decision, and defended it once before joining the UFC. Everyone's excited about this 26 year old prospect as potentially the next big thing in MMA.
Magomed Ankalaev (11-1) v Klidson Abreu (14-2)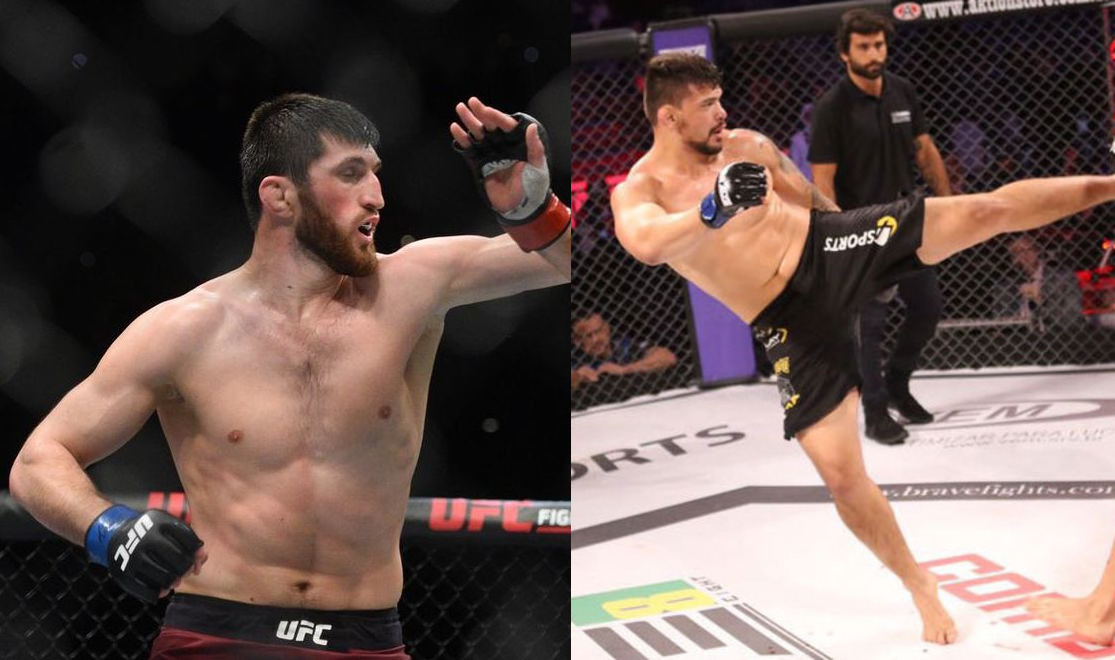 Magomed Ankalaev has looked great so far in the UFC, he holds a 1-1 record with the promotion, with his loss being tied for latest stoppage ever in a three round fight; a fight he was winning dominantly, before getting wrapped up in a triangle choke. In his next UFC appearance he knocked his opponent out in round one with a beautiful head kick, and I've been eager to see him since. He also won and defended the WFCA Light Heavyweight Championship before joining the UFC. This pair of 26 year olds could also be each others kryptonite, as Ankalaev's only loss is by submission, and that's what 10 of Abreu's 14 wins come by; Abreu's two losses are by TKO, and Magomed is good at finishing his opponents with strikes. I've been waiting to see Ankalaev return since his fight in September, do not forget to tune into this one!