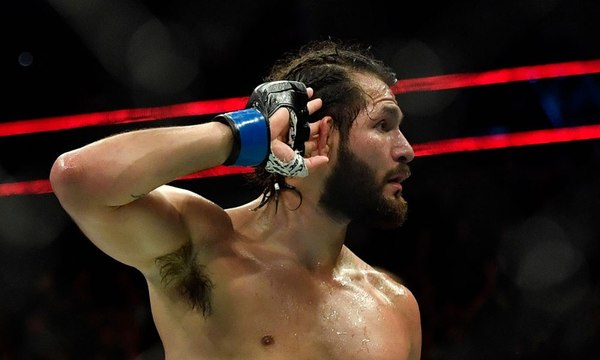 After being on the wrong end of a brutal knockout against Kamaru Usman in his welterweight title rematch with Kamaru Usman this past weekend at UFC 261, Jorge Masvidal has clapped back at his 'groupies' Colby Covington and Leon Edwards, but said he's down to fighting Nick Diaz.
Fighting Nick Diaz
Speaking to ESPN (as transcribed by MMA Fighting) a day after his loss, Masvidal said that he's open to fighting Diaz, who was in attendance at UFC 261 and has been teasing a return to the Octagon.
"Definitely, Nick is a stud," Masvidal said. "If Nick wants to throw down I'm more than willing to throw down. Like I said, I'm going to do it on my time, I'm not taking short notice fights, no matter who it is. I'm not going to do that right now. But, if Nick does want to fight towards the end of this year, what can I say, I'm here."
The Miami native battered Nate Diaz to win the BMF title at UFC 244, and he thinks Nick coming back to avenge his younger brother's loss would be a great storyline.
"You want to do right for your brother? Let's go," Masvidal said. "I heard a lot of interviews that he wasn't too keen on what I did to his little brother. Neither would I. I feel for Nick in that situation. I know what I'd wanna do if somebody did that to my little brother. So, let's go."
'Groupies' Colby Covington And Leon Edwards
Covington and Edwards were quick to rub salt into Masvidal's wounds after UFC 261. Not that he was surprised.
"I've got plenty of groupies and it just goes to show you that whether I win or lose, them b****** is always gonna be calling me out, them b****** is always gonna be on my d***," Masvidal said. "So it's like, I love my groupies, you know? (Blows a kiss)."
Masvidal plans to fight one more time before the end of this year, and has several interesting options, including Covington and Edwards. He has also been called out by Khamzat Chimaev, who's eyeing a return to the Octagon in August.
"I'll definitely fight again this year. I have to," Masvidal said. "I've got to fight this year. I want to. If it wasn't for this suspension and this knockout, I would have been fighting three or four times this year. It's what I wanted to do. I wanted to just compete a lot. I still want to compete a lot this year but obviously the circumstance, so if I can at least get one fight this year, I'll be happy. If I can pull off two, which is doubtful, that would be cool."
Who would you rather see Jorge Masvidal fight next, Nick Diaz, Colby Covington, Leon Edwards or Khamzat Chimaev?
See also: