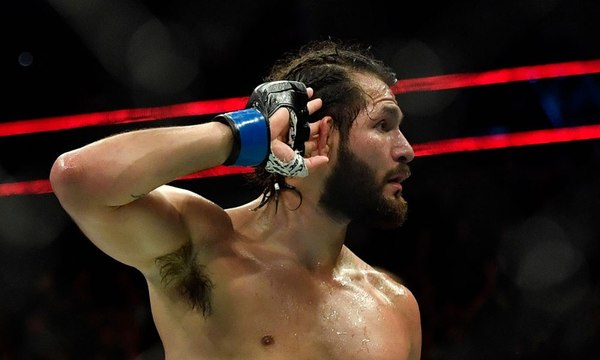 Looking to bounce back from the first knockout defeat of his UFC career, Jorge Masvidal is eyeing a return to the Octagon in October or November against a top-five opponent.
Masvidal was brutally knocked out by UFC welterweight champion Kamaru Usman in their title rematch at UFC 261. With that, he slipped a few places in the UFC welterweight rankings down to number seven, but is looking to get right back in the mix with the goal another title shot.
Top-Five Contender
Speaking to the media ahead of Gamebred Fighting Championship's inaugural event (as transcribed by The Mac Life), Masvidal said that he's down to fight any top-five contender in October or November.
"Doesn't matter who it is," Masvidal said. "Whoever's in the top five available in October/November, when I'm coming back, that's who's head I'm coming after."
Leon Edwards vs Nate Diaz
In the first non-title, non-main event five-round fight in UFC history this past weekend at UFC 263, Leon Edwards survived a late scare to earn a largely one-sided unanimous decision victory over Nate Diaz.
Masvidal, who beat Diaz at UFC 244 to win the BMF title and infamously served a 'three piece and a soda' to Edwards backstage at UFC London in 2019, commended the Brit's performance.
"It was a good fight," Masvidal said. "Good performance, I thought. I thought Leon does what he does, and he keeps asking for more money and more things, but he's not a finisher. He's not a fighter. He was winning happily, and he wasn't willing to put himself at risk to go out there and get those finishes. That's why I don't think he's in the position he wants to be. You're not going out there and fighting every second of every minute.
"He's a very skilled guy, but he doesn't have that grit and that meanness to beat up a top contender the way you should, you know?"
During the UFC 263 post-fight press conference, Dana White said that a fight between Masvidal and Edwards is always on the cards, especially with the animosity between them. 'Rocky' has also said in the past that he would like to avenge 'Gamebred's' backstage assault inside the Octagon.
Do you think Jorge Masvidal should fight Leon Edwards next?
See also: