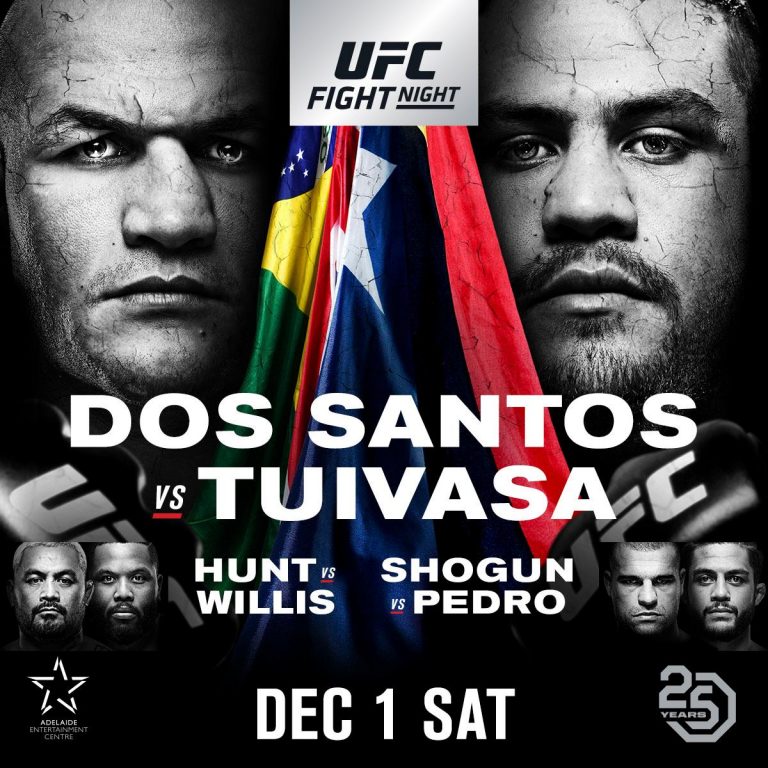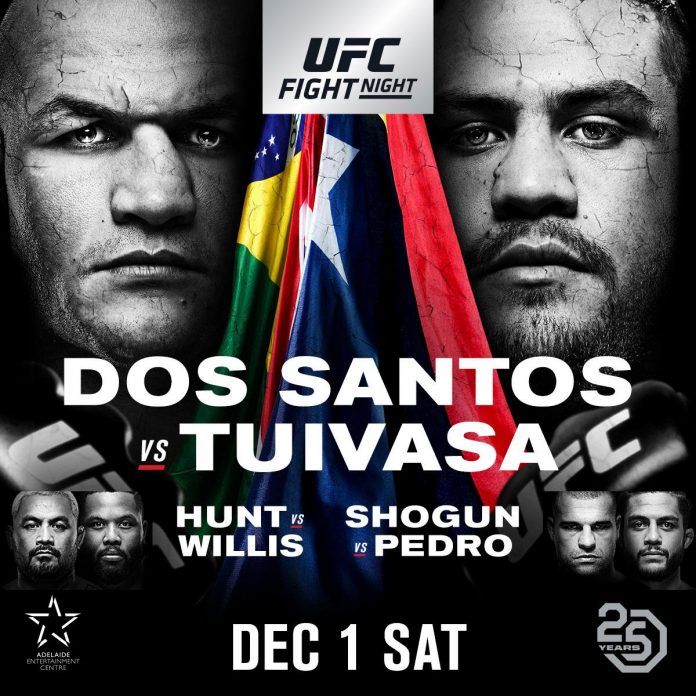 Heavyweight: Junior dos Santos (-143 F) vs Tai Tuivasa (+120 U)
An intriguing battle between the former UFC Heavyweight Champion and an unbeaten prodigy.
Tai Tuivasa defeated another former Heavyweight Champion, Andrei Arlovski earlier this year and has won seven of his eight career bouts via Knockout and Junior dos Santos is a logical next opponent for him.
Can he knock him off?
Possibly. dos Santos's chin is not what it once was and Tuivasa certainly has the Knockout power to bother him.
Despite dos Santos winning last time out, he has not won consecutive fights since 2011-12. Can he buck that trend? Despite being marginal favourite with bookmakers, it doesn't seem likely.
Prediction: Tai Tuivasa via Knockout
dos Santos is a step up in quality of opposition for Tuivasa but there is no reason to suggest the youngster cannot meet the challenge. This is an attractive bet. This underdog should likely have too much for the veteran.
Betting Tip: Tai Tuivasa
Heavyweight: Mark Hunt (+100 U) vs Justin Willis (-125 F)
Mark Hunt always seems to show up on UFC's Australian cards and this event is no different. Hunt has lost his past two fights rather decisively and looks every one of his 44 years.
Hunt lacks mobility, defence and punching power and does not appear to have any weapons that will trouble the 31 year old Willis.
Willis is not a Heavyweight contender but has more durability than Hunt despite his heavy frame and like Hunt, can pack a punch. Expect this to be the last time we see Hunt in the Octagon. Don't expect him to have his hand raised either.
Prediction: Justin Willis via Knockout
That is the only possible result. Do not waste your money on Hunt.
Betting Tip: Justin Willis
Light-Heavyweight: Tyson Pedro (-450 F) vs Mauricio Rua (+350 U)
Another battle between an youngster and a UFC veteran. The legendary Maurico "Shogun" Rua has only fought a handful of times over the past few years but is far from finished as a fighter.
However, several knee surgeries have hampered his ability to take opponents down to the mat and that would be the only chance for him to defeat Tyson Pedro.
Pedro is by no means the finished article and has a reckless air about his striking game. However, he only needs one to land and he should find it.
Prediction: Tyson Pedro via Knockout
It would be tempting to put a wager down backing Rua, given the legend has won three of his past four bouts and is such a heavy underdog. However, there is simply no visible route to victory for "Shogun" and no reason to believe he will win. There really can be only one winner.
Betting Tip: Tyson Pedro
Welterweight: Jake Matthews (-125 F) vs Tony Martin (+100 U)
Despite now billing himself as Anthony "Rocco" Martin, Tony Martin is unlikely to turn the clock back sufficiently versus exciting young prospect, Jake Matthews.
The 24 year old Aussie has been on an absolute tear since he moved back to Welterweight 12 months ago and there is no reason to believe, Martin will halt his recent charge.
Prediction: Jake Matthews via Decision
It is highly likely that Matthews will win but Martin, as an underdog, might be worth a punt. Despite never being a contender, he is a very capable submission specialist and could yield a surprise.
Betting Tip: Tony Martin
Light-Heavyweight: Paul Craig (+200 U) vs Jim Crute (-250 F)
Aussie newcomer, Jim Crute will be backed all the way by his hometown crowd against one time Scottish prospect, Paul Craig.
No one expects Craig to achieve anything of note in his MMA career anymore, given his lack of mobility and natural athleticism.
The young Crute will earn another win on his road to superstardom.
Prediction: Jim Crute via Decision
Betting Tip: Jim Crute
Featherweight: Suman Mokhtarian (+400 U) vs. Sodiq Yusuff (-550 F)
An extremely difficult one to call given these two fighters are relatively new to UFC. Sodiq Yusuff only debuted two years ago and Suman Mokhtarian flattered to deceive when he appeared on UFC's The Ultimate Fighter season 27.
Despite not losing in all eight of his career bouts, Mokhtarian has not defeated any one significant, which is probably why he is the vast underdog.
In saying that, this could easily go either way but Yusuff as the less flashy fighter will likely fight in a more controlled manner and find a way to win.
Prediction: Sodiq Yusuff via Knockout
Although, it appears more likely Yusuff, would win, the odds make a punt on Mokhtarian a very attractive proposition. He has the tools and it is not beyond the realm that he could make it count.
Betting Tip: Suman Mokhtarian
---
More MMA betting tips
---