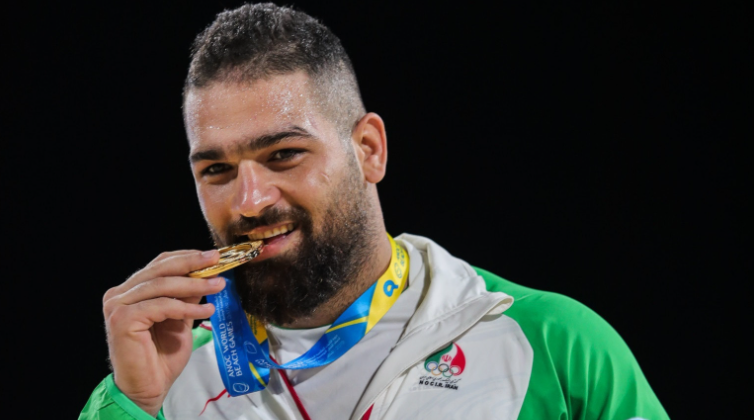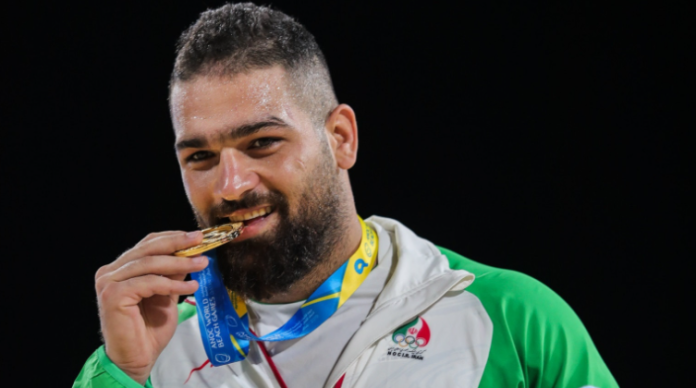 Iranian wrestling phenom, Pouya Rahmani, is continuously pushing his limits.
Having amassed a series of accolades in the grappling world, the 31-year-old world champion has now set his sights on the unforgiving realm of mixed martial arts.
His aspiration? To become the first Iranian to claim the UFC heavyweight title.
With his undeniable talent as well as the mentorship of UFC star Khamzat Chimaev, Rahmani is confidently charting his course in the MMA arena.
Prior to his second career win in MMA, which came against Ramazan Isaev on October 19th, Rahmani sat down with MMA Betz and reflected on his remarkable journey through wrestling, Jiu Jitsu, and the world of MMA.
Iran has a rich culture of wrestling. The country has produced tons of regional, world, and Olympic champions. When did you start your journey?
I have been involved in wrestling for as long as I can remember. However, when I was just ten years old, I began to take wrestling more seriously. Wrestling runs deep in my family; both my father and uncle were professional wrestlers.
My roots trace back to Amol, a city located in the district of Mazandaran in northern Iran. Wrestling is a cherished tradition in Amol, deeply ingrained in our culture and in our blood. It's such an integral part of our heritage that even at weddings, people organize wrestling matches, and participants vie for prize money.
How has your wrestling helped you in MMA and Jiu Jitsu?
Comparing MMA or Jiu-Jitsu to wrestling is like comparing apples to oranges. Wrestling serves as a unique foundation in combat sports. A professional wrestler can often transition successfully to other combat disciplines, but the opposite is rare to see. In a wrestling match, a professional BJJ practitioner would face overwhelming odds against a seasoned wrestler. Even with over a decade of Jiu-Jitsu training, they might not even qualify for sparring with a high-level wrestler.
In my personal experience, I developed a profound passion for Jiu-Jitsu after embarking on my MMA journey. However, it's my wrestling background that has been the cornerstone of my success in both Jiu-Jitsu and MMA.
You recently made your boxing debut against Othmane Erread. Your hands look solid. Your punches are fast and stingy. Head movement looks solid as well. How long have you been working on your striking?
I have dedicated three years to refining my striking skills, which encompass boxing, kickboxing, and MMA striking. During this time, I've had the privilege of training alongside some of Iran's finest strikers, which has significantly bolstered my confidence.
What do you enjoy more, striking or wrestling?
I currently love MMA training the most. There's a freedom in MMA that I haven't felt before. I can do anything and everything. If I face a striker, I'll take them down. If my opponent is a wrestler or a grappler, I keep the fight standing.
You recently made your MMA debut, where you dominated Dastan Eldiarbek. How did you feel fighting in a cage?
I remained remarkably composed and felt at ease throughout the entire process, from the weigh-ins to the walk to the cage and the duration of the fight itself. I felt incredibly confident. Once I successfully brought my opponent to the ground, I was fully aware that it was only a matter of time before the fight ended.
Honestly, I found the experience to be less stressful than wrestling. In wrestling, you typically have to compete in 4-5 matches during a single competition. In contrast, in MMA, it's just one fight against one opponent. I experienced less pressure before my MMA debut than I do before a wrestling competition.
You are still 31 years old, which is very young for a heavyweight, considering most heavyweights hit their primes at 34 or 35. Where do you see yourself in the next 5 years?
I don't want to put any undue pressure on myself, but I firmly believe that I will secure a spot in the UFC within the next two years. My ultimate goal is to become the UFC heavyweight champion within a span of five years.
The plan is to join the UFC within two years and then work my way up to a title fight in the next three years after making my debut in the organization.
Everyone has a person they look up to. Who is your idol?
I don't have any idols in MMA, but in wrestling, I have a few Iranian champions who I look up to. In MMA, I look up to Jon Jones. I believe he is the best ever. He would be my dream matchup.
In your recent training camp, you had Khamzat Chimaev, one of the most hyped UFC fighters at the moment, training with you for his fight at UFC 294. How was that experience?
Khamzat came and trained with us for around two months, alongside some of his friends – all highly skilled fighters from Dagestan and Chechnya. It was a fantastic training camp.
How would you rate his wrestling?
He's undoubtedly a world-class talent. In the realm of MMA wrestling, I believe he's among the very best. It's Khamzat and Jon Jones who stand out as the top MMA wrestlers globally.
What makes his wrestling good?
He exhibits outstanding technique, impeccable timing, and remarkable stamina. His cardio is extraordinary, allowing him to maintain relentless pressure and stay in his opponent's face consistently. It's a rarity to find someone in his weight class with such exceptional cardio and stamina.
When he engages in wrestling, he effectively dominates his opponents due to his cardio. What's particularly impressive is how he seems to gather even more energy as his opponents grow fatigued. It's quite remarkable; it's as if he draws strength from witnessing his opponents tire.
What did you learn from him during the training sessions you had with him?
A lot when it comes to MMA, but especially; to never stop grinding.
Regardless of whether he's facing a tough day or not, he consistently shows up at the gym, giving a full 110%. Even when contending with injuries and pain, he is dedicated to training. There's nothing that can deter him from pushing through rigorous training. He doesn't take a break from his training regimen, truly embodying the mentality of a champion.
What's your biggest strength?
My greatest strength lies in my grappling abilities. I can grapple and wrestle with anyone. It's my bread and butter. In MMA, I've acquired the skill of seamlessly integrating my wrestling into the game. I've learned the timing of my takedowns to avoid getting telegraphed from a distance. To achieve this, a solid understanding of the entire MMA game and good striking skills are crucial. Unlike many other wrestlers, I'm not worried about taking punches. While many wrestlers have that fear, I do not. This is why I've ventured into boxing fights – to overcome such fears.