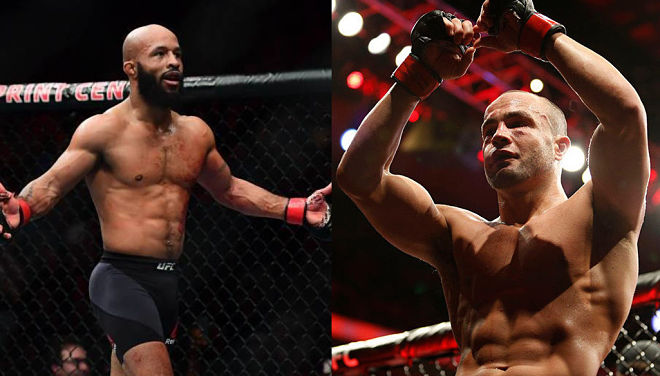 In the last two fights before the title fights this Friday morning we get to see Demetrious Johnson and Eddie Alvarez return to the cage. They each made their ONE debuts this past March; Johnson won via submission (guillotine choke) in round two, and Alvarez was stopped after getting his eye busted toward the end of round one. These are two of the best fighters their weight class(es) have ever seen. Continue reading for a little look inside the careers of 'Mighty Mouse' and 'The Underground King':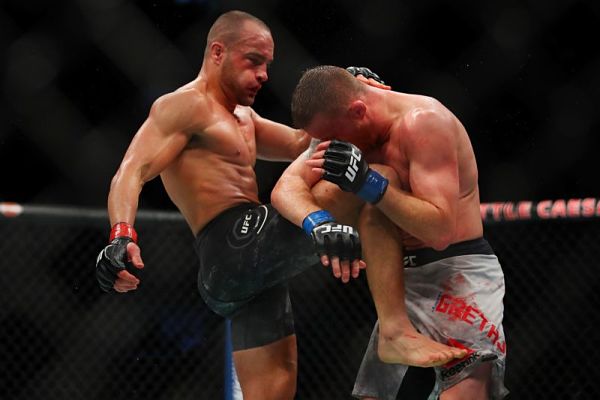 Eddie Alvarez has been around forever, and was known as one of, if not the best fighter outside of the UFC for quite some time. Then he ended up winning the UFC Lightweight Championship in just his fourth fight with the promotion. Before that, he was the two-time Bellator Lightweight Champion; he won the belt and defended it against Pat Curran, before losing it to Michael Chandler.
Alvarez ended up taking his belt back from Chandler before joining the UFC in a five round war. Other titles he's held include the Reality Fighting Welterweight Championship, and also the MFC Welterweight Championship. After going 4-3 (1 NC) in the UFC, Alvarez decided to sign a contract with ONE Championship. He lost his debut via TKO in round one, and is looking to rebound and improve his ONE Championship record 1-1.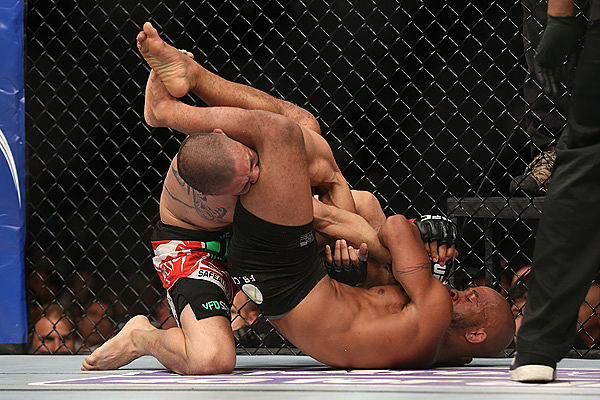 Demetrious Johnson is widely considered the best MMA fighter ever, he's so well rounded and chains everything together so beautifully. Many thought once he went to ONE that he'd just run through everyone easily considering they're not "UFC" fighters. However, they're elite mixed martial artists. Just because they're not in the UFC doesn't mean they're not good, and they're bigger than him. Johnson's never been a big guy of course, but at 125 lbs he was an average size for the weight class.
Though there's different weigh-in methods at ONE Championship and they weigh in at 135 lbs, their flyweight fighters are still often times bigger. 'Mighty Mouse' fought for the first ever UFC Flyweight Championship, won it, and never lost it until a year ago. That's six years that he ruled a division of great fighters. Say what you want about flyweight, but it's not a weak division by any means anymore, when the division was full anyway.
After losing via split decision in a five round battle to Henry Cejudo after eleven straight title defenses, Johnson decided he wanted to try ONE Championship out. It works out better for him because he unfortunately was never appreciated here in the states, and now he can use his full skill set.
Someone with the ability and wide range of skills of Demetrious Johnson works incredibly well for an organization that lets you kick and knee the head of downed opponents. There's so much more you can do to your opponent when that's legal, and Johnson has more tools to use than 99% of all fighters out there.
Regardless of Alvarez losing his ONE Championship debut, he and Johnson will both be competing in semi-final bouts for the lightweight and flyweight Gran-Prix. How will these UFC veterans and former UFC champions stack up against their opponents? Will Eddie Alvarez get his first victory inside the ONE cage? Will Demetrious Johnson make it to 2-0 inside the ONE cage? Tune in to find out! The main card starts at 8:30am ET/5:30am PT this Friday.