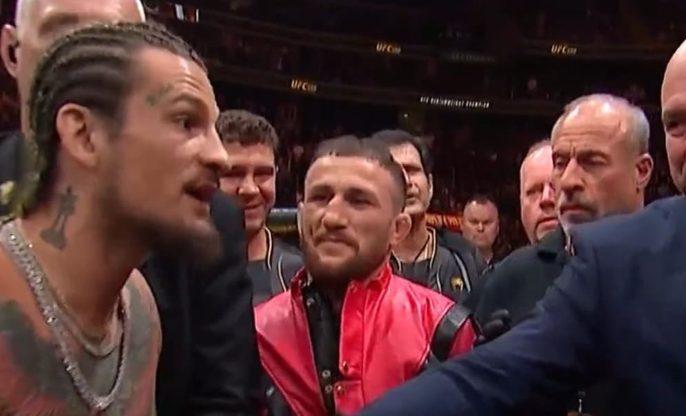 Merab Dvalishvili thinks he deserves to fight UFC bantamweight champion Sean O'Malley, who is more interested in defending his title against Marlon Vera.
Dvalishvili is currently the number two ranked guy in the UFC bantamweight division, one place below Aljamain Sterling, who recently lost his bantamweight belt to O'Malley at UFC 292.
Ideally, Dvalishvili should fight for the title next, but given the reigning champion's history with Marlon Vera, a fight between the two former foes is also on the cards.
Dvalishvili thinks Vera, who currently sits at the number six spot in the rankings, shouldn't get a title shot.
"This is No. 1 bulls***, man," Dvalishvili said during a recent appearance on The MMA Hour. "Chito Vera is 1-1 [over his past two], and his last fight he beat the guy who, from his last eight fights, he has two wins. I respect the guy who he beat last time [Pedro Munhoz], but we all know, man. Who has [Vera] beaten? He's 1-1 now, he's ranked sixth. And I beat Jose Aldo, and Jose Aldo beat Chito Vera. Chito Vera doesn't deserve this.
"Islam Makhachev has lost before, and now he's a champion — if Islam Makhachev calls [out] his opponent [to be] the guy who beat him, it doesn't make sense, right? Now you are champion. You are on top of the world, you are champion, and you call out the No. 6 guy? Especially when you have a guy like me? I have an nine-fight win streak, and I beat two former champions. I beat the guy with 10-8 rounds, the guy who beat O'Malley, Petr Yan. If O'Malley wants a real opponent, real contender, if he wants respect, he has to fight me."
Should Merab Dvalishvili's next fight be for the UFC bantamweight title?