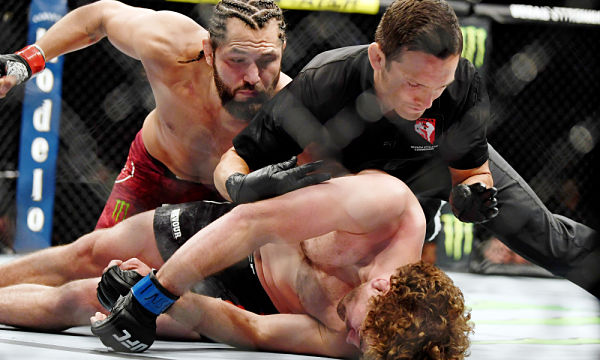 Jorge Masvidal has revealed that he was very confident he'd knock out Ben Askren with a flying knee at UFC 239.
After a highlight-reel knockout win against Darren Till at UFC London in 2019, Masvidal faced former Bellator and ONE Championship titleholder, Askren. The build-up to their fight was intense, and Askren's outspokenness irked Masvidal to the point that he promised to punish him with a brutal knockout, which is exactly what he did when the two locked horns at UFC 239, where five seconds into the fight, Masvidal charged towards Askren and blasted his arch-rival with a flying knee. The fight was over before it even began.
Jorge Masvidal On Ben Askren
In a recent appearance on The Joe Rogan Experience podcast (as transcribed by BJPenn.com), Masvidal said that he knew he'd knock Askren out.
"When I saw him face-to-face every time and it was straight my IQ versus yours and my improvisation versus your improvisation," Masvidal said. "Maybe you have been thinking about some stupid s*** for like a month and you will say it to me now. But he froze every single time, there were a lot of encounters we had off-camera. Every single time, it was unscripted like that, just spur of the moment, couldn't keep it together. I was like, I not only need to run at him, but I need to have a change of speed because that is going to make him go to his natural crotch-sniffing instincts.
"If I just change the speed on him, he is going to f***ing duck. That is why I came out slow, cut the little angle and let him oh okay we are going to circle it up. As soon as I change speed what does he do? Go to his f***ing initial instincts as a crotch sniffer. Go sniff the crotch. Instead, you are going to kiss this knee goodbye, though."
Masvidal will make his return to the Octagon at UFC 287, where he faces a tough test in Gilbert Burns.
Who do you think will win between Jorge Masvidal and Gilbert Burns?