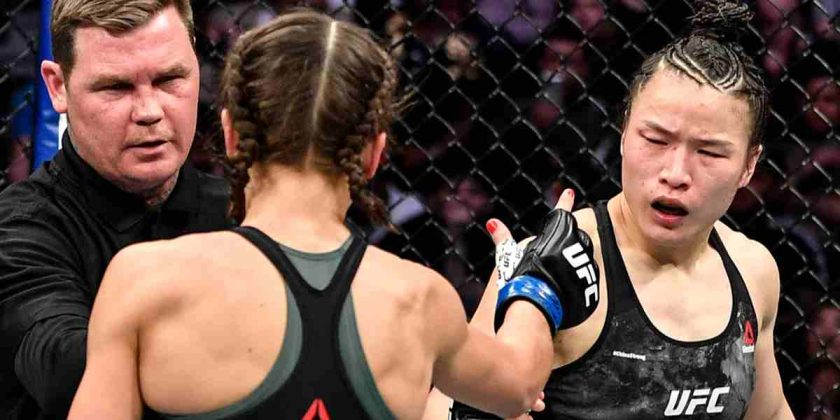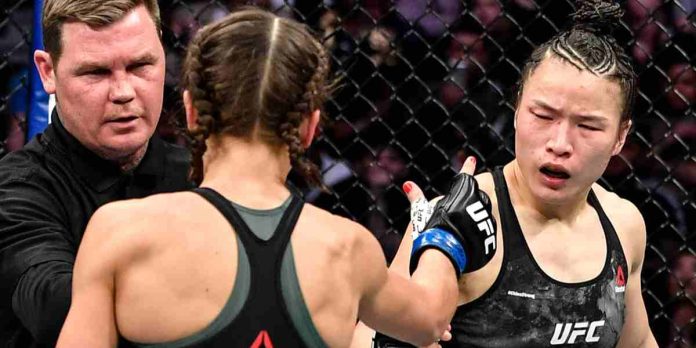 Joanna Jedrzejczyk has revealed who she thinks would win a potential UFC strawweight title fight between Carla Esparza and Zhang Weili.
Jedrzejczyk said an emotional goodbye to the sport after her devastating second round knockout loss to Zhang this past weekend at UFC 275. The Chinese star dominated the first round with her wrestling before knocking her opponent out with a highlight-reel spinning back fist halfway through the second round. She will most likely face champion Esparza for the 115-pound title next.
Joanna Jedrzejczyk On Carla Esparza vs Zhang Weili
During the UFC 275 post-fight press conference (as transcribed by BJPenn.com), Jedrzejczyk said that Zhang was a lot better than she expected, and predicted that she will beat Esparza with ease.
"First round [win] for Zhang Weili," Jędrzejczyk said. "She's so strong. Yeah, first round. She really surprised me with her strength [on the] ground. Because we know she's a striker, but she was very strong on the ground. Very beautiful work. Very beautiful work. So it's going to be an interesting fight, but I truly believe that Weili's going to be becoming the champ."
Zhang wants to return to the Octagon as soon as possible, and believes that a neutral venue like Abu Dhabi would be perfect for a potential fight against the American.
"I want fight with Carla in Abu Dhabi because I know there's a fight there in October," Zhang said. "I think Carla is a special fighter, too, and I know that can be a really good fight. Also, for me and for her – not China or the US. So we can fight in another country, so it's fair for both of us."
Who do you think would win a potential fight between Carla Esparza and Zhang Weili?