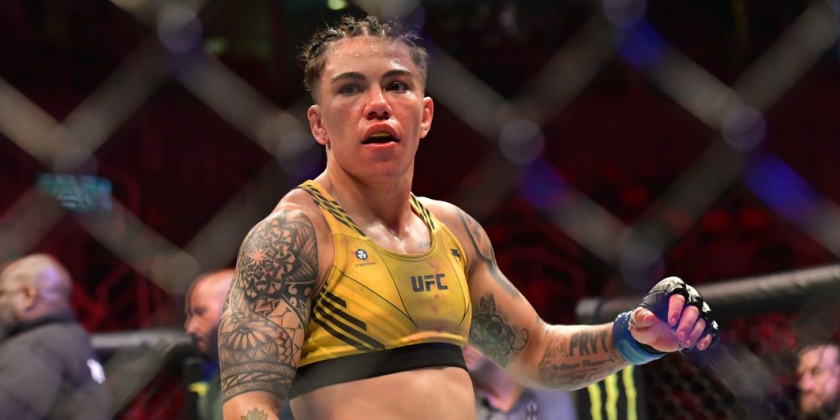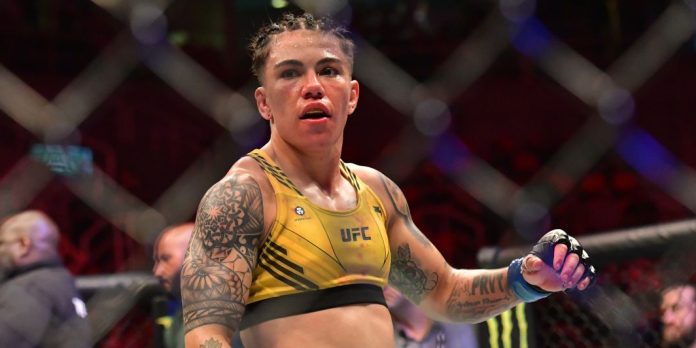 Jessica Andrade has revealed that an unfortunate wardrobe malfunction made her lose focus at UFC Vegas 69, where she lost to Erin Blanchfield by submission in the second round.
Blanchfield was originally scheduled to face Taila Santos, but the latter pulled out after her husband was denied a visa to travel to the United States. Andrade stepped in on short notice, and was visibly under-prepared as she was picked apart on the feet in the first round, before getting finished in the second, after the American secured a takedown and submitted her by a rear-naked choke.
Jessica Andrade On Erin Blanchfield Loss
In a recent interview with AG Fight, Andrade said that things probably would have been different had she not lost focus due to her breast slipping out in the middle of Erin's takedown attempt, which was followed by the fight-ending choke.
"This is not an excuse, but when she came for the takedown, I lost focus," Andrade said. "Because when she moved in, she put her shoulder just under my top and my breast completely slipped out. I lost focus and forgot to counter. All I could think of was my breast. When I used my hand to put my breast back in the top, that's when she was able to take me down.
"It's all part of the game, though. It's not an excuse. She really had a great gameplan. It wasn't on purpose. We have to be ready for everything. I should've been prepared to let my breast be out if it slipped out. It has been shown in so many places before. I shouldn't even be worried about that."
Having scored the biggest win of her career against Jessica Andrade, Blanchfield believes she can beat anyone in her division, including champion Valentina Shevchenko.
Who do you think Jessica Andrade should fight next?