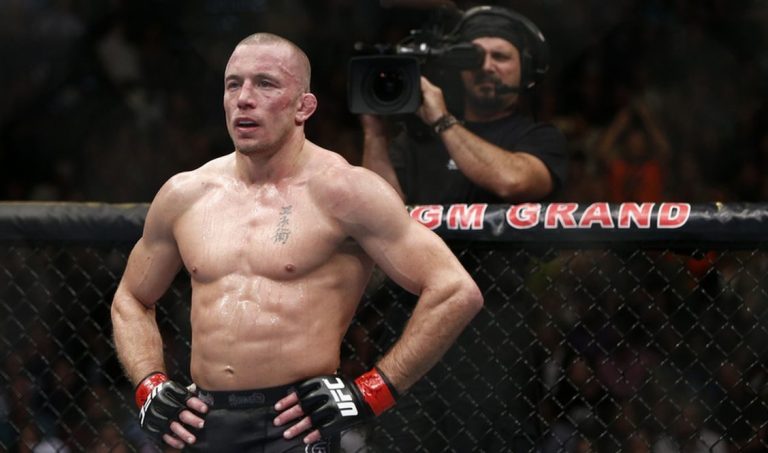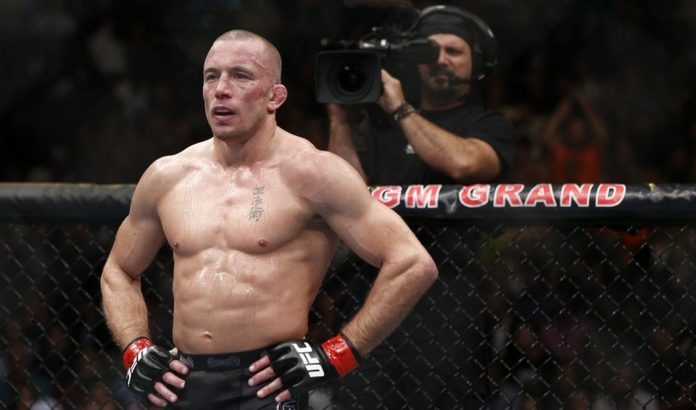 Georges St-Pierre says his fight with Jake Shields at UFC 129 in his hometown of Canada was a very memorable event for him.
St-Pierre beat Shields by unanimous decision to defend his welterweight title in front of over 55,000 fans at the Rogers Centre in Toronto, Canada at UFC 129 ten years ago. It was the first UFC event to take place in Ontario for a record-setting crowd at the time.  
Record-Breaking Night
Speaking to UFC.com, St-Pierre said that he was proud to headline one of the biggest events in the promotion's history.
"UFC 129 was a very memorable thing for me because it was the biggest crowd that I have ever performed in front of. It set a record for me and a record in Canada for the UFC," St. Pierre said. "The UFC had the audacity to do something that had never been done before and that's what I like about the UFC. They are about pushing the limit, like a fighter's mentality."
Fighting With One Eye
Going into the fight, St-Pierre was looking to earn a knockout win over Shields, but an eye poke ruined his plans, as it left him 'blind' in one eye for half the fight.
"When the guy came to pick me up from my locker room to make the walk to the Octagon, I remember I went in the hallway and I saw how big the attendance was," St-Pierre said. "It was amazing, I've never seen anything like this before for a fight, but it didn't matter to me because I already I had in mind what I had to do. I wanted to go out there and give the fans a big knockout, but it didn't matter. The pressure was because I put it on myself; I never let something from the outside, so to speak, try to interrupt my mindset. It was my fault if I put pressure on myself.
"At UFC 129 I felt like I had a little extra pressure to perform, and I wanted to give the fans a big knockout and that's what I wanted, but sometimes it's not a good thing when you let your emotions take over. When you want the knockout, it doesn't happen. It happens when you're quick and lose. I think that's one of the reasons it was a bad day in the office for me. I won, but it was a bad day, and I got an injury to the eye and I was blind for about half the fight. I won the fight, but I wish I would have given more to the fans."
Missed Opportunity
Although he won by unanimous decision, St-Pierre hurt Shields a number of times during their five-round fight. Halfway through the fourth round, GSP rocked the former Strikeforce champion with a left high kick, but couldn't capitalise on it. Looking back at it, 'Rush' said that had he put more force into the kick, he would have stopped his opponent.
"I remember at one time I threw a kick at the head of Jake Shields but when I threw that kick it was more of a fake. I threw the kick just as a measurement sort of kick," St-Pierre recalled. "So, I touched Jake Shields on the temple, and he fell down and I didn't put enough strength on it because I didn't believe it would touch the target; I thought he would adjust to help me measure my distance. But when I look back on that sequence, I'm like, man, I should have put more strength into that kick and perhaps I would have gotten my knockout. Unfortunately, it didn't happen the way I wanted."
Where do you rank Georges St-Pierre in the GOAT debate?
See also: