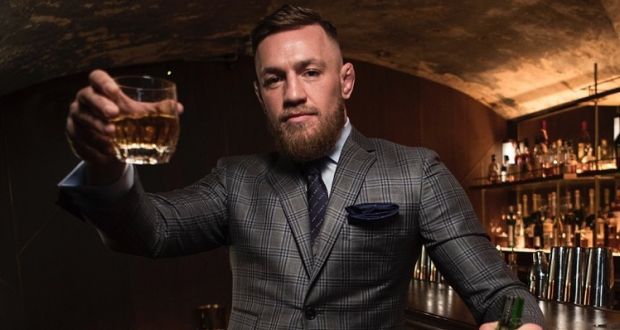 Conor McGregor has reportedly doubled his net worth after the takeover of his Proper Twelve whiskey brand.
McGregor launched Proper Twelve, named after his hometown Crumlin situated in Dublin 12, with his manager and partner Audie Attar in 2018. The Irishman's stardom has played a crucial role in the brand's rapid progress. In 2019, McGregor announced through Instagram that the brand has generated over $1 billion in sales in its first year.
After flying off the shelves around the world, Proper Twelve made its way to the supermarkets for the first time in the United Kingdom last week. The brand's profitable nature prompted McGregor's business partner, Mexican tequila company Becle, to take full control of Proper Twelve.
According to JOE, Becle has taken over the brand for somewhere around $130 million, split between McGregor and Attar.
With one less business venture to worry about, McGregor can finally focus more on his fighting career. The Dublin native most recently fought Dustin Poirier at UFC 257, but was brutally TKO'd in the second round. The defeat also denied him a lucrative boxing match with Manny Pacquiao.
Poirier Trilogy
However, McGregor is looking to turn things around with a trilogy fight with Poirier, which is reportedly in the works for the summer, as per Dana White.
"Conor's ready to roll," Dana said. "Conor wants to fight again. He wants the rematch with Dustin Poirier, and he wants it as soon as possible. We're working on it. Hopefully this summer."
McGregor's coach John Kavanagh revealed that 'The Notorious' is in good spirits after doubling his fortune and wants his revenge against Poirier in a rubber match.
"He is in great spirits, well he actually sold the spirits so he is in really good financial spirits," Kavanagh said. "He is just looking forward, I'm hoping we can get that [Poirier] rematch done in the summer. I'm not exactly sure, I don't involve myself in the management side of things. We wanna get that one back, gotta figure out these fricking calf kicks, how to use them and defend them. We're pretty confident we have that sorted out now. He looked excellent everywhere else."
Who do you think wins the trilogy fight between Dustin Poirier and Conor McGregor?
See also: