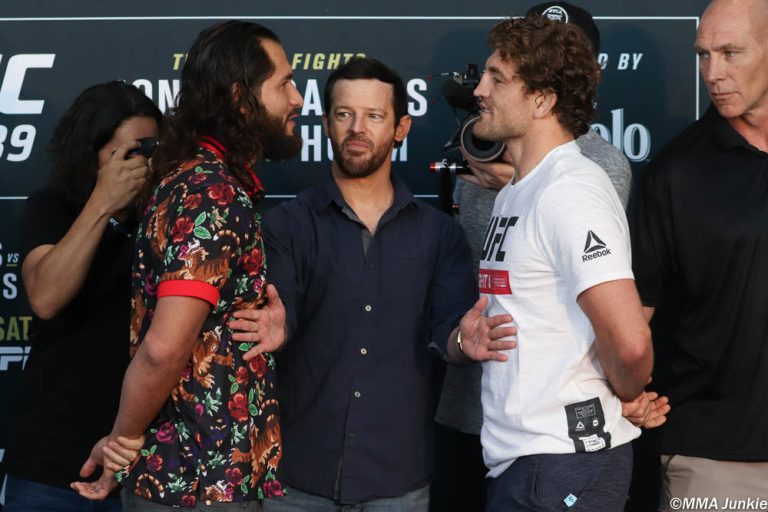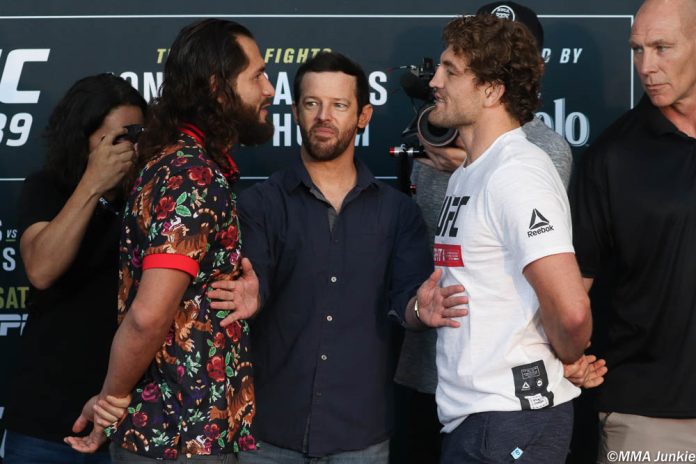 Ben Askren doesn't like Jorge Masvidal a whole lot, but that won't stop him from acknowledging his arch-rival's achievements in the sport.
Masvidal dropped to four losses in a row after losing to Gilbert Burns at UFC 287, where he announced his retirement from the sport. A veteran of over 50 fights, Masvidal's career took off when he knocked out 'Funky' in only five seconds of their fight at UFC 239, after which he won the BMF title by beating Nate Diaz, after which he fought for the welterweight title twice but he failed to win it.
The build-up to the fight between Masvidal and Askren was intense. The two engaged in heated verbal exchanges prior to sharing the cage. To this day, 'Gamebred' hasn't buried the hatchet with his blood rival, but there's still a lot of mutual respect between the two.
Ben Askren Praises Jorge Masvidal
Speaking on Daniel Cormier's YouTube channel, Askren said that he respects Masvidal for his incredible achievements in the sport and he wishes him an enjoyable retirement.
"You know what? As much as I think Masvidal annoys me sometimes, I mean, I've always said his post-fight speech about a guy who started with nothing and made a lot of money, and he hopes he can inspire someone else to go chase their dreams," Ben Askren said. "Like, I might not like Jorge Masvidal, but that's some good stuff. So you know what? I don't wish anyone poorly. I hope he has an enjoyable retirement."
Many expected Masvidal to transition into boxing after his retirement from MMA, especially now that he has his own boxing promotion. However, the Miami native wants to take some time off from fighting for now.
Would you like to see Jorge Masvidal in boxing?