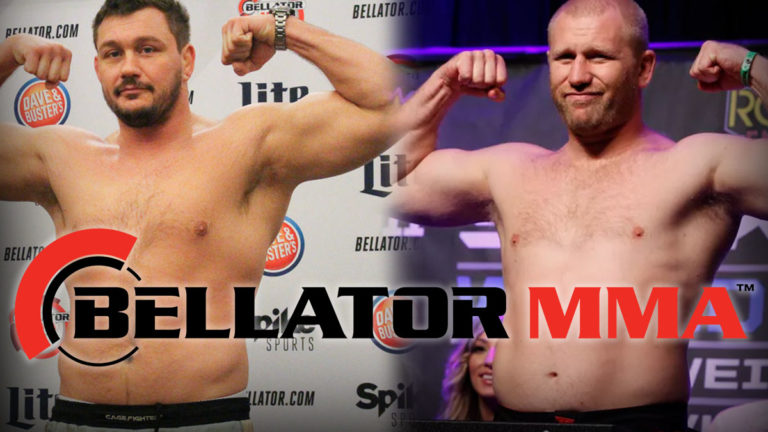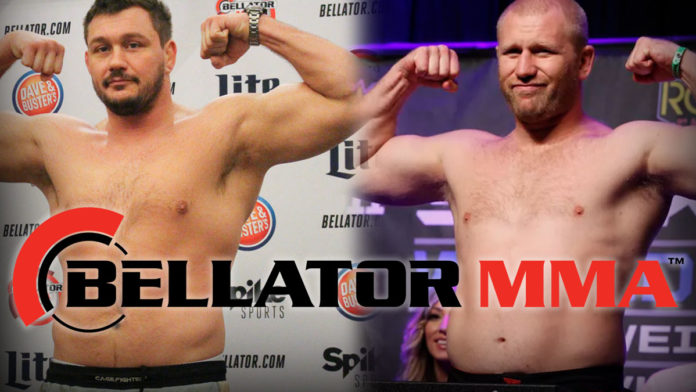 This weekend (Sat. August 24, 2019) we get the heavyweight rematch we've been waiting for since February. Matt Mitrione will again fight Sergei Kharitonov, this time in the main event of Bellator 225. We also have a heavyweight fight in the co-main event, as Vitaly Minakov returns after his first ever defeat to face Javy Ayala.
Matt Mitrione became known to the MMA world on the set of The Ultimate Fighter 10 as a member of Rashad Evans' team. After winning his first fight on the show, he got submitted in his next outing, resulting in a 1-1 record on TUF. After this, he made his professional MMA debut, a fight he'd win via KO over Marcus Jones, a guy he had issues with in the house, or should I say a guy that had issues with him.
Mitrione went on to win his next four, making it to 5-0, before losing two straight. After losing via unanimous decision to Cheick Kongo, he lost via TKO to Roy Nelson, falling to 5-2. He then won his next fight, before being submitted by Brendan Schaub.
'Meathead' went on to win his next three, improving to 9-3, before losing to Ben Rothwell and Travis Browne. That Browne fight was incredibly controversial considering he was doing great in that fight until he got poked in his eye so bad it swelled shut. He ultimately lost the fight via TKO with less than a minute left in round three.
He would then try his luck in Bellator, and has done quite well thus far. He won his first four fights with the promotion, including a KO win over all-time great Fedor Emelianenko, as well as avenging his loss to Roy Nelson. In his next fight he was matched up with Ryan Bader, the Bellator Light Heavyweight Champion and the soon to be Bellator Heavyweight Champion, a fight he lost via unanimous decision.
Then we have his last fight against Kharitonov, which only lasted :15 seconds. Mitrione landed a vicious kick to Kharitonov's groin, thus resulting in the outcome. Kharitonov was in far too much pain to continue. Hopefully that doesn't happen this time around.
Kharitonov has been around for quite a while, and boasts wins over some of the greats like Alistair Overeem (a loss he avenged), Fabricio Werdum, Perdo Rizzo, and Andre Arlovski, amongst others. He has fought some of the sport has to offer his entire career, and that doesn't stop here.
Matt Mitrione is an elite heavyweight. The way he moves, his precision, his speed and timing, it's all there thanks to his shotokan karate background, an art he holds a black belt in.
It's going to be great to finally see who's better between these two elite heavyweights. With Mitrione being 41-years-old and Kharitonov being 39-years-old, it's time to get as many fights as possible out of both of these men until it's too late. Fight Card posted below:
Main Card: 9pm ET/6pm PT
Heavyweight: Matt Mitrione (13-6) 1 NC vs. Sergei Kharitonov (28-6) 2 NC
Heavyweight: Vitaly Minakov (21-1) vs. Javy Ayala (11-7)
Women's Flyweight: Alejandra Lara (7-3) vs. Taylor Turner (4-5)
Heavyweight: Tyrell Fortune (6-0) vs. Rudy Schaffroth (6-0)
Catchweight 175 lbs: David Rickels (21-5) 2 NC vs. Yaroslav Amosov (21-0)
Preliminary Card: 5:45pm ET/2:45pm PT
Lightweight: Nick Newell (15-2) vs. Corey Browning (5-2)
Welterweight: Sobah Homasi (12-8) vs. Micah Terrill (14-7) 1 NC
Catchweight 140 lbs: Mike Kimbel (3-1) vs. Chris Disonell (3-3)
Welterweight: Khonry Gracie (1-1) vs. Oscar Vera (0-1)
Bantamweight: Ricky Bandejas (11-3) vs. Ahmet Kayretli (8-3) 1 NC
Heavyweight: Timothy Johnson (12-5) vs. Azunna Anyanwu (15-5)
Middleweight: Austin Vanderford (7-0) vs. Joseph Creer (6-0-1)
Catchweight 165 lbs: Aviv Gozali (2-0) vs. Eduard Muravitskiy (9-8)
Catchweight 175 lbs: Jon Manley (11-6) vs. Thiago Rela (10-7)
Catchweight 165 lbs: Kastriot Xhema (3-3) vs. Connor Dixon (0-0)