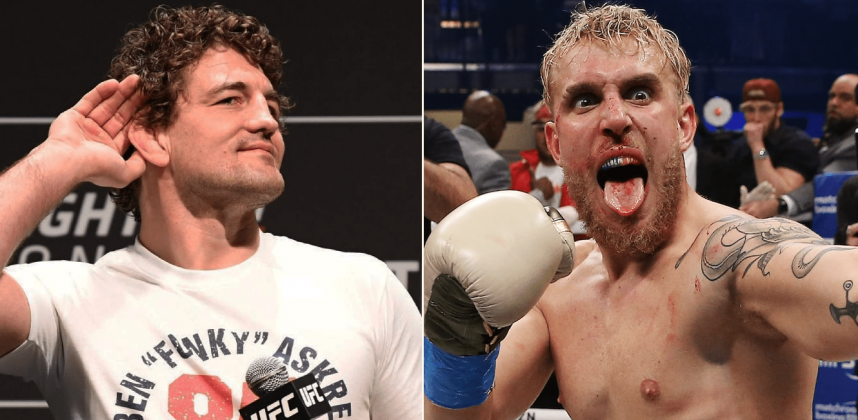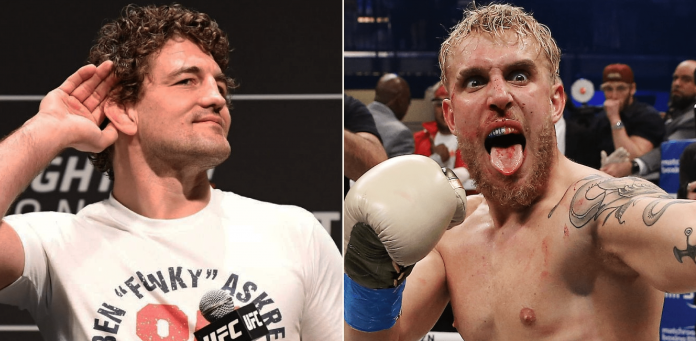 Ben Askren says a three-month-long training camp is enough for him to beat up an 'amateur' boxer like Jake Paul.
Askren is set to make his professional boxing debut against Paul in this weekend's Triller main event. The YouTuber is a 2-0 professional boxer, with wins over fellow entertainer AnEsonGib and NBA star Nate Robinson.
'Funky' is a former two-time NCAA Division 1 national champion, an Olympian, and a multi-promotion MMA champion. He's a wrestling phenom, but there's a big question mark over his striking ability.
MMA Game Plan
Speaking to MMA Fighting, Askren said that engaging in a striking battle was never a priority during his MMA days.
"When I was doing MMA, all my stand up was based around how do I execute the intro to the striking and then get to my wrestling," Askren said. "I was very, very successful at it.
"I calculated this the other day, I think I got a takedown in 48 out of 50 rounds that I ever fought in mixed martial arts. So my strategy worked really, really, really well. That's like a 95-percent success rate or somewhere around there."
Beating Up Jake Paul
Considering Askren has spent decades in the gym training for some of the most talented athletes on the planet, he thinks he doesn't need a lot of training to beat Paul in a boxing ring.
"Boxing, obviously it's different, but I told someone the other day that I'm really good at athletics," Askren said. "I wanted to be a really great wrestler. I won NCAA titles and made the Olympics. I wanted to be a good mixed martial artist. I won multiple belts in multiple organisations.
"If I want to beat up an amateur boxer, it ain't gonna take me more than three months of training to do so."
The former ONE Championship and Bellator welterweight titleholder announced his retirement from MMA in 2019, but has kept the door open for any interesting opportunities.
"I did say when I retired, I will never be a full-time fighter but if something interesting comes up, I'd be willing to accept that," Askren said. "This falls into that category I think. I'm not going to be a full-time boxer but I got an interesting opportunity and I'm going to take advantage of it."
"Boxing Is A So Much Easier"
Having competed at the highest level in MMA for over a decade, Askren feels that boxing is a much easier discipline to master.
"I love the aspect like training to try and be good at something," Askren said. "When you think about it, boxing is so much easier than mixed martial arts. You just have to take your two hands and punch somebody in the face. Way less [stress than wrestling]. In wrestling, you get put in all kinds of really, really strange positions. Boxing is way easier than anything. Jiu-jitsu, kickboxing, Muay Thai, there's very little stress comparatively.
"In mixed martial arts you have to worry about the takedown, you can get takedowns, you can stuff the takedowns, you can clinch them, you can knee them, you can kick them, you can punch them, you can elbow them. Once you're on the ground, then there's a whole other boatload of stuff. MMA is almost an information overload. This one is just drilling repetitions, getting in shape, feeling time and distances, that type of stuff."
Fighting For Free
When asked if he would have fought Paul for free, Askren said that it could have been possible in his younger years, but since he's a busy man now, time is money for him.
"I wouldn't have done it for nothing because my time is valuable and I have a lot of things going on," Askren explained. "But at the same time, in my younger years say if I was in college and I was bored in the summer, I didn't really have anything going on, yeah I would have done it for free. If I wasn't busy. Right now, my life is really busy. I own five wrestling academies. I'm doing a whole bunch of things so my time is valuable.
"Let's say we're in college and I'm on summer break and I got no classes and you say 'Hey Ben, let's go throw on some boxing gloves on and fight this dude over here and we're going to videotape it,' I would have said yes, let's go. That sounds like fun. I've done that before."
Who do you think wins the boxing match between Ben Askren and Jake Paul this weekend?
See also: