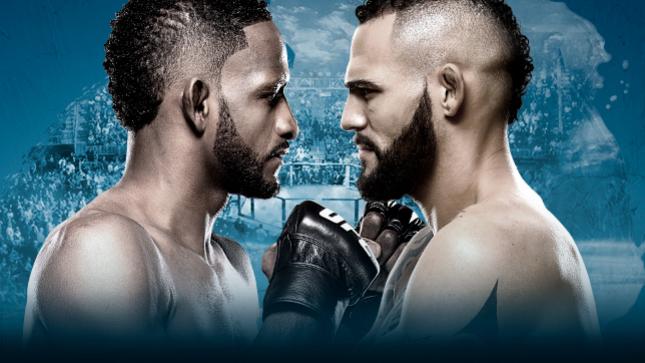 Welterweight: Neil Magny (+256 U) vs Santiago Ponzinibbio (-325 F)
UFC will likely be hoping Santiago Ponzinibbio will win this one in his homeland of Argentina, as they attempt to break into that market.
He probably will win too.
It is a fascinating test encounter for sure as both men were never originally tagged a stars by the company but both find themselves on an upward curve. A win here will put them right into title contention.
Magny has an excellent reach but Ponzinibbio will likely take this to the ground. It is his best opportunity to win. Magny is an accomplished wrestler but his defensive skills are poor and if the Argentine takes him down and attempts to work a submission, he could find himself in trouble.
Ponzinibbio will find a way to win and likely will.
Prediction: Santiago Ponzinibbio via Submission
Santiago Ponzinibbio is heavily favoured by the bookmakers for a reason. There won't be a great return but it is a very safe bet.
Betting Tip: Santiago Ponzinibbio
Featherweight: Darren Elkins (+192 U) vs Ricardo Lamas (-240 F)
The battle of the veterans is probably both men's last shot at staying in contention for a Featherweight Championship opportunity.
But which man will get it?
The bookmakers have Lamas as the favourite and that is probably the right choice although this bout could be tight.
Lamas has lost his past two bouts and it is all but over for him as a contender in UFC if he does not pick up the win here.
Elkins is as an odd fighter. Capable of absorbing inhumane amounts of punishment, he is the master of the come from behind win. However, Lamas is skilful enough not to get caught out by any of Elkin's strikes.
Therefore, Lamas should inflict enough damage to take a Decision win.
Prediction: Ricardo Lamas via Decision
Betting Tip: Ricardo Lamas
Light-Heavyweight: Khalil Rountree (-260 F) vs Johnny Walker (+205 U)
Khalili Rountree has flattered to deceive for his entire UFC career. The once great prospect is likely to remain nothing more than that.
Johnny Walker is somewhat of an unknown entity, with this fight being his UFC debut but he is a decent enough striker and has plenty of charisma to boot. He is the type of fighter that the UFC could make a star if he can back it up inside the Octagon.
Experience should tell in this one though and despite his flaws, Rountree should possess enough guile to win this one.
Prediction: Khalili Rountree via Decision
The odds are against an upset but Rountree is one of those fighters where you never know what you're going to get. Much like Vitor Belfort was at his peak; equal parts explosive and unbeatable then timid and withdrawn.
Walker could land a surprise knockout blow and if he does is likely to make a few gamblers a nice profit.
Betting Tip: Johhny Walker 
Middleweight: Cezar Ferreira (-185 F) vs Ian Heinisch (+160 U)
Originally Cezar Ferreira was supposed to be fighting Tom Breese in a fight in which he would have been an underdog. However, a change of opponent has made him the favourite instead.
With five wins in his last six fights, the former Ultimate Fighter competitor is on a real roll. Adopting a more wrestling based style with submissions and shying away from a striking game that previously saw him undone on several occasions. Ferreira will be looking at earning a big win here and moving up the Middleweight ranks to face a contender in his next fight.
For his part, Ian Heinisch is a dangerous fighter himself. After putting an unfortunate drug trafficking career behind him, Heinisch has turned his life around and is no slouch in the Octagon.
Heinisch is a powerful striker but Ferreira should have enough nous to play to his strengths.
An intriguing fight but one that should be pretty one sided.
Prediction: Cesar Ferreira via Decision
Cesar Ferreira is the favourite for a reason. However, despite the superior fighting skill of Ferreira, Heinisch is an excellent striker and will have a punchers chance and is an attractive outside bet.
Betting Tip: Ian Heinisch
Bantamweight: Guido Cannetti (+260) vs Marlon Vera (-320 F)
The Argentinian, Guido Cannetti will seek to win in front of his hometown fans. He will likely fail to do so though.
Vera is inconsistent but at his best, is a highly accomplished and dangerous striker. He is also highly adept at submissions. He can win this fight in so many ways. The only question mark against this bout is how Vera will win not if.
Prediction: Marlon Vera via Submission
The odds have fluctuated on this bout. They have got wider and wider. For good reason. There is only one winner.
Betting Tip: Marlon Vera
Women's Strawweight: Cynthia Calvillo (+114 U) vs Poliana Botelho (-140 F)
Neither tof these two women have a ranking in the women's strawweight division which shows how stacked that division is.
Both of these fighters have a solitary loss on their records and are currently enjoying long winning streaks.
Cavillo is the stronger wrestler and Botelho is the superior stand up fighter. So where will this fight be won and lost?
If Botelho can avoid getting taken down she will win, pure and simple. That is likely how this one will go.
Prediction: Poliana Botelho via Knockout
Despite Botelho being the favourite, Calvillo is no slouch and is definitely capable of taking her opponent down. Should she do so, there is an opportunity to make a few quid.
Betting Tip: Cynthia Calvillo
---
More MMA betting tips
---