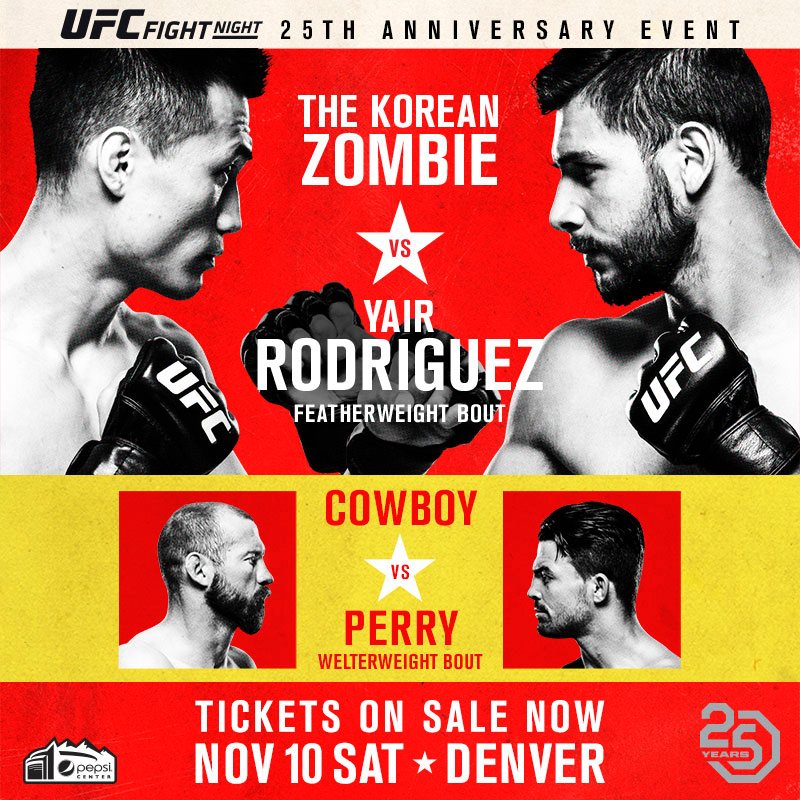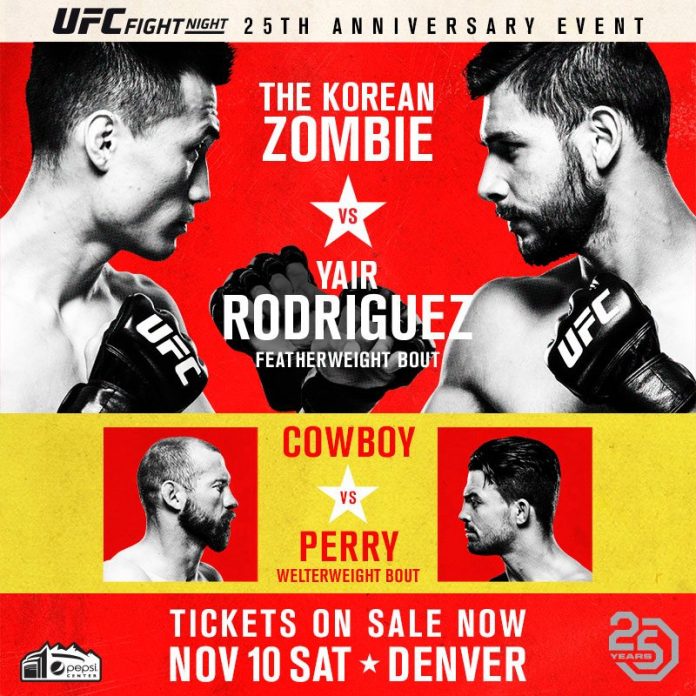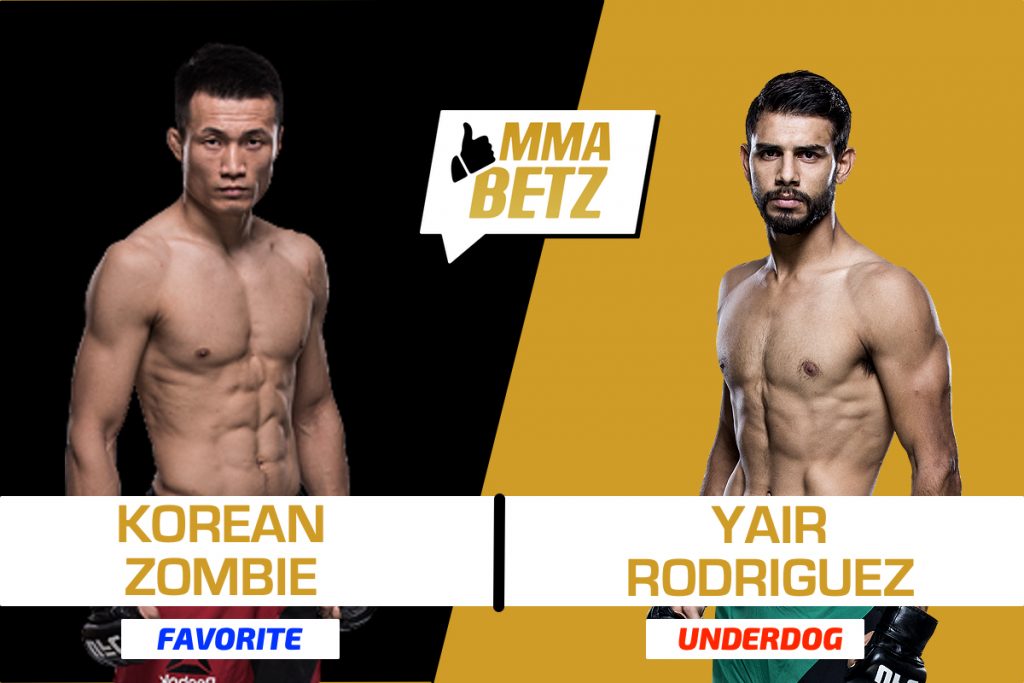 Featherweight: Chan Sung Jung (-155 F) vs Yair Rodriguez (+135 U)
Interesting fight to headline UFC's 25th anniversary show. Neither "Korean Zombie" Chan Sung Jang or Yair Rodriguez have fought in the Octagon in 2018.
Jung has been on the sidelines due to a troublesome knee injury whereas Rodriguez has been dealing with an all manner of chaos from injury and contractual issues.
Come bell time, however all thoughts will be on what both men can do inside the Octagon.
Both fighters are dynamic, entertaining strikers, who will feel they have something to prove after a large period of inaction.
This is an extremely tough encounter to predict but one has to favour the Zombie due to his past record of returning to UFC after long periods away, looking like he hasn't missed a beat.
Jung will add to his already impressive highlight reel of Knockouts.
Prediction: "Korean Zombie" Chan Sung Jung
It is tempting to think a flutter on bookie's underdog Yair Rodriguez would be a worthwhile bet, however, despite his obvious talents, Jung just seems like the much more likely winner and therefore is the safer bet.
Betting Tip: "Korean Zombie" Chan Sung Jung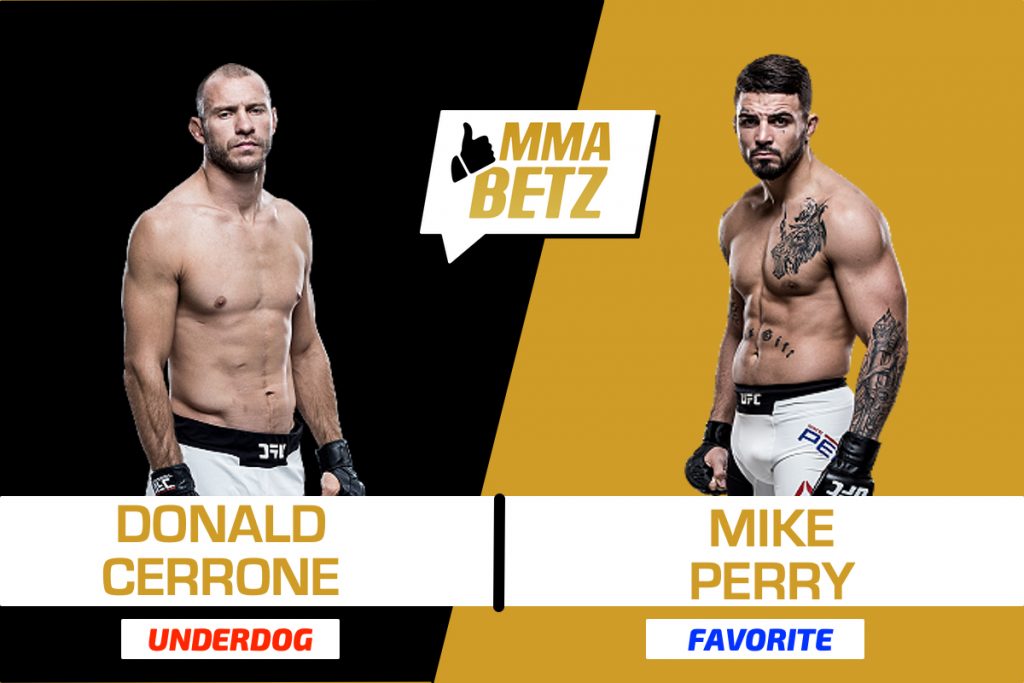 Welterweight: Donald Cerrone (+180 U) vs Mike Perry (-220 F)
Versus anyone else and the obvious pick would be to bet against "The Cowboy" Donald Cerrone. Having lost four of his past five fights, the one-time legendary fighter is a fading force in MMA and his best days are unquestionably behind him.
However, Mike Perry has not set the world alight in UFC and gives away years of experience to his opponent and looks inferior to Cerrone in almost ever discipline, though the younger Perry does have impressive striking and ground and pound credentials.
Having said that, all of Perry's three defeats have come via Decision; he has never been stopped. The likelihood is a past his prime Cerrone won't finish him either.
Perry could well prove the bookmakers' correct and win this one. He really could.
Prediction: Mike Perry via TKO
Some observers have picked Cerrone for this one and despite his lacklustre efforts in recent times, he still possesses excellent all round skills and with his underdog status with most bookmakers, is an attractive bet, particularly as Perry has not faced someone of his pedigree before. There could well be a winning bet here.
Betting Tip: Donald Cerrone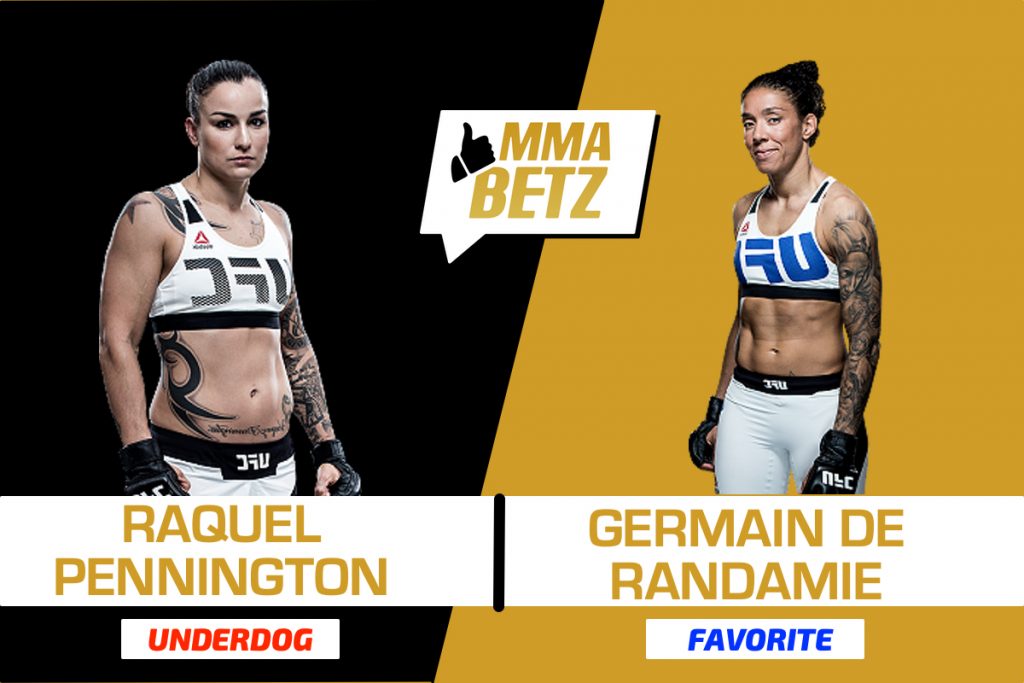 Women's Bantamweight: Raquel Pennington (+150 U) vs Germaine de Randamie (-170 F)
Another intriguing match up on the Fight Night card pits two former contenders versus one another. For the winner, a title opportunity likely awaits. The loser will face a long road back to the top.
Raquel Pennington lost last time out, back in May, to Bantamweight Champion, Amanda Nunes and would surely love another crack at the Brazilian as soon as possible.
Her opponent, Germaine de Randamie is competing at Bantamweight for the first time since 2016, having become the inaugural Featherweight Champion at UFC 208 in a winning effort versus Holly Holm before she was stripped of the title for refusing to fight Cris Cyborg.
This is a fight where two one-time contenders who may have reached their career ceiling have one last shot to make a UFC career for themselves.
Pennington can strike and grapple and is a better all rounder than her opponent but de Randamie is a vastly superior striker owing to her Kickboxing background and after the pasting Pennington took from Nunes, it isn't a leap to see things going the same way here.
Prediction: Germaine de Randamie via Knockout
There is only one winner here. Do not risk your money on the underdog.
Betting Tip: Germaine de Randamie
Women's Strawweight: Maycee Barber (-460 U) vs Hannah Cifers (+360 F)
Both of these female fighters are relative unknowns with a big opportunity to make names for themselves on the main card. Both can deliver plenty of excitement with their fighting styles and this one literally is a 50/50 call. As the slightly more explosive striker, the knife edge lies with Barber.
Prediction: Maycee Barber via Decision
Baffingly, the oddsmakers have this as a mismatch. It isn't. This is definitely worth a flutter on Cifers. It is not beyond the realms that she could take this fight.
Betting Tip: Hannah Cifers
Lightweight: Mike Trizana (+315 U) vs Luis Pena (-380 F)
The UFC will be hoping Luis Pena can win this one and effectively become the de facto winner of UFC's Lightweight Ultimate Fighter tournament which he was pegged to win before succumbing to injury.
His opponent, Mike Trizana won the tournament instead and is a perfectly legitimate prospect in his own right but Pena has star written all over him and is the type of fighter you can build a division around. The UFC will want to do just that. Pena is the real deal and he should inflict Trizana's first MMA defeat and begin his ascent up the card.
Prediction: Luis Pena via Knockout
This Pena's fight to lose. However, he won't. The smart money is on the pre-fight favourite.
Betting Tip: Luis Pena
Lightweight: Beneil Dariush (F) vs Thiago Moises (U)
In a last minute addition to the card, Lightweight competitors, Beneil Dariush and Thiago Moises will compete versus each other inside the Octagon.
Moises is a solid if unspectacular hand whereas Dariush, once a legitimate contender has had a couple of chastening defeats in recent times. However, if competes anywhere near close to the peak of his powers, Dariush's superior wrestling skill should tell.
Prediction: Beneil Dariush via Decision
With this fight, being a last minute addition, at time of writing, no odds had been released. However, it is difficult to see anything other than a Dariush win.
Betting Tip: Beneil Dariush
---
More MMA betting tips
---