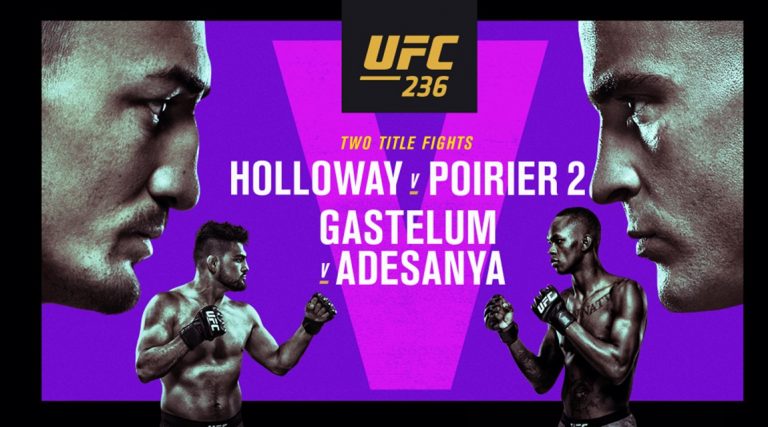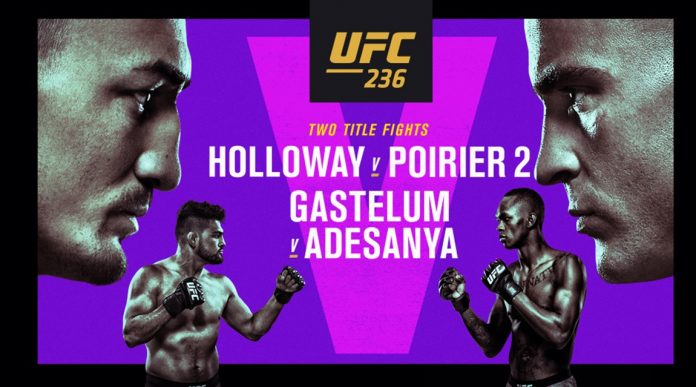 UFC 236: Holloway vs. Poirier 2, Saturday, April 13th, from the State Farm Arena in Atlanta, Georgia, has the makings of a very special combat sports event. Although featuring only five matchups, the main card contains two title contests, that of undefeated up-and-comer Israel Adesanya taking on Kelvin Gastelum for the interim UFC Middleweight title, and Max Holloway getting the rematch against Dustin Poirier for the interim UFC Lightweight title.
Although Poirier holds the victory in the first fight between the two, Holloway is the current UFC Featherweight champion, and he will seek not only his revenge, but the opportunity to become just the fourth champ-champ in UFC history. Follow along as I breakdown the main card of UFC 236, and I'll give you the betting odds and my predictions for how I see the fights ending up.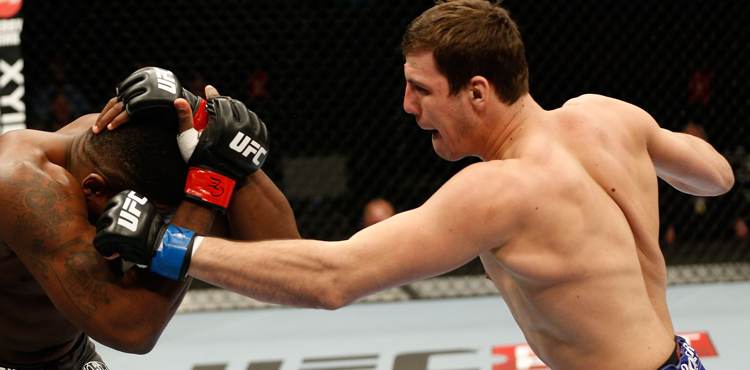 Ovince Saint Preux (23-12) vs. Nikita Krylov (24-6)
Betting odds as of 4/10/19: Nikita Krylov -120; Ovince Saint Preux +100
The main card of UFC 236 kicks off with Nikita Krylov versus Ovince Saint Preux. The Ukranian Krylov comes into this fight the slight favorite over Saint Preux, and he will try to avenge his loss to "OSP" by way of Von Flue choke back at UFC 171 in 2014. Krylov will also be on the rebound from a second-round submission loss to Jan Blachowicz back in September. However, Krylov is 4-1 in his last five, and 9-2 since his loss to Saint Preux. OSP has fallen two of his last three, and he's a struggling 8-7 since his technical submission over Krylov. In his twelve losses, Saint Preux has only been knocked out twice, so I'm going with the favorite in this one by decision.
Prediction: Nikita Krylov, decision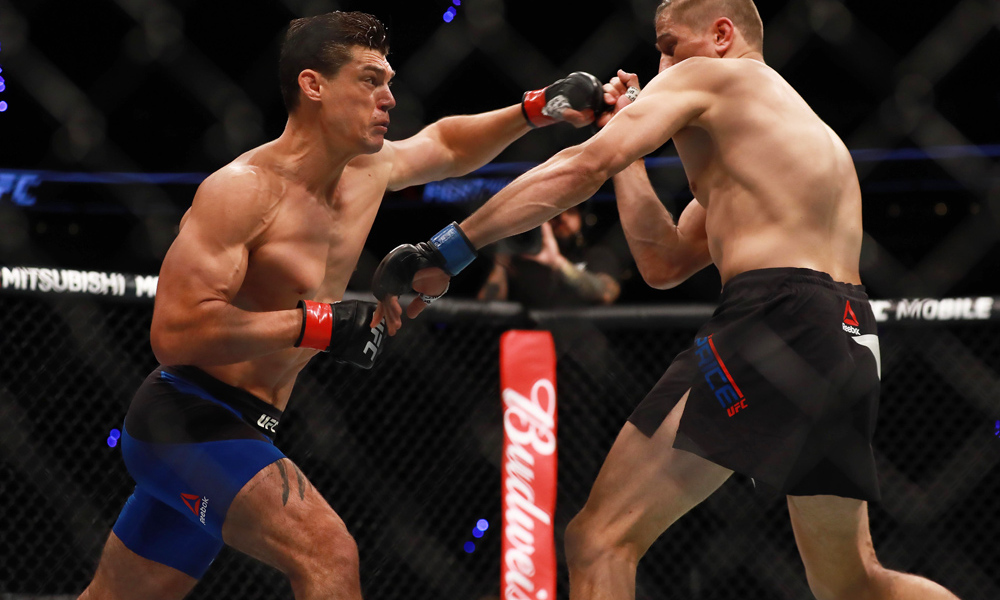 Alan Jouban (16-6) vs. Dwight Grant (9-2)
Betting odds as of 4/10/19: Alan Jouban (-115); Dwight Grant (-105)
In the second fight of the main card, Alan Jouban will be the slight favorite as he faces off against Dwight Grant. Although Jouban hasn't seen action in the Octagon in over a year, his last fight was an impressive second-round knockout of Ben Saunders back in February of 2018. He's 4-2 in his last six, and that includes two hard-fought victories over Belal Muhammad and Mike Perry.
Dwight Grant will make just his third UFC appearance after paving his way through a victory on Dana White's Tuesday Night Contender Series over Tyler Hill. Although Grant is just 1-1 in the UFC, he is coming off of a huge first-round knockout of Carlo Pedersoli at UFC on ESPN+ 3. That being said, I think that Jouban will shake off the cage rust pretty quickly here and be victorious over the UFC newcomer.
Prediction: Alan Jouban, decision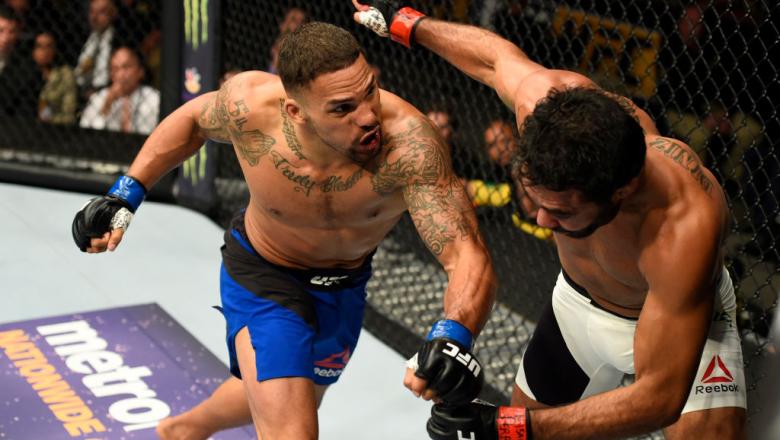 Eryk Anders (11-3) vs. Khalil Rountree (7-3-0, 1 NC)
Betting odds as of 4/10/19: Eryk Anders (-190); Khalil Rountree Jr. (+160)
The action really starts heating up with the third fight on the main card of UFC 236 with Eryk Anders versus Khalil Rountree. Eryk Anders was a college football standout before starting his professional MMA career 10-0. He's 1-3 in his last four, but those losses include two split decisions and a defeat to #1 contender Thiago Santos on a very short notice fight.
Rountree is 3-1, 1 NC in his last five, and although he might seem the less-experienced, seven of his twelve professional fights have come under the UFC banner. His last fight was a first-round knockout loss to Johnny Walker, but with that he joins an ever-increasing list of people to be stopped in the opening round by the Brazilian prodigy. Still, I think that the athleticism and endurance of Anders will help him get his career back on the winning track and get the stoppage over Rountree.
Prediction: Eryk Anders, second-round knockout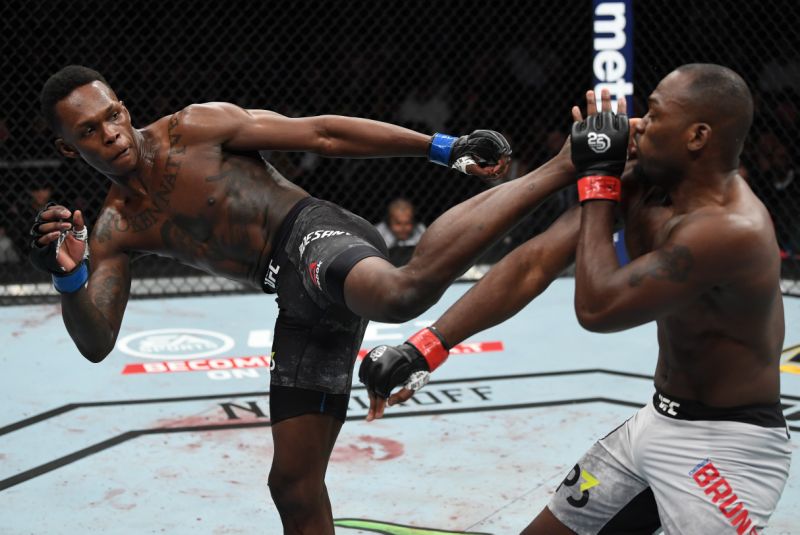 Kelvin Gastelum (15-3-0, 1 NC) vs. Israel Adesanya (16-0)
Betting odds as of 4/10/19: Israel Adesanya (-180); Kelvin Gastelum (+150)
As of now, there are three UFC fighters that I would just simply never bet against: Jon Jones, Johnny Walker, and Israel Adesanya. Adesanya will take on Kelvin Gastelum in the co-main event of UFC 236 for the interim UFC Middleweight title in the wake of Robert Whittaker's withdrawal of its defense at UFC 234. Gastelum is more than deserving of his chance at UFC gold with titanic victories over top contenders Michael Bisping and Ronaldo Souza in his last two fights. However, he will collide head-on with a seemingly unstoppable force in Israel Adesanya on Saturday night.
Adesanya is one of, if not the most, indomitable fighters trending now in the UFC. He's undefeated, and his last three wins have been Performance/Fight of the Night victories over Brad Tavares, Derek Brunson and the legendary Anderson Silva. Many analysts are predicting this fight to be closer than what the odds are suggesting, however I think that Adesanya will handily get the win and interim Middleweight title here. Even though Gastelum has never previously been knocked out, I'm predicting the Muay Thai prowess of Adesanya to be too much for him to handle, and Gastelum will receive his first loss by way of KO/TKO.
Prediction: Israel Adesanya, third-round knockout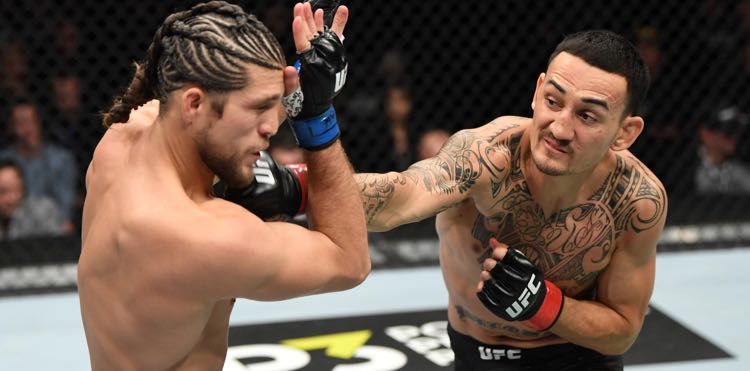 Max Holloway (20-3) vs. Dustin Poirier (24-5-0, 1 NC)
Betting odds as of 4/10/19: Max Holloway (-200); Dustin Poirier (+170)
In one of the most highly-anticipated fights of the year thus far, Max Holloway will move up a division to face Dustin Poirier for the interim UFC Lightweight title in the main event of UFC 236.
Let me be completely transparent here: As a Louisianian, I am a tremendous fan of Poirier's, for what he does both inside and outside of the Octagon. I get to witness the effects of his character each and every day in the young fighters that he's impacted and the virtuous role that he plays in the combat sports community here. Not only that, but Poirier has been on an absolute tear since his loss to Conor McGregor at UFC 178, going 8-1,1 in his last ten, with momentous victories over Eddie Alvarez, Anthony Pettis and Justin Gaethje.
That being said, I think Max Holloway is the best pound-for-pound fighter in the world right now. He twice dismantled arguably the greatest Featherweight of all time in Jose Aldo, and in his last performance he completely destroyed the number one Featherweight contender in Brian Ortega in a fight that was anything but close. As much as it would delight me to see Poirier get the win and take the title back to Louisiana, I don't see how he, or anybody else in either the Featherweight or Lightweight divisions, gets through Max Holloway right now.
Prediction: Max Holloway, decision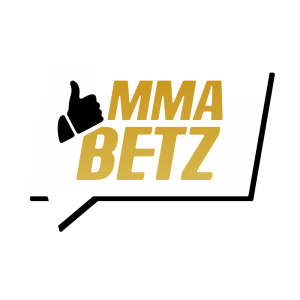 Safest pick of the night: Israel Adesanya over Kelvin Gastelum
Best chance for an upset: Ovince Saint Preux over Nikita Krylov
Tell me what you think, where do I have it right, and where did I get it wrong? Comment with who you are going with in the co-main and main events? And, as always, don't forget to like and share!