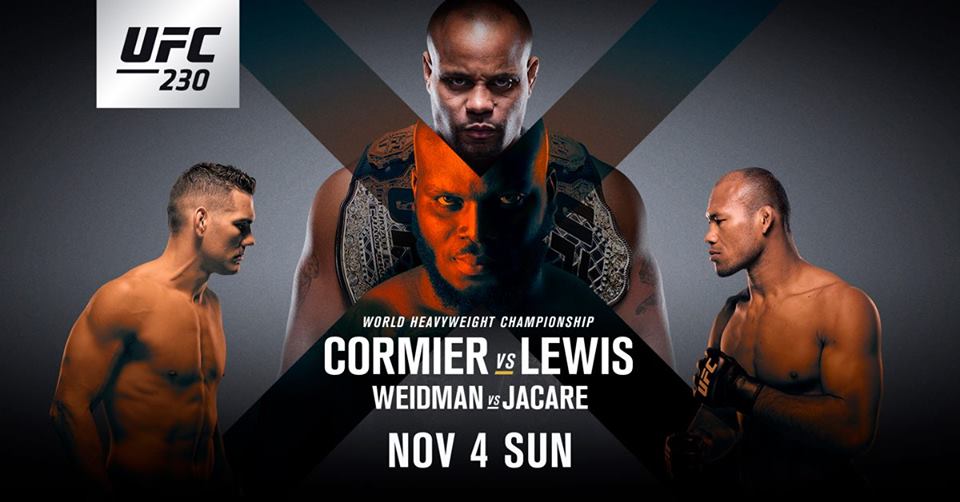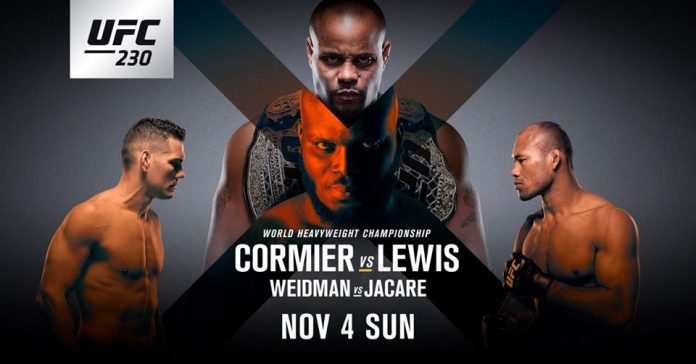 Heavyweight Title: Daniel Cormier (-700 F) vs. Derrick Lewis (+450 U)
The big one! Daniel Cormier puts his Heavyweight Championship on the line versus Derrick Lewis in what will surely be an exciting strike heavy fight.
Lewis is the heaviest puncher in all of MMA right now. So devastating is he that he is capable of earning victory from the jaws of defeat with a single punch, as he did at UFC 229, just four weeks ago, when he was literally seconds from losing against Alexander Volkov.
Of Lewis's 21 wins, 18 have come via Knockout. It's clear what his game plan will be versus the smaller Cormier.
For his part, Cormier, is a far greater all round fighter who can win in a range of different ways. So skillful is Cormier, that Jon Jones is the only man to have defeated him in his entire career. One loss in nine years, and possessing a greater skill-set suggests that a Cormier victory is inevitable.
However, that would do a disservice to Lewis who has shown time and again that he is not a fighter who can be counted out.
Cormier has an excellent jaw and has never officially been knocked out during his career. He should be able to withstand some shots and use his greater conditioning to take Lewis the distance.
Prediction: Daniel Cormier via Decision
However, the odds are stacked far too heavily in Cormier's favour and a Lewis victory is a distinct possibility given his extraordinary punching power. Lewis's odds have shortened over the past couple of days as the bookmakers begin to realise their error after a flurry of bets for Lewis. Odds of +450 though are still a stunningly good return for a Lewis win.
Betting Tip: Derrick Lewis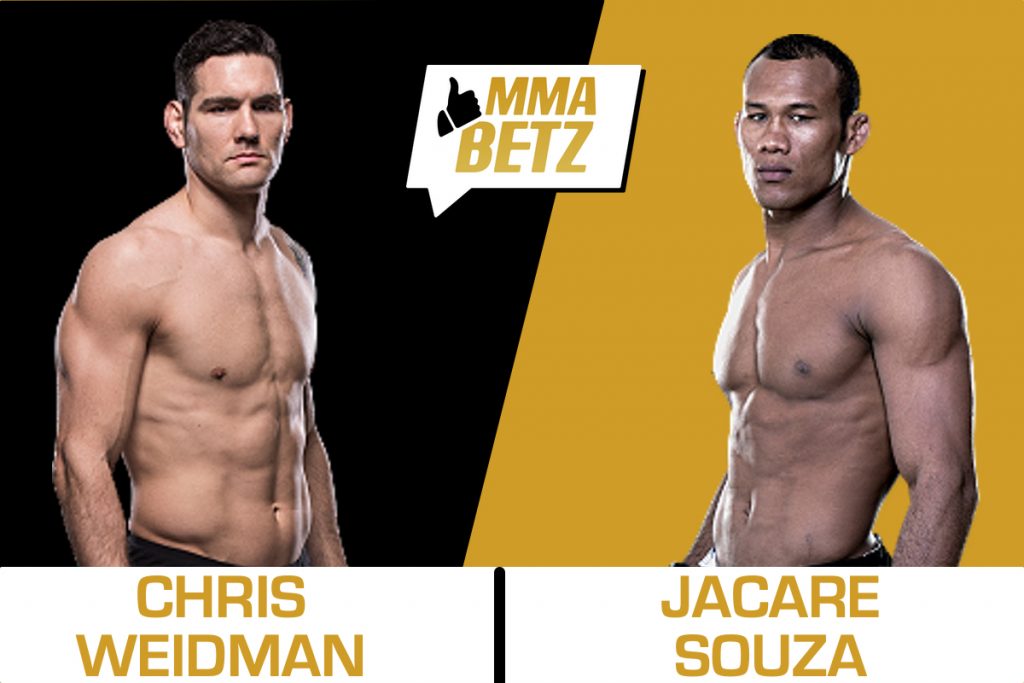 Middleweight: Chris Weidman (-185) vs. Ronaldo Souza (+150 U)
The UFC 230 co-main event was supposed to be a re-match between Chris Weidman and Luke Rockhold. However, Rockhold pulled out of the bout on October 19 and Souza was installed in his place instead.
Souza lost last time out at UFC 224 versus Kevin Gastalum in a tight split decision in a hugely impressive fight, which earned "fight of the night" honours.
In an interesting statistic, Weidman's last fight was also against Gastalum whom he defeated which brought a halt to a three fight losing streak which were the first losses of Weidman's career.
Can Weidman defeat Souza and put himself back in contention for the Middleweight Championship? He can and he will probably but like the main event, it is extremely difficult to pick a winner between these two extremely closely matched fighters. Weidman has superior ground and pound and Souza has a tendency to get in trouble when attempting submissions which will may give Weidman an opening to win, but it is definitely not clear cut.
Prediction: Chris Weidman via TKO
Although Weidman is mine and the bookie's pick, this fight is so close that it is worth a flutter on Souza who at time of writing is the +150 underdog. That is a good price for a bet for a bout that is probably only 55-60% in Weidman's favour.
Betting Tip: Ronaldo Souza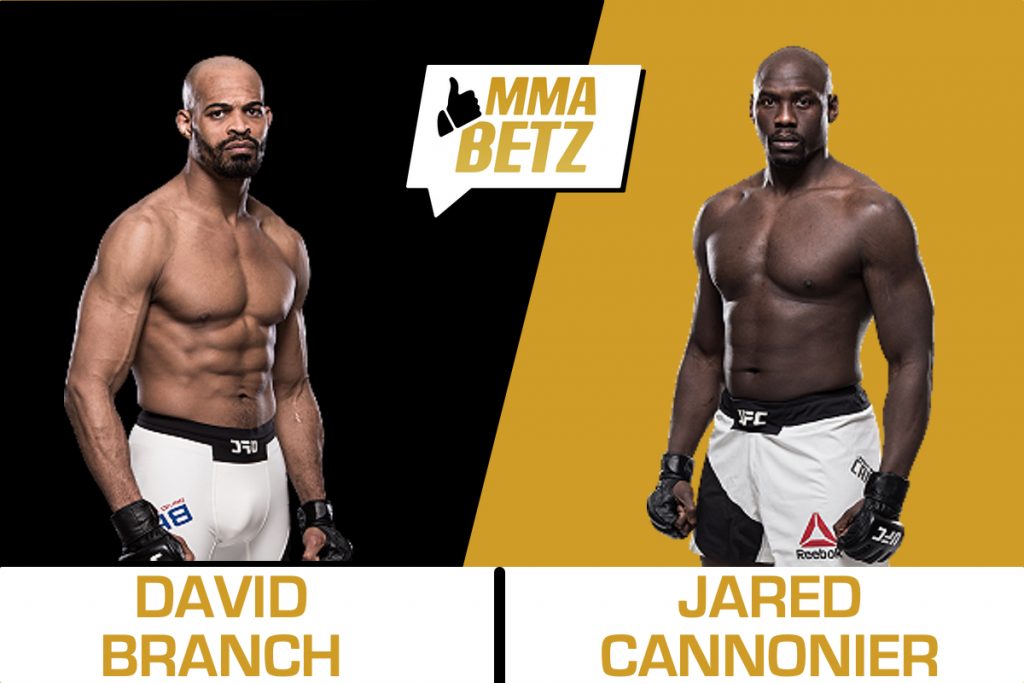 Middleweight: David Branch (-450 F) vs. Jared Cannonier (+325 U)

This should be a fairly straightforward fight for the favourite, David Branch. Branch is relatively new to UFC, having competed just three times for the promotion so far, debuting in May 2017. With two wins and one loss, Branch is determined to move himself into Middleweight title contention and he should so with relative ease against Jared Cannonier.
Cannonier has lost his past two bouts in decisive fashion.
Branch has a better all round game and it's impossible to see how Cannonier could hurt him.
Prediction: David Branch via KO
There will be no upsets in this one. The bookmakers have it spot on. Best go with the favourite.
Betting Tip: David Branch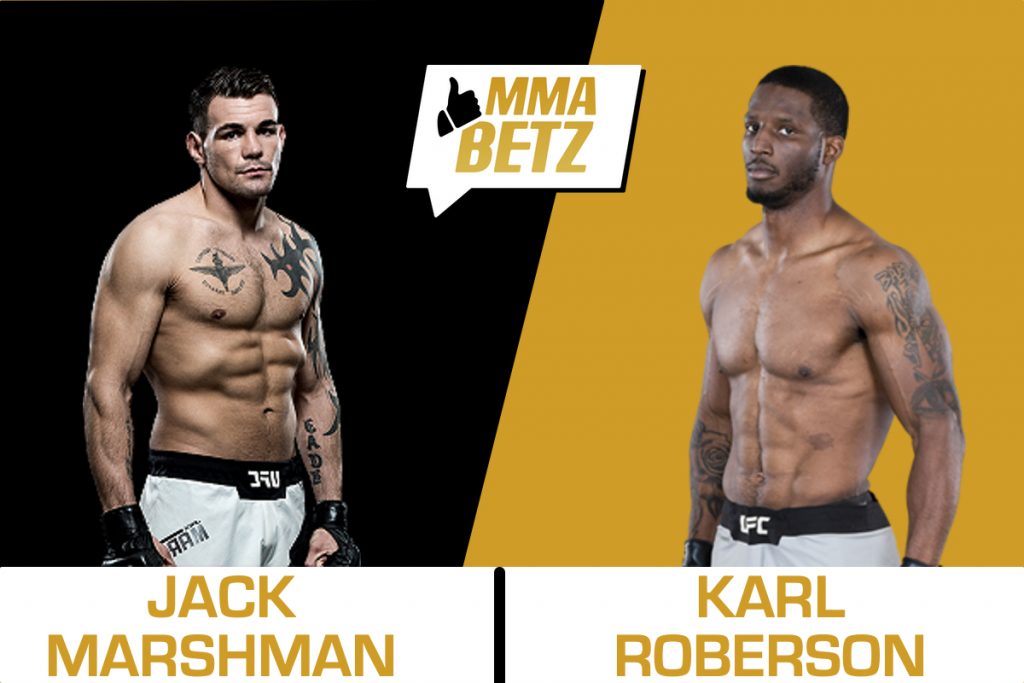 Middleweight: Jack Marshman (+250 U) vs. Karl Roberson (-275 F)
Like the main event, this encounter should be all fireworks as two fighters with fists of fury collide.
This is a mis-match in terms of experience as Welsh fighter, Jack Marshman is an eight year veteran of MMA though he has only fought four times in UFC.
Former Kickboxer, Karl Roberson has had just seven MMA bouts with three in UFC.
This fight once again is a real coin toss as both men are capable of delivering a match winning Knockout.
Roberson is an up and comer and may have a little more in the tank than his opponent and should win via Knockout but it wouldn't be a massive surprise to see the bout go the other way.
Prediction: Karl Roberson via Knockout
Despite Roberson being the more likely winner, the outcome is so difficult to predict that the current odds of +250 for Marshman is a very attractive bet. It's a surprisingly good price for a fight that is more or less 50/50.
Betting Tip: Jack Marshman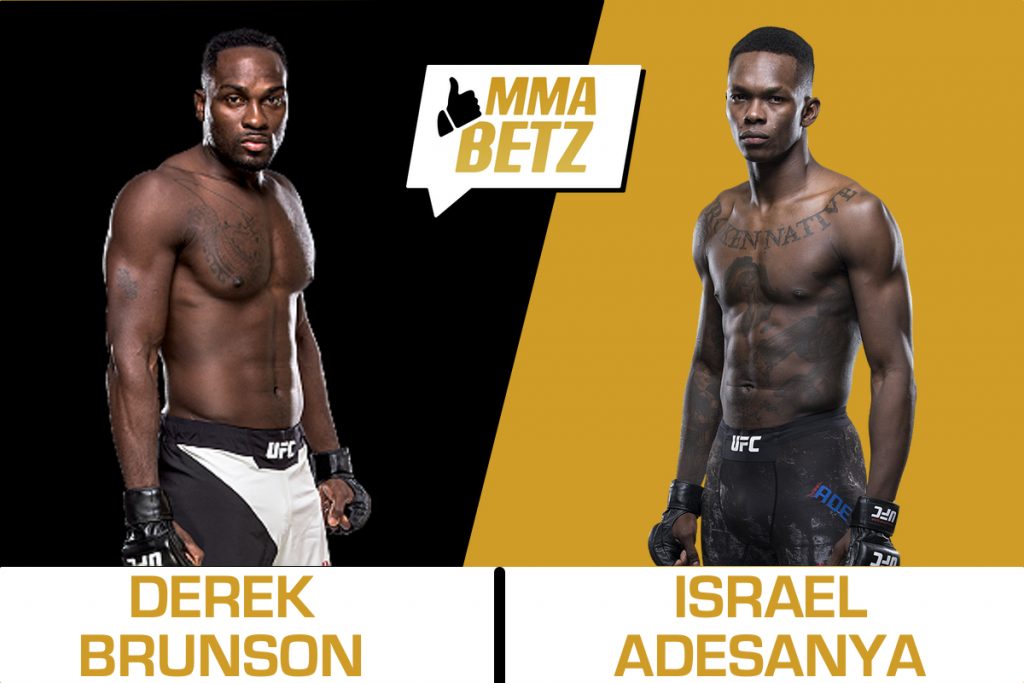 Middleweight: Israel Adesanya (-335 F) vs. Derek Brunson (+255 U)
This fight should be more decisive than the bookmakers are currently expecting. Derek Brunson is a fighter on the decline, with three of his career six losses coming in the past three years. Israel Adesanya has had previous careers in Boxing and Kickboxing and was highly successful in both. In MMA he is undefeated in 14 career bouts, with 12 coming via Knockout.
There will be no surprises in this one. It would be a colossal upset if the result were to go the other way.
Prediction: Israel Adesanya via Knockout
Odds of -335 is a very conservative price for such a heavy favourite and therefore is a decent bet for those willing to put a lot of cash on this fight. There is very little chance that Brunson will win this one. Adesanya's career ascent in UFC will continue.
Betting Tip: Israel Adesanya
---
More MMA betting tips
---