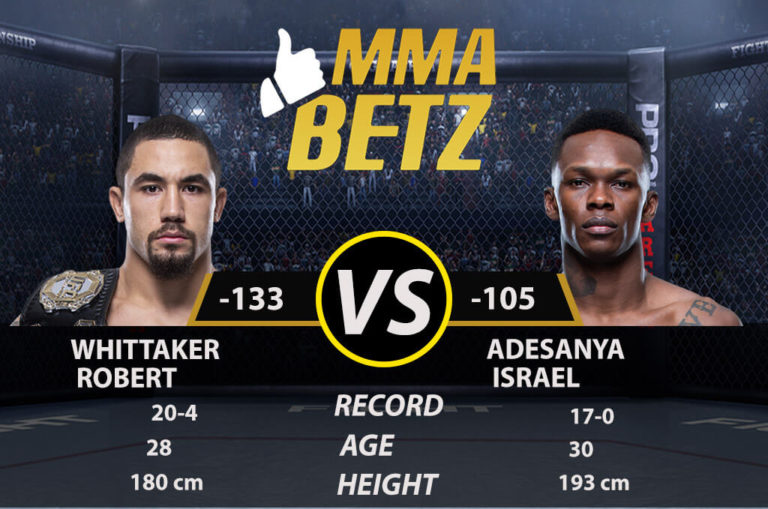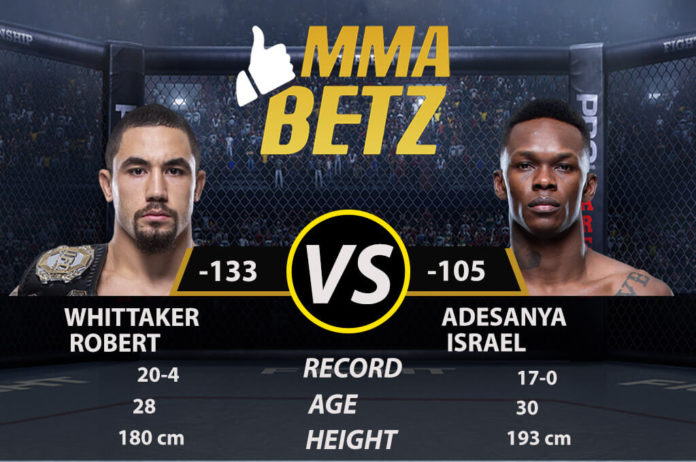 We have a great main event going down tonight at UFC 243 in Melbourne, Australia, as interim UFC Middleweight Champion Israel Adesanya looks to unify his title while facing off against undisputed UFC Middleweight Champion Robert Whittaker. Considering the fact that Whittaker pulled out of his fight with Kelvin Gastelum last minute at UFC 234, we got to see Adesanya fight 'KG' at UFC 236, one of the best fights we've ever had the pleasure of observing.
Adesanya proved a lot in that fight; he showed us he can dig deep, and he also showed us that he's continued to improve immensely, despite having been so active. The odds originally opened at -150 for Whittaker and +130 for Adesanya. This means you would need to bet $150 on Whittaker to win $100, should he end up winning, and you'd have to bet $100 on Adesanya to win $130, should he win.
The odds have shifted a tad, as usual, and are now at -133 for Whittaker, and -105 for Adesanya. Again, meaning you'd have to bet $133 on Whittaker to win $100 with a win, and it's nearly even money to bet on Adesanya, as you'd have to bet $100 and win $105 with a win.
This is an almost impossible fight to predict, they're both so unbelievably talented and dangerous. This is one of the highest level middleweight match ups ever in the history of the sport between two readily evolving mixed martial artists. We have the six fights inside of 14 months for Adesanya, while Whittaker's only fought twice since July 2017, just once since 'The Last Stylebender' has been in the promotion. How much of a factor will that play?
Remember, Gastelum threw, landed, and badly hurt Adesanya with a head kick in their fight. Coming from a 5'9" fighter with a wrestling background, it was incredible to see, and also unexpected, but what does that mean? That means Whittaker could certainly do the same, he's three inches taller than Gastelum, and he's got some really effective head kicks himself, as shown evident in many of his fights.
Whittaker's also an incredible all around striker himself, but he didn't go 32-0 in amateur kickboxing and 75-5-1 as a professional like his opponent. One thing Whittaker does have however is very underrated wrestling. 'The Reaper' was able to compete in the Australian National Wrestling Championships, and won a gold medal.
This granted him a spot on the 2017 Common Wealth Games to represent Australia in Freestyle Wrestling, but he declined the offer because the UFC would have stripped him of his title had he done it.
One thing that makes this fight even more interesting, both guys have been finished via strikes, but both also win almost every fight they've ever been in, particularly fights on the feet. These are two of the most talented strikers in the entire sport, and two of the best middleweight mixed martial artists we've ever seen, who will you be betting on?