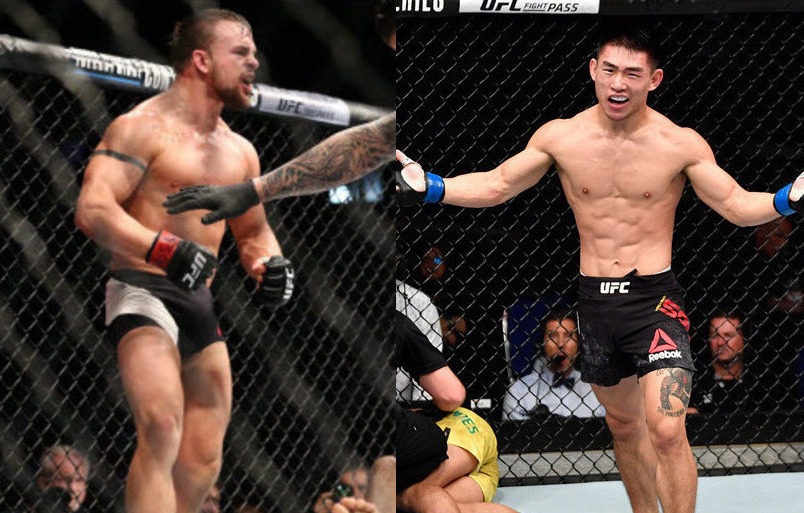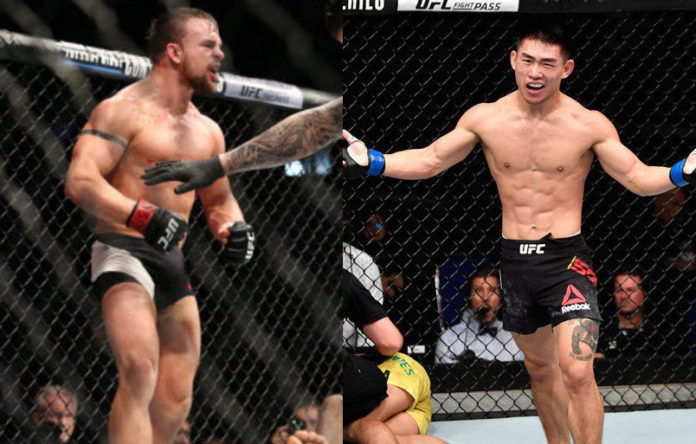 We have a great bantamweight match up kicking off the main card to UFC on ESPN 7 at the Capital One Arena in Washington, DC. Cody Stamann rebounded from his first UFC defeat to Aljamain Sterling with a win over Alejandro Perez in his most recent outing. Actually, both Stamann and Song Yadong's last fights are wins over Perez; Stamann defeated him via unanimous decision (29-28, 29-28, 30-27), and Yadong defeated him via KO (punch) in round one.
The odds for this bout have Yadong as a slight favorite, with himself at -190, and Stamann at +155. This means you would need to bet $190 on Yadong to win $100 with a win, and you'd need to bet $100 on Stamann to win $155 with a win.
Both of these top bantamweights have had much success inside their UFC careers, with Stamann going 4-1 and Yadong going 4-0 thus far. All four of Stamann's wins are via decision (two split, two unanimous), his loss is via submission (Suloev stretch), and Yadong has two knockouts, one submission (front choke), and one unanimous decision. Yadong's submission win was also stemmed from a beautifully placed and timed overhand right, where he just jumped on the opportunity to finish the fight.
Stamann had an incredibly successful amateur career as well, going 19-1 before turning professional. He's also an NCAA Division II wrestler and has won a couple regional MMA titles, such as the TXC Featherweight Championship and the MFL Bantamweight Championship.
Yadong started out his martial arts career with Sanshou and Sanda, and he won the Hebei Sanshou Championships gold medal at age 12. He eventually found MMA and made his professional debut at just 15-years-old. Yadong started out his career 7-3 (2 NC), with the only man to ever finish him being 21-4-1 while he was just 7-2 (2 NC). He was just 18-years-old, while his opponent was 23. He's since gone 7-0, and he's looking better every time we see him.
This fight is pretty similar in those regards, Yadong is used to fighting older opponents, considering he'll only be turning 22-years-old five days before this fight. Stamann just turned 30-years-old, will that make a difference? It appears that Stamann does have more experience, and in an MMA cage, he certainly does. Having a combined professional and amateur record of 37-3 is astounding. However, as mentioned above, Yadong started doing combat sports at a very young age, and he has that gift, that 'it' factor.
Stamann tries to grind on his opponents and wear them out with his pace, volume striking, and wrestling. On the other hand, Yadong is always looking for the finish. With as good as his striking is already, Team Alpha Male may be the perfect gym for him to improve his skill set. Not only is that a team primarily for smaller fighters, but it's a grappling-heavy camp.
There are so many studs at that gym that could help him improve his ground game immensely, and former Cage Warriors Middleweight Champion, as well as former top UFC welterweight contender Martin Kampmann is still their head coach.
Not only is Kampmann a former top welterweight fighter, but he began wrestling at age 8, he took up karate at age 14, and eventually trained in and competed in boxing and muay thai before making the move to MMA, winning a few kickboxing titles along the way.
Their frames could also be a topic of interest, considering how short Stamann's arms are. Stamann stands at 5'7" and has a 64" reach, while Yadong stands at 5'8" and has a 67" reach. Considering Yadong's the more dangerous striker, and presumably the better striker, this may play a factor.
This is a great match up to see where each guy is at. We have the No. 9 ranked UFC bantamweight in Cody Stamann taking on the No. 13 ranked UFC bantamweight in Song Yadong. Who will you be betting on?