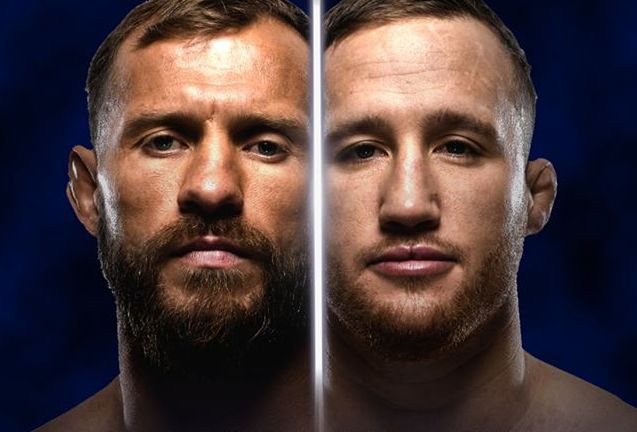 We have a great main event going down tomorrow night at UFC Fight Night 158/UFC on ESPN+16 in Vancouver, British Columbia, Canada, as Donald 'Cowboy' Cerrone and Justin 'The Highlight' Gaethje face off in their epic five round showdown. First they give 'Cowboy' Tony Ferguson, and now Justin Gaethje, we've been seeing Cerrone a lot lately, as usual. It's time to make your picks and place your bets before it's too late!
The odds originally opened at -250 for Gaethje, and +210 for Cerrone, but it's gotten a little closer as the fight has approached, with the favorite still being Gaethje. The closing odds for the bout are -190 for Gaethje, and +165 for Cerrone. Meaning that you would have to bet $190 on Gaethje to win $100, and if you bet $100 on Cerrone, you'd win $165 if he wins. Simple.
This is a hard fight to pick, and perhaps it should be a little closer. Cerrone is 13-0 in amateur kickboxing and 28-0-1 in professional kickboxing with 18 knockouts. He's no joke on the feet, and that's where Gaethje has to win this fight. 'Cowboy' has kicks of all sorts; he's got nasty leg kicks, body kicks, head kicks, whether they're round kicks or switch kicks, he's got them all. Even snap kicks, he doesn't throw them too often, but when he does, they're vicious and they work.
Cerrone could certainly land another one of those head kicks he loves to throw, or he could possibly drain Gaethje's body with those snap kicks like he did to Jim Miller. Eddie Alvarez went to Gaethje's body and it worked out for him. On the other hand, 'The Highlight' has some kicks of his own, as well as having some serious power in his hands. Gaethje's leg kicks are some of the best in the entire sport of MMA, and he seems to have an act for finding his opponents chin.
Through the chaos and fatigue, Gaethje doesn't understand how to not walk forward. 'Cowboy' is going to have to do something to get his respect early, or it may end up like his fight with Jorge Masvidal, Rafael dos Anjos, or Darren Till to name a few. There have been times where Cerrone doesn't quite show up mentally, but if he does, he can literally beat any fighter in the entire world.
On any given night, Cerrone could win the UFC Lightweight Championship or even the UFC Welterweight Championship. Of course the lightweight belt would be more likely, but Cerrone is so dangerous everywhere, he could literally beat anyone on any given day.
That's one thing that makes fights like this so exciting, not only are they two of the most dangerous and violent fighters ever, but we have no idea how it will go considering how good the other is. Cerrone is ranked at No. 4, and Gaethje is ranked at No. 5, it's going to be a good one! Who are you picking?