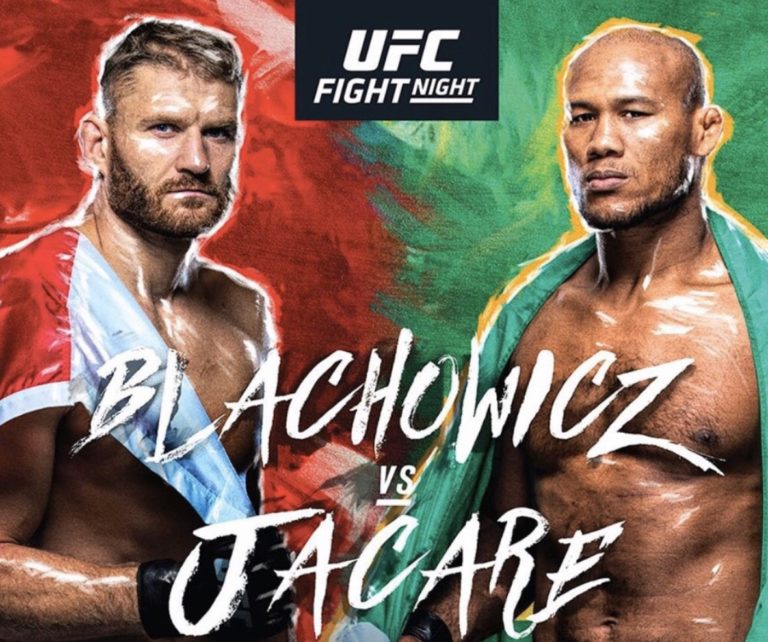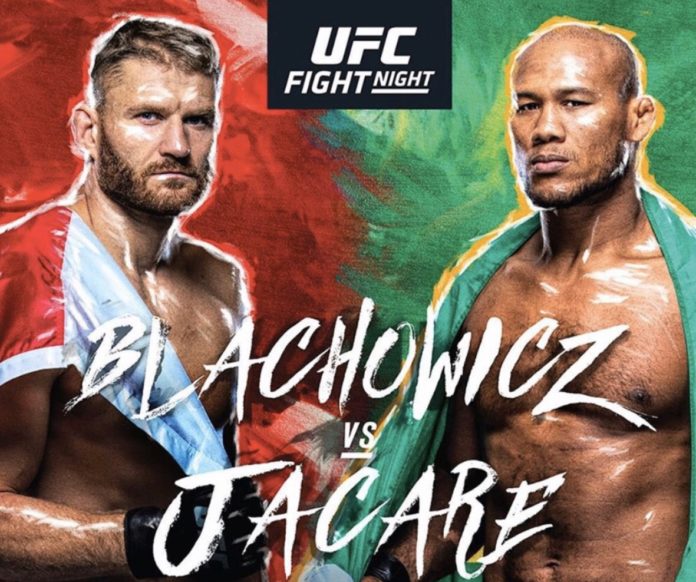 Jan Blachowicz (-200) vs. Jacare Souza (+170)
Jacare
Ronaldo Souza is 6'1″ with a 72″ reach, he fights out of XGym in Brazil. Jacare is jiu jitsu royalty, he is a mutant on the ground. Jiu jitsu isn't wrestling so Jacare likes to take the fight to the ground from the clinch against the fence. He will use trips and throws from the clinch as an avenue to find the ground.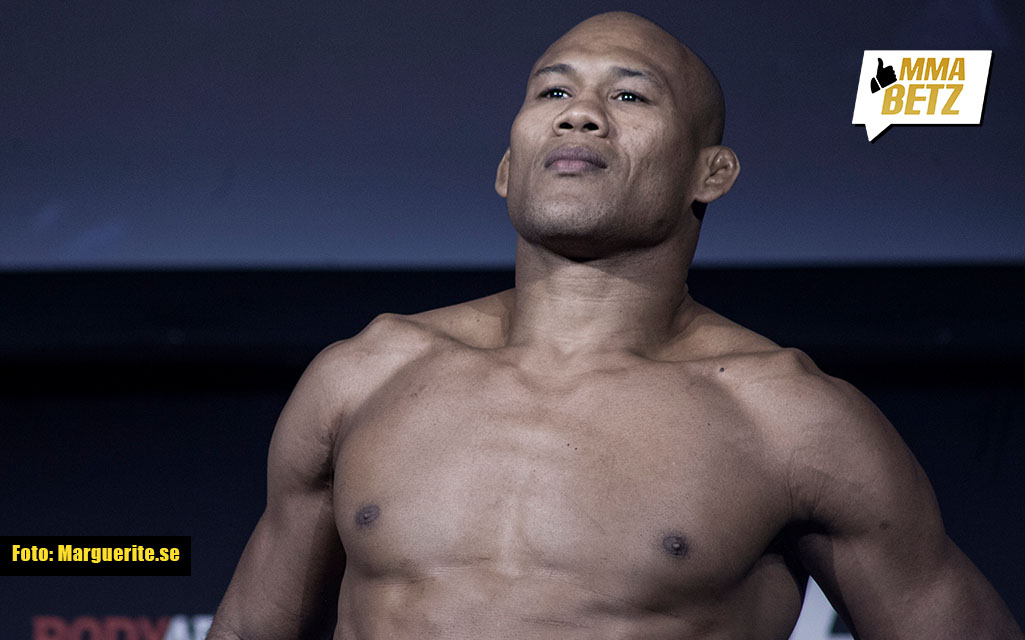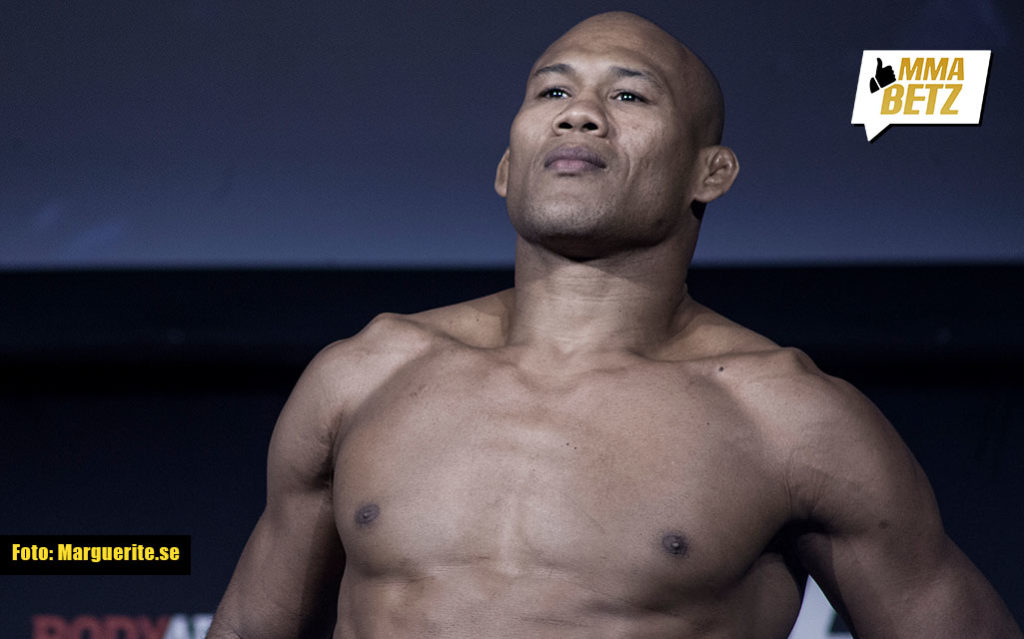 For this fight, Jacare is moving up in weight from 185 lbs to 205 lbs. Jacare was a big 185 lbs fighter, I suspect the weight cut was the primary factor for moving up in weight. Fatigue has really impacted Jacare in his recent fights. It's plausible the weight cut was having a negative impact on Jacare's cardio. Jacare's chin didn't hold up well in his last couple fights. This might be another reason why he wanted to move up in weight. When you are severely dehydrated (weight cut), the last thing to rehydrate is the cerebral fluid around your brain. This dramatically affects your ability to take a punch.
The other day I was in a spinal tap, we were looking for spinal fluid to test for meningitis as a cause for this guys delirium. We couldn't get spinal fluid, guy needed to back to the hospital floor to be hydrated. Same concept. Remember Kron Gracie from a couple weeks ago? That was Jacare when he first started MMA, his striking has been a work in progress over the years and he has actually evolved into a pretty good striking middleweight.
Jacare primarily throws a right hand and a right leg kick and both of these strikes carry knockout power. He also features a left hook to the body. Jacare is a little flat footed and that does puts limits on his standup ability. I think Jacare's striking is most effective when he decides to get close and let his hands go, his best striking attribute is his power. That sounds convoluted after my allegations of Jacare's chin, but I see what I see.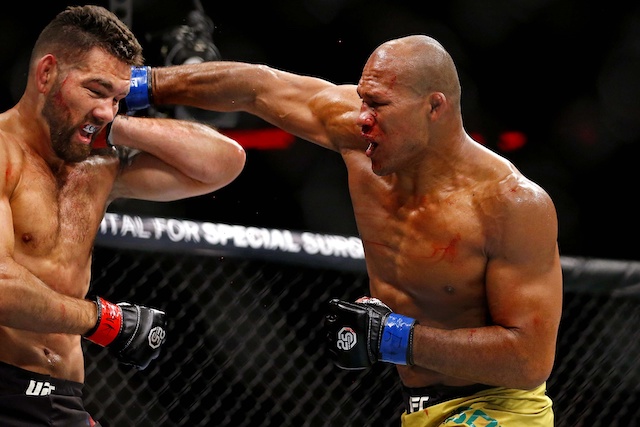 In the Chris Weidman fight, I think it was the 2nd round, you could notice a change in Jacare's strategy, he was going to bull forward and swing. And it was very effective. I thought Jacare won the 3rd round in the Hermansson fight, and this is because he had success getting close and letting his hands go. If you're strategizing to fight Jacare, the very first thing you think about is Jacare's mutancy on the ground.
Jacare doesn't own an impressive reach so most fighters will plan on keeping their distance and boxing Jacare with some lower calf kicks mixed in. This is why I think bull rushing has been an effective technique for him. But, Jacare's cardio issues present problems when trying to have too many large movements in a fight.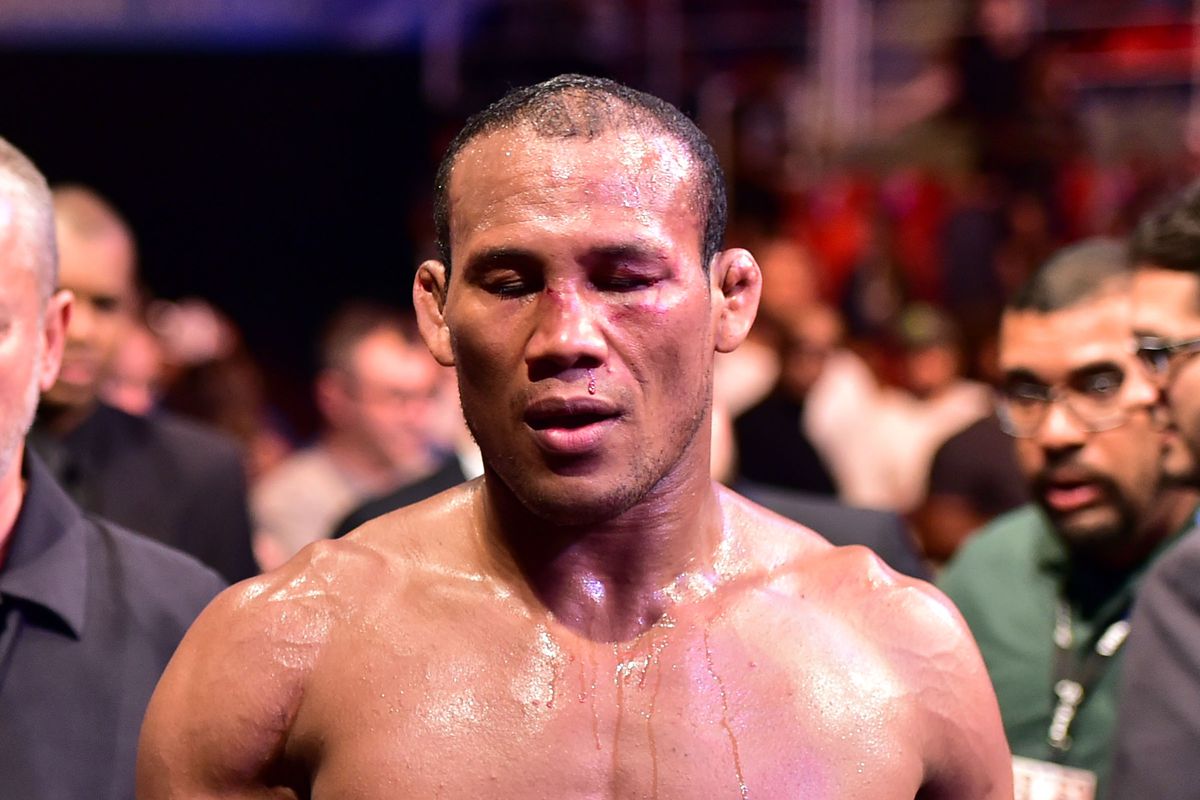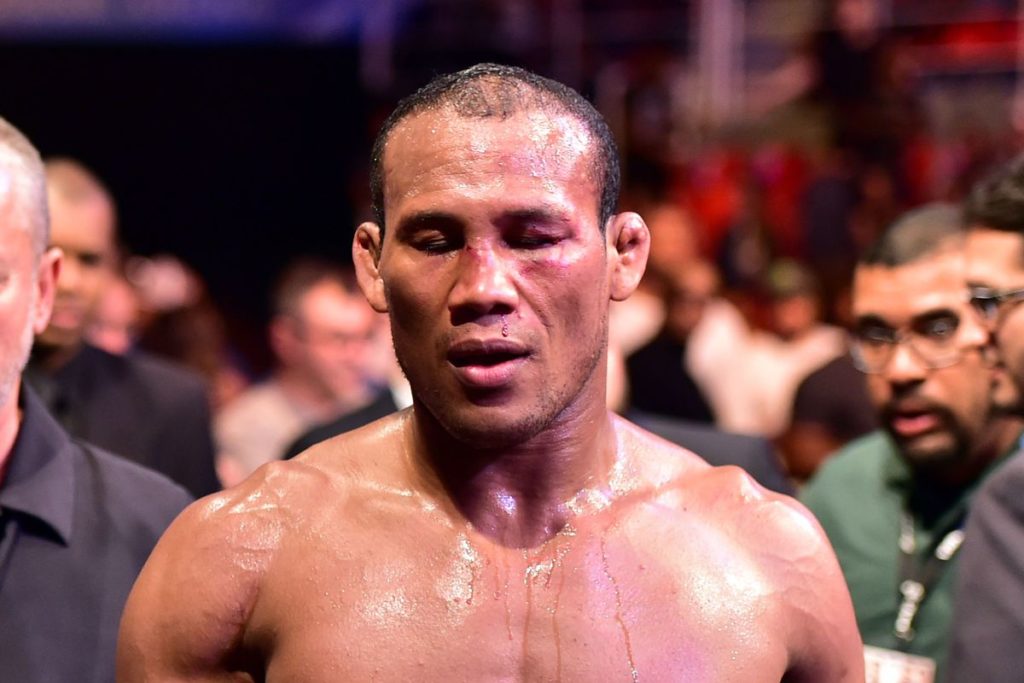 Unfortunately, it looks like Jacare has been battling some mental health issues the past couple of years. It looks like he has seeked out help through counseling. I hope he has a handle on it, Jacare seems like a guy you root for. UFC Gold has unjustly eluded him. After Jacare lost to Yoel Romero by split decision (a fight I thought he won) I was trying to connect dots on tapology to see how he never got a shot at the title. After Rockhold won the title weird stuff happened with the 185 title. Jacare seems like a guy you root for, he deserved a shot at Rockhold or whoever owned the title. But on Saturday Jacare begins his quest for the 205 lbs UFC strap and a win over Jan Blachowicz puts him right up there as a top contender.
Prince of Cieszyn
Jan Blachowicz is 6'2″ with a 78″ reach, he fights out of Berkut WCA Fight Team in Poland. The first attribute I noticed with Blachowicz is his left jab. His jab is featured in every fight, and it is effective. That being said, Blachowicz needs to be careful his jab doesn't become predictable because his opponent can time a problematic right hand over that left jab. But, the jab helps Blachowicz keep his range, as he likes to fight moving backwards, maintaining his distance.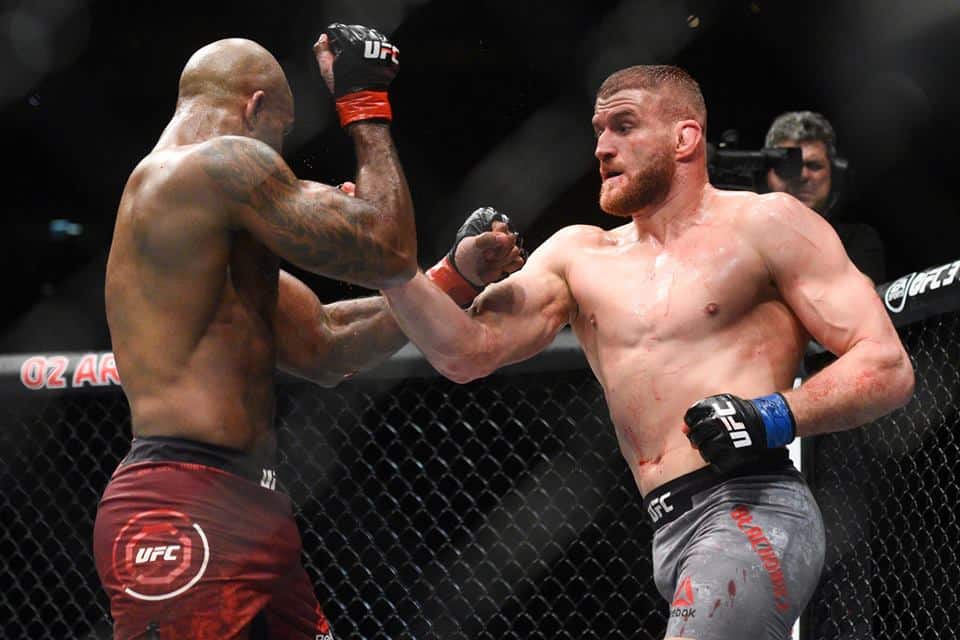 Fighting backwards is taxing on your cardio, Muhammad Ali used to run miles backwards to prepare for his fights. Moving backwards can also lead to being clinched against the fence. Clinching against the fence is how high level jiu jitsu wizards like to take the fight to the ground. Blachowicz is a high level grappler, he is safe in that clinch against the fence. Blachowicz has fatigue in a lot of his fights as they near the later rounds.
Luke Rockhold said in the most Luke Rockhold way possible, "I am not impressed with Jan Blachowicz's cardiovascular system." Well, that fight didn't work out so well for ol' Luke, but he wasn't wrong. Blachowicz does need to work on his cardio if he wants to stay a top 5 light heavyweight and contend for the belt.
You know how there are those racial code words announcers use for white football players? Like, "Wes Welker has deceptive speed?" I'm not exactly sure which race owns the power attribute in MMA, but when I watch Jan Blachowicz I think, "Jan has deceptive power." Blachowicz has power in his hands and he has a nice left high kick to watch out for.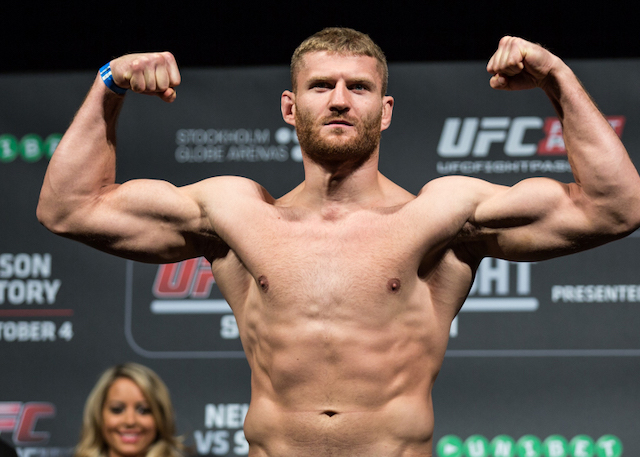 I like Blachowicz's chin but at times, his striking defense can fall flat when his opponent defeats the jab and gets inside. Fatigue makes cowards of us all. Fatigue also lowers Blachowicz's hands making him vulnerable to head strikes in the later rounds. He tends to lean back against big right hands, playing a dangerous game of chicken.
Blachowicz also made an interesting comment about jet lag when he fought in Canada, Poland is only 4 hours ahead of São Paulo, but there is a significant amount of travel involved. Blachowicz has a history of acclimatizing himself to a new environment, and he's been in Rio de Janeiro training for at least 2 weeks. This is a big fight for Blachowicz, he needs to win to solidify his standing as a top 5 light heavyweight title contender. He is also the leading MMA fighter in Poland, a lot of Polish eyes will be on him Saturday in São Paulo.
Prediction
So who is going to win? There are a lot of factors that can affect this fight. I guess we'll start with Jacare's mental health issues first. After his loss to Jack Hermansson he said he was done with fighting. After 3 months of not training, the only reason he went to the gym was to help his fellow jiu jitsu wizard, Rodolfo Vieira, with his UFC debut. Jacare whipped tears from his eyes in the gym parking lot, helped Rodolfo Vieira, and drove home.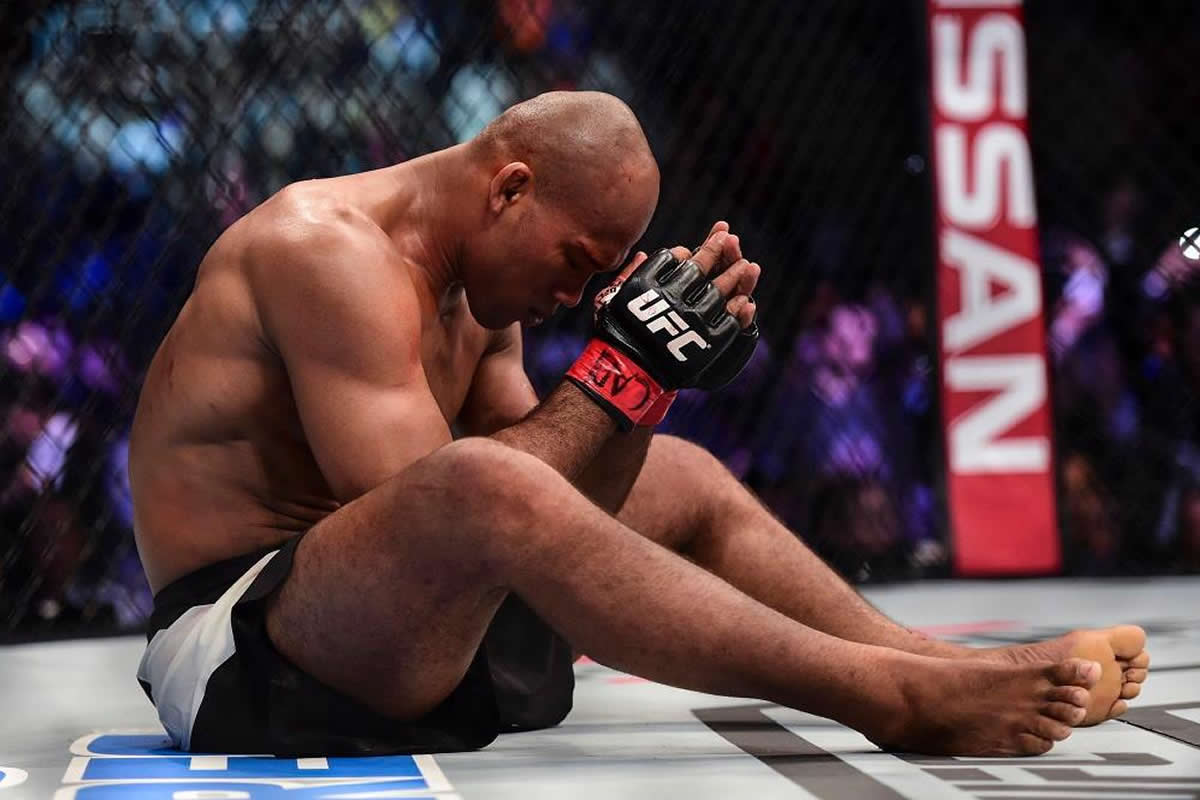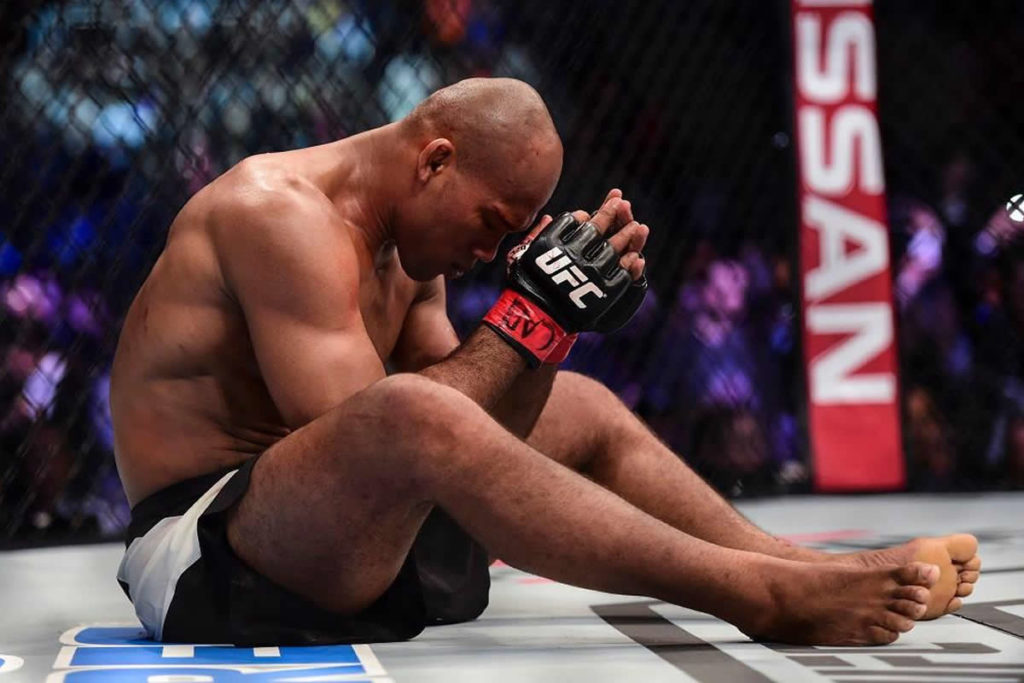 He has since worked with a counselor and has stated he feels better about the issues he has been dealing with. Nevertheless, when a fighter says their done with fighting, rarely do they come back stronger. This is a time-tested adage of cage fighting. Jacare is a guy you root for. The guy was perpetually knocking on the door, probably should have fought for a title, but didn't get a shot. He petitioned Dan Mergulata to stop the fight after he KO'd Chris Weidman, because he didn't want to hit the defenseless Weidman. I'm glad he's headlining a card in his home country.
Alright, the 2nd factor that can affect this fight, Jacare is moving up from 185 lbs to 205 lbs, 20 lbs is a large jump. There is a reason why there are weight classes, size matters a lot in MMA. Jacare was a huge 185 lbs fighter. I don't believe there will be a massive size difference, but 205 lbs is new territory for Jacare, how will he react as a fighter? On one hand, his cardio could improve, because you try killing yourself in the sauna and run a marathon the next day, see how you feel. On the other hand he's 20 lbs heavier and his cardiovascular system isn't used to supplying oxygen to that extra 20 lbs, his cardio could be worse. Jacare's best striking attribute is his power, is his power more of a factor in this fight because of the extra weight? The correct answer is, nobody knows, because Jacare has never fought at 205 lbs.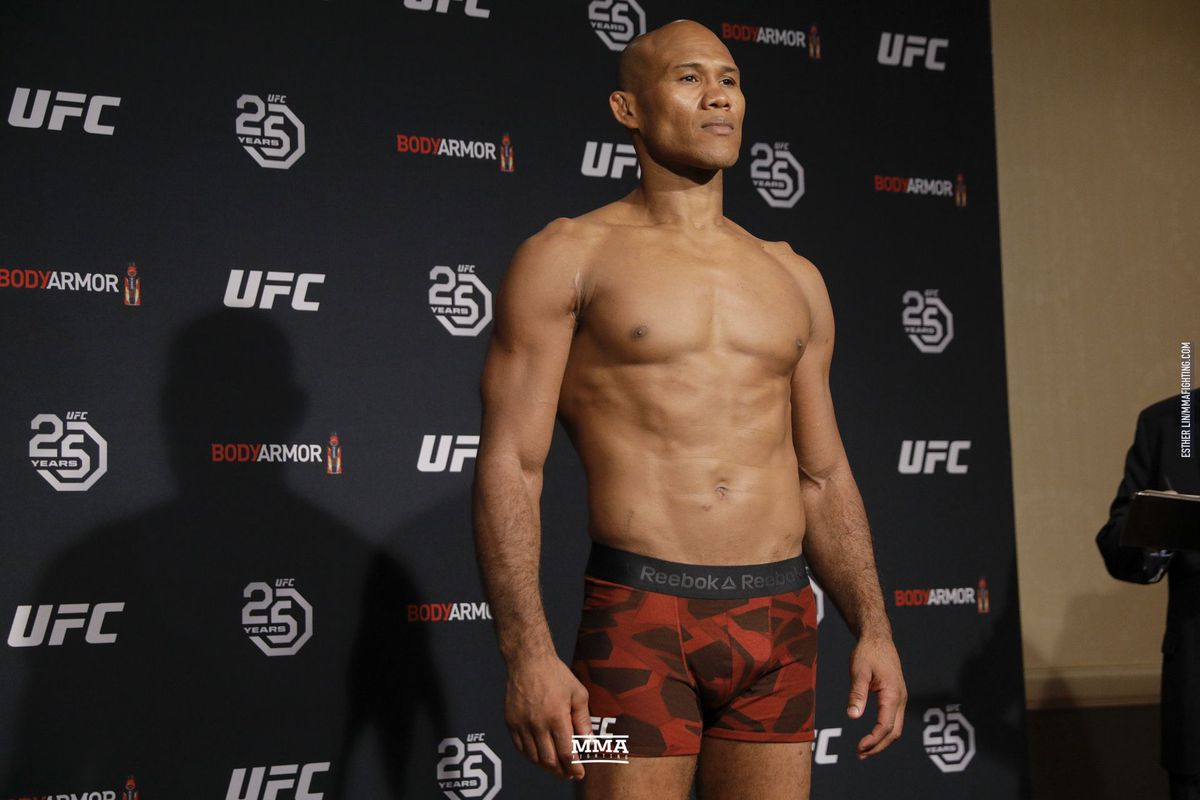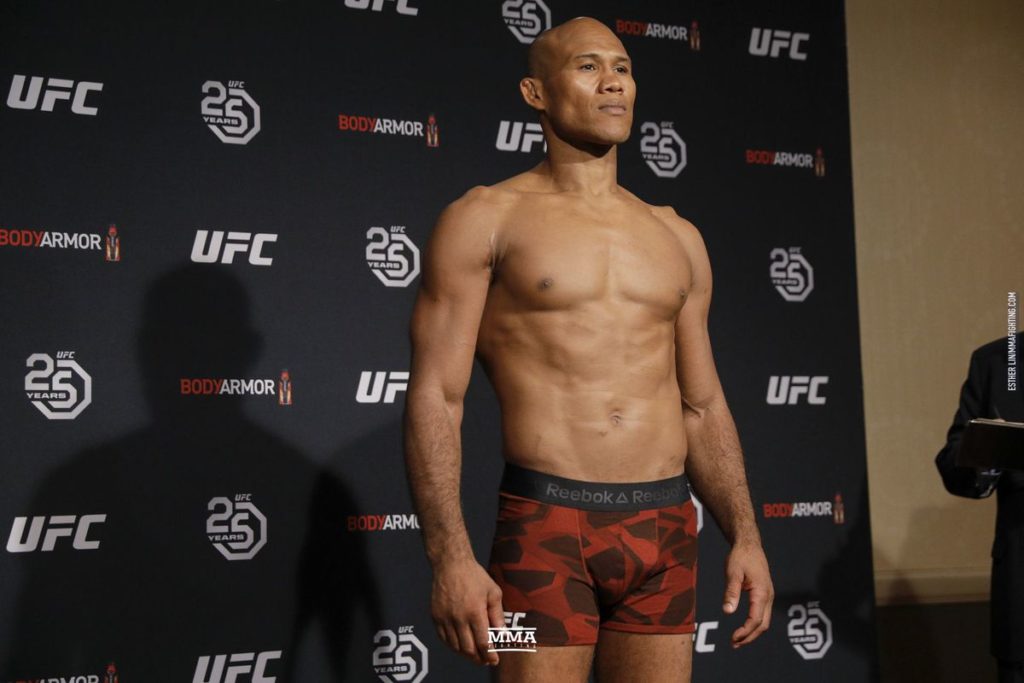 Jacare has a cardio problem. But, as convoluted as it sounds, I actually think Jacare fights well as a fatigued fighter. That doesn't mean he fights well, but I think fighters are still very aware of Jacare's power. Fatigued or not Jacare's power threat can allow him to recover from fatigue and also recover from being hurt. The Yoel Romero fight Jacare couldn't walk back to his corner after the 1st round, but continued and I actually thought he won that decision. The Kelvin Gastelum fight had Jacare barely being able to walk and he carried on just fine. In the Hermannson fight Jacare went fight rounds. Cardio is absolutely an issue for Jacare, but Jacare can recover because he does pose a power threat.
Blachowicz's cardio is not his strength either. There absolutely is the possibility that Blachowicz fatigues at some point in this 5 round fight. In Blachowicz's last 5 round fight he lost to Thiago Santos by KO in the 3rd round. One thing I noticed is Blachowicz paced himself for that fight, he didn't want to gas out and I think we see that same strategy here. Blachowicz will maintain distance with the jab and pace himself. It would surprise me to see Blachowicz do too many large movements in round 1.
Jacare is a mutant on the ground so the big question is, "Can Jacare take this fight to the ground?" Kron Gracie showed us high level jiu jitsu guys are not high level wrestlers. I find a lot of jiu jitsu wizards like to initiate takedowns against the fence.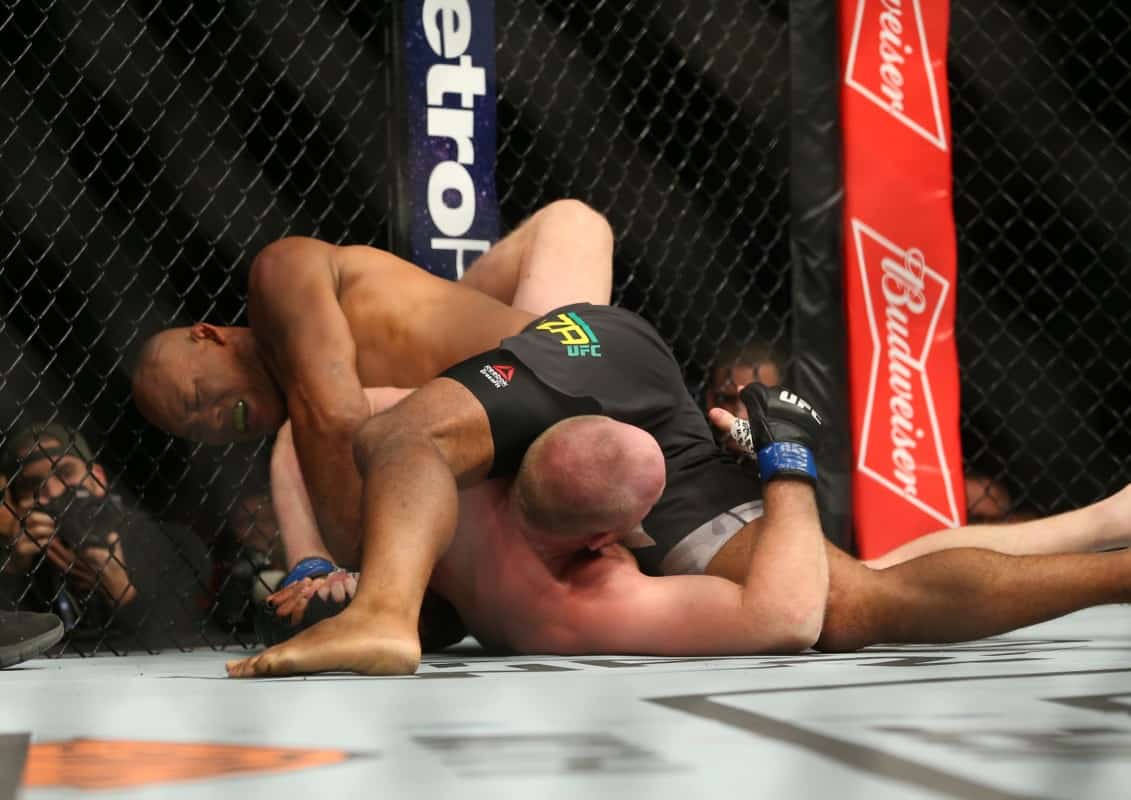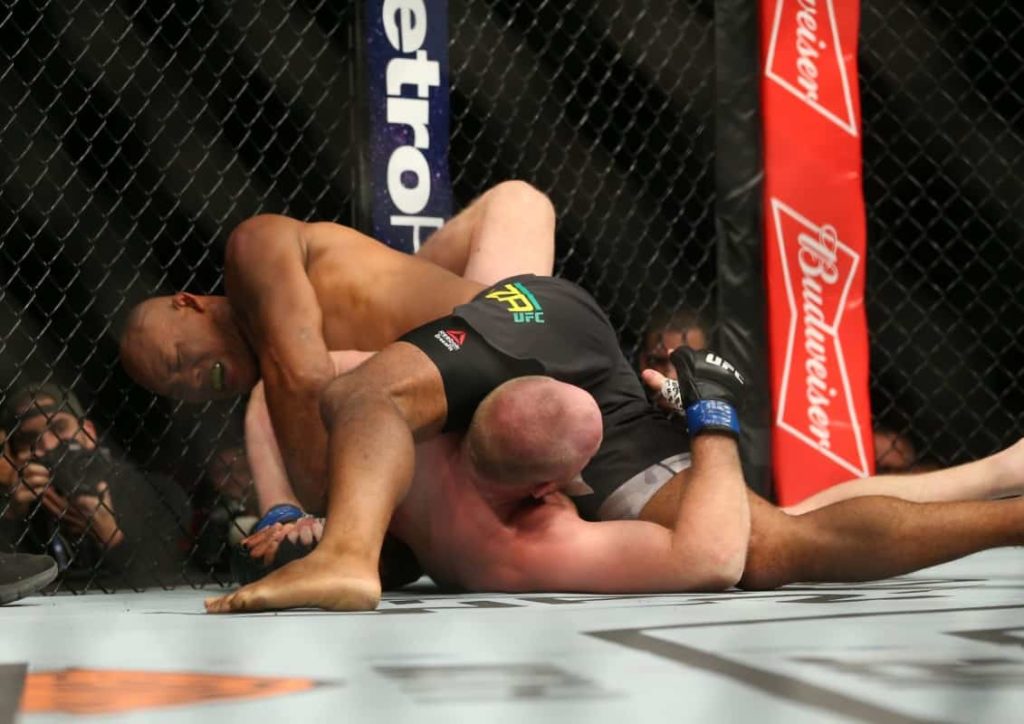 Blachowicz tends to fight moving backwards which presents an opportunity to be clinched against the fence. Luke Rockhold initiated the clinch against the fence and wasn't able to take Blachowicz down. I don't think Jacare will be able to take this fight to the ground because Blachowicz is a high level grappler.
Wrestling is a taxing style of fighting and I think Jacare's cardio problem is a deterrent to wrestle with Blachowicz. I have watched enough MMA to believe the old adage, "Two high level grapplers equals a bad kickboxing match" and that's what we will have here. If one guy is an Olympic wrestler and one guy is a jiu jitsu specialist, I do think the wrestler dictates where the fight goes but that's not the case here. I doubt Blachowicz's gameplan is to take Jacare down so we are most likely looking at a kickboxing match with MMA gloves. Lets not forget Blachowicz has very heavy top position and is very capable of hurting a fatigued Jacare with strikes if he happens to find himself on top. But I don't think Blachowicz's gameplan includes takedowns, especially in the early rounds.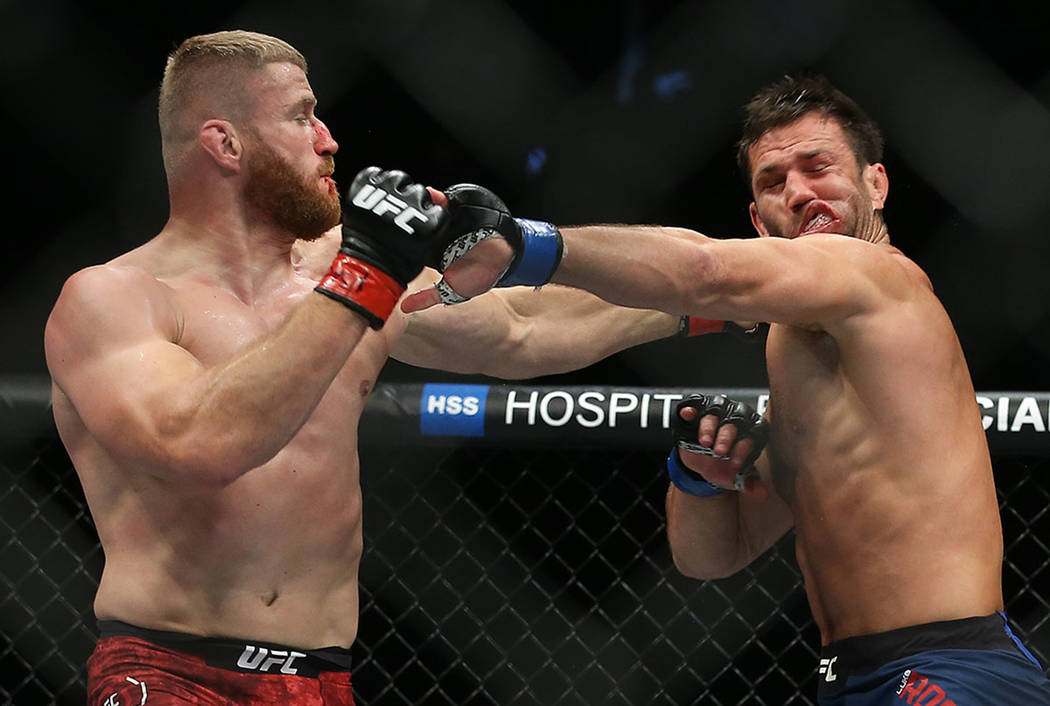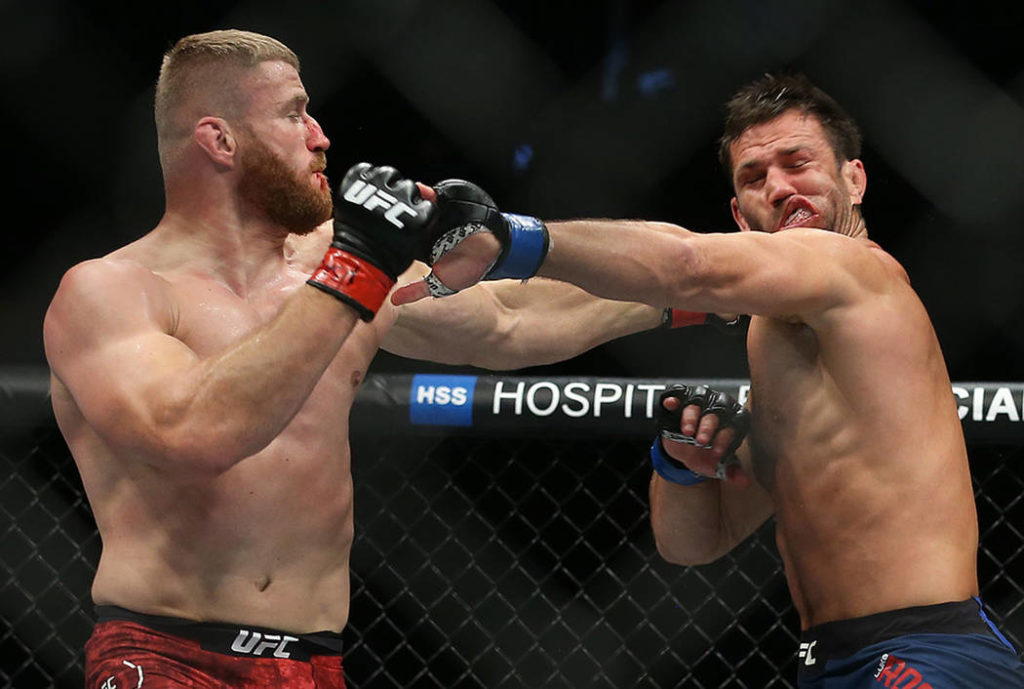 So how does a kickboxing match between Jan Blachowicz and Jacare Souza go? The 1″ in height and the 6″ in reach are hard to ignore when thinking about Blachowicz's jab and how effective it could be in this fight. I also think Blachowicz can use his reach to utilize calf kicks to limit Jacare's movement. Jacare was a jiu jitsu guy starting MMA, but his striking has evolved into a powerful right hand and and a powerful right kick.
If Blachowicz's is too predictable with that jab Jacare could throw his right hand over the top and land a big punch. Blachowicz has a good chin but Jacare is capable of KO'ing any fighter. Blachowicz also drops his hands as fatigue sets in. It wouldn't be the first time Jacare landed a right head kick KO if he caught Blachowicz with his hands down. Jacare also has a history of being wobbled in his fights. Is this a result of the weight cut? Will moving up to 205 lbs help his chin? These are unanswerable questions. Jacare has only a puncher's chance in a kickboxing match with Blachowicz because of the reach disparity.
Jacare is 40 years old and has recently wanted to be done with fighting. Blachowicz is 36 years old and is having the most success he's ever had in his career and is pioneering a country's MMA movement. These fighters are on 2 different trajectories in their career. Blachowicz is used to fighting at 205 lbs, Jacare doesn't know what 205 lbs in the UFC octagon feels like. Luke Rockhold thought he was going to be SOOOOOO sweet moving up to 205 lbs but found out, there is a really good reason why guys nearly kill themselves to make the smallest weight division possible.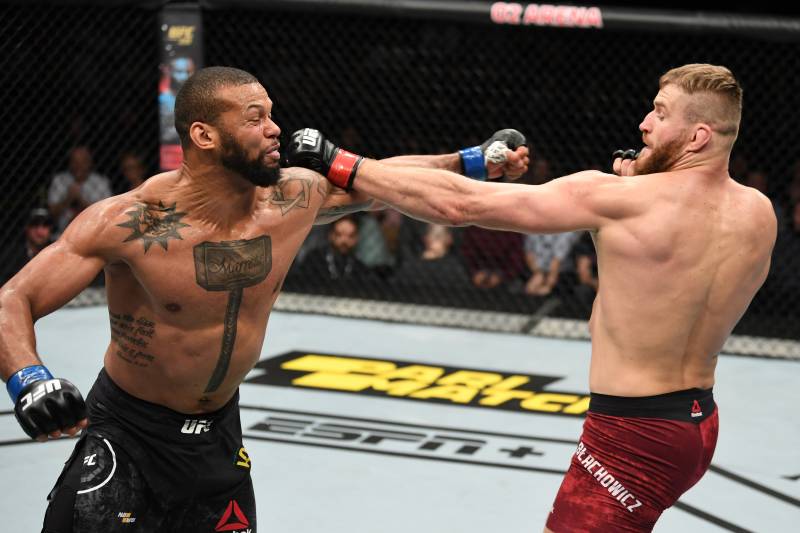 Blachowicz is also traveling to São Paulo, Brazil. Brazil is Jacare's home, Blachowicz's home is 6,500 miles away. That isn't nothing. I don't think this is as big of an issue as some people, but once in awhile a non-Brazilian fighter will be absolutely screwed by the judges in Brazil.
So who is going to win this fight and how? I like Jan Blachowicz to win this fight. He is younger, has the longer reach in what I think will be a kickboxing match, and he has been a 205 lbs fighter his whole career. Blachowicz KO'd Rockhold out of the clinch in his last fight. Rockhold is a very similar opponent to Jacare, it wouldn't surprise me to see Jacare be KO'd out of the clinch in Brazil.
Jacare is a mutant on the ground, he would be silly to not try and take Blachowicz to the ground. Jacare will find himself in the clinch because Blachowicz invites the clinch with his backward movement. Blachowicz is a strong enough grappler to ward off Jacare's takedown attempts from the clinch. Blachowicz also showed us in his last fight, against a very similar opponent, his hands are quick and a threat out of the clinch. Jacare is rocked in almost every fight I've studied.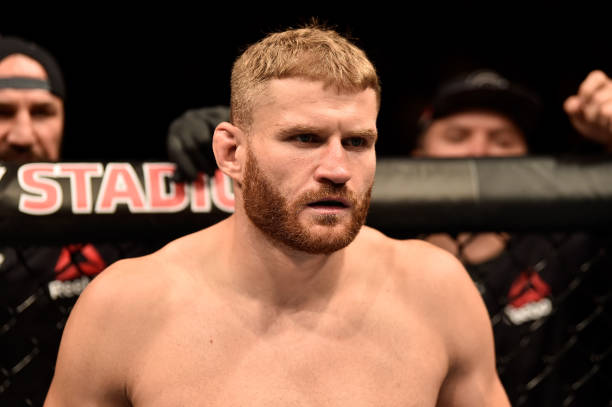 If Blachowicz doesn't KO Jacare from the clinch position, I think Blachowicz's jab poses a huge problem to Jacare in this fight. You will see Jacare's nose bleeding from the jab. And when the jab consistently lands what usually follows? The right hand. Blachowicz's right hand KO's Jacare one way or another in this fight. Unfortunately, I think Jacare's career that deserved UFC Gold, ends being violently knocked out in São Paulo, Brazil…"The fight game is cold and don't love nobody."-Max Griffin.
Betting
If my buddy asked me who I thought was going to win this fight, without hesitation I'd reply, Jan Blachowicz. But at -200, I'd be naive to say that is a good bet. Jacare poses some very real threats in this fight. And Blachowicz is not a sure thing: The fight is 6500 miles away from his home in a strange land, The judges of that strange land have a propensity to favor the natives, Jacare best striking attribute is power and Blachowicz's jab can be countered over the top, Blachowicz doesn't have good cardio, Jacare is a mutant on the ground, and the crowd will be chanting, "You are going to die" for most of the fight. Doesn't sound like a -200 sure thing bet, huh?
What I think is a good idea is to wait. A lot of people like Jacare Souza to win this fight which means as the fight gets closer the general public will bet the esteemed Brazilian in Brazil. The odds will shift, around fight time I feel Jacare ends up +130 underdog and Blachowicz around a -140 favorite. Take a shot at Blachowicz around -140, thats where he should be for this fight. If Blachowicz's odds don't drop, don't bet the fight. Betting every fight will guarantee that you lose money.
I am very interested to see what the KO prop is for Blachowicz. A lot of people don't give Blachowicz credit for knocking out Rockhold, they think Rockhold's chin is weak. I think Blachowicz carries a lot of power and deserves more credit for knocking out Rockhold. Yes, Yoel Romero basically Tee'd off from the ladies tees on an unconscious Rockhold. and yes, I was very worried for Rockhold's at the moment. But, Blachowicz deserves more credit for knocking out Rockhold in his maiden light heavyweight appearance and I am very interested to see what the knockout prop is for this fight.
Bet Jan Blachowicz around -140
If you want to be cute, bet Jacare at +175 and then bet Jan Blachowicz when his odds drop to -140, effectively guaranteeing yourself a profit