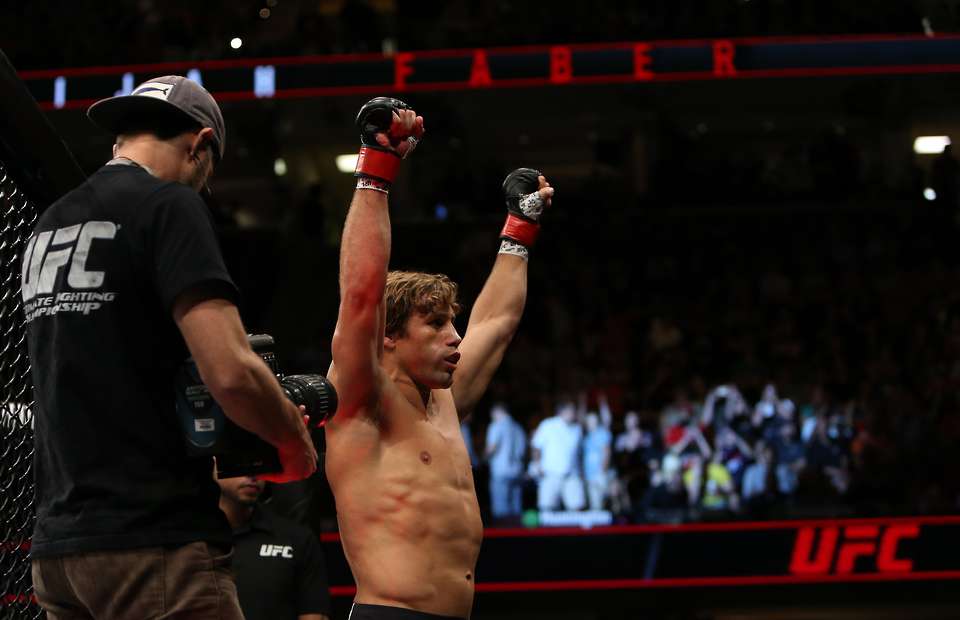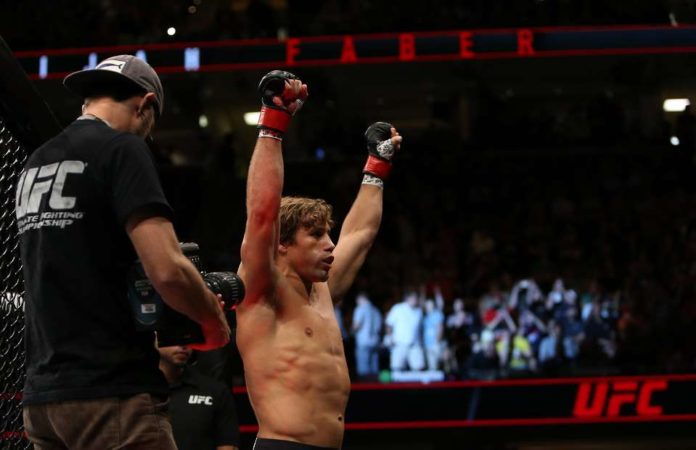 'The California Kid' Urijah Faber has stated that he may be interested in having a comeback fight soon. Is there anyone in particular you'd like to see him fight? He's gone on record saying, "some names have been thrown out there for opponents and it's real possible." When Luke Thomas asked how soon should we know if it'll happen, Urijah replied, "very soon."
He wants to be on the Sacramento card on July 13, but I'm not sure if he's limiting himself to that card or if he'd consider another one. He does have a grappling match coming up against Nicky Ryan this weekend, Gordon Ryan's little brother; perhaps when that's over we'll hear something.
Who should he fight?
I would love to see Urijah Faber jump right back into the mix at 135 lbs, but I'm not so sure he would really be able to. His performance started to decline around 2014. I think he was in his prime from mid-2011 to early-2014; though he was the champion for a long time before that, I think that's around the time where his skillset was the most polished.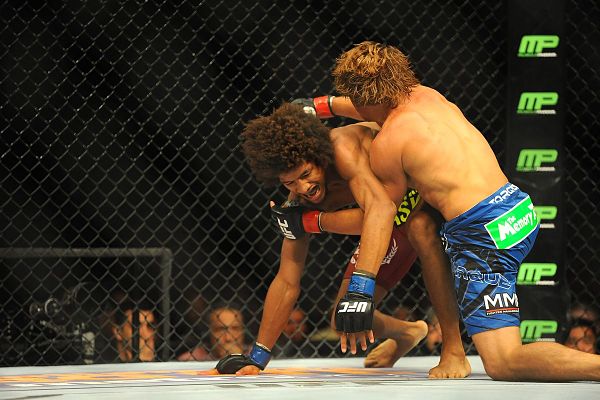 Starting around the Alex Caceres fight, I felt like Urijah Faber from two years prior would've only needed one round, and that's no discredit to Caceres, but that's just how good Faber was. He barely got by Francisco Rivera, who has gone 1-3 since their fight, and after that he went 2-3 before retiring. I think he retired at the right time, and yes, I'd love to see him come back for another fight, but against the right opponent.
I don't believe a 40 year old Urijah Faber should be put up against anyone in the top 15, I just don't think that'll go too well for him, especially having been retired for two and a half years. There are however a few names that make sense, ones that could peak the interest of most fans. I have come up with four potential match ups that I think would be entertaining, and that I believe he could win, but it wouldn't be a gimme fight.
Rani Yahya (26-10) 1 NC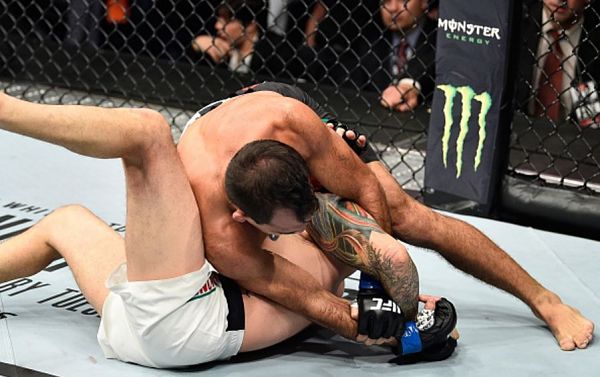 Both Rani and Urijah have been around a long time. Rani Yahya came to the WEC just over a year after Urijah Faber did. Urijah debuted in the WEC at WEC 19 in 2006, and Yahya debuted at WEC 28 in 2007. I like this match up for one because they've both been around each other, fighting for the same promotions for twelve or so years now, and Yahya lost his last fight, bumping him out of the top 15. Another reason is both of these guys have good stand up, they each have their own style of Muay Thai they like to use, but both are studs on the mat. Neither use traditional Muay Thai, but both use all eight limbs when given the opportunity.
Urijah is an NCAA Division I wrestler and a BJJ brown belt, and Rani Yahya is a 2nd degree black belt in BJJ, as well as a Muay Thai black belt. Both generally win by submission when they get their hand raised, more often than not. Urijah has been submitting high level BJJ guys for quite some time, he started with his fourth WEC title defense, which was against 3rd degree BJJ black belt, Jeff Curran. He finished him via guillotine choke, and has since submitted five ranked BJJ guys in MMA.
Rani Yahya of course is always looking for the submission, but unlike Urijah, he has a wide array of attacks on the ground. I'm sure Urijah has many more tools that we've seen of him, but he's only ever used two submissions successfully in MMA, and really only ever goes for one or the other, a guillotine or rear naked choke. Those are the only two submissions he's ever won an MMA fight with; he has gotten a bulldog choke or two in there, but really, that's just another variation of a rear naked choke.
Yahya has numerous different submission wins, and 20 of his 26 wins come by way of submission; 17 of Urijah's 34 wins are submissions. Rani Yahya is the first elite of the elite BJJ guy I ever started watching, and Urijah Faber is one of the best MMA Grapplers ever. This would be a great match up that I'd love to see, and it's my favorite match up that I bring up in this text, aside from maybe this next one.
Renan Barao (34-8) 1 NC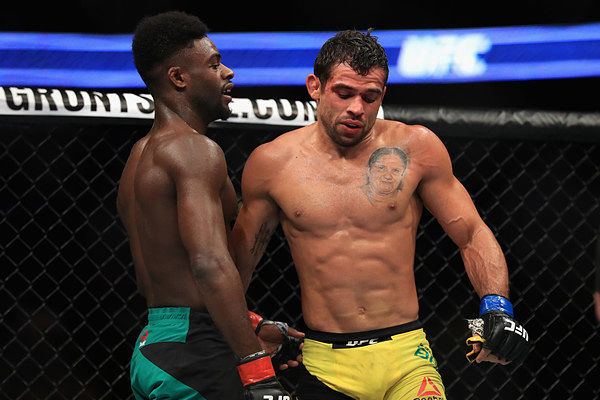 As everyone knows, these two have fought twice before, once with Barao winning a five round unanimous decision, and the other with Barao finishing Urijah in round one via TKO. Most believe that the second fight was stopped a tad early, nonetheless Urijah is 0-2 against Barao. Why make this fight then you ask? Well, why make Jon Jones versus Daniel Cormier III? Cormier is 0-2 against Jones, yet everyone still wants to see that.
I think Urijah really has a chance to get this win back, I think this is a very fun match up. Renan Barao hasn't tasted a victory since September 2016, just a few months before Urijah's last fight, it's been awhile. Barao still has his BJJ black belt skillset, and still has good striking, but he's just not the same guy anymore.
Both of their previous fights had the bantamweight title on the line, but even if this were a three rounder, why not? I'd actually rather it be a three rounder, and couldn't see the UFC making it a main event. I think they can both still put on a good show against each other, and I'd be dying to see it if it were signed. At the very least, Urijah Faber has a successful comeback, or Renan Barao regains some confidence, I'm okay with either.
Bryan Caraway (21-9)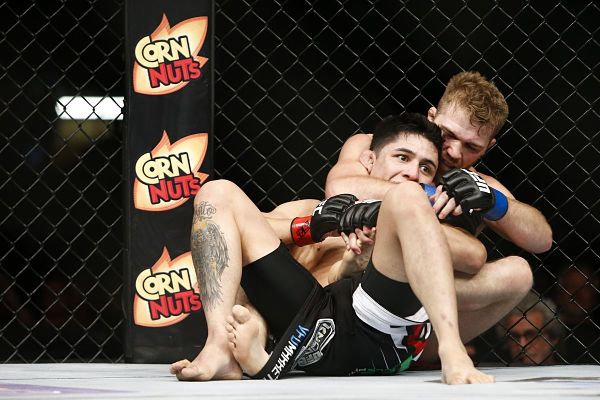 I'll be honest, I don't know why Bryan Caraway never gets the respect he deserves. I get that he sometimes turns down fights, or backs out of them once they're signed, but look at his skillset. Bryan's one of the top fighters in the world; he may not be a top 15 guy, but he's right there on the other side of it if not. He had a razor thin split decision loss to Cody Stamann in his second to last outing, a fight where he ended every single round choking Cody, two of which he probably would've gotten the tap from if there were ten seconds more in the round. I didn't at all agree with that decision, and Stamann is ranked at number 11 right now.
He has a win over Aljamain Sterling, he has a win over Eddie Wineland; he made it to the semi-finals of The Ultimate Fighter 14, only losing to Diego Brandao, he's a good fighter, I just wish he'd fight more. He did just get stopped by Pedro Munhoz, but let's be honest, Perdo is a top five bantamweight and Urijah probably wouldn't have been able to do much against him either. Bryan Caraway is a stud wrestler, and one of the best back takers in the sport, like Urijah; he's also one of the best pure MMA Grapplers in the sport as well, like Urijah.
What I mean by MMA Grappler is that they can wrestle very well, they have very good submissions, and they have incredible positional awareness. Both Urijah Faber and Bryan Caraway are just that; they both try to take their opponents down, take their back, and sink in a rear naked choke, or they'll jump on a front choke if it's available. There was talk about these two fighting before, but Caraway declined the offer to fight Urijah.
To Bryan's defense, they had trained together really recently at that point. Of Caraway's 21 wins, 16 are submissions, 11 of which are rear naked chokes. I believe this would be a great match up, or even Caraway versus Yahya would be good too if neither of them get the call to fight Urijah.
Thomas Almeida (21-3)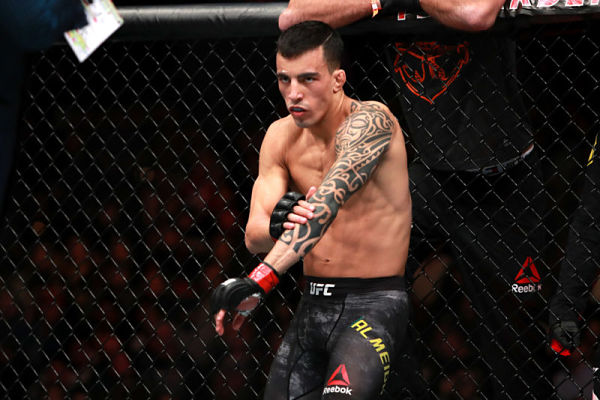 Though Thomas Almeida is ranked at number 15 in the UFC rankings, I feel this may also be a fun match up. Almeida is 5-3 in the UFC, and all five of his wins have granted him performance bonuses. He has a black belt in Muay Thai and a brown belt in Brazilian Jiu-Jitsu. I think he and Urijah would have quite an interesting contest. Thomas made it to 20-0 before he ever lost a fight; there's a couple common opponents they both have, Jimmie Rivera, and Brad Pickett.
They both lost unanimous decisions to Rivera, and both defeated Pickett. Two of Thomas Almeida's losses were via KO, and his other loss was via unanimous decision. Urijah Faber's last two wins were via unanimous decision, but in both he almost got a finish via knockout. Considering Almeida's also never been submitted, this makes for an intriguing match up. I think Urijah's wrestling and BJJ mixes up well with Thomas' Muay Thai and BJJ. What do you think?