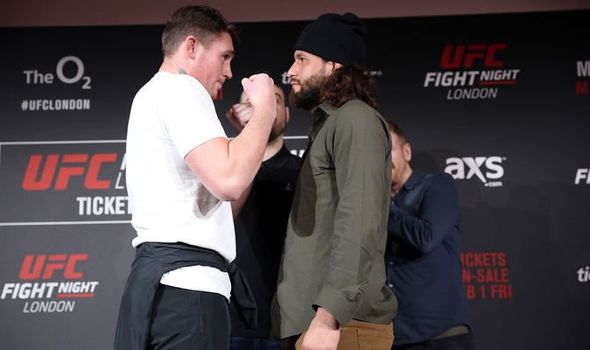 Darren Till (17-1-1) vs. Jorge Masvidal (32-13)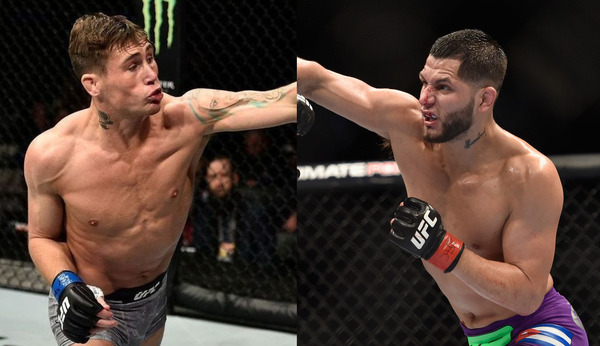 Darren Till makes his return fresh off his title shot defeat to Tyron Woodley at UFC 228, and is looking to take out another high level striker in Jorge Masvidal. Till won 17 of his first 18 fights, going 17-0-1 before losing his in his last outing. He's also 3-0 in amateur MMA, and has a 44-0 overall record in Muay Thai. He holds a UFC record of 5-1-1 thus far, and is looking to make that 6-1-1 this Saturday.
Jorge Masvidal is also making a return, only he's been out much longer; his last fight was at UFC 217. If anyone remembers, that's when Georges St. Pierre came back to fight Michael Bisping, it's been awhile. Masvidal just loves to scrap, his takedown defense is remarkable and he has very crisp boxing with some good kicks as well. He's always willing to throw down, he's got great in and out movement, great skills everywhere, an incredible chin, and favors the striking game, as does Till. I'm sure this will be a very entertaining fight considering.
Jorge does not have the best record, but if you go back and watch his fights, all of his recent losses are decisions that could've gone either way, except the Wonderboy fight; that is their common opponent, and Till did better against him, but this is a completely different fight. Many people, including myself, wonder why the UFC didn't make Till vs Edwards the main event, considering they're both English, let alone two of the top five English welterweights in the world, and the event is in England; it'd be kind of like MVP vs Daley was, except in the correct arena. Nonetheless, both of these men have very intriguing fights scheduled.
Both men have fought for major world titles, as I said before, Till is coming off his title shot loss against former champion Tyron Woodley, and Masvidal fought Gilbert Melendez for the Strikeforce Lightweight Championship back in 2011, and is also the former AFC Welterweight Champion. Masvidal, like Till, has some striking experience, though it's no where near as extensive, going 1-0 in both boxing and kickboxing.
Leon Edwards (16-3) vs. Gunnar Nelson (17-3-1)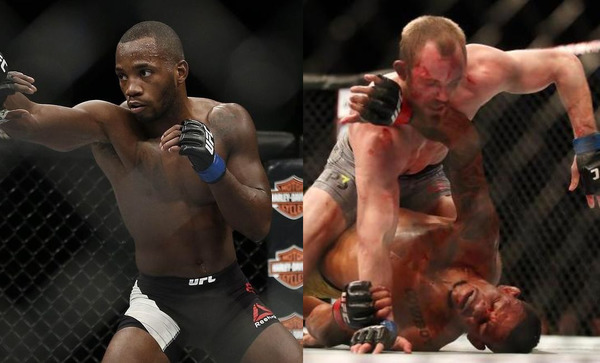 Leon Edwards, at just 27 years of age, has done very well in the UFC, going 8-2 so far, and only lost his UFC debut to Claudio Silva by split decision, and a decision to UFC Welterweight Champion, Kamaru Usman. The only criticism you can really give Edwards is the fact that he's okay with coasting to a decision, not that that's a bad thing, because he's almost always up on the scorecards.
He has however gone to at least the third round in every UFC fight except his second one, in which he ended :08 into round one via KO. Since then, he's gone 7-1 with two finishes, both in round three, and has two third round finishes prior to his UFC career as well. He also won the BAMMA Welterweight Championship and defended it once before vacating it to make his UFC debut.
Gunnar Nelson has also had a good amount of success in the UFC, going 8-3-1 thus far. He won his first four fights with the promotion, and has since lost three of his last seven to Rick Story, Demian Maia, and Santiago Ponzinibbio. He has a 2nd degree black belt in BJJ under Renzo Gracie, and rightfully so, he's an absolute wizard on the mat. Even though Leon Edwards hasn't been submitted in a fight, it wouldn't be a good idea by any means to go to the ground with Gunnar.
He was awarded his BJJ black belt at just 20 years of age, that's insane! You can't even be ranked until you're 16, and it takes the average student no less than ten years to achieve their black belt. In 2009, he was a middleweight World Champion Silver Medalist and Pan American Champion Gold Medalist in gi Jiu-Jitsu; a gold medalist in the Pan American Championships at middleweight, and a silver medalist in the absolute weight division, both of which were no-gi, along with winning the NAGA Middleweight Championship in the expert division. That's not to say he's a pure grappler however, because he also holds a black belt in Goju-ryu Karate, which you can see in the way he both stands and strikes.
Volkan Oezdemir (15-3) vs. Dominick Reyes (10-0)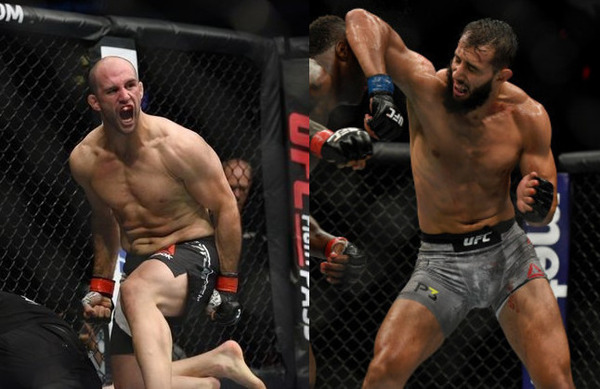 This will be a very telling fight for the 205 lb division, as Volkan Oezdemir took the UFC by storm in his first three fights, but has since lost, and been finished in his last two; not to say those weren't tough fights however, because they indeed were. He got a title shot against Daniel Cormier, and got TKO'd in round two, and next fought Anthony 'Lionheart' Smith, a fight he'd lose late in round three via submission.
The Smith fight was an absolute war, a back and fourth dog fight where each of them almost got finished multiple times. He also holds a 5-0 record in professional kickboxing, and his style shows just that; he's a very hard hitting, and kicking, brute powerhouse. Anthony Smith said something along the lines that he didn't think Volkan would be quite so technical, and only expected him to be powerful, but was very surprised when he was in there with him how technically sound he was.
Dominick Reyes is a puzzle that no one's been able to figure out yet. He's 4-0 in the UFC thus far, and is looking to make that 5-0. He has finished eight of his ten wins in round one, and the other two victories were via unanimous decisions, one of which was against Ovince Saint Preux, who he technically knocked out at the very end of round three, however it was ruled a decision. He's a very unique fighter, not many do the things he does, I can't quite pinpoint exactly what it is, perhaps it's how much of an opportunist he is; if he sees an opening, for anything, against anyone, he goes for it, but in a smart, and well thought out, technical manner. Dominick also holds a 5-0 record as an amateur, and held a title there before turning professional.
Will Volkan end his losing streak? I'm sure he doesn't want to go from 15-1 to 15-4, that's a certainty. Or will Dominick Reyes continue on his path to perfecting his craft with a perfect 11-0? Time will tell, tune in at around 5:30pm ET to find out.
Nathaniel Wood (15-3) vs. Jose Alberto Quinonez (7-2)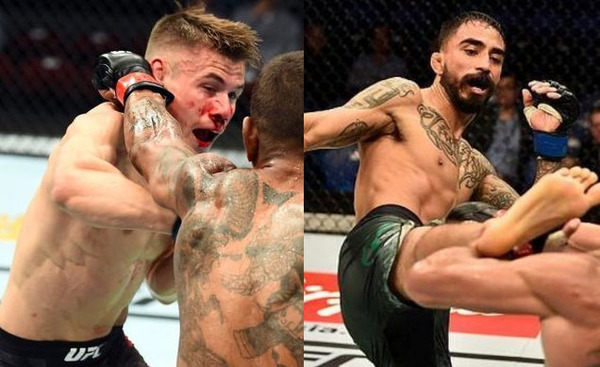 Nathaniel Wood has been nothing short of spectacular thus far into his UFC career. He won the Cage Warriors Bantamweight Championship in his fight prior to joining the UFC, and has so far gone 2-0 inside the octagon with two submissions. We haven't seen too much of him considering he's only had two fights inside the UFC, but we have seen him go out of the first round in each octagon appearance, and we have seen him finish each opponent he's been matched up with. He is a very skilled kid, and he's only 25 years old. It appears that choosing Brad Pickett as a head coach was the right call for him.
Jose Alberto Quinonez was a finalist on The Ultimate Fighter: Latin America, he won his two fights on the show to fight for the number one spot, losing a unanimous decision to the season winner in the finale, Alejandro Perez. That fight was a rematch, Jose defeated the then 13-4 Perez when he was just 1-0, also via unanimous decision. He has since won his last four in a row, improving his UFC record to 4-1. Jose is a pretty big underdog, and I expect Wood to win as well, but I wouldn't count Quinonez out, he is a gritty scrapper that just does not quit. This should definitely be a good one!
Danny Roberts (16-3) vs. Claudio Silva (12-1)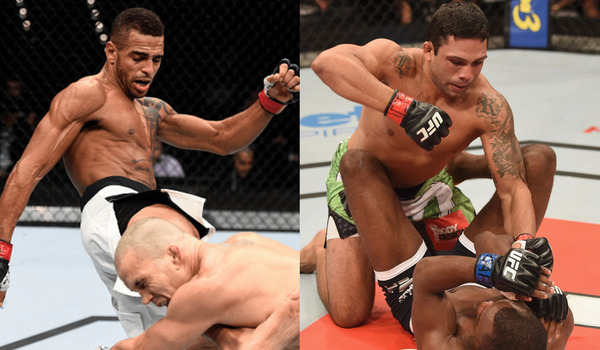 The man that spoiled former ISKA MMA, Respect FC, and Shooto Kings Welterweight Champion, David Zawada's UFC debut meets the man that spoiled former BAMMA Welterweight Champion, Leon Edwards' UFC debut. This is a classic striker vs grappler match up, as Roberts had a career in boxing before transitioning to MMA, going 3-1 as a professional. His hands are very fluent, quick, and powerful, and he has great kicks too and a solid ground game, as he showed in his UFC debut by triangle choking former SportFight and MFC Welterweight Champion, Nathan Coy. He currently holds a 5-2 record with the UFC, his only two losses were KO's, and I doubt Claudio will knock him out, but anything is possible in MMA.
Claudio Silva is 3-0 so far in his UFC career, spanning back to 2014. He took a three and a half year break after his first two UFC fights, he had three fights cancelled in between 2015 and 2018. He won his first two UFC fights via decision, and had a great comeback fight in May, submitting Nordine Taleb in round one, who was coming off a KO win over Danny Roberts.
Claudio is an elite level BJJ black belt under multiple time world champion gold medalist Ricardo Vieira. His only loss was in his first fight, and by disqualification, so really, he's never lost. He is 36 years old, considering that I really wish he didn't have that thousand-plus day break, but I suppose he didn't absorb all the miles on his body that he would've if he had fought during that time.
Jack Marshman (22-8) vs. John Phillips (21-8) 1 NC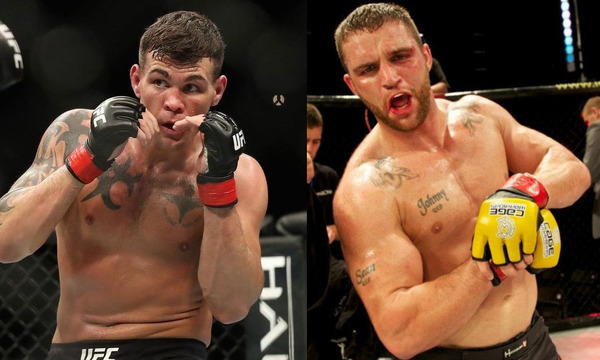 This is an interesting match up between a pair of Welsh middleweights that each have 30 fights. As you can see, their records are very similar, and both have had somewhat of a rocky start to their UFC careers; Marshman is 2-3 in the UFC thus far, and Phillips is 0-2. To be frank, I think Phillips should be a welterweight; he hits very hard, as 19 of his 21 wins are knockouts. For someone that's 5'11" as a middleweight, that's just not big at all, it's tiny for 185 lbs; Marshman isn't much bigger, he's only an inch taller. I think he'd have better luck if he cut an additional 15 pounds, but he seems to be comfortable at middleweight, so who am I to say?
Marshman has also fought better opposition in his UFC career, I don't ever mean to count anyone out, but I'm picking him to win this fight. However, he has also had more chances in the UFC, maybe Phillips just needed to get his legs under him, we won't know until tomorrow. I think it's safe to say that whoever loses this fight will get their pink slip, hopefully they each have a good performance. Jack Marshman is also a multiple time MMA Champion, having held the M4tC, Shock n' Awe, and BAMMA Middleweight Championships; the BAMMA title of which he defended a single time, and also won the Cage Warriors Middleweight Championship in his fight prior to his UFC debut. Considering they have a combined 43 wins, and 32 knockouts between them, my bet is this fight will be an absolute slug fest!