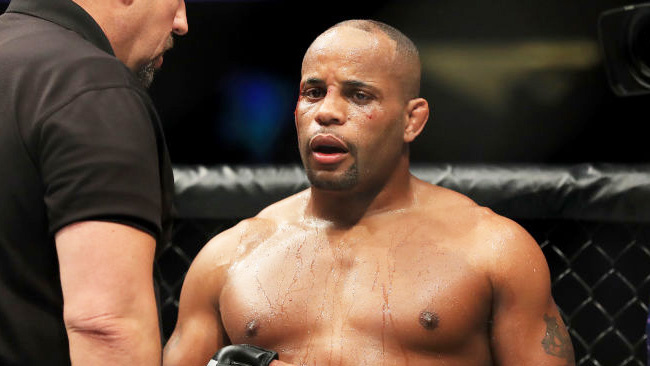 Daniel Cormier will look to go out at the top next month at UFC 252. After knocking out Stipe Miocic in the first round at UFC 226 to win the heavyweight title, the former two-division UFC champion lost the belt in the rematch last August at UFC 241. Now they are set for the trilogy fight at UFC 252, in Las Vegas on August 15th.
Reflecting On The Loss
Speaking with Ariel Helwani on ESPN MMA (transcript by MMA Fighting), Cormier opened up on the loss to Miocic, and admitted that it still haunts him in some ways.
"I think it's more pronounced because I want to win so badly and I feel like I just fumbled so bad. I fumbled really bad last time," DC said. "I fumbled in a lot of ways. I was so distracted with everything going on in my life and I was so focused on coaching and all these other things that I kind of just fumbled. I fumbled bad and I wasn't prepared as I needed to and I got tired. Like, I got tired. I can admit it. I got tired.
"He hit me with those shots in the end, he hurt me to the body and he hurt me to the head and I didn't react because my body couldn't react because I was so tired, and I will not allow that to happen again," Cormier continued. "If he ever finds a way to hurt me, I need to fight back like I did in every other instance in my entire life. I didn't do that last time and it sits with me every single day.
"That's why everybody is like, 'Man, you've always got people around you.' Because it sucks to be around my thoughts. When I'm just stuck with my thoughts a lot of time, I start thinking about the things that I didn't do that got me beat last time."
Body Shots That Changed The Fight
It was Miocic's body punches that kept landing repeatedly in the fourth round of their last fight that proved the real game-changer. Cormier however, said he felt very comfortable up until that point, which bugs him to this day.
"I think that's what happened to me. I was very comfortable because I felt like I was better—and I still do believe I'm better—but that was even almost like reaffirmed after the first round because I landed almost everything I threw," Cormier said. "Even after the fight, I think I landed like 70 percent of my strikes. I barely ever missed so it was just a bad combination that got me beat. So I think about it constantly. It's bad."
The Trilogy
The trilogy fight against Miocic will be the final fight of Cormier's stellar career, regardless of the result. And he just wants to give it his all inside the Octagon.
"I just want to do what I'm supposed to do. If that means win, that means win," he said. "But I want to compete to my ability. That wasn't the best of my ability. I know that because of who he is, there's a chance he could beat me. You've got to be stupid to think that a guy who has done all he has done can't win a fight. But if he does, I want him to beat the best version of me.
"If he wins that fight, I want him to do it by beating the best version of Daniel Cormier, not a guy who isn't even a year out of back surgery and not in the best physical condition, isn't able to train himself to be who he is. That's all I want. I want to be able to go out there and compete to my potential, and with that said, I feel my potential is me winning the fight."
Who do you think walks away the UFC heavyweight champion at UFC 252, Stipe Miocic or Daniel Cormier?
See also: