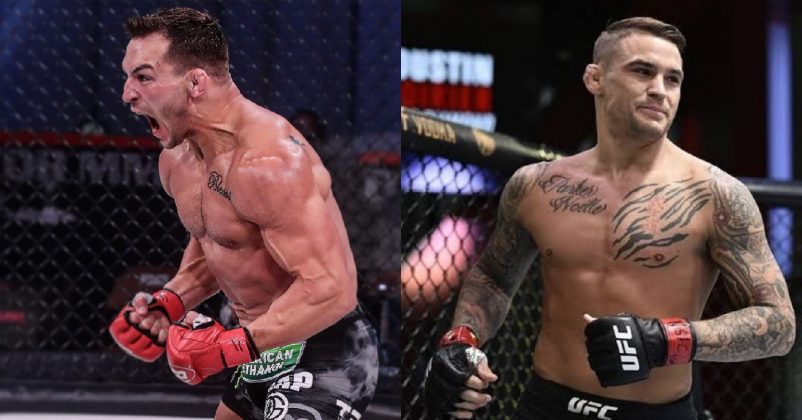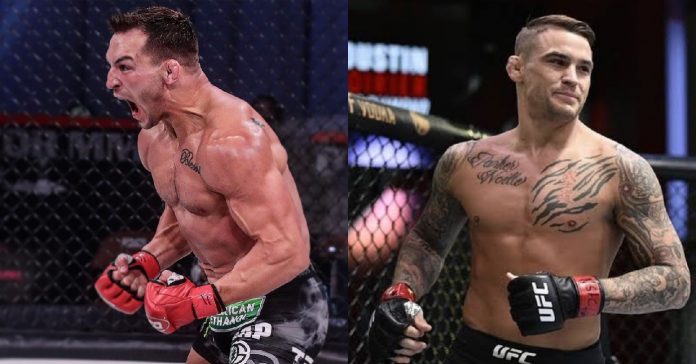 After a blistering start to his UFC career, Michael Chandler is eyeing a title fight with Dustin Poirier next.
Chandler dispatched Dan Hooker with an impressive first round TKO in the co-main event at UFC 257, while Poirier shocked the world by finishing Conor McGregor in second round of the main event.
With reigning champion Khabib Nurmagomedov essentially retired, the UFC will be looking to crown a new lightweight king in the coming months.
Title Fight With Poirier
Speaking on "The Jim Rome Show" (as transcribed by MMA Junke), Chandler said that both himself and Poirier deserve a title shot after their spectacular performances at UFC 257.
"That is definitely a fight that interests me," Chandler said. "To be honest with you, Dustin Poirier was the first fight I tried to get in the UFC. I think I match up extremely well against him. I got a ton of respect for that man inside the Octagon and outside the Octagon.
"He's a champion in his own right. I got to watch him cageside go and put away Conor McGregor, one of the greatest of all time. At this point, the performances that we both put on, I think warrants that next title shot."
Confident To Win Gold
Chandler is hoping to fight Poirier in the upcoming months, and is confident that he is going to be the next UFC lightweight champion.
"Listen, Khabib Nurmagomedov is the greatest to ever do it, but we all know he's stepping away," Chandler said. "Let him step away. Let's relinquish the belt, let's put it on the line between me and Dustin Poirier in the next quarter, and I promise you after that fight, I'll be the UFC champion. I hope that's the one that happens, and hopefully we can celebrate after."
Chandler isn't the only one wanting a title fight with Poirier next. Charles Oliveira also eyes a showdown with 'The Diamond', and promises to beat him in a potential title fight.
Would you be interested in a potential title fight between Michael Chandler and Dustin Poirier?
See also: