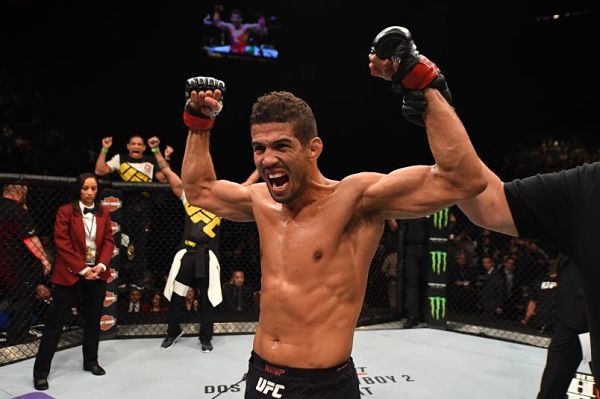 This past Saturday at UFC Stockholm, Leonardo Santos delivered another beautiful performance, and continued his winning streak in the UFC Lightweight division. People know him as a Brazilian Jiu-Jitsu fighter, but he has great striking as well. The only problem I have, he doesn't fight very often, and we may never know how good he truly is. Leonardo turned 39 years old in February, if there's any time he would need consistency, now is it.
Early Career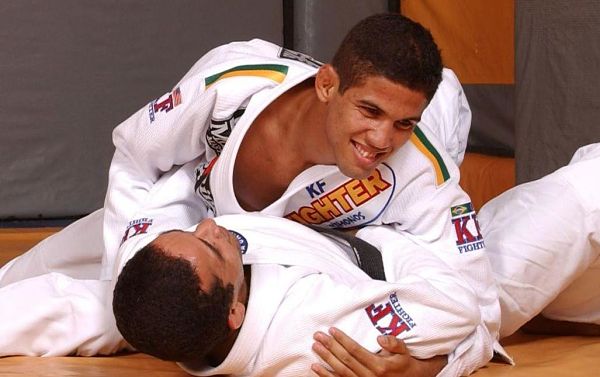 He lost his first fight in his MMA debut to Takanori Gomi via majority decision, and Gomi was 10-0 at the time; he took the 10-0 Shooto World Lightweight Champion to the distance, and put up a competitive fight, in his first fight ever. He wouldn't compete in MMA again until four years later, a fight he'd win via rear naked choke; then when he was 1-1, he took on the 12-5-3 Jean Silva, and got KO'd early in round one.
He would go on to win his next five fights, with three submissions, a head kick KO, and a decision to his credit, before losing again. He lost to Kazunori Yokota, a guy who was 25-5-3 when he was at his best, until his age got the best of him. That was the last time Leonardo Santos lost (aside from TUF), it was via split decision, and it was a decade ago. He's since gone 11-0-1, including going 5-0 after that most recent defeat, before getting called up for The Ultimate Fighter: Brazil 2.
The Ultimate Fighter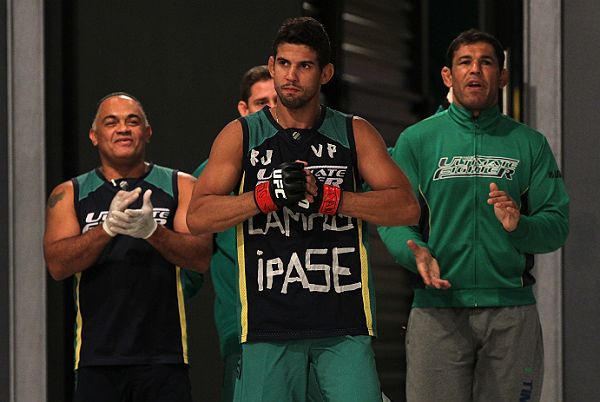 Leonardo impressed many very quickly. He had an 11-3 record, and hadn't lost in four years. He went 3-1 on the show, even picking up a win over the current #3 light heavyweight Thiago Santos. That's absolutely crazy, the #3 ranked 205 lb fighter in the UFC rankings, this 155 lb fighter defeated him.
After going 3-0 on The Ultimate Fighter, he fought Santiago Ponzinibbio in the semi-finals, and lost via unanimous decision. Santiago broke his hand in the fight however, and Leonardo was granted the chance to fight for The Ultimate Fighter: Brazil 2 Championship considering. Just another food for thought, Santiago Ponzinibbio is one of the best welterweights in the entire world too to this point as well.
The Ultimate Fighter: Brazil 2 Finale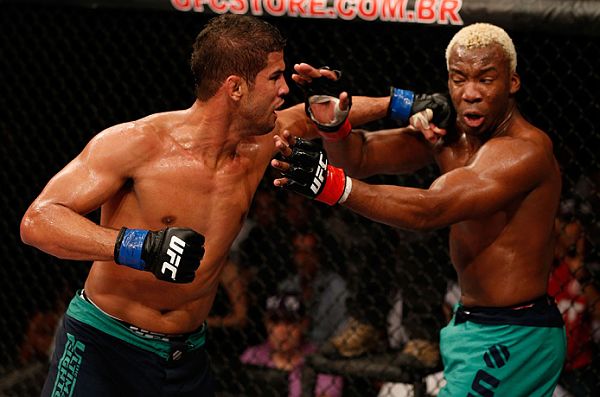 The Ultimate Fighter: Brazil 2 Finale was actually at UFC on Fuel TV 10, the night Fabricio Werdum fought Antonio Rodrigo Nogueira. Leonardo fought the almost 22 year old prospect William Macario, a kid that was really thought of to be the next big thing; he was 6-0 as a professional, plus he went 4-0 on The Ultimate Fighter with three knockouts. Santos defeated Macario via arm triangle choke toward the end of round two, and was crowned The Ultimate Fighter: Brazil 2 Champion.
After The Ultimate Fighter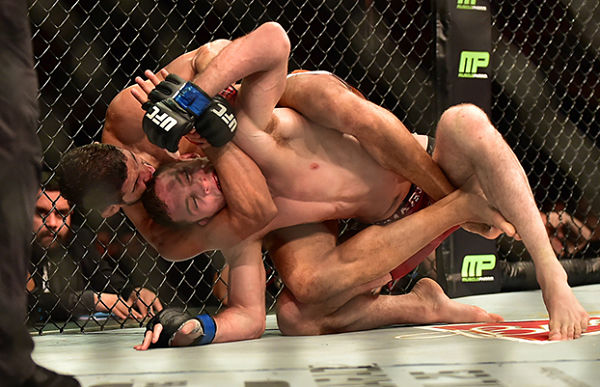 Santos dropped back down to lightweight after winning The Ultimate Fighter at welterweight, and fought another TUF winner in Norman Parke, they fought to a draw. He returned six months later to fight yet another TUF winner in Efrain Escudero, and defeated him via unanimous decision. He returned again another six months later to fight Tony Martin, who's another highly touted BJJ practitioner, and won the fight via rear naked choke half way through round two.
He then fought Kevin Lee about nine months later, and shocked a lot of people with his first round knockout over him. Ten months later, he returned to fight former WFE and Jungle Fight Lightweight Champion, Adriano Martins, who was 4-1 in the UFC with wins over Daron Cruickshank, Rustam Khabilov, and Islam Makhachev, and defeated him via split decision. Since this fight, which was at UFC 204 in October of 2016, he hadn't fought again until this past Saturday. That's three pay-per-views before Dominick Cruz' last fight, it'd been awhile.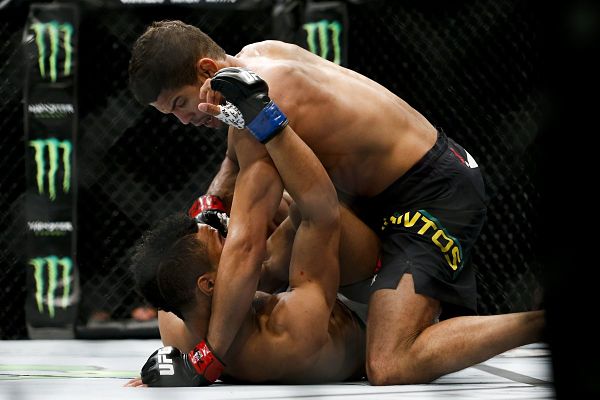 He hadn't fought in close to three years, I was wondering if he'd be rusty, if he'd still be as good as he used to be, and he was. Leonardo Santos is an absolute killer, he looked incredible against Stevie Ray. He timed a beautiful right hand as Ray was trying to close the distance and land his own, it was like a mix between a cross and an overhand, some expertise precision he had in that moment.
We Need to See More of Him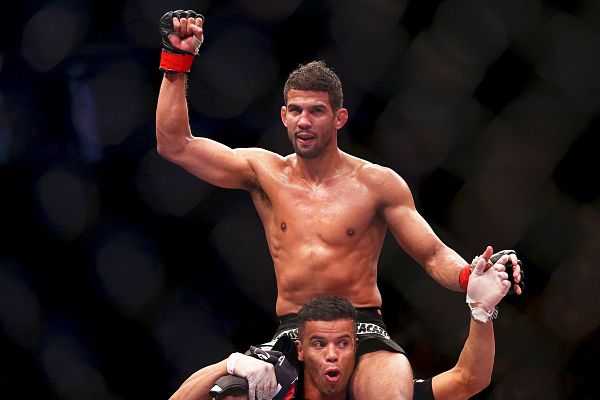 Santos is 39 years old, as I stated before, I wish he'd fight more often so we could see his true potential. It already may be too late, maybe he would've had a better chance to make a run say five years ago, or maybe he really is better than he's ever been, everyone's different. In his UFC career alone, he's had six cancelled fights, four inside of the last three years; he was scheduled to fight Lukasz Sajewski, Matt Wiman, Evan Dunham twice, Olivier Aubin-Mercier, and Nik Lentz.
If the UFC could keep someone ready for him to fight in case his opponent gets injured, and if he can do his best to stay healthy, hopefully we can see more of him. It really does bother me a little that we haven't seen too much of him and he's already 39, he's 17-3-1, undefeated in the UFC, he's a TUF winner, he's a credentialed BJJ practitioner, he has wins over elite guys, he's well rounded, I want to see how good he really is. He's 6-0-1 in the UFC, he's had as many cancelled fights in the UFC as he has wins.
He's been with the promotions six years, you'd think he'd have done more in that time. Maybe he's not looking to climb the ladder, maybe he's just trying to keep his name out there. Maybe he likes the competition here and there, but doesn't want the every day grind, who knows. One thing that's almost certain, he'd do very well if he was more active.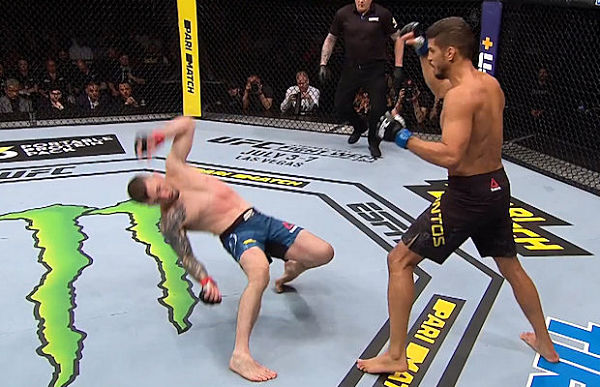 Kevin Lee blamed his loss to Santos on not having Robert Follis in his corner when he fought him, but what if Santos really is just better than him? If you take him down, you have an entire world of problems to deal with, and on the feet, he can knock you out with his hands, he has great round kicks and great front kicks, accompany that with the fact that he has a good amount of experience and man strength, he's all around the real deal.
I believe he poses problems for really anyone, he's absolutely incredible. He's a proven finisher as well, 13 of his 17 wins are finishes. I want to see him against the very best, and consistently. I really feel like he can go pretty far, if he gets on it right away that is.
Brazilian Jiu-Jitsu Credentials/Career (All Black Belt Divisions)
4th Degree Black Belt
2000 World Championships Bronze Medalist
2001 ADCC Submission Wrestling World Championship Bronze Medalist
2001 World Championships Silver Medalist
World Cup Champion (2002, 2003, 2004, 2005)
2005 ADCC Brazilian Trial Champion
2005 Fourth Place in ADCC Finals