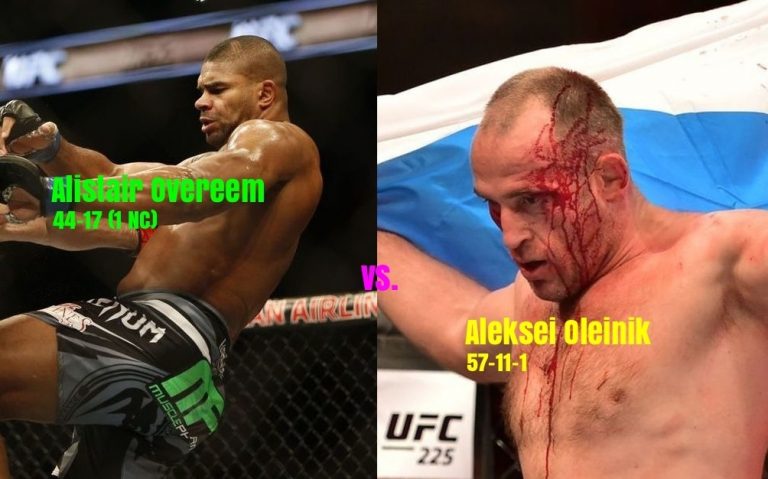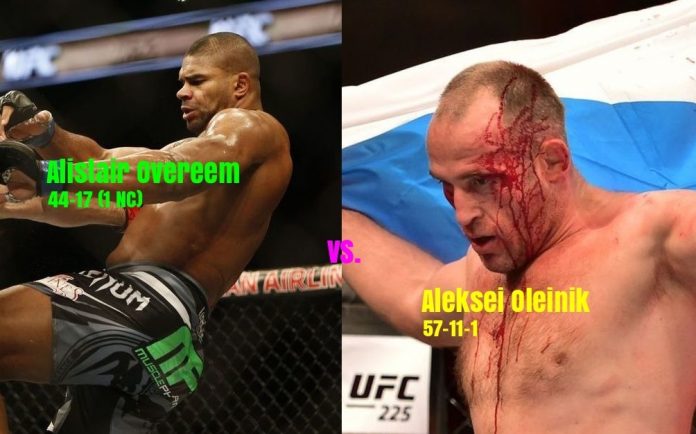 This Saturday we have a clash of top ten heavyweights, as #7 ranked Alistair Overeem and #9 ranked Aleksei Oleinik headline UFC Fight Night 149 in Saint Petersburg, Russia. The main event was initially supposed to be a bout between Alistair Overeem and #6 ranked Alexander Volkov, however Volkov pulled out of the bout due to undisclosed health issues, and was replaced by fellow Russian and fellow top contender, Aleksei Oleinik.
This is of course a completely different, yet still intriguing match up; Volkov is a great striker, and Oleinik is a great grappler, Volkov is 6'7", Oleinik is 6'2". They both have an 81% win percentage however, which is really interesting, considering how many more fights Oleinik has. This is a pairing between two seasoned heavyweights, aged 38 and 41, how does this one play out?
This marks just the UFC's second trip to Russia, and I'm very excited for it. I love watching Russians fight, and this card is stacked with them. I'm very glad they're somewhat plentiful in the UFC now, as there are 30 of them currently signed to the UFC. There are still some others I'd like to see in the UFC; Fedor was a big one, Alexander Shlemenko, Anatoly Tokov, Frodo Khasbulaev, and a few others, but they're definitely making their way. This is a very interesting main event match up, because I have no idea how it'll go.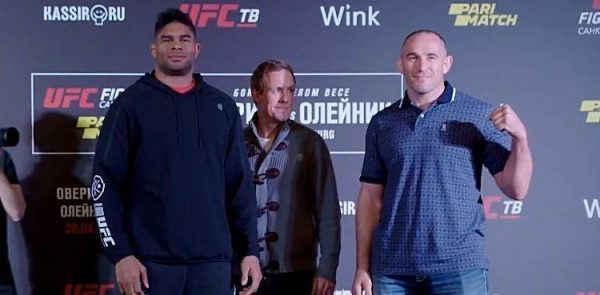 I think it seems like Aleksei just won't have the durability to stand with Overeem, and Overeem's an underrated grappler right? So it seems like Overeem will probably just knock him out right? Maybe, maybe not; I thought the same thing when Oleinik fought Mark Hunt. Along with the fact that Aleksei openly admits that throughout the countless training sessions these two have had together, he couldn't do anything to Alistair. I did not expect him to choke out a neckless opponent in Hunt. Aleksei's submissions are nothing short of spectacular, and are incredibly effective, they're about as unorthodox as they could possibly be; he's one of a kind on the mat, no one grapples like him.
47 of Aleksei Oleinik's 57 wins are via submission, six are knockouts, and just four decisions; that includes 13 rear naked chokes, 11 ezekiel chokes, a number of armbars and triangle chokes, a few scarf holds, and many others. He's very well rounded in the submission department, particularly with chokes. He has won nine different tournaments in the sport of MMA, and is the former WCMMA Heavyweight Champion. Aleksei is also a 2005 World Combat Sambo Champion, a five-time Moscow Combat Sambo Champion, and a two-time Russian Combat Sambo Champion, in 2003 and 2004. He is also a two-time absolute division winner in no-gi submission grappling.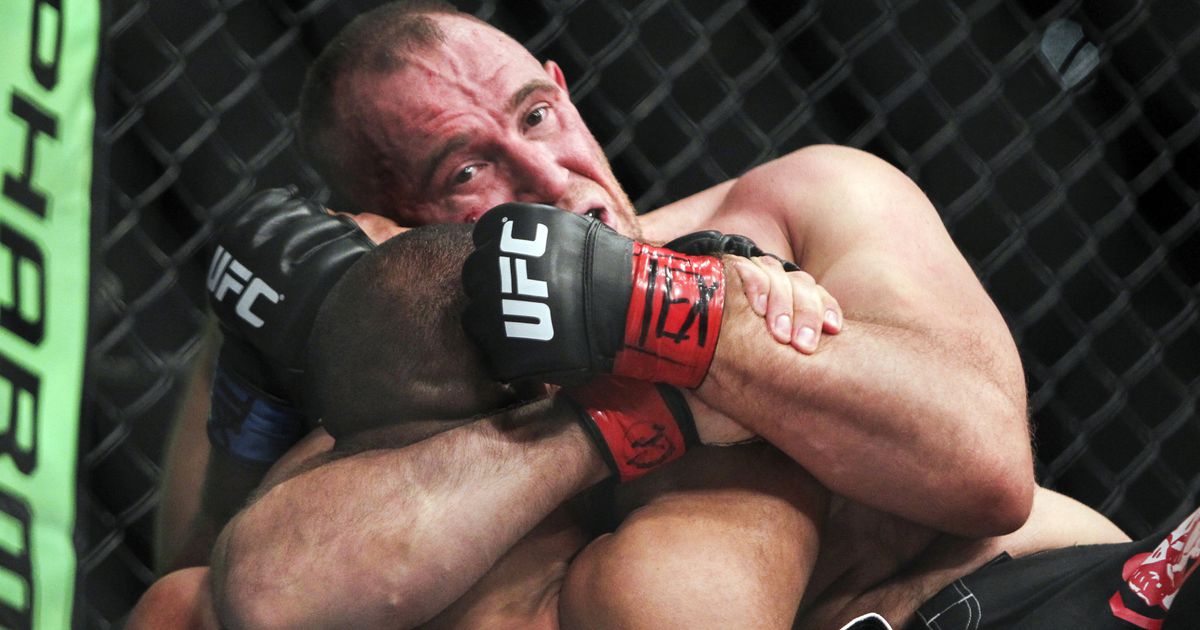 Alistair Overeem is a phenomenal striker, we all know this, and his grappling isn't to be taken lightly either. Most people don't understand that 17 of his wins are via submission, leaving 22 via knockout, with just five decisions, and he himself is an ADCC Gold Medalist. Alistair can grapple too, not to say he can compete on the mat with Aleksei, because I'm not sure if he can, but he's no slouch on the ground. It's obvious he has the advantage on the feet however, being a former K-1 Champion, and former K-1 3rd place the year beforehand. He has a much better striking style now, he's patient and accurate, and actually has the most accurate striking in UFC history.
Alistair's incredibly powerful with all of his limbs as well, his punches land hard, his kicks land harder, his knees land even harder, all along with that sharp crispness of his strikes, he's a dangerous fight for anyone. Alistair hasn't been submitted since 2006 when he lost to Fabricio Werdum in their first match up, and that's actually the only submission loss in his MMA career. He fought the BJJ ace twice more, winning both times. Aleksei Oleinik hasn't been stopped from strikes since 2011, however five of his last seven losses are via TKO. Alistair is also a former world champion in MMA, he held the DREAM Interim Heavyweight Championship, the Strikeforce Heavyweight Championship, the 2H2H Light Heavyweight Championship, and was the 2005 PRIDE Middleweight Gran Prix Semi-Finalist.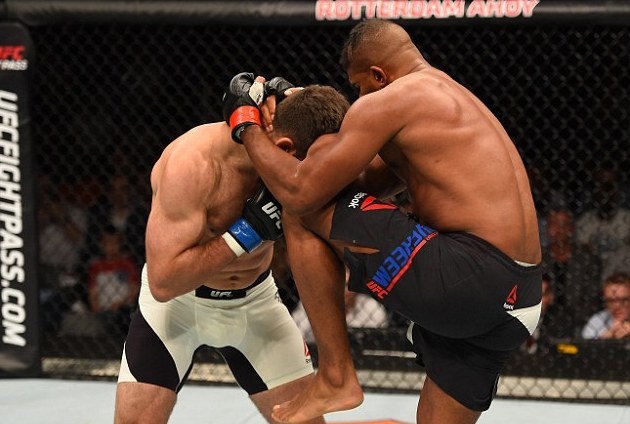 As I said, this match up is between two of the more seasoned heavyweights in the sport, Alistair will be 39 in May, and Aleksei will be 42 in June; however, it's arguable that both are better than they've ever been. It's crazy to think, but Oleinik has the same reach as Overeem does, at 80". It's unlikely that he knocks out Overeem, but I think that's more likely that submitting him is to be honest. Anyone remember Oleinik's fight with Jared Rosholt? It was his second fight in the UFC, and he wasn't looking the best, then all of a sudden he cracked Rosholt with an awkward left hook and boom, it was over. Now everyone knows that Alistair Overeem is no Jared Rosholt, but his chin isn't really better than anyone's to be honest, he's lost quite a few fights via knockout that most believe he should've won.
Alistair has been in the UFC a little longer, and has fought better competition for the most part, and holds a UFC record of 9-6. Aleksei is 6-2 in the UFC, and they have a few common opponents. They've both fought Travis Browne, Overeem lost against him via KO in a fight he was dominating, while Oleinik submitted him. They both fought Mirko Cro Cop, Overeem had a No Contest with him and Oleinik submitted him as well; they both lost to Curtis Blaydes, and both defeated Mark Hunt, Alistair defeated him twice. Who moves up in the heavyweight division? Will Overeem stay at the top, or will Oleinik continue climbing his way up?