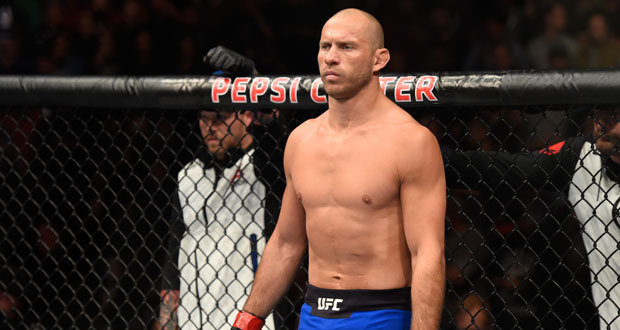 Donald Cerrone's long time coach John Wood is currently helping him prepare for his May 9th fight against Anthony Pettis at UFC 249. The pair have been working together at 'Cowboy's' famed BMF ranch in Edgewood, New Mexico, ahead of their featured prelim bout in Florida.
Wood spoke openly to MMA Fighting about Cerrone's latest fight camp and his undying enthusiasm for the fight game.
"I've known 'Cowboy' for a while. We've kept in contact and when he comes to Vegas, he'll work Syndicate and we'll spend some time.
"It's kind of funny how it came about," Wood continued. "There were posts or something about the fight, and that he's fighting Pettis again. On Instagram, he posted something and I said, 'Hey, if you want someone to come clean the gym for a couple of weeks, I'm in. I'm not doing anything right now.'
"He actually hit me up the next day, asked me what I was doing and, obviously, I've got a little bit of free time on my hands. I ended up coming out here, doing the thing with him, and helping him out with camp."
Cerrone is coming off a three fight losing streak, to Tony Ferguson, Justin Gaethje and Conor McGregor.
"He's game, man. I don't think there's anyone more in the sport that's ready to fight whenever you make the phone call," Wood said. "If you told him he had to drive out there tomorrow to do it, he would. He's just that kind of guy.
"They just kind of brought me out here to get some work in, doing some pads, some game planning stuff. They always have a tight-knit group of guys here so I'm just out here filling in the gaps and working with them a couple of times a day. He's great. He's ready to go."
Asked whether he's seen any changes in Cerrone following his recent bad run, Wood said he's as ready and fired up as ever.
"From what I see, he's pretty much the same. Whoever you put in there [with him] he's ready to fight. I think anytime you lose to somebody, there's always a little revenge factor going into it to try to get that back. That may be in the back of his head. I'm positive this fight's going to go a little bit different.
"I know right now that he's fired up coming off a couple of losses. He wants to get back there and in the winner's and he's definitely saying, doing the right things. I believe you're gonna see a fired up Cowboy ready to open up a can of whoop-ass, that's for sure."
Cerrone first fought Pettis way back in January 2013, where he lost via TKO in the first round. But seven years is a long time and both fighters will have made many changes to their games since then.
"Any time you have someone like Pettis, who is obviously super talented, you just have to prepare for everything," Wood said. "His last fight he came out completely southpaw and changed it all up. You have to be ready for all of those kinds of things.
"We're in a very short time right now. They didn't bring me out here to take over and change all this stuff, and that's not what I want to do. I'm here to just add a couple of things, clean up a couple of things that I see that could be useful in the fight. The one thing you don't want to do in this short amount of time is come in and be like, 'You've got to do this, you have to do that.'
"As I work and kind of flow with Donald, see what he likes to do, we're just tightening some things up and just be ready for everything. Pettis is a well-rounded dude and there's flashes of brilliance there that you have to be ready for. If that dude shows up, he's on fire and you've got to be ready to dig in and do your thing."
Confirming his confidence in his fighter, Wood sees the bout delivering an exciting fight for fans but has full faith that Cerrone will get back to his winning ways.
"I don't think it goes the distance and I think Donald gets his hand raised," Wood stated. "There's multiple ways [Donald can win]. A lot of people think of Cowboy just being this striking guy and his striking is amazing, but he is so slick on the ground. His wrestling is good, his grappling is sick, his submissions are slick. He can win it anywhere: a dogfight, going the distance.
"I don't see this going the full three rounds and I definitely see Donald winning it."
Do you think 'Cowboy' Cerrone can avenge his old lost to Anthony Pettis on May 9th at UFC 249?
See also: