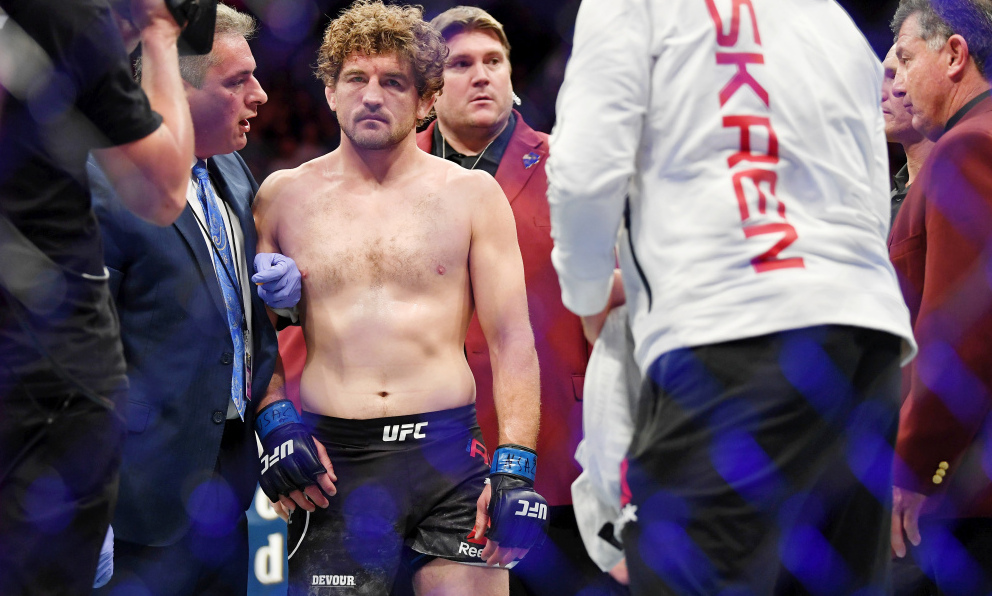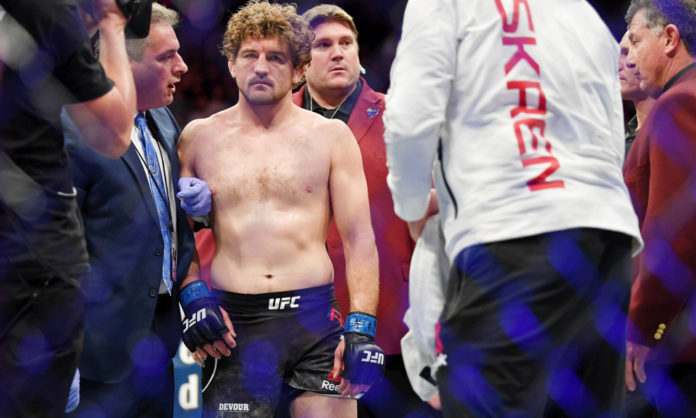 By now, we've all seen what happened to Ben Askren at UFC 239. He was the quickest knockout loss in UFC history; which of course means his opponent Jorge Masvidal scored the fastest knockout in UFC history, which was just :05 into round one. Askren went 18-0 (1 NC) outside the UFC, winning numerous world championships. Now he's had the two toughest outings of his entire life in his last two fights, this proves it is different in the UFC.
He made his UFC debut earlier this year and defeated Robbie Lawler via controversial submission (bulldog choke), a fight he took an absurd amount of damage in. It looked like he was starting to take control after he got back to his feet after that slam and thunderous ground-and-pound though. Then his next fight was against Masvidal, which he took the most damage he ever has by getting cracked with that beautifully placed, timed, and executed flying knee.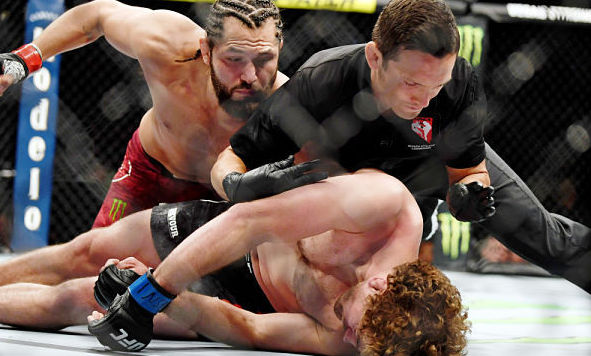 We'll start off with saying how good of a wrestler Askren is, and not just a wrestler, but his scrambling ability as well. He probably has the best scrambles in the entire sport. Considering he doesn't lift weights, have the athletic ability of most fighters, or have very good striking, it's incredible he's gotten as far as he has. That just goes to show you how good he really is on the mat, and how good he is at getting the fight to the mat.
Jorge Masvidal came out with a flying knee right out of the gate, and Askren took the bait. He just went for a double leg as soon as Masvidal started running at him. He telegraphed the shot, regardless of whether Gamebred planned on throwing a flying knee or not. This has been Ben's biggest critique, him being one-dimensional. Not only being one-dimensional, but telegraphing his shots too often.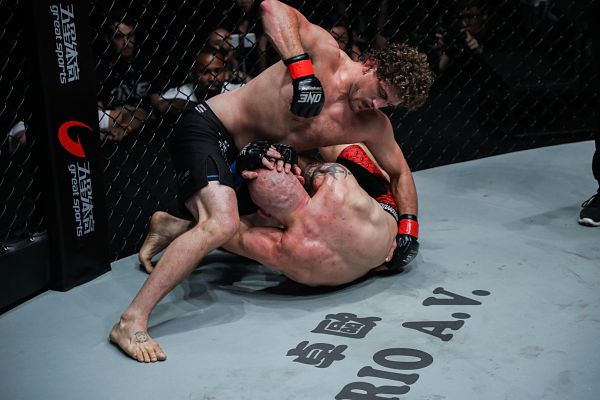 Everyone knows what he's going to do, but no one has been able to stop it, so why change it? He made it to 19-0 doing that, he's a nine-time MMA world champion fighting like that. Now that he's been caught, perhaps he'll change it up a little. Funky did say to Ariel Helwani that he probably won't change too much considering he didn't have a chance to get going; if he would've gotten beat up on the feet, then have that happen, perhaps he'd change a few things.
However, he didn't get much of a chance to try his skill-set out against Masvidal, so he'll continue doing the same thing. He's a smart guy though, I'm sure he at least knows that the reason he got caught is because he's so willing to shoot, he needs to set it up better. Training at a camp like Roufusport, he has a great camp to learn striking from. He just needs to learn enough of it to not get caught on the feet, and to set his takedowns up better with it.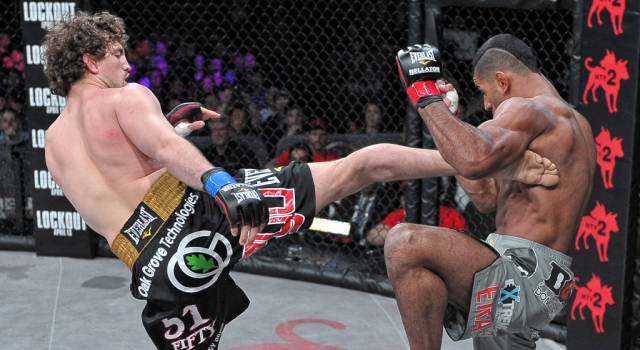 People saying he's overrated and isn't UFC caliber is just nonsense, he's certainly good enough to be here. He was number one on the list of the best fighters to never make it to the UFC, he passed Fedor Emelianenko in many peoples eyes, not everyone's, but many. What needs to be said to them, does anyone remember when Justin Gaethje finally came over from WSOF?
The Highlight won the WSOF Lightweight Championship and defended it five times, then came over to the UFC with a 17-0 record. A lot of people thought he was great, a lot of people thought he was overrated. This happens when literally any prospect comes to the UFC; there's the hype train, and there's the haters. Gaethje had his UFC debut against Michael Johnson, 17-0 versus 17-11. The Menace almost knocked Gaethje out, he had him hurt bad, but couldn't get the finish, and Gaethje ended up finishing Johnson late in round two.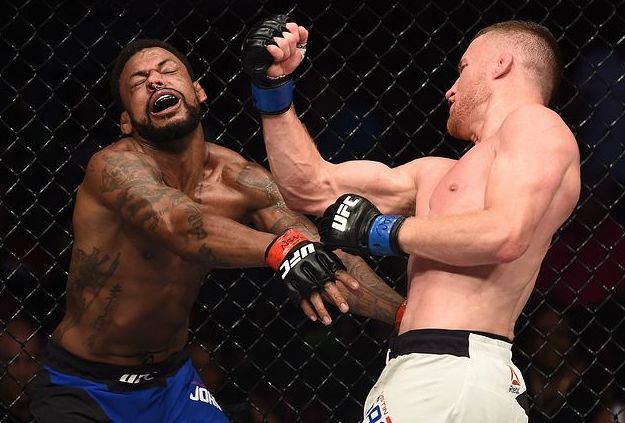 Justin was now 18-0, and fighting former UFC and Bellator Lightweight Champion, Eddie Alvarez. This was a great fight that saw Gaethje get knocked out at the end of round three. His next fight would be against Dustin Poirier, and he was doing incredibly well in this fight. Gaethje was eating Poirier's legs up badly throughout it, his kicks were absolutely vicious! The Diamond ended up rallying early in round four and ends up stopping Gaethje via strikes.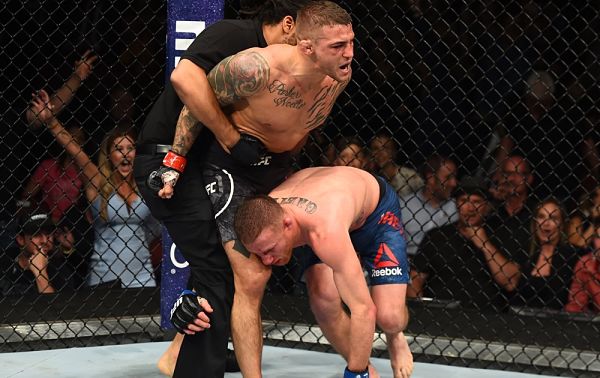 The moral of this is: Justin Gaethje (like Ben Askren), is a multiple-time world champion that spent most of his career outside of the UFC, and finally came over. He won his first fight, which he almost lost (like Askren), and then got knocked out in his next two fights. Now look at him, both of his last two fights can fit into less than four minutes time, and he's ranked right where he was at 18-0 going into the Alvarez fight.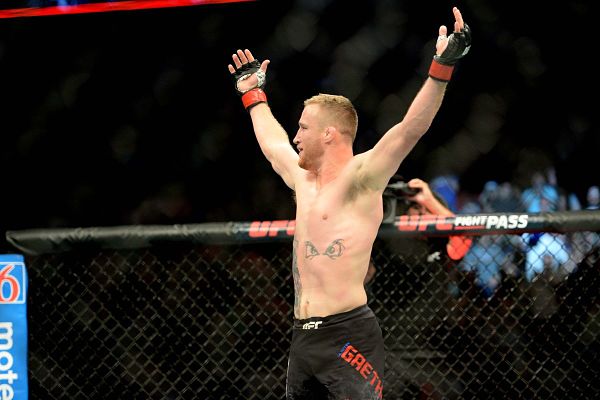 He's 2-2 in his last four, and he already made it back to #5 in the UFC lightweight division. That's after losing twice, not once (thus far) like Askren, and both losses were knockouts. So considering people think Askren is overrated purely because he lost, how he lost, whatever, is straight up laughable. He's one of the best in the entire world, and has been for a long time. So many fans don't give him credit for his Bellator title reign and his ONE Championship title reign because "it's not the UFC".
Douglas Lima and Andrey Koreshkov are both top ten welterweights, and everyone's finally starting to see how good the ONE fighters really are. Well, Ben Askren dominated everyone he fought there and held the belt since his second fight with the promotion. He's good, it's time to just get used to it. Of course, his day finally came, he lost, everyone does at some point.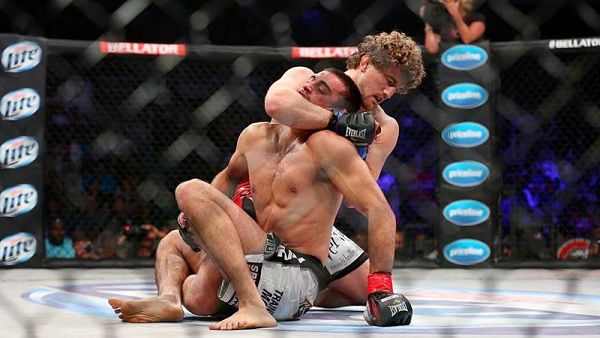 Some people may come back and mention Khabib Nurmagomedov and how he hasn't lost when I say everyone does at some point; just because he's undefeated at the highest level doesn't mean that someone who isn't is a bum. There are a lot of amateur fighters out there with negative records that are incredibly dangerous and skilled individuals.
Robbie Lawler and Jorge Masvidal are both two of the best in the world, each of them has 13 losses, Rafael dos Anjos has eleven losses, Anthony Smith has 14 losses, Jeremy Stephens has 16 losses, Urijah Faber has ten losses, Donald Cerrone has twelve losses, Alistair Overeem has 17 losses; they're some of the best fighters in the entire world, and many of them never even won a single world title.
Askren only has one loss, and 19 wins, and nine MMA world championships (five Bellator, four ONE), two NCAA Championships, two NCAA second places, one World Championship gold medal in Freestyle Wrestling, he had a record of 153-8 in the NCAA as a Division I and only lost to two people, he's a 2008 Olympian, he's incredibly good. That's just the biggest accomplishments he has as well, that's literally less than half of them. Everyone loses, let's see how he rebounds from it.