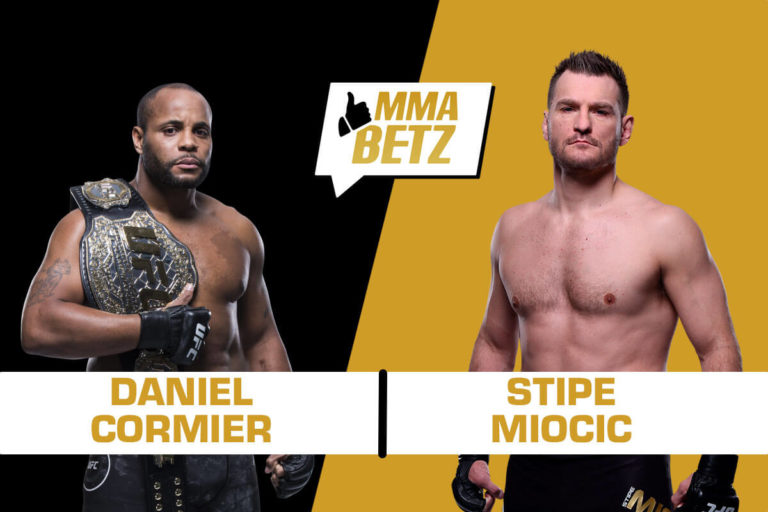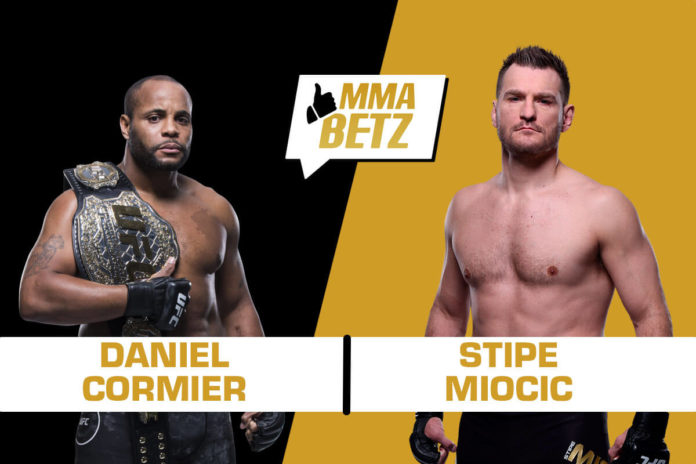 This weekend we have a massively stacked card going down at the Honda Center in Anaheim, California. We have the great matchup between Yoel Romero and Paulo Costa that kept falling through, that'll finally happen this weekend. We have the return of Nate Diaz, he'll be fighting for the first time in three years against the former UFC and WEC Lightweight Champion Anthony Pettis. That's just a two of the last fights, this card is huge! Continue reading for a little breakdown of our main event rematch:
In the main event we have a rematch between two of the best heavyweights to ever live in Daniel Cormier and Stipe Miocic. Most were shocked at the first fights outcome, as was I, will this one be any different? Though it's doubtful Cormier knocks Miocic out in the first round again, anything is possible in MMA. Cormier has mile-long credentials in the wrestling department, as does Miocic. Though Miocic's credentials aren't quite as lengthy, they're both NCAA Division I studs.
Both of these men have great striking too, primarily with their hands. Miocic is such a clean and powerful boxer; his straight punches are very quick and accurate, and he finishes a lot of guys with them. Cormier on the other hand throws just about everything. For being just 5'11" and to have the body shape he does, it's kind of incredible that he's as effective at everything as he is.
It's hard to see either of these guys out-wrestling each other, other than a momentary takedown like Miocic got on Cormier in their first fight. If anyone remembers, Cormier barely got taken down, and was right back up. If that happens again, I see whichever one being able to get right back up just like he did in their first outing. Where this fight really comes down to is on the feet, especially in the clinch.
As we all know, Cormier's dirty boxing is some of the best we've ever seen, and it's important for him considering how small he is. He only has a 72.5" reach, as opposed to the 6'4" Miocic having an 80" reach. Who will be able to land hard first? At distance, it's anyone's game. But in the clinch, I think it still goes to Cormier.
Did Miocic learn from their first fight? Will he be expecting to get hit off the break this time around? That's why Cormier was able to beat him the first time, he hit Miocic when he was breaking away from the clinch and Miocic didn't see it coming. How does this epic heavyweight rematch go? Tune in on PPV this Saturday to find out! Fight Card posted below:
Main Card: PPV (10pm ET/7pm PT)
Heavyweight (C): Daniel Cormier (22-1) 1 NC vs. Stipe Miocic (18-3) II
Welterweight: Anthony Pettis (22-8) vs. Nate Diaz (19-11)
Middleweight: Yoel Romero (14-3) vs. Paulo Costa (12-0)
Featherweight: Sodiq Yusuff (9-1) vs. Gabriel Benitez (21-6)
Middleweight: Derek Brunson (19-7) vs. Ian Heinisch (13-1)
Preliminary Card: ESPN (8pm ET/5pm PT)
Lightweight: Devonte Smith (10-1) vs. Clay Collard (18-8) 1 NC
Bantamweight: Raphael Assuncao (27-6) vs. Cory Sandhagen (11-1)
Lightweight: Drakkar Klose (10-1-1) vs. Christos Giagos (17-7)
Bantamweight: Manny Bermudez (14-0) vs. Casey Kenney (12-1-1)
Early Preliminary Card: Fight Pass (6:30pm ET/3:30pm PT)
Women's Strawweight: Hannah Cifers (9-3) vs. Jodie Esquibel (6-5)
Bantamweight: Brandon Davis (10-6) vs. Kyung Ho Kang (15-8) 1 NC
Women's Flyweight: Sabina Mazo (6-1) vs. Shana Dobson (3-2)