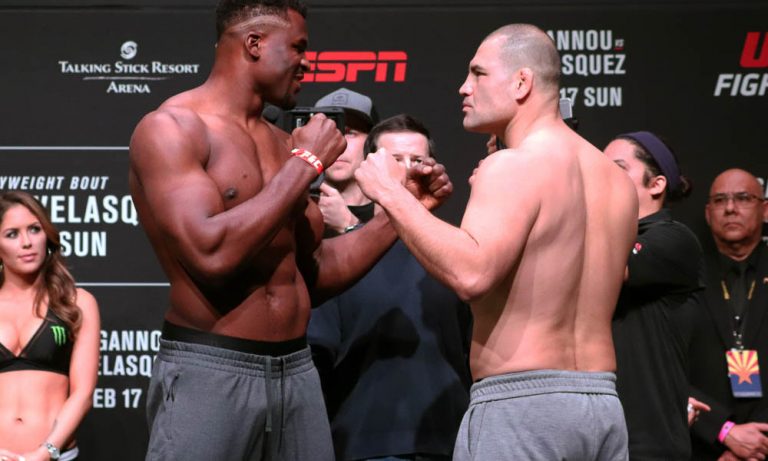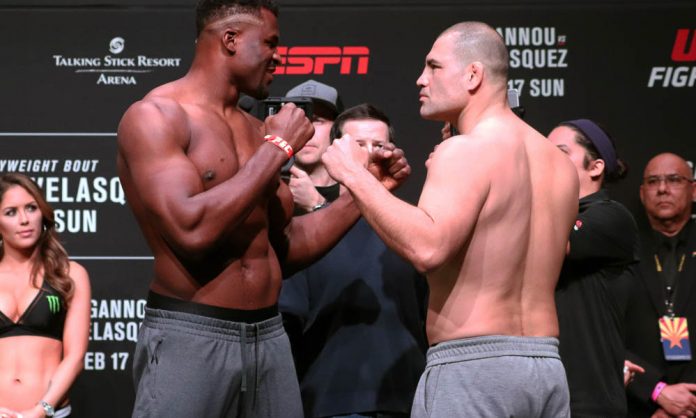 Last night on Sunday the 17th, we had a great night of fights. Unfortunate to some, and also coincidental, it ended in a similar way to the first ever card on Fox back in 2011. There were wars, shocking outcomes, unfortunate outcomes, and some incredible performances on the UFC's first ever ESPN card. Below I will explain how every fight went, what the outcome was, and perhaps what's next for these elite mixed martial artists.
Cain Velasquez returned after almost three years away, and was pitted up against the hardest hitter ever in the sport of MMA, and the outcome showed just that type of power. Many people speculate whether Cain's knee gave out and he didn't get hit at all, or if he did actually get hit. The replay however clearly shows him getting cracked with a tight, short uppercut, then he proceeded to fall and fold over backwards on his knee. It is very unfortunate for the return of Cain, but how about this victory for Francis Ngannou? What a tank he is! He doesn't need much room to put your lights out. I'd love to see him fight maybe Junior dos Santos next, another high ranked guy coming off of two wins, like himself, that is very technical in the boxing department, with some good kicks; I think that match up would show us even more of Ngannou's capabilities, considering how tight dos Santos' boxing is.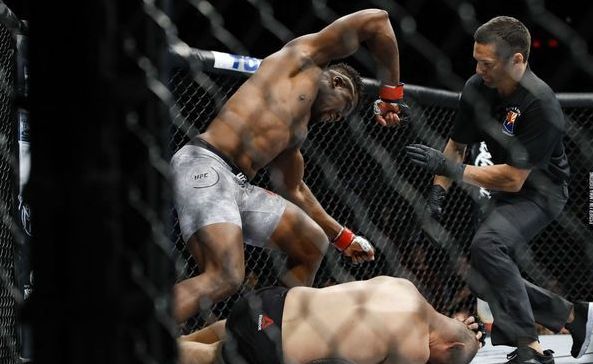 As for Cain, I'd really love to see him again, but I don't know if that's what's best. His body has quit on him for so long, and it appears his 36 year old chin isn't too durable at this point either. However, he did state at the post fight press conference that he wanted to continue, and said the way he performs in practice against other high level teammates, he knows he has more. I'm not so sure that's the best idea, but honestly what I take from it; look at Alistair Overeem, his chin isn't good by any means either, he's still a pretty successful heavyweight, and doesn't have the wrestling background Cain does.
This does cancel out, in a lot of peoples opinions, that Cain is not the greatest heavyweight ever considering what happened last night. I do not agree with that, as I do believe Cain in his prime would defeat any heavyweight in their prime. I think his pace, volume, ground-n-pound, and wrestling was too much for anyone, but it is certainly debatable. I mean, he did get KO'd in 1:04 of round one on the first ever show on Fox, and got KO'd in :26 seconds last night, the first ever show on ESPN. Between Cain Velasquez, Fedor Emelianenko, Daniel Cormier, and Stipe Miocic, who do you consider to be the GOAT?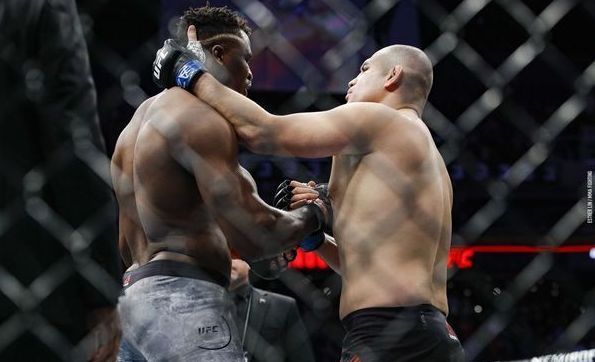 Now onto James Vick and Paul Felder, this was a great fight, with both landing often throughout it. Felder ate away at Vick's legs the entire fight, chopping that lead calf constantly. He also hurt Vick a couple times on the feet, but Vick ultimately tied up with Felder whenever he got rocked, and stayed safe from the knockout doing so. He complained to his corner about the pain in his leg, but his corner told him it's going to keep happening if he don't get after it, and that's just what he did. It didn't change anything, but he definitely fought with a sense of urgency. He tried to push the pace, was desperate for a takedown considering he was fighting on one leg, and he even landed the last strike of the fight, which was a beautiful flying knee right at the buzzer.
James Vick's only previous losses were via knockout. He had been TKO'd by Michael Chiesa on The Ultimate Fighter after winning his first three fights on the show, and had been KO'd by both Beneil Dariush and Justin Gaethje. I figured Paul would be able to knock him out if he did win, but I think I may know why Vick got wobbled, yet recovered so quickly; James Vick said leading up to this fight in an interview with Ariel Helwani that he's never been strict with his diet during his fight camps, and has a problem with consuming sugar. He did say however, that is the difference between this camp, and other camps, because he was disciplined this time, not consuming any junk. He also stated that his weight was better considering.
My thought is, perhaps he didn't have to drain as much water out of his body because his weight was already where it should've been, therefore he wasn't too dehydrated for the fight. This all means there was water in his brain, so when he got cracked it didn't faze him quite like it usually does.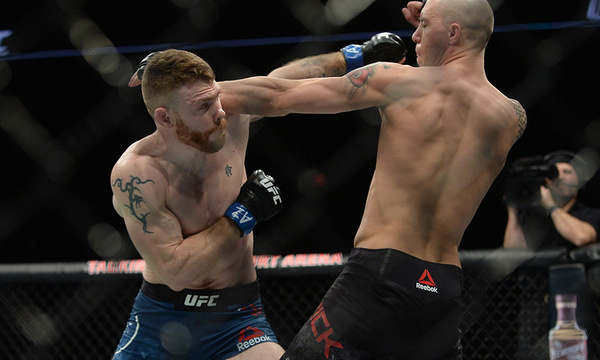 Cynthia Calvillo had a good performance against Cortney Casey, well they both did well really. The strike totals were pretty close, as Calvillo landed 82, and Casey landed 73. Calvillo tried for six takedowns, but was denied every one of them, so she cruised to a unanimous decision by out striking her opponent. She improves her overall record to 8-1 (5-1 UFC), and Casey falls to 8-7 (4-6 UFC).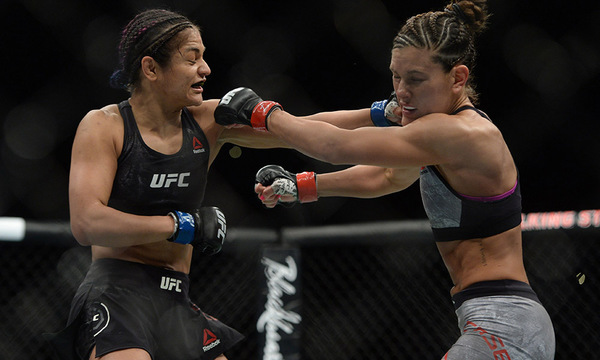 Kron Gracie made good on his UFC debut, easily taking Bruce Leeroy's back and getting the rear naked choke very quickly thereafter. I was so excited to see Kron make it to the UFC, I remember when he finally started fighting in MMA at the end of 2014. He made his debut, and waited until a year later to have his second fight, as he fought on Rizin's New Years card, and had his third fight nine months later. He is 5-0, consisting of three rear naked chokes, an armbar, and a triangle choke. This is not the man you want to hit the mat with!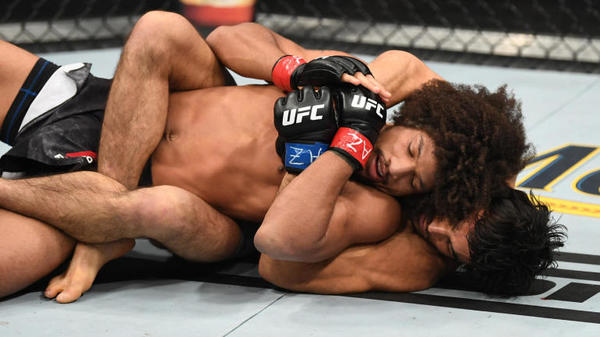 So what's next for this pair of 30 year olds? I'd love to see Kron fight Brian 'T-City' Ortega, but Brian's stand up is far superior to Kron's and it's doubtful it would hit the mat considering, but how about Ryan Hall? They're two of the most legit BJJ black belts you'll ever have in MMA, with 33 combined BJJ World and National medals of third place or better, mostly first places. Alex Caceres fell to 14-12 (1 NC) last night, but don't let that record fool you. He gave Urijah Faber a tough fight, he gave Yair Rodriguez an even tougher fight, winning 49-46 on one scorecard, but lost 48-47 on the other two in a very entertaining five round battle.
He is also the man to hand 'The Phenom' Sergio Pettis his first defeat. Caceres was 4-3 (1 NC) in the UFC at that point, coming off of three split decision wins back-to-back-to-back, one of which was overturned after he failed the post fight drug test for marijuana, and came into the fight with a 9-5 (1 NC) record against the 10-0 Pettis. The fight was very competitive and entertaining, and at the end of round three, Alex sinks in a rear naked choke to finish the undefeated prospect, a fight no one expected him to win. He may not have a good record, but he's a very skilled martial artist, and let's be honest, who doesn't love Bruce Leeroy?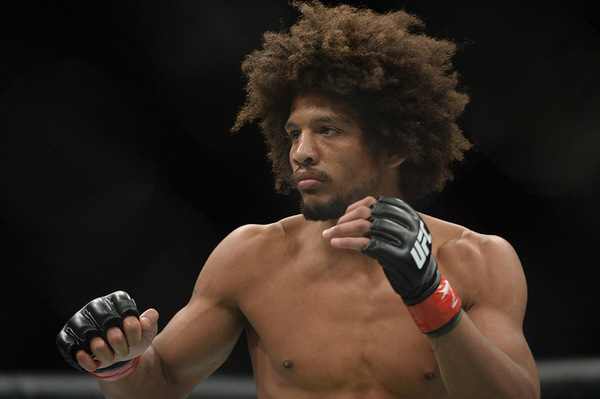 Vicente Luque and Bryan Barberena had one of the best fights I've seen in quite a long time, what a war between those two! If you didn't watch the fights last night, I recommend you do, because that was one you definitely don't want to miss! Luque starches people with his one punch KO power, but wasn't able to do that to Barberena early on, which I think surprised him. Bryan Barberena came to fight, and wasn't going down without one. He is so tough, after Luque realized he wasn't going to get Barberena out of there that easily, he switched it up a little, throwing a mix of power and volume, as opposed to just power.
Barberena ended up hurting Luque in round one after showing off his granite chin, but was unable to do much with it, as Luque recovered quickly, taking Barberena's back in a transition and almost getting the tap to a rear naked choke; Barberena started turning into him and got out, but was then locked in a D'Arce, which was ineffective, and Luque let it go and ate some elbows at the end of round one.
Both of these guys showed incredible grit and determination. It was such a slug fest, with each of them throwing and landing often. It was a very close fight, and seemed to be inevitable that it'd go to the scorecards, who knows who would've won if it did. However, Luque wasn't having the judges decide his fate, as he clinched Barberena, and landed two hard knees to his chin, and as Barberena dropped, Luque went for the finish, and got it with six seconds left in the third round. Honestly I always knew how tough Barberena was, and knew he hit hard, but his boxing really impressed me last night, he looked great. I really can't wait to see either of these guys again, though if I was their coach I'd make them each take half a year off from sparring; they both took so much damage last night it's unreal.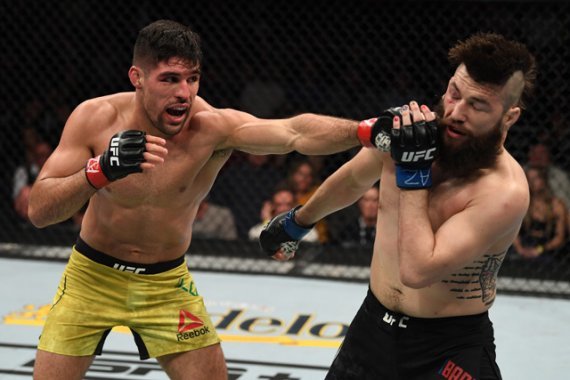 Andre Fili looked great last night too, he has really come into his own at 28 years old. His striking has always looked good, I remember his UFC debut, and how crisp his boxing was, that's the Fili I saw last night. Before last night he was 6-5 in the UFC, with a performance like that, you wouldn't expect him to be quite that inconsistent. His boxing looked so clean against Jury, he found his groove very early in the fight and touched Jury up throughout it.
Honestly, I expected more from Jury. I remember when this guy was just a kid, when he was 21 and had his dreams shattered after he had to leave The Ultimate Fighter 13 because of an injury, and returned on season 15. He lost a split decision to Al Iaquinta on the show, a very close fight that could've gone either way, then made his UFC debut, improving to 10-0 with all ten wins coming in round one. He won his next five fights, improving to 15-0, going 6-0 in the UFC; there didn't seem to be a limit to his potential. Since then he's gone 2-4, he dropped back-to-back losses to Donald Cerrone and Charles Oliveira, a fight where Oliveira missed weight by 4.5 lbs. At this point he was 15-2, before picking up back-to-back wins over Mike De La Torre, and former WSOF Featherweight Champion Rick Glenn, before dropping his last two to Chad Mendes, and now Andre Fili.
Jury started out wrestling, and was awarded his BJJ black belt when he was 25. It was very frustrating to watch, considering Jury can do it all, and very well, but only chose to strike with Fili. He did catch Fili with a spinning back fist that rocked him late in round two, and finished the round in Fili's guard. He didn't try to get it back to the mat though, he just tried to strike with Fili while he was getting out struck the entire time. Jury's fight IQ is usually so much higher than that, I couldn't believe he chose to stand, considering he was getting boxed up like that. Even if he couldn't get Andre down, I would've figured he'd try to; as I said he is a legit BJJ black belt and can wrestle very well, but just neglected to use it. It's almost like he thought he was in a kickboxing match rather than an MMA fight.
As for Fili though, man did he look incredible, I'm very excited to see what's next for him. Maybe a match up with Ricardo Lamas or Cub Swanson could be next. Fili is unranked as of now, a former opponent that previously defeated him Calvin Kattar is sitting at #15, maybe a rematch with him. I seen the Andre Fili that debuted in the UFC against Jeremy Larsen last night, but a more evolved version. Fili has had problems winning a fight, then losing, then winning, then losing; if he continues to fight like he did last night, he isn't going to lose much more.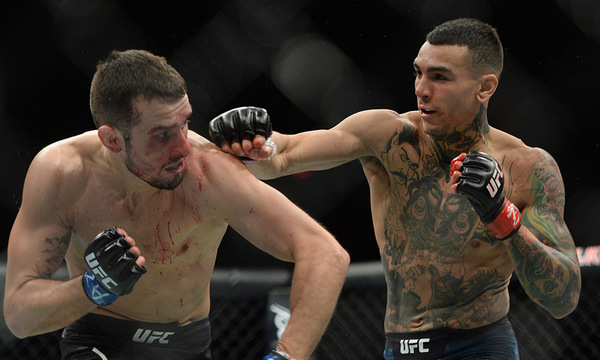 Aljamain Sterling vs Jimmie Rivera honestly really surprised me. This six year or so long rivalry finally came to an end, with Sterling coming out on top. As I've stated previously, both of these men have held two of the same belts, the CFFC Bantamweight Championship, and the Ring of Combat Bantamweight Championship, it only makes me wish this fight would've been five rounds considering both of these two vacated their CFFC belts to join the UFC.
I really thought this fight would be more competitive, not that it was an easy win for Aljo, I'm sure it wasn't, but Rivera didn't do as much as I expected him to. The first round was spent against the cage with Aljo trying to take Rivera down, before they separated, then Rivera had Sterling up against the cage, trying to take him down, both unsuccessful. In the beginning of round two, Sterling was using his kicks very effectively, but got a little too reckless with them and got taken down, but only for a brief period, before getting back to his feet and continued outstriking Rivera the rest of the round.
In round three more of the same happened, with Sterling out striking Rivera, trying to take him down but unable to. Rivera caught another one of Sterling's kicks and took him down straight into side control, but not for very long, as Aljo gets back to his feet again shortly thereafter. It was a good fight between two of the best bantamweights out there, but I can't even begin to tell you how impressed I am with Sterling. Jimmie Rivera has never been shut down like that, ever.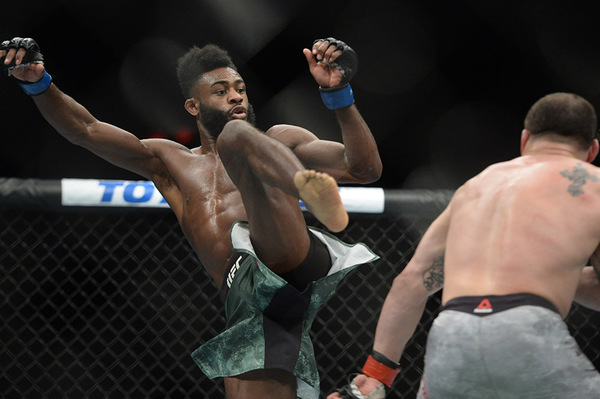 Manny Bermudez is the real deal, I didn't expect his fight with Benito Lopez to end as quickly as it did. Bermudez improves his record to 14-0, and improved his first round finish count to 11; it's pretty nuts to be 14-0 with 11 first round finishes. Benito Lopez falls to 9-1, as he suffered his first career loss. He'll be back, Benito is a great fighter, and he's only 24 years old, as is Bermudez. I think a top 15 opponent for Manny should be a certainty for his next outing. Maybe Thomas Almeida, Alejandro Perez, or Ricky Simon would be a good match up for his return. After a 3-0 start in the UFC, his next fight is very anticipated at this point, hopefully he gets a top guy next!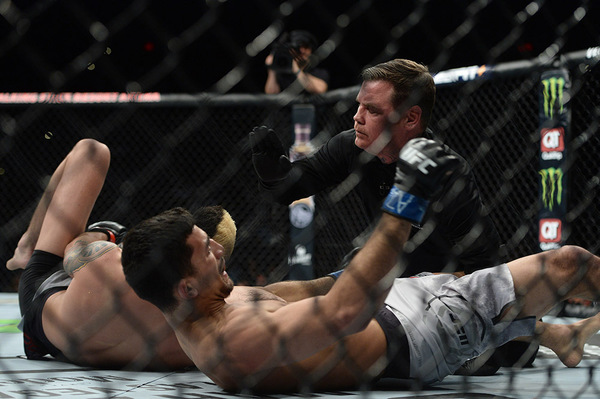 Andrea Lee improves her record to 10-2 (2-0 UFC) with a good performance against Evans-Smith. She almost doubled up on strikes against Ashlee, outstriking her 118 to 71 in total strikes. She used a lot of good footwork and straight punches to cruise to the unanimous decision. Evans-Smith falls to 6-4 (3-4 UFC) after her performance last night.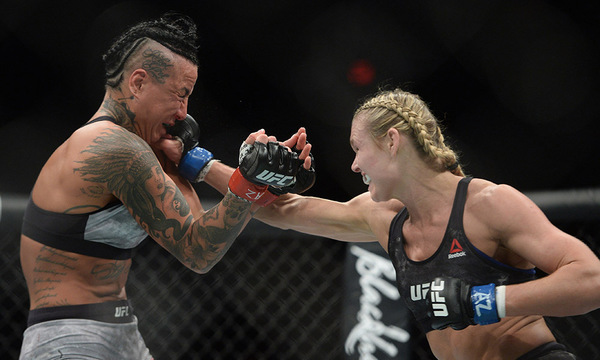 Nik Lentz picked up his 14th UFC win on Sunday, grinding out Scott Holtzman, and improving his record to 30-9-2-1 (14-6-1-1 UFC). Nik Lentz has been a long time staple of the UFC, dating back to his debut in 2009. After going 5-0-1 in his first six UFC fights, he'd gone 8-6 (1 NC) since, so I was very happy to see him pick up the W. He really had to work for it, they were both exhausted in round three, and Holtzman tried for a comeback, attempting to knock Nik out in the final minutes, but continued to get ground out with Lentz' wrestling. The NCAA veteran used his brilliant takedowns and control to cruise to a unanimous decision. Scott Holtzman fell to 12-3 (5-3 UFC) after the fight, he showed a lot of grit and toughness throughout, being dragged around and taken down constantly, but still mustered up the energy to try and finish Lentz at the end.
After the fight, Jon Anik stepped in to talk with Lentz about his victory, he stated that Holtzman was incredibly tough, and definitely a top ten lightweight, if not top five. Now this really made me wonder, how good does Lentz think he himself is? If an unranked Scott Holtzman is a top 5-10 guy in his eyes, how good is he? I understand and respect a fighters mindset, that he has to think he'd win against anyone, but that seemed to be a little bit mislead of a vision to me. Either way, Nik Lentz should be getting a top 15-20 guy next, maybe Francisco Trinaldo or Alexander Hernandez, I like those match ups for him.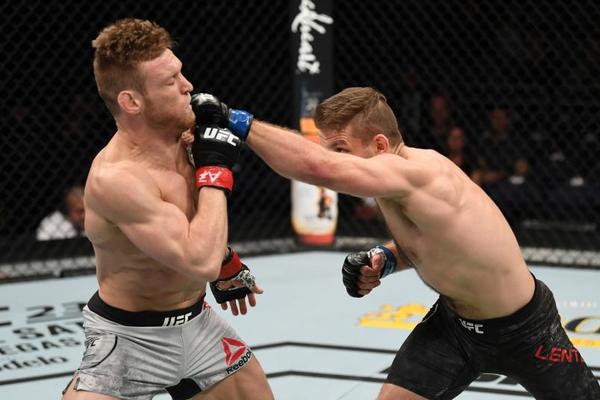 In the second fight of the night, we had Renan Barao against Luke Sanders. This was a very entertaining fight, Renan Barao was honestly looking great early on; he looked like he had his confidence back in his stand up, he looked good in round one of the Andre Ewell fight, but he out wrestled him. This is the first fight I seen Renan look confident on the feet in since his first TJ fight. Since he fought TJ the first time, he really hasn't looked great anywhere, he lost his touch since then. He came out swinging in the rematch with TJ early on, but aside from that and the first round of the Ewell fight, he hasn't looked good since. He's had little moments here and there where he'd land a nice combo or two in a fight, but ultimately has been dominated by seven of the last nine fighters he's shared the octagon with.
I honestly can't name anyone that's fallen off quite as hard as him, maybe BJ Penn after he lost his lightweight title, or Johny Hendricks after he lost the welterweight title; but neither of them were considered #1 pound-for-pound, and neither went 34-0 (1 NC) aside from a loss in their professional MMA debut. He's also missed weight in his last two fights, and the fight before against Aljamain Sterling, the CSAC scheduled for a catchweight of 140 lbs because they didn't want him cutting the additional 4 lbs. Renan Barao was something truly special, and I really think TJ Dillashaw probably took about ten years off his life in those two fights, it's been brutal. I really would love for him to go to Bellator and get his swag back, but who knows if he will ever be even a tenth of what he used to be.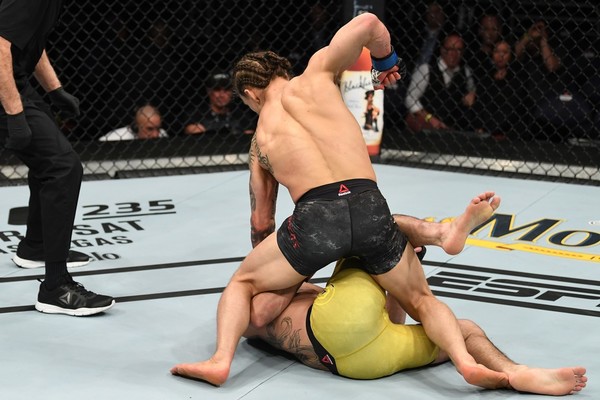 As for Luke Sanders, he did good in round one, getting out struck but stayed composed, and waited for the perfect moment to crack Renan with an overhand, which was followed up with strikes on the ground to secure the KO. I only wish Sanders wasn't 33 years old, I'd like if he had more time in the sport, he improved his record to 13-3 (3-3 UFC). I think a match up between Sanders and Petr Yan would be great, the 9-0 amateur boxer Luke Sanders (13-3) vs the Master of Sport in Boxing Petr Yan (11-1). Let's see it!
Emily Whitmire looked incredible against Aleksandra Albu in the first fight of the night! She shot for a double leg takedown, which she got, and took Albu's back and sunk in the rear naked choke just a minute into the fight for the tap. Whitmire improved her record to 4-2, and Albu fell to 7-1. It'll be interesting to see what's next for her, as she was a huge underdog for this fight, and got the early dominant win.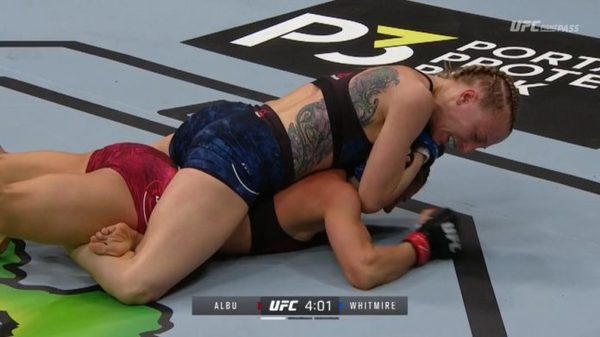 All in all, it was a great night of fights, now we prepare for UFC on ESPN + 3!